Windows 8 RTM released through MSDN, 90 day evaluation version also available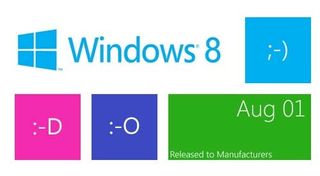 Microsoft has released a fresh version of Windows 8 release to manufacturers (RTM) for MSDN subscribers. For those who are Windows 8 developers but not subscribers, Microsoft has also released a 90 day evaluation version of Windows 8.
Still slated for release on October 26th, this is the final version of Windows 8.
A few notes about the 90 day evaluation copy is that it can not be upgraded and, obviously, will expire. To upgrade, you'll need to uninstall the evaluation copy and a non-evaluation version of Windows 8 must be installed.
You can find the latest RTM copy of Windows 8 here at the MSDN Windows Dev Center (opens in new tab) and the 90 day evaluation copy here the MSDN Evaluation Center.
Oh and just as a reminder to those who are interested in dabbling with the evaluation copy, upgrading to Windows 8 is $39.99 and if you purchase an eligible Windows 7 PC today, you will be able to purchase the upgrade for $14.99 through the Windows Upgrade offer.
Source: MSDN (opens in new tab)
George is the Reviews Editor at Windows Central, concentrating on Windows 10 PC and Mobile apps. He's been a supporter of the platform since the days of Windows CE and uses his current Windows 10 Mobile phone daily to keep up with life and enjoy a game during down time.
So George let me get this straight.
IF I go with the evaluation copy, I WON'T be able to upgrade to the "certified" W8 on october 26th?
If the answer is yes,
..then how about my situation now where I upgraded my windows 7 PC to Windows 8 Consumer Preview. Can I upgrade my W8 CP to the official W8?

(in case you couldn't tell, I have NO idea where my install disk for Windows 7 is lol)

You will need your XP/Vista/W7 key to get an official version of Windows 8 when released. You will then need to do another clean install. Consumer Preview should be updatable but it's not the same as the RTM version, since it's an earlier build.

Thanks. Sucks... but thanks.
I'll have to fish through that monster of a messy basement to find that W7 key before Oct 26th or my laptop becomes obsolete when consumer preview expires... -___-

You can get your key from your existing Windows 7 install. Search online for tips.

so i take it you didn't put the sticker on your case eh? :P

Someone help me out. I have ONLY Win8 RP on my PC; no 7 in sight. They said that the $40 upgrade offer applies to previewers, but an "underlying" Win7 (or earlier key must be present. I have a 7 key, but it's not underlying. Can I still upgrade?

Yea same problem as mine. Daniel answers it up above

I thought there was going to be a system builder version that will not require a key. I would assume that the MSDN version will work like that, and not as an upgrade? Maybe it will work both ways, whatever I'll find out tomorrow I guess.

Not sure I want to upgrade though - if it breaks Plex, or Handbrake or whatever else I'll be annoyed!

Sorry, I know it requires a key, I meant not requiring a prior install of windows or prior windows key. Making myself clearer lol

I've got a question too about upgrading.... I have a laptop with Win7 Ultimate OEM version..... I got the laptop when win7 came out, so which offer will I be subjected too? $40 or $15?

$40. The $15 offer is only if you purchased your PC after a certain date.

$15 offer is only for laptops bought after June 5th.

Cheers guys....
I'm glad I'm actually getting the offer..... As I thought it was an early OEM key I might not be included



Here is my situation... I have at home a box from amazon that has a new 128GB mSATA SSD for my silly little Acer Iconia Tab W500. This is great timing if with a new HD I can install the 90 trial. Can I install this on a brand new, no OS hard drive?
Also, to other peoples fears of not having an install disc, I think, AND I COULD BE WRONG, that your product key should be on a sticker on your computer with windows7 and Microsoft printed on it.
Ps. Daniel. Though I have just now joined the site, I have been reading and listening to you since WMExperts was hosted by you and Phil. You have come a long way sir.

If it hasn't worn off the product key will be on the bottom of your computer. It will also tell you if it's windows 7 or not. That will help anyone who's unsure.

not being able to buy an activation key later for the evaluation version is dumb DUMB DUMB!!!!!!

Considering the number of changes to the RTM version of OS, it's probably best for all involved that you do a clean install. Otherwise, you were warned.

I don't understand. Isn't the evaluation version just RTM with a key that times out? It's not the release preview, is it? Obviously you can't upgrade from that.

Your comment is dumb DUMB DUMB

Its also available on TechNet!

What about dream spark premium and msdnaa? My uni site isn't showing it :(

Look here: http://blogs.msdn.com/b/uk_faculty_connection/archive/2012/08/02/windows...
Just wait for another 9 days. That's what I'll do.

Not sure why the surprise and fuss that you can't convert a prerelease/MSDN developer copy of the OS to an official copy. I cannot recall a single instance in the last 10+ years where Microsoft allowed this. It has always been a complete reinstall when moving to a fully-licensed copy. Microsoft clearly states the warning every time.

I think that's right. I've installed over the top and it drops your earlier version to Windows.old. Which isn't entirely a bad thing and I do agree, you do want to do a fresh install. It is what I would recommend you do anyway. Keeps the legacy stuff off your freshly installed OS.

Is the MSDN subscription RTM version not official? Or are you talking about the pre-release versions?
The surprise is that the 90-day trial of the final version doesn't let you register seamlessly for the full version like the 90-day Office trial does.

MSDN version is complete, but it has use restrictions in the license. MSDN licensed copies are for testing, not for updating your desktop; although if you did mis-use them I've never seen a problem (which is the reason they have reduced the number of keys for the TechNet guys).

Visual Studio 2012 also got released to the MSDN subscribers today!


I installed W8 on a 4 yr old Gateway laptop. The speed is unbelievable. Issues so far is no multi monitor support. This worked with a W7 on same machine. Another is no always visible clock. It transferred 18 gigs of music in under 10 minutes and installed MS Office pro in about 5 minutes.

I have MSDN subscription. Will install it today for sure

Yay! A Lumia 900 update on the same day I get to install Windows 8 RTM on the Samsung Series 7 Slate. And I read about it all here first! Thanks WPCentral! What would I do without you??
Windows Central Newsletter
Thank you for signing up to Windows Central. You will receive a verification email shortly.
There was a problem. Please refresh the page and try again.