Is this the new Windows 10 File Explorer?
Microsoft just announced the new Fluent Design language, formerly known to us as Project NEON.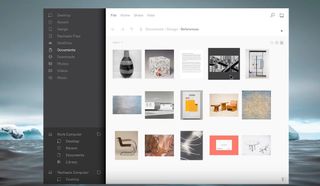 In the promo sizzle reel, various concept images flashed up for new user experiences based on existing apps, including Mail, the Store, and more. But one of the most intriguing was this radical overhaul for the Windows File Explorer.
These images are just concepts, at least for now. The File Explorer has remained unchanged for years, but this clip could give us an idea of where Microsoft might take one of Windows' most static features in the future. Here's the full video, the concept flashes up towards the end.
Stay tuned to Windows Central for all the latest from Build 2017.
Jez Corden is the Managing Editor for Windows Central, focusing primarily on all things Xbox and gaming. Jez is known for breaking exclusive news and analysis as relates to the Microsoft ecosystem while being powered by caffeine. Follow on Twitter @JezCorden and listen to his Xbox Two podcast, all about, you guessed it, Xbox!
Yes please. It's gorgeous.

No, it is not. It's ugly.

But wait. That stupid curv or shadow (where black turns to white). Didn't we have that in the New Outlook? Now it's gone. So there is hope. The rest looks amazing.

The curve/shadow thing was just for showing animation/depth/3d purposes. In regular screens, it obviously won't have that.

no, it is: http://i.imgur.com/5ELjb7B.png

Build 2017 is the most productive, progressive and exciting one from MS in last 5-6 years.

I like it but I dont it to be that dramatic...

Hell yeah. The interface is super smooth and I really like the soft touch Microsoft has implied.

Naaaaah it is more like a beautiful butterfly emerging from its cocoon.

Reminds me of my MacBook.

Reminds me of the UI of VSCO.

Compared to fluent, osx reminds me of 2007 vista.

And that is one of the problems, MS do not have any ideas of their own, windows is getting to be like a Mac in use, all it needs is a dock at the bottom of the screen and it will be there, apart from not as good.

That UI concept looks very confusing. There's no titlebar and I'm not sure what's going on with the left panel.

I'm not sure how it's confusing... Maybe the lack of a title bar, but not sure you really need it. Top left is still Quick Access. Bottom left are likely other PCs on the network. Looks extremely simple to me.

I forgot to mention how there are no arrow buttons on the sidebar to browse folders on the left area. At least, what can be seen right now. With the titlebar missing, it would be slower to close, minimize, or maximize with the mouse, unless it's hidden until the user moves their mouse over the area.

It's a concept. It's just meant to show what it would look like, not to be 100% functional.

Title bar could be exposed by moving the mouse pointer to the top of the display, and touch users could swipe down into the top of the display, much like in the current Win 10 tablet mode.

If they implementing this, insider feedback would probably shape it anyway so these things made a reappearance

I still miss the Norton Commander

Use Total Commander or Directory Opus.

i feel the identity crisis in Microsoft

Do you feel it in iOS as well? IPad pro huh; what does it do differently than the iPad with Bluetooth keyboard?

I feel your negativity since about as long as I've been browsing these articles 🐱‍🏍

File Explorer needs substantial improvements to become a top notch app.

No hamburgers, thats progress!

Well, I'm sure it turns into a hamburger with a row of icons underneath when shrunk small enough, to make it a better fit for the smaller screens. Microsoft might have killed off W10 mobile, but that doesn't mean full Windows still won't run on smaller devices in the future. Seems like that's where they're going. FINGERS CROSSED *-*

Concept. Does that mean it will never see the light of day?

Look at the insider builds, it already is.

Yeah, I just saw the images and they look great!

Feels like I have seen this when google announced the metrial design for android!

Are you saying this is Microsofts take of Googles take of Microsofts design? Because if I remember right Windows 8 was the first out the door with this style of design followed by iOS and then Android and their material design. But the actual design goes back further to the Zune software days as well.

It looks attractive, but it seems to be a pretty clear fake prototype given the lack of a way to close it (and it can't just be on-hover since touch users can't really hover).

(as noted above) ... the title bar could be exposed by moving the mouse pointer to the top of the display, and touch users could swipe down into the top of the display, much like in the current Win 10 tablet mode.

Good luck selling that MS. Even if it makes sense, people lose their **** over the littlest of change. Be smart about.

It looks like Nautilus (GNOME file manager, for those not in the know), but better.

Basic. Nice! (but hopefully they'll keep the file detail view and single click column sorting too!)

If it is, it is awesome. Bring it on please Microsoft.

GNOME looks totally different. Shows only files and folders. It's not using *.db saving thumbnail images.

Some nice artwork, they are finally getting somewhere by either looking at the future or turning to the past (Yep, desktop app tiles are getting the color back like on Win8.1) Check out Ableton and Adobe pinned tiles a la Windows 8.1 and no Ableton will not be coming to the store so it's not a bridged app or anything. BTW this is their best work, clean slate, legible text, bold headlines and small color accents. Minus the taskbar One thing that MS still didn't figure out is separation between clickable text and text that is just there. They are still hurting in that area. Plus they seriously need to get rid of the taskbar if they want tiles to take off.

The thing about the task bar though is that it's available on every single screen besides full screen applications. That's a critical aspect as tiles are only on the start menu and you have to go to it to access them. I think if they want tiles to take off, they have to make them more useful. Taskbar icons only launch apps. Tiles display a whole bunch of info. But they tend to not display enough. I think if MS wants tiles to take off they need to make them update more often and contain more useful info.

Great design dude, i Love it

Looks nice, hope it also supports tabs

Nope. This is just a mockup

In other words, yet another non-story for Microsoft. More vaporware.

There's also this one, hidden behind a mail app concept. https://youtu.be/vcBGj4R7Fo0?t=60

No thanks, I'd like my File Explorer to be practical and useable.

Lets hope they also fix the extra large Thumbnail sizing issue with high 200%+ scaling.
Changing from large to extra large maybe increases their size by 20% or so but the spacing it adds between them shrinks the amount of pictures per row from 12 to 4... like wut?

And we should be able to change size of thumbnails manually, using 100% scaling on very high resolution monitors makes for small thumbnails even with Extra-Large chosen.

YES. This is my dream. Want this ASAP.

I like it. I've been waiting forever for this.

Like it. Sleek. Hope it wil offer a full darkish mode though.

Actually, if you look at https://youtu.be/vcBGj4R7Fo0?t=60 (1:00 mark), you can see an even newer File Explorer UI based on the previously leaked concepts (include the title bar blended in). Looks really slick!!!!

Or could it be Microsoft Home Hub? Calendar is also looking pretty slick.

That's right, that's right. The one who posted here is a disaster in design.

I love it but hope it doesn't remove the extensive functionality of the current explorer.

This is starting to resemble a lot Google's Material Design. In its good parts...and its bad ones too. Namely the overuse of white backgrounds. And just now that Microsoft was going in the right direction by providing system-wide pure black backgrounds...

A new file explorer would be the most radical change for normal users ever. They will think trice before replacing the current one. It has to be perfect at once and very intuitive. Otherwise it will upset everyone. It will probably come alongside for the first years and perhaps replace the current one in 2022.

After 26 years of minimal GUI changes, could File Manager get more than just a new name? I would use this almost exclusively and it's better for most end users too. I hope Microsoft keeps the the current File explorer or even as an optional available Windows feature if necessary.

Well power users and even the filename of the application refer to it as Windows Explorer, which is a much cooler name

It looks great. No give us TABS in File Explorer!!! As of yesterday! Thank you in advance MS :)

yes, omni tabs which should open files, folders, apps, website - anything

I paused that video every frame passed by. I can't imagine how beautiful it'd be if this comes true!
Even Xbox !!!!!!!!!!!!!!!

As long as it supports all features of the old Explorer, like box selection, drag&drop from/to any folder, full featured context click menu with associated apps, file properties and security access editor, etc. I have no problem with this.

Whoa, that is super sleek. Reminds me of WinFS promos for Longhorn. It's like WinFS went back to college and graduated with a PhD.

microsoft changing the windows 10 file explorer into something as ugly as this is literally my biggest fear to this day. i'm usually a huge ms fan and pro windows in most ways but this is just as hideous as iOS 10's "lock sound".

You can have your opinions but I am just dying to know, what to find ugly about it? I find it amazing.

Where's the close and minimize/maximize button? Jesus Christ!!!!

you have to shout CLOSE or there might be a title bar on mouse over/touch

Strange that MS used Arial instead of Segoe UI. But then again, it's a concept....

I think the only app Microsoft never ever changed in Windows is Notepad. I've been using Windows since v3.0 and it didn't change a bit, even menu options didn't change. File Open/Save dialogs follows Windows standards simply because it calls the default dialogs of Windows, but for the rest... identical... ANSI/UTF characters support added along the way too...

Ya, MS should upgrade Notepad to Docpad with more features and should also include Codepad - a simple light weight VS.net editor

You should look at VS Code. It's basically what you're asking for as a lightweight code editor from Microsoft.

September, please come faster! I need all of this! :D

I am starting to think Microsoft thinks us humans don't know how to read. The want to teach us like monkey's with sign language and pictures. Bonzo wants a banana!

I love it!
Please bring it soon !
I still want something that works 'like' tabs, to keep a few folders active and quickly accessible, without getting messy.
It works for browsers after all.

It's beautiful, but how do i close the window? :D
Windows Central Newsletter
Thank you for signing up to Windows Central. You will receive a verification email shortly.
There was a problem. Please refresh the page and try again.