Hands-on with the New Xbox One Experience dashboard preview
By Jez Corden last updated
Windows 10 is set to be in the news a lot this week, and the implications it has for the Xbox One are finally becoming clear.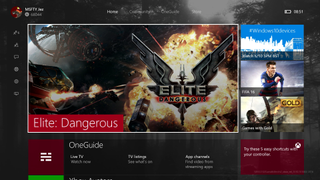 The New Xbox One Experience is almost upon us, and thousands of eager insiders are already testing the dashboard update ahead of its planned public roll-out. Join us to find out how the Xbox One's new interface stacks up in practice so far.
Supercharging the Xbox One experience
One of the key complaints the New Xbox One Experience (NXOE) addresses is speed. The Xbox One's launch dashboard was functional but rather sluggish. Performing key system functions like creating party chats and switching between apps were cumbersome at best, putting the Xbox One's dashboard behind its primary competitor in certain ways.
Xbox head Phil Spencer previously noted that various common tasks are up to 50% faster on the NXOE, and I'm happy to report that it certainly appears to be the case.
Back in the days of the bundled Kinect, certain system tasks were designed to be performed using voice commands. After the uncoupling, Microsoft updated the Xbox One with a rudimentary guide menu, activated by double tapping the Xbox One's home button. The feature, first appearing on the Xbox 360, proved popular, and Microsoft have expanded it even further in the NXOE.
Double-tapping the home button will launch the new guide on the left of your screen. Not only is it snappier than the guide on the live Xbox One dashboard, but it also provides quick access to far more functions.
It opens up into two columns, with the left one featuring content from the current menu, and the right one acting as a menu selector. You can navigate using the joystick or the d-pad, and elements highlight using your current accent color. A tap of X or Y records clips and creates screenshots as per the live dashboard.
From the guide you can access friend's profiles, quickly invite them to parties, access messaging, recent notifications (with the option to clear them out with one button) and quick settings.
The upshot is that accessing the new guide is almost instant, without a hint of stuttering or lag - even during graphically intensive in-game sequences. The new guide simply elevates the entire Xbox One experience.
Dashboard, Community, OneGuide, Store and Settings
The Windows 10 iconography has made inroads with the NXOE. Animations and other subtle cues remind us that the Xbox One is indeed part of the Windows device family.
You can navigate between the different sections of the preview using the shoulder buttons or joystick cursor as you'd expect, and the functions continue the improved responsiveness trend. Accessing pins is a simple case of hitting the left trigger, and the new Recent Apps list provides contextual functions, per app such as quick access to Live TV from OneGuide.
The community segment is bare bones for the minute, confirmed as a work in progress by platform lead Mike Ybarra. Stay tuned for more on that.
The OneGuide section populates entertainment content from every store and service set up on the Xbox One, including Netflix, your cable provider and Microsoft's own Film & TV store. The app channels present on-screen only represent Microsoft's store right now, but I expect they'll be customizable with content from other apps soon enough.
Speaking of OneGuide, Live TV now sits within a dedicated OneGuide app, which appears to replace OneGuide as a separate system menu. Switching between the Live TV feed and the full OneGuide TV listings also enjoys improved speed. File this under seems faster, but it feels as though Microsoft have improved the responsiveness of the IR blaster for channel hopping as well.
When your cursor lands on the store, it expands into four new segments: Games, Apps, Movies & TV, and Music. The latter two populate content from the Windows 10 Store, opening in Film & TV and Groove Music respectively. The Xbox specific stores have gotten refreshed slightly but are fairly unstable in this current build and prone to crashing. The new game store prominently displays new releases as well as upcoming titles and games in the preview program. You can flip into dedicated stores for add-ons and even subscriptions - which at the moment only contains Xbox Live Gold and EA Access.
As of writing, the new app store still only contains apps currently available on the live dashboard, but there are hints of greater things to come.
Hints of Windows 10
Windows 10 powers the New Xbox One Experience, and we're beginning to see what that truly means. The public Xbox One is effectively running three operating systems. The first OS, based on Hyper-V, serves as a host between the three systems, the second serves as a dedicated games environment, and the third runs on the Windows 8.1 kernel, specifically for applications. Indeed, Dave Cutler, the legendary Microsoft engineer behind Windows NT and Windows Azure, was involved with the development Xbox One's unique software architecture.
Windows 8.1 and Windows Phone 8.1 begun sharing code to help developers create apps across devices more easily. Some commentators suspected that the W8.1 kernel within the Xbox One would eventually open it up to the Windows 8.1 app store. This vision hasn't materialised so far, but there's certainly hints within the NXOE that it could be on the way, thanks to Windows 10.
Windows 10 extended the ability for developers to create responsive, device-agnostic apps, with the creation of the Universal Windows Platform (UWP). Universal Windows apps conform to the Windows 10 device they're running on, similarly to how responsive desktop websites shrink to fit mobile phones and smaller tablets. Mail for Windows 10 will recognise a mobile touch-screen tap in a similar fashion to how it recognises a mouse-click on a desktop. UWP apps will also recognise HoloLens finger gestures as an interaction method, and indeed, pressing the "A" button on a Xbox One controller.
The Avatar app for NXOE is a Universal Windows Platform app, complete with the hamburger menu from its Windows 10 counterpart. The hamburger button on the Xbox One controller suddenly begins to make a lot of sense.
The d-pad snaps to elements that would otherwise be clickable on a PC, and given the fact mouse support is on its way, these experiences could become even more PC-like. Phil Spencer famously said that he found it unlikely that we'd see Office running on Xbox One, but it certainly seems like there's no reason it couldn't - all thanks to the Universal Windows Platform.
A few waves of polish shy of perfection
The New Xbox One Experience is very much a work in progress. Even when not considering that fact, the unfinished NXOE is an impressive iteration on the console's usability. The emphasis on speed wasn't just marketing hype, the ease of accessing important features and functions are a vast improvement.
Perhaps the most exciting aspect of the NXOE is that it appears to pave the way for apps built for the Universal Windows Platform. Both app and games developers are already being encouraged to build their projects for UWP, and the language from Redmond points to the Xbox One as a firm UWP development endpoint. The only barrier is Microsoft, who may be reluctant to dilute the Xbox One's experience by easing restrictions on third-party app development. There's a lot of junk in the Windows Store after all, which could prove confusing for users accustomed to the highly-tailored Xbox One experience.
There's a good chance we'll learn more about Microsoft's plans for app publishing on the Xbox One in the near future, perhaps as soon as today's #Windows10Devices event in NYC. After all, the New Xbox One Experience proves without a doubt that it is indeed a Windows 10 device.
If you're in the NXOE preview, be sure to head to the official forums to leave feedback and report bugs over here (opens in new tab).
Are you in the NXOE insider preview? How are you finding it so far? Let us know below!
Jez Corden is a Senior Editor for Windows Central, focusing primarily on all things Xbox and gaming. Jez is known for breaking exclusive news and analysis as relates to the Microsoft ecosystem while being powered by caffeine. Follow on Twitter @JezCorden and listen to his Xbox Two podcast, all about, you guessed it, Xbox!
I am in the preview but the new xbox one preview still says pending for me.

It's on a phased roll out, with priority given to those who actively sent reports.

Hilariously, I have the update and mine still says pending. Go into your settings and see if it prompts you for an update.

I was in the middle of a game when it promptly booted me off and gave me an error, so I had to restart and it was updating, got another error, rebooted again and it finished...and. It. Was. Mag. Nifecent! =D

Nop. Still not convinced. Sorry but a console UI that doesn't put my gaming library front and center is not a good UI in my opinion. What's the point of having pins if they're hidden at the bottom anyway? If you're going to hide them, you might as well cut them altogether and put the entire games & apps library into a different menu away from the main menu which you can also access through the right trigger. At least that way it would be equally unpractical but at least it would de-clutter the home screen. Also, a question: how many of those things can we deactivate? For example, is there an option to deactivate the "recent apps" list? Or OneGuide?

From the main page if you scroll down one your Games & Apps are permanently set there.

It literally takes one button click to get to your pins where all of your games are. Your complaint is such a non-issue.

It's not about effort, it's about better UI's, mate. You can do the same thing 5 different ways with the same ease yet only one of them being a good UI experience.

No, DJCBS is right: the previous UI was faster to get to your games and apps as well as pins, snap center was much better previously, and the old UI was muc more conducive to Kinect gesture navigation. It seems that Microsoft thought they needed to repaint the entire car when all they needed to do was wash the tires.

Hows the ad situation is it just as worse as orig. nxe

Pins are one click of the trigger away from the main screen, not sure how that constitutes hiding them? I mean, just because they're pinned doesn't mean we always have to look at them, right?

Well, since you don't see them at all now (because you have the game window and the recent apps front and centre) they end up hidden. You don't even have a small hint of their presence there like on the current version. Hence why I don't see why they wouldn't just get rid of them altogether. They might as well just create a proper customizable library on a different screen accessible through the same click of the trigger.

Exactly. UI is about visibility. You could see your pinned apps before and quickly maneuver over to them. Now they're buried and take longer to get to--same goes for the Games & Apps icon. I find the new UI to be pretty much a disaster, sprinkled with a few niceties they easily could've added to the old one.

Recent apps list shows games. Front and center down. I like the quick button to pins. I might update my pins now.

I'm in the preview program, and while I do game I find that we spend most of my family's time spent with it is using it as a streaming media device or with Skype. My main concerns with the current one are speed(which appears to be addressed) and navigation. If they nail the navigation between the services I'm sure it will be fine. We do have media remotes and I'm concerned that navigating to the pins will just be a pain and take longer than before. I don't want to use the controller for anything other than when I'm gaming because it requires two handed use while the media remote needs just one. If the buttons on the remote can be remapped when navigating or there is a quick button to press like the triggers to page up and page down, I'll be happy with it.

The fastest way is to use Kinect. ;)

Too bad that Kinect has been completely nerfed in the new UI. Although voice commands and auto-sign in via facial recognition work, gesture navigation is gone: can't navigate the dashboard using gesutre, nor can you play Kinect games. It's not listed in the 'known bugs' list, and Microsoft refuses to acknowledge it, even when posted in the Preview Forums. I'm not impressed with Microsoft's Xbox team right now. Very vexing. Some of my family members rely on Kinect exclusively, rendering our Xbox One a brick to them. I understand that it's "preview" software, but that is a pretty hefty omission given that Microsoft once said that "Xbox One is Kinect". It's almost as if no one at Microsoft even tested it.

Kinect will be needed for Cortana. No Kinect then No Cortana. Cortana going to preview by year end and then to general public next year. Posted via the Windows Central App for Android

Cortana has nothing to do with gesture navigation or motion-controlled gaming. Voice commands in the new UI already work fine. I'm talking about Kinect gestures not working.

I agree, normally walk into living room "xbox on", from there I would use gestures and voice commands sometimes controller is not used for the whole session. I rely heavily on kinect as part of my daily experience. Step forward not back, example not being able to hide music to background when surfing Web or playing games, remember this old gem.

Hold down on the down Keyon your media remote. Works the same as clicking it. I just tested it.

I like it a lot. I think it feels a lot better than the old one. The only thing I find odd is the pop out menu on the left side.

Update last nite. I love the new one guide. It's so much faster. I will go back to using it more. I love the update so far and sent in feedback for a few things I saw already.

The Elite: Dangerous background and in-game gif made this news so much more interesting. God I love this game.

Netflix in the OneGuide! This is a big one for me. I'd love to see NBA Game Time in there, too. During the NBA season, we probably are using NBA Game Time for about 40% of our entertainment, Netflix for about 40%, and live TV via antenna for the other 20%. Since 80% of what we watch isn't in the OneGuide, we tend to never really bother with it. Add in the needed speed improvements and hopefully this will actually make it the one unified guide for all our content, something hugely needed in the age of cord-cutting - that's the one major convenience cable is still able to sell. Any hint of a universal search? That would be another great one so I wouldn't have to remember what movies we own in one of the Ultraviolet stores, what's in Plex, what's in Netflix, what we would have to rent from Film & TV, etc.

I'm sure it's an update away.it use to be in the one guide. I just say xbox Bing and what I want shows up with options to view it.

I only just got it by the end of the weekend and haven't had a lot of time to finagle with it...lol, that's an old-timer word! On the plus, it is just getting me in and out of games, along to other apps and back fairly quickly...but yes, it will take some time and updating to be stable again, certain video apps and other things are still a bit flaky and shaky to play on the new architecture. =s

I already have it, and it looks really cool Gonna see how borked it is throughout the day.

The Xbox One dashboard preview still needs some fine tuning, plus alot of getting used to.. One issue is the screen dimming. One update fixed it, then another update brought it back. It's an annoying issue. The dishboard is still a little sluggish, it freezes at times, there is alot of work that needs to be done. I don't know if I like it yet. I had it since the first release.

Im not sure Im liking this. I have my Xbox in the living room and my wife is not a nerd by any means. She doesnt like remotes and controllers and we have our unit connect to our DirecTV genie. The voice commands are used ALL THE TIME. And I try to only use a controler when I want to play a game. Other than that, its voice control or smartglass app. From what I am reading here the controller comes in to play even more and kinect not so much. Yeah, not liking the sounds of all this "new and improved" stuff. Perhaps I am wrong and it will be okay just different. but I have not been at all overly impressed with WIndows 10 and many of the features that have been either stripped away or gone. If they plan to do the same to XBO I hope the things I use are not stripped away or reduced.

In this current build (maybe it's coming back) you can't use gestures to navigate Kinect, but voice navigation so far works exactly the same and just as well for me - Based on my own experience, and from others I know who have an Xbox, the gesture based controls aren't that popular, where as the voice commands are. I'm sure there are some people that use the gestures to navigate their xbox, but for me the only thing it was every better than voice for is scrolling a description box in the store.

For the love of god...... OneGuide program notifications!!!!!!!!!!!!!!!!!!!!!

I got the update last night, and did my share of fiddling around with it. Without a doubt, it's an improvement in terms of speed, but it feels overwhelming at first. However, it's still not as confusing as my first experience with the first dashboard so YMMV. Only time will tell if I will come to appreciate the layout changes, though the quick-access menu to the left is a massive improvement. Common tasks are immediately available, instead of buried in menus. I'm still waiting on Cortana to show up. What they showed off at E3 with voice commands looked amazing, and I'm hoping it wasn't smoke and mirrors. A big overhaul that I appreciated was to the settings menu. It's organized far better and looks much cleaner - akin to the settings menu in Windows 10. It's not a game-changer, but it was much needed. The same goes for the achievements area within each game. It now shows off several data points (instead of just hours played and achievements earned). Browsing through each achievement is also far less painful, as it loads faster and each one doesn't take up the entire screen. I wasn't able to set a picture as a background, but the functionality is there. Might just be disabled for now. Again, not major stuff, but very necessary to remove the old clunkiness of the original dashboard. It increases the chance I'd fart around in those areas, instead of avoid them completely (which I used to do because of how slow it was).

Had this for 4 days now, so far seems ok, when I got it, it wasn't as fluent as it should be, but 4 updates later and as of today, seems alot better, however I had not give it a good go over yet. Still got to remember that this is still a preview (Not Beta) alot of the bugs have been worked out, there are still some. Also from all the reading I have done, seems like there is alot of users that have thought oh I'll try this and get it before everyone else, without looking at the problems, and then they whine about how S**t Microsoft are because they never sorted any bugs out, I think they need to remember that, that is what the feedback button is for.

People need to remember the NXOE is beta, in fact more accurately a alpha build. It is full of bugs and quite a bit of stuff don't work, hard resets are quite common. I've been on NXOE since wave 1 and have submitted over 20 bugs so far. The main problems a lot of people don't like is the problems with party chat. Anyway if you don't like bugs and don't like reporting them, then PLEASE uninstall the NXOE and wait for public release. Microsoft warn that there is bugs and problems so please stop complaining saying MS is s**t, just cos you are on preview and didn't read all notes attached to it. Don't just join the preview program just to get things first and not bother submitting bug reports, as far as I'm concerned your space could be given to someone who could and will help. Sorry for being a long post but am very passionate about the preview programme, and don't like all negative news it gets from people who just want to be first and not bother helping. Posted via the Windows Central App for Android

I want to try the new preview but one of my most played games right now (Destiny) is broken so I haven't tried it yet. Will wait until that is fixed before I opt in.

I believe they have all ready fixed the destiny bug, just double check on preview forums. Posted via the Windows Central App for Android

Hi! Please send me an invitation for xbox one preview! thanks! e-mail:fkh70@hotmail.hu or Gamertag: Nyugdijas Lambo Thanx and greetings from Hungary Europe!

Well I've got a 1GB+ update that's installing as we speak so I think I'm about to get it. Yay!!! One major annoyance, Xbox updates are so ridiculously slow, everything else I download is super quick except for Xbox updates.

I just got the preview when I arrived home today - I use the TV Tuner rather than a Sky Box and the TV guide experience is noticeably faster. For me it feels like a night and day difference. The current implementation (before the Windows 10 update) always felt very sluggish to use

Hey my brothers xbox one dash and every game and app does not work. We have done everything the Microsoft page told us,and still nothing. Even says connection is fine? Anybody else having troubles with this? Plz help

I have had the NXOE Dashboard since it's release and at first impression I did not like,at first, it because it changed a lot of the way we use to do things (Friends, Messages etc). But after a couple of weeks of using it i was hooked on how it made most tasks more streamlined and fluid. But with that said I have selected to remove the NXOE Dashboard as it has too many bugs. Yes I understand it is a Preview and it is supposed to have bugs but this version honestly seems to be a pre-alpha rollout rather than the beta releases us preview candidates had before. I have had Destiny just completely quit out, I have had system updates just apply themselves mid gameplay with no way of backing out of them or having it wait until later and as of late I have had the Xbox completely reboot twice and shutdown once. Multiple apps will not launch and about an hour or so in to play the NXOE side tab will just not open anymore. You double-click the home button and it darkens your screen as if it is going to open, sits there roughly 15 seconds and then an error message of "Something went wrong" pops up. The same thing happens when you hit the Xbox button on your controller, it will not bring you back to your home screen like it normally does instead "Something went wrong". So far the only workaround I have found to fix this temporarily is to hard reboot my Xbox. The other previews were fine to be a part of but I feel that this one was not hashed out enough to really have valuable feedback since I know most of my friends that are in it are experiencing the same issues are removing it at as well. I absolutely applaud Microsoft for heading to the right direction but there needs to be a lot more worked out before a preview should have been released.

Hi Please send an invite to preview to Gamertag: Civbaron1 Thanks
Windows Central Newsletter
Get the best of Windows Central in in your inbox, every day!
Thank you for signing up to Windows Central. You will receive a verification email shortly.
There was a problem. Please refresh the page and try again.