Next Windows 10 PC Insider preview build will require Microsoft Account to be connected to PC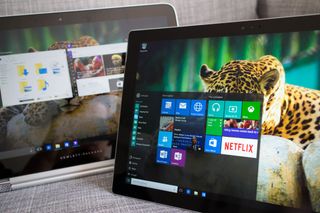 Microsoft is preparing to launch Windows 10 on the PC July 29, and with that comes some changes that will affect members of the Windows Insider program. Members will now have to have their Microsoft Account connected to their Windows 10 PC after the next preview build is released
Windows Insider head Gabriel Aul stated:
Aul added that this change is just for members of the Windows Insider Preview only. People who upgrade their Windows 7 or 8.1 PC to Windows 10 when it launches on July 29 will not need their Microsoft account if they are not receiving Insider Preview builds. That also goes for PCs that have Windows 10 pre-installed.
Windows Insider members will get the final release version of Windows 10 on July 29 as just another build. Aul added:
Of course. the Windows Insider program will continue after the Windows 10 launch, as members will be able to get builds of upcoming patches and features for the OS before they are released to the general public. Aul did say that the Insider Hub app will no longer be pre-installed after the next preview build is released, but members can manually download it.
Source: Microsoft
Fine by me. (So long as it is not a requirement in the RTM. I know the article doesn't say that at all but I'm just saying).

the article actually is explicit on this in that it won't be required for non insider builds

Aul added that this change is just for members of the Windows Insider Preview only. People who upgrade their Windows 7 or 8.1 PC to Windows 10 when it launches on July 29 will not need their Microsoft account if they are not receiving Insider Preview builds.

People say things. Are you sayin Microsoft has never done something that they said they were not going to do?

Then its not fine by you, because you know, people say things.

No, as I specifically stated fine by me under a specific set of conditions (actually one condition). It's not that hard to read.

ok, this stuff is getting tiring... Microsoft don't give a clear and simple response people complain and start making assumption based on what wasn't said and then get mad when Microsofts clarification dont align with those assumptions... Microsoft give a clear simple response and people complain becuase they don't believe them...

So you are happy to take them at face value when they say something negative but you think they are lying when it is something positive. Did it ever occur to you that you have a problem?

Why wouldn't you want to sign in? It's going to be subscription based - i feel like this is going to be mandatory for at least one account on the machine.

For the imaginary subscription to use Windows that people keep trotting out because they can't read.

As they've explicitly stated a hundred times, there will be no subscription or subscription fees.

A free subscription is still a subscriptions. And, It's only free if you upgrade in the first year. Whatever you want to call it...

The offer to get Windows 10 for free is for one year, not the license. Learn to read!!!

Microsoft already confirmed that upgrading is free the first year. If you don't upgrade in the first year, you have to buy a copy of Windows or a new computer the same way it has always been. Please stop spreading FUD.

He meant the offer, though, not the license. The license itself is for the lifetime of the device.

@xxcorpxx How does linking your MS account to keep your settings and apps consistent across your devices and desktop equate to a subscription?

People have their reasons. I believe that should not be taken away. For the record I do sign in with mine since I like the convenience but there are plenty of scenarios where it's completely unnecessary, or even not a good idea. Also, where/when did they say anything about the OS being subscription based? Don't make stuff up. That would be a mistake.

There were a ton of articles stating that and then retracting it. MS wants Windows 10 to be forever upgradable. That relates to a subscription otherwise, they don't make any money ever on it. Wouldn't you pay a few bucks to keep your OS updated like an AV product? I think that was the intention at least. Bing\Google... Windows10 Subscription

No, they plan to make money from the enterprise and taking a cut from the store. Gabe Aul already confirmed that MS is not planning to have a paid subscription. Please stop spreading the paranoia. Here's a link: http://m.winsupersite.com/windows-10/what-windows-service

Ladydias is totally right. Windows as a service != Subscription

Even if it do become a subscription over time there is nothing wrong in doing so. Right now Microsoft has to make it easier for folks to move away from OSes going back to XP.

Have always had my MSA linked to PC and stuff since the beginning.

If it's required in the final RTM version, I will never be upgrading to Win10; Microsoft can go fuck itself with its google-like data mining and monitoring of all my PC's. Data mining is already a requirement to use Cortana both on WP and Win10 preview. No wonder they ended the scroogled campaign, they are becoming just as bad as Google. Thats the price of the so called "free" Windows upgrade or "free" insider testing; "If you're not paying for it, you're not the customer; you're the product being sold." I would much rather be paying $200+ for new Windows if it means not being data mined by greedy companies to sell my data to advertisers.

Read the article before going your tabs idiot. It's only required for INSIDERS so they can target then with Insider features. Regular users can do as they please. Posted via the WPC App for Android!

Read the article before going your rant idiot. It's only required for INSIDERS so they can target then with Insider features. Regular users can do as they please. Posted via the WPC App for Android!

Why do we have all these idiots who open their mouth without reading and understanding the subject?

sounds like the baby lost his dummy... serious GFO to google\apple where an account is not needed... ***cough***

how many day wait for this?
I can't wait.

39 here! Oh wait. It's Redmond's time, not Indonesia.

Seems to me that Insiders will indeed get a Windows 10 license for free. Will see.

....through the Insider Program. (i was saying that month ago in another article)

True, that will encourage those with pirated/unlicensed versions of Windows will have 2 options: be an Insider, or buy Windows 10. Most will go to the former, I'm sure.

Insiders and all users running win7 or 8 will get a free license to win10.

All facts point to that, but they didn't said the exactly words, it's a big Probably, and that's what I believe too, free Windows 10 :)

Actually a post in the insiders app says the even if you clean installed you will get the final license and still be able to clean install if you use the MSA account.

that is what you signed up for

The government has a secret system, a machine that spies on you every hour of every day. #PersonofInterest ftw!

Yeah, its called, your girlfriend (or boyfriend)

I hope there will be another season

What about if the insider build is installed on another PC and I want to install the final ISO on my main PC?

Upgrade once, and then you'll be able to clean-install.

You can't install RTM W10 gained from insider program on another computer

But I'm using the same MS account on both computers. I hope the final ISO can simply identify and accept my Windows 8 product key during clean install, or even after install during activation.

...or rolling back to Windows 8.1 first to make a legit update ;)

I believe after you upgrade, the free license is tied to that specific hardware. For (mainly) desktop PCs where parts can be replaced and upgraded, they haven't said how much hardware can change specifically before it's not considered the same PC

They will consider it's not the same PC only if you replace the motherboard with different motherboards. The rest will give you the same effect. Just try to change all of your PC components except your motherboard and your HDD/SSD.

Why do you want to install the preview fnal ISO on your main PC? You can directly update to the final version of Windows 10 for free on your main PC between July 29, 2015 and July 29, 2016.

I want to install the final ISO not a preview ISO, and it's always better to do a clean installation instead of an upgrade.

Well.. It might be tiresome, but you could upgrade your main PC (assumed that it has valid license of 7, 8, or 8.1) to get the free license, and then reinstall that RTM version into it for clean install (they said that we can clean install many times on the same PC after we can acquire the license, either by Insider program or upgrading).

I have the one laptop one tablet and one pc all have license but laptop is on vista which was never upgraded to 8.1
If MS is giving away free licenses then i would install preview on that to avail it LOL

Yes. Microsoft gives free license for windows insiders. BUT
1) You should use Microsoft Account which was used for Windows Insider program 2) OS can be installed only on computer which was used for Windows Insider program

Actually that's not quite true, it's free for a year whether you were in the Insider Preview or not. All vikassolankiii will have to do is upgrade the laptop to either Windows 7 or 8.1 and providing the laptop meats the requirement then they should get the notification to reserve Windows 10.

What if I have limited or no connectivity? I use my mobile's 2g net on pc. Do I need internet everytime I log in?

You'll only need internet access for the initial setup. Otherwise it works just like a regular pc at any other time.

Seems to me they try to fight the amount of leaked builds so they can show them off on their own. I don't mind using my MS account though. But i still wonder why they don't pop up a few videos every now and then showing what they've been up to and what they added which is going to roll out soon. And i don't understand how they can't secure their buildserver to not allow distribution of builds to leakers. Would seem to me that its pretty easy to identify who leaks and who should be fired or whatever.

The leaks are usually partner builds soo its not that simple lol.

the thing is what we call 'leaks' are really builds that they send to OEMs or partners in general. You know how the internet is, very hard to track things once you involve person A, B, and C.

If you want to be an insider, be prepared to give your fedback. Don't just do that because you want a free copy of windows or whatever. Just make sure you are heling to shape and better Windows 10

There will always be people that do this. Even though they get a free license for win10 because they already run win7 or win8.

Even still, there will be early testing of updates. They probably collect some sort of metrics even if people don't provide feedback.

Happy to see they've confirmed final build for insider's. But is a genuine copy?

Anyone that is currently an insider, runs win7 or win8 gets a free, genuine copy, license of win10.

Unless you have a pirate copy of Windows 7 or 8.1, in which case it will remain a pirate copy after upgrading to Windows 10.

I have a feeling that if you are running the Insider Program they are gonna reveal soon a little surprise and say every Insider gets a Free genuine license of WIndows 10 thanks for your hard work and help bla blaa, something like that. so if I had to assume, i'd say yes it would be a genuine build no matter what you had installed before. Cause think about the people who installed it fresh out of a USB onto a computer with maybe no Windows OS on it before that. They too are gonna get the final Build and the updates going forward.

Yes, but that's why they are requiring an account so that no one can do a bulk activation of insiders builds

I don't see why you wouldn't anyway. Unless of course you're a privacy personage...but the benefits far outweigh not doing so

I'm testing Windows 10 for the company I work at and we are not allowed to have Microsoft accounts connected to our computers so I'm not happy about this.

I suppose enterprise editions would not have this requirement. MSDN had enterprise images last I saw.

What would a non genuine license be? :)

Unless if you want to enroll the Insider Program, there will be no way except by buying Windows 10.

I guess u would get the OS. But
I guess u may have less updates compared to the genuine ones.

For non licensed builds the only difference will be no personalization options and no optional updates, but you get everything else including the security updates

Does anyone know how to unsubscribe from the Windows 10 PC preview? I don't want to participate there anymore...

So if I signed up for the insider on one MSA but installed it on multiple computers using different MSA should I register all of them as insiders then reinstall the OS completely?

Will insider always live in a 'preview' loop? Can we stop preview update in the final build?

In the update section of the settings in build 10147, there is a switch to stop insider builds. It is highly likely that you would have this feature in the final build.

That is dumb. I'm testing Windows 10 for the company I work at and we are not allowed to have a Microsoft account connected to our PCs. Looks like I will have to download ISOs every time a new build is released.

Yea, downloaded 10147 and put in a VM, didn't put my MS account in, every 5-10 min it asks for one....really freaking annoying...

Thought it was already a requirement. I guess it wasn't

Glad its not necessary for the RTM release. But I guess it will become a nuisance in the later builds when running a local account.

Ever since Windows 8 if you don't have a Microsoft Account hooked up to your computer you've been missing out. It's not impossible, but awfully convenient. Especially complimented with a Windows Phone. I'm going to stop preaching to the choir now.

Just remember if your in the Windows 10 insider preview that they are collecting more data on your computer that's the trade off with free Windows 10 insider preview.

but i got an update notification of windows 10 in pc, my window is registered, i'm confused this updation is fuck or true

Having to connect our Microsoft Account to our PC is an important (big brother) topic. In fact it's the only imporant topic I've heard discussed. Everything else I've read (maybe I'm looking in the wrong places) has been about title bars matching the desktop theme or whether the icons are flat or 3D or what the annimation experience will be like. I don't care. I don't care about the icons. I don't care about desktop themes. And I don't care about what I can pin where. I want to know if Win 10 is less bloated. Did they strip 8.1 down to the studs and rebuild it? I want it to take up less storage space. I want it to use fewer system resources. I want to know what I can rip out, tear down, or uninstall to speed it up. I want good drivers and support for solid state HDs. If I could find a version of Win 3.11 that could handle my current hardware, I'd use it. It would be like a jet engine on a VW Beatle. And if I got stuck I could fix my problems in DOS. I may sound like an old man. Guess what. I am. I've been doin' this since DOS 3.1. It doesn't feel like MS has taken one thing out since DOS 3.1. They've just added more on. Now it's like walking through molasses. OK this may not be 100% true, but it's not far off. Could someone please talk about performance and the ability to make meaningful changes after it's installed; changes that make it faster, smaller, and smarter. - Scott

Taking the jump on my tablet now to w10tp wish me luck. Samsung ateev smart PC don't fail me now!!!
Windows Central Newsletter
Thank you for signing up to Windows Central. You will receive a verification email shortly.
There was a problem. Please refresh the page and try again.