On NFTs, and why Ubisoft hates video games (and you)
The logical conclusion of microtransactions is nigh.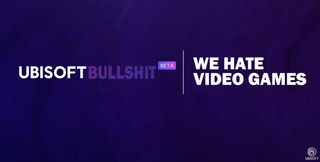 (Image credit: Ubisoft / Windows Central)
Discussion about the blockchain and the technologies therein are topics that seem almost impossible to escape these days, although the debate over whether crypto is a good or a bad thing intrinsically is not what we're discussing today. We are instead discussing how game developers are lining up NFTs as the next weapon in its endless quest to manipulate customers out of money, so they can get rich and we can stay poor.
Ubisoft revealed its very own NFT platform, dubbed Ubisoft Bullshit™️ Quartz™️. It's an all-new platform not too dissimilar from the company's rewards system, which gives players in-game loot for simply engaging with its titles. Imagine that very same system, but instead of getting a piece of free in-game loot that is indefinitely available, you're given a "limited-edition" item, which you can then trade away to other players for money. Seems fine on the surface, right?
NFTs and crypto, much like anything, can be used for good or evil. NFTs can be a way for independent artists to sidestep gallery fees and murky industry politics and get paid directly for their work. But that's not what is going on here. Giving the keys to companies like Ubisoft and EA who care more about money than the good in gaming seems like a bad idea, and we have to sit up and ask ourselves whether we really want this.
As we look ahead to the future of what gaming may look like, it's time Microsoft, Sony, Nintendo, and other platform holders look hard at this technology and ask themselves whether they really want to bring real-world economic inequalities into video game worlds.
Ubisoft Bullshit™️
First off, what the hell is an NFT anyway? Conceptually, an NFT is a digital asset with authenticity that can be verified in an incorruptible cryptographic code known as the blockchain. NFTs are traded using cryptocurrency, which were envisioned as a way to liberate people from the banking establishment. The utopic (and potentially naive) vision of cryptocurrency is actively being perverted by establishment entities, like Ubisoft, that are seeing it as a way to make even more money than they already do.
Ubisoft isn't doing this for YOU as it so boldly claims in its Quartz teaser. Ubisoft envisions a world where it's removed from the discussion of a digital horse armor DLC being sold for tens of thousands of dollars — manufactured scarcity will set the value, and players on modest incomes stand to miss out.
Ubisoft's foray into NFTs is hardly surprising. It noted it was interested in it at a recent financial earnings call, alongside other mega publishers like EA. Many publishers have fallen afoul over taking microtransactions too far, with EA's Battlefront II pay-to-win controversy as an obvious example, but this whole NFT thing could potentially obfuscate similar criticisms in the future — supply and demand become an easy scapegoat if people forget that Ubisoft controls the supply.
As of today, Ubisoft's NFT purchases are fairly innocuous and can be earned fairly easily, but the way Ubisoft wants Quartz to work as of today is ultimately irrelevant. The endgame is what matters, and the endgame is a murky world where only the biggest celebrities and influencers have enough buying power to grab the coolest skins and assets, injecting the sense of inequality we actively try to escape from in the real world into the video game world. It's right there in the website for Quartz: "Be Unique," Ubisoft says, psychological manipulation via FOMO as its central pillar. Many of these games and NFTs will undoubtedly target kids, too, which is a juicy lawsuit just waiting to happen.
This FOMO, of course, is entirely manufactured. Ubisoft can control the supply of the NFTs it'll inject into the Bullshit™️, but what would be the point of making all assets equal if it can convince a millionaire influencer to spend $10,000 on a dumb helmet, and take a cut of that transaction? Richer players are worth more to Ubisoft than you or I, and through this system, Ubisoft wants you to know it through manufactured scarcity. To put it another way, Ubisoft wants you to know that it hates you.
All of this disregards the debate over the power consumption that comes along with cryptocurrency mining, and the debate over how much of its value is heavily tied up to illegal activities. Of course, Ubisoft doesn't care where the currency came from, nor does it care whether it is contributing to the destruction of the Earth itself. Laughably, Ubisoft's Quartz system is built on the comparatively efficient Tezos blockchain, but the second NFT they added to Ghost Recon Breakpoint asks you to AFK for 600 hours to earn access to the skin. Even a conservative calculation for how much power 600 hours of AFKing in Ghost Recon on a next-gen console uses makes Ubisoft's energy pledge on Quartz completely laughable.
Ubisoft could implement features like an in-house marketplace for free without the blockchain if it wanted to. But it doesn't, because it loses the scarcity angle it desperately needs to inflate the prices on these pretend items.
Platform holders need to make a choice
If Microsoft and other platform holders are to nip this in the bud, they need to sit down and have a real think about what they want gaming on their platforms to look like in the next decade. Steam has already banned it, but we've not heard much from the other big three on the topic.
I'm by no means against NFTs or cryptocurrencies as a concept, especially in a magical theoretical world where all energy use is renewable. What I am against is how companies like Ubisoft are seeking to implement them in gaming, with zero consideration for the inequality they're bringing into gaming so its execs can get richer, at the entire industry's expense.
I got into Dark Souls recently, and after hundreds of hours reviewing service-type games that advertise random crap to you at every possible opportunity, I couldn't believe how nice it was to actually just play a video game, without having external considerations. We're losing the best aspects of gaming to the greedy machinations of companies like Ubisoft who have lost sight of the art of the video game. Increasingly, I feel like game publishers like Ubisoft seem to actually hate video games, and wish they were involved in banking instead.
Ubisoft's claims that Quartz is about giving gamers "control" over skins seems disingenuous. What happens to the value of these NFTs if the games attached to them are shut down, for instance? I assume the reason Ubisoft hasn't launched this in the EU is so it can examine legislation to figure out how likely it would be sued if changes to the Quartz system or games being shut down affects the value of the tokens.
I'd be less irritated about it if they were just straight-up honest, and were like, "Yes, this is so we can make a load of money, and actually has nothing to do with making games more fun." Although, I suppose you'd need a dash of dishonesty to build a system so devoid of morality like Quartz.
It's a slippery slope that ultimately began with microtransactions themselves. I lament my naivete for thinking companies wouldn't take it any further than cosmetics anybody could purchase for a flat rate. Make no mistake, publisher-owned platforms like Quartz are the other face of pay to win, bringing real-world economic inequality into video game worlds. The era of earning items through gameplay is being phased out. Games were traditionally a place where everybody could come together and enjoy experiences on an equal footing, and Ubisoft will drive a non-fungible stake through that underappreciated tenet of gaming so Yves Guillemot can buy a new yacht.
It's not about you, and it's not about NFTs. It's about Ubisoft execs getting rich while tearing up one of the things that make games great in the process. And yeah, deep down, I know it's already a foregone conclusion. But hey, that's capitalism, baby. The market decides what the market wants — for better or worse.
Jez Corden is the Managing Editor for Windows Central, focusing primarily on all things Xbox and gaming. Jez is known for breaking exclusive news and analysis as relates to the Microsoft ecosystem while being powered by caffeine. Follow on Twitter @JezCorden and listen to his Xbox Two podcast, all about, you guessed it, Xbox!
This is definitely worrying. I respect how you take a stand on this, it's refreshing on the current crypto-craze landscape where people don't realize what they're getting into or how awful it is in reality. We'll see which companies oppose this and which ones promote it. I see a line drawn and Epic pushing this where Steam won't is not surprising to me. It's just coherent with other awful things Epic have done.

ubi's lies about it just make me cringe, like it's something "good," when really it's just a way for them to inflate the price of microtransactions without having to take responsibility. it's the lowest form of sleaze and, it's pretty much inevitable unless gaming platforms decide they wanna restrict it. there are no benefits for the end user at the end of the day. all the skins they make for the game could be offered for a flat amount, like they've already been doing. but it's not enough. yves needs a new yacht, and he wants gamers to pay for it.

That's the problem, and they're targeting gamers precisely because they're very susceptible at FOMO and collecting stuff. Some lawmaker should block this from happening. This is definitely worse than microtransactions and gambling elements.

Cool, now do it for Square Enix. They didn't even hesitate to get on board with NFT rubbish.

ENJIN is the only group to do gaming NFTs right.
In-game items, perks, etc that you "earn" in-game and can trade or sell afterwards.
Simply making microtransactions NFTs is just a money grab and bad practice.
The entire concept of NTFs is a joke really, at least in their current format.
Also, people who are buying them up for stupid prices are part of the problem.

That's the same system that Ubisoft is going to implement as far as I can tell based on what I have read. A person earns an NFT in game, they can then choose to sell that item if they wish.

If this applies to items needed to win, then I agree. However, if these only apply to cosmetic items, and don't fundamentally affect gameplay (minor gameplay impact doesn't bother me), then I have no problem with publishers seeking to monetize items by charging a fortune. I have a very different view: not one of haves and have-nots as you wrote, Jez, but rather: one where the wealthy pay more to play games with the benefit of nothing more than a fancy hat or saddle, allowing higher quality games for those who might otherwise not be able to afford them. If it will cost $100M to develop a game and the publisher is on the fence about doing it, or maybe whether or not to include that extra storyline or side quest, then their internal calculation that they can extract an extra few million dollars from wealthy players is a win for everyone. The rich players get their cosmetic items and feel good about themselves and everyone else gets the game or extra quests. Win-win.

i mean that's a fair point, rich people paying more for games, should in theory lead to better games, but will it? will it really? or will it just lead to bigger dividends for the execs and biggest shareholders. they're not really incentivized to invest that money in better games necessarily. maybe i am being super cynical, but i do really hope you're right -- it's the best scenario.

IMO It is the youngest gamers who will be the most at risk with this crap as they will be brainwashed into thinking this is how gaming has always been and they will see nothing wrong in spending money on what is essentially crap for bragging rights and as time goes by they will turn into workers and bigger earners and they will still spend money on this crap because there generation has always done it and think it will be normal.

In the end this all qualifies as gambling imho, and therefore should be illegal for minors in the EU anyways. Hopefully they'll give this **** up when they realize they can only reach a fraction of their desired marked for that nonsene.
Windows Central Newsletter
Thank you for signing up to Windows Central. You will receive a verification email shortly.
There was a problem. Please refresh the page and try again.