Nightmares from the Deep 2: the Siren's Call launches first on Windows Phone 8 and Windows 8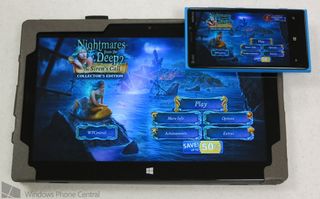 We reviewed the first Nightmares from the Deep game, Cursed Heart earlier this week. Funny how the timing works out – the sequel Nightmares from the Deep 2: The Siren's Call has just launched on Windows Phone 8! That would be good news enough, but it has also arrived before the iOS and Android versions. It seems developer Artifex Mundi has a soft spot for mobile Windows platforms.
To celebrate the launch, the Windows Phone version of Siren's Call is on sale for $2.99 (40 percent off its regular price of $4.99) and the Windows 8 and RT version is on sale for $4.99 ($6.99 regular price). Head past the break for screenshots, Store link, and our video interview with the developer!
The return of Davy Jones
You don't need to have played The Cursed Heart to enjoy The Siren's Call, but it turns out that the two games' stories are related. The museum director protagonist from the first game – Sarah Hall – returns in the sequel.
Her previous experience with the pirate Captain Remington and the artifacts held within her museum soon get Sarah wrapped up in a brand new adventure. The story this time involves a village of fish people and mermaids. One member of the village seeks the protagonist's help in curing their affliction, while other denizens have more sinister intentions…
Oh, and the mythical sea figure Davy Jones once again pulls the strings behind the game's conflict.
Adventure time
Like its predecessor, The Siren's Call is a hidden object puzzle adventure (HOPA) game. Players will navigate a variety of well-illustrated environments, interacting with various objects to solve puzzles and move the story along. Some of these make good use of touch screen/mouse-style controls, such as early in the game when the player gets to drag a hose around to put out a fire.
At various intervals throughout the game, players will engage in hidden objects puzzles as well. You know how these work – you'll have to find all of the objects from a list amidst a crowded scene. The Nightmares from the Deep games dole their hidden object scenes out less frequently than some games in the genre, probably due to their greater focus on narrative.
Players who don't care for hidden objects should be pleased to know that Siren's Call offers Mahjong Solitaire as an alternative. Matching mahjong tiles never gets old for me, so I'm not complaining.
Extras
Once again. The Siren's Call offers several bonus features. Chief among these is 'The Book of Davy Jones,' a bonus adventure that unlocks after completing the main game. Other extras include concept art, re-watchable cut scenes, and re-playable hidden object scenes.
Wake up to the nightmare
Unlike The Cursed Heart, there are no separate free and paid versions of Siren's Call. Just download the free version (which acts as a trial) and then buy from within the game if you like it. The game has a built in "restore purchase feature," so don't worry about losing your full game unlock if you switch devices.
We'll have a full review of The Siren's Call soon. In the meantime, check out our Cursed Heart review for more details on the series.
Nightmares from the Deep 2: The Siren's Call – Windows Phone 8 – 295 MB – $2.99 (Sale) – Store Link
Nightmares from the Deep 2: The Siren's Call – Windows 8 and RT – 564 MB – $4.99 (Sale) – Store Link

(opens in new tab)
Paul Acevedo is the Games Editor at Windows Central. A lifelong gamer, he has written about videogames for over 15 years and reviewed over 350 games for our site. Follow him on Twitter @PaulRAcevedo. Don't hate. Appreciate!
Has anyone else found the original game to be a battery killer ? I have a 928

That's all games, really.

Yes! Thnx Artifex. Bought and ready to play.

Nice to see official apps arriving!

It says free when I click the link ☺☺☺☺☺☺☺☺ damn i need WiFi hope its still free as long as it's in my pending list ☺☺☺☺

Everyone who doesn't read the article and says the game is free has to go to the back of the line.

What do you mean? Article doesn't says its free...

I read the article and it doesn't say free, it says 40% off down to $2.99 from original price of $4.99 -_-

The final paragraph under the heading "Wake up to the nightmare." There's a screenshot and everything. I still love you guys though. :)

Wow...our bad.... Thanks Paul...we luv u too :)

It's still not cool to comment before reading. You should not have to answer those questions, respect for your patience man!

From now onwards, you can answer these questions...

No, its a freemium game. Free to download, but you must pay for the remainder of the game.

Its free but after a certain stage u have to buy the game..its worth paying beleive me

I tried the first game and for whatever reason I was not able to figure out how to play it well. I will give this another shot though.

I'm going to try this first on Windows 8..! It'll be much better to play this on a larger screen imo. :D Thanks devs..!

Oh how I looooong for the sequel to Enegmatis!

Sadly this time isn't available here in Brazil...

Got it... Another amazing one from mundi

Love these games. They are on par if not better not than the top tier big fish hidden object games.

Artifex Mundi... Please release your games in Indonesia :(

First on WP8. Hopefully, a lot more games will start to say that in 2014. Microsoft needs to dip into that Xbox One money and get some of those timed exclusives on the mobile platform.

I have installed a first one for free about 20 days ago. It is really an awesome game. Second one also look good.
Windows Central Newsletter
Thank you for signing up to Windows Central. You will receive a verification email shortly.
There was a problem. Please refresh the page and try again.