NinjasFate creates Avatar Awards site just for WP7 users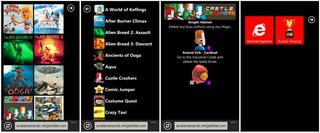 NinjasFate is a site that has gained some popularity amongst gamers for its aggregation of info on XBox games that offer Avatar Awards. Now they have created a mobile site for WP7 users to visit on their phones that uses the Metro UI style and emulates a WP7 app. The site mimics Windows Phone so closely that users are even asked to select a color theme and can then scroll through tiles for each game.
What's great about the new design is that you can set http://avatarawards.ninjasfate.com/wp7 as a favorite in your browser, then add it to the home screen as a tile. When you select the tile, you are transported to a browser window that looks and navigates just like an app would. We must admit, it's an ingenious way to design a site to cater to WP7 users, and could start quite a trend.
Source: NinjasFate (Thanks for the tip, 24AMonth!)
Windows Central Newsletter
Get the best of Windows Central in in your inbox, every day!
:O Glad to see my hard work get posted on the main WP7 site I visit daily :) Look forward to adding Windows Phone 7 games to the list when that finally kicks off!
Windows Central Newsletter
Thank you for signing up to Windows Central. You will receive a verification email shortly.
There was a problem. Please refresh the page and try again.