Nitro Nation Online – Street racing fun for Windows Phone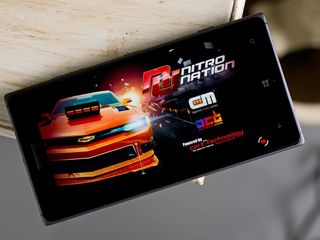 There is no shortage of racing games available in the Windows Phone Store and Nitro Nation Online is one such offering. Races are conducted in street drag racing style and you have over twenty cars to buy, upgrade, customize and fine-tune.
Graphics are outstanding, game play challenging and after playing Nitro Nation for a short time, it comes across as a solid racing option for your Windows Phone gaming library. As the title suggests, you will need a data connection to play Nitro Nation and the game does not support low-memory Windows Phones.
The first order of business with Nitro Nation Online is to create a player account. You'll be assigned a generic player name (e.g. Player012345") and you can edit your screen name and set a password by editing your profile from the main menu.
You also have access to the game's settings from this main menu. These options include choosing your units of measurement, audio options language and a few experimental options. Once you've created your profile, you will need to find a car to buy with the cash the game starts you out with.
From there, Nitro Nation will send you through a brief tutorial on game play and garage options. The tutorials will pop-up throughout the game as new features become available. The Nitro Nation garage will serve as a base of operations with a few options that include:
My Cars: Here you can view your fleet, choose a car to race and buy new cars.
Customize: Not too happy with the stock paint job for your car? Here you have access to stock paint colors, custom colors, decals, rims and tint jobs. Some of the customization options are free, but most will require gaming cash to purchase.
Upgrades: Cars you buy come with the standard equipment and as you progress through the races, you will learn that you will need a little more horsepower under the hood or a boost of nitro to win races. Upgrades will become available as you win races and can be applied to your engine, tire, drivetrain, suspension and more. As you upgrade cars, they will move up in level that opens up new races.
Items: This gaming store will have an assortment of parts that can be purchased to customize your upgrades or trade between other Nitro Nation racers.
Races center on a city map that has several venues that are progressively unlocked. You start out racing in the Story Challenge and eventually unlock additional areas that include Practice, Street Race, Underground Tournament, Driver Battle, Club Tournament, Team Event, Hancock Racing Series and Rating Ladder. If you are curious as to when a closed area of the game will become available, just tap the locked icon and a pop-up bubble will appear to let you know when that area will be available. For example, Underground Tournaments are not available until you win Race 8 of the Story Challenge Stage 3.
From the map view, you will also have access to your gaming rankings, crew members and team options. Race information will be displayed in the right side of the screen once you choose a racing venue.
Game Play
Game play with Nitro Nation Online isn't very different from other drag racing games available in the Windows Phone Store. Races are conducted in profile view and you have a series of on-screen controls to use. Your vehicle RPM gauge sits center screen, your racing stats (distance, speed, etc.) is displayed in the upper right corner and a progress meter runs across the top of the screen.
To start a race, tap the accelerator button and the "3,2,1" countdown will begin. You will need to rev your engine by tapping the accelerator to get a good start to the race and as speed down the track, as the RPM gauge approaches the green portion of the ring that surrounds your gauge, you need to tap your gear shifting button. The better your shift, the smoother the acceleration and the better your chances at winning the race. If you have upgraded your vehicle to include a nitro booster, you can activate the nitrous by tapping the booster button that sits in the lower left side of the gaming screen.
Races will vary in length from 1/8th of a mile to a full mile. As you progress through the game, you will earn cash, engine points and blueprints as you win the races. Cash and engine points are used with upgrades and customizations while blueprints let you build unique parts that outperform the standard upgrades. You can use the blueprints for a competitive advantage, trade them or sell them for gold.
After you win race six in the Story Challenge, you will be eligible to join a racing team and compete in tournaments and team event.
Overall Impression
Nitro Nation Online is a solid racing game available in the Windows Phone Store. Graphics are sharp, there are plenty of cars and upgrades to build the perfect racer and the races are challenging. You have to manage your gear shifts and nitro boosters more carefully with those lengthier race tracks.
The only complaint I have with Nitro Nation Online is the lengthy transitions between screens. Where other games will instantly transition from the racing summary back to the racing map, Nitro Nation will take a few seconds (likely due to the online component). This delay is experienced everywhere and can get a little frustrating. The game isn't exactly a lightweight (240MB) and I was a little surprised how slow the transitions are. Maybe a little fine-tuning under the hood could shorten these delays.
Nonetheless, Nitro Nation Online joins the ranks of several quality racing games available in the Windows Phone Store. It is a free game with several in-app purchase opportunities. We like the game and if you give Nitro Nation Online a try, let us know what you think of things.
Download Nitro Nation Online from the Windows Phone Store
Windows Central Newsletter
Get the best of Windows Central in in your inbox, every day!
George is the Reviews Editor at Windows Central, concentrating on Windows 10 PC and Mobile apps. He's been a supporter of the platform since the days of Windows CE and uses his current Windows 10 Mobile phone daily to keep up with life and enjoy a game during down time.
Gald to have it here. Wish that nitro nations story was available too.

Cant we play without internet

What's better ? CSR Racing or Nitro Nation ? :)

Close call. CSR loads noticeably faster and I might give the edge to Nitro as far as graphics are concerned.

But I am waiting the game like Real Racing 3

I'm waiting for NFS MW.
#WaitingForever

Any news on
Gameloft launching asphalt 9? Or
Forza on smartphones?

Forza on phones?????????????????????????

When Tomb raider for phones ?

Yeah would be great if it happens

I really liked the ending, except that they only advertise the Google Play Store app and not the Windows Store as well

At least CSR can run on devices with 512 megs of RAM. Why Nitro Nation not? :|

Because it's too graphically intensive???

Tell the Developers: This game cannot be searched on the Windows Store for W10M

It's not at all a good game...
People don't waste your data..
It doesn't gives you a real race feeling like Asphalt Airborne

Above all asphalt you don't need data
Windows Central Newsletter
Thank you for signing up to Windows Central. You will receive a verification email shortly.
There was a problem. Please refresh the page and try again.