Here's what's been fixed in the biggest PC patch yet for No Man's Sky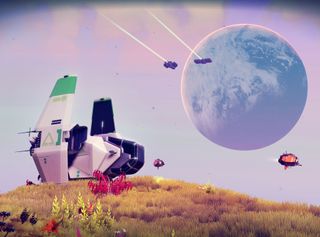 Hello Games has released the largest patch yet for its space-based survival game No Man's Sky. It contains a bunch of bug fixes, along with a number of small improvements.
Here's the patch log for version 1.07 of No Man's Sky:
Player no longer able to redeem your pre-order ship at a point which would then prevent you learning the hyper-drive blueprint (and if you have done this, we save you).
Player no longer able to bypass being sent to find hyper-drive tech by reloading a save in game at a very specific point.
Fixed a couple of low repro bugs that could result in you falling through the world and getting stuck underground.
A raycast in some space stations could hit a very specific point that would put the player inside the floor.
Fixed an issue that would cause your ship to be thrown in the sky at high speed when taking off (in rare cases could in turn lead to getting stuck).
Fixed an issue that would cause your ship to get stuck in terrain and prevent you from taking off, if the player managed to out run generation of terrain LOD 1, and land inside an overhang.
Some players were unable to achieve the extreme survival journey milestone, this has been resolved.
Fixed an issue where some players had some technology types being reported as "already known" when they weren't actually known.
Under some circumstances a message was sometimes misinforming you that you learnt a blueprint when you hadn't, this has been fixed now.
It was possible you could use up all available slots for waypoints on the galaxy map and be unable to set new waypoints. This is much better now.
There was a bug that could cause objective markers to disappear when you loaded a previous save. This is fixed now.
Fixed a rare issue when scanning creatures that would cause all planets to show as 100% complete even if you had only completed one.
Fixed a bug what could cause some corrupt save games to not be loaded, this is now fixed.
Fixed an issue where saves made with the system clock set in the future could cause problems.
Fixed a crash that would sometimes happen when warping into a system with a space battle in progress.
Fixed a crash that could happen when interacting with an NPC.
It is now easier to scan flying creatures.
Fixed height and weight stats being the wrong way around for creatures.
Gek towers can no longer be interacted with repeatedly.
The 'You have unredeemed items' message will now only show for the first 5 minutes.
Fixed getting 0% charge on Photon Cannon when buying a new ship and constantly being prompted to charge it.
Reduce Suit VO for life support warnings and only do life support VO on 25% and 50%.
Fixed grave being transferred to the new star system after you warp.
Fixed toxic protection 3 (theta) from having the wrong name.
Fixed incorrect marking of sea caves under floating islands.
Turning down music and SFX volume in the options will now work correctly (mutes the VO also).
If you change ship or multi-tool and then revert to previous save the ship should now be the one you had at the time.
Atlas station collision improvements to prevent you from bumping into them too much.
Fix for the stars not being discarded during load/warp (causing duplicate stars).
Editing the settings file and corrupting it could cause the game to crash. Instead of crashing it will now revert back to the default settings.
The inventory screen now works correctly regardless of resolution.
Added error message for older CPUs without SSE3 support.
Synchronise frame capping with the first vsync (removes some framerate issues).
Added steam id to login call to help track down some login issues.
Fixed the X key size on the galaxy map.
If you press Tab+P in quick succession, the game paused and didn't let you out of it.
Fixed a performance issue by defaulting your texture resolution to a sensible value based on available GPU memory.
Hello Games has pledged to continue to fix issues in No Man's Sky before it moves on to adding new features and content to the game. Have you had a better experience playing No Man's Sky with the release of these patches? Let us know in the comments!
Windows Central Newsletter
Get the best of Windows Central in your inbox, every day!
Holy crap. It is almost like they released the game when they weren't finished....

Dude, thats no different from almost every developer today

Still doesn't change the fact. This releasing clearly unfinished projects to fix later needs to stop.

The pointless comment way

Probably they might have skipped TESTING phase....

Other way around... Microsoft has both millions of people and internal testers who try their products. NMS obviously was a smash and grab by Sony et al.

Then Microsoft has no excuse for releasing broken and buggy software, yet they still do.

Yeah, like you ever contributed to find and fix a bug... smh

I use the feedback app on the phone religiously nowadays, especially after AU.

Hardly a fair comparison, Microsoft do test intensely internally and externally via the insider programme. The fact is with no man sky the quality testing only really happened for Sony and not for the PC to the same extent. Which is why one of the first things they did after release is Hire more testers for the PC game. What is becoming common is alpha testing being released as if it was the full game often with purchase or like the insider preview with groups of enthusiastic folk willing to try things out. I think the later is a good thing as it helps for when released to the general public. I am not so sure about this purchase of alpha software.

Good to know at least you help(ed). With that in mind, I think at least you should not expect Microsoft and their "small" team can fix each and every single bugs by themselves if even with the help of Insiders there are still bugs slipped through.

Bijak, why does Sin have to contribute to find or fix a bug or anyone for that matter, it's not our job. My comment has substance and it's based on the windows mobile 10 release. God, that was awful

Come to think of it, even with all these Insiders helping them and yet there are still bugs in their release. Have you ever imagined how big this thing that they're building? If there's another way for them to deliver regular updates in short interval with EVERYTHING working so people would not talk trash about them, I'd love to hear it.
Go on, suggest something.

There are bugs in all software this size.

Poor logic, no matter how many testers you have, you don't have the real world. There will always be bugs.

Didn't Microsoft fire one of the major testing teams recently for Windows?

Keyword: One. When they let 5 million people in on hunting down bugs they might do with a smaller internal crew.

Kinda true. Apparently they had QA team for PlayStation but not for Windows.

The QA team was actually provided by Sony, the developers themselves only had themselves and naturally Sony's number one focus was their own console, this is to be expected Microsoft would do exactly the same in their position.

This game sounds like a lemon of a mess

This should never have been released in it's original form. All these bug fixes are too late for the many people who have had refunds. I haven't played it, but been following the story since the game was released.

Too bad. I already got a refund from GOG, and I have no regret. It was absolutely broken upon release and I have no intention to pay for a broken game. I may pick it up again for $2-$3, and that's it. Posted via my BlackBerry PRIV

This is typical gaming companies now, in the 90s game usually was finished before release. I have no sympati with hello, It is good we now can get refunds if gaming companies screw there customers.

People get motivated by refunds.

The damage has been done, at this point pretty much every one sees this game as a failure...

Did they fix the lies? No? Moving on. Posted via the Windows Central App for Android

But did they make the game any fun or fill in all of the missing stuff they promised?

No go, maybe next year for 3 euros

Obviously they were just after some quick cash. Sony bringing their hype machine and then releasing something pointless like their PS console.

Actually, I understand the fact that people were disappointed with the game. However, if people had done their research properly (or were smart), they wouldn't have bought the game in the first place. They bought it, got disappointed and started yelling like spoiled brats and got a refund. I should have done this with all the games that has disappointed me then ? or any games under 4h until completion ? By doing so, we just encourage people to behave like childish ****. Some people actually played this game for longer than any other games they have and still got a refund. Was it bad per say ? no, it wasn't up to the hype that people actually created themselves without even realizing the team behind NMS was not EA, Ubisoft or Activision but a small team doing the best they could. Sony didn't help much either. But the bashing on NMS should stop as it becomes ridculously childish. FYI, I didn't even buy the game because I knew ahead what was going to happen.

What research was there to know about all the bugs?

People are not yelling, whining, complaining and asking for refunds because of the bugs. Most AAA games come out with huge bugs that are even less excusable than what NMS suffers from considering the size of the dev team and you don't see them asking for a refund. Most players think they NMS was a lie regarding its gameplay. Well, too bad, it's not. Most aspects of the game were clearly outlined prior to the release and if they had read the articles instead of looking at the images, they would have known if the game was made for them or not, which clearly they didn't do. And now you hear "gamers" say : it's boring, there's no gameplay, it's the same thing over and over again etc etc." this was predictable months before the release of the game.

So first of all, you're just plain wrong, there are in fact people asking for refunds due to the game being too buggy for them, but let's assume that statement is true. What reviews were there months before the release that people could use to know about the lack of gameplay? How would people know about the lack of multiplayer that was promised 2 years ago? That in itself makes the game a lie.

If you need a review to make up your mind, that means you need the approval of someone before you do anything. You either try the game for yourself and well, be responsible for your purchase or you read previews, articles about the game and decide ahead of time if the game will be made for you or not. Even without all the elements that were left out, you could have realized long ago that the game would be a let down for you. You don't need a review to know what YOU like or don't. Example ? here you go : Article dates January 2016 (yes January) : http://www.gameskinny.com/ikxtw/5-reasons-why-no-mans-sky-is-probably-go... Article dated June 16 : http://www.polygon.com/2015/6/16/8790505/no-mans-sky-preview-e3 Article dated July 12th (a month prior to the actual release) : http://www.pcgamer.com/no-mans-sky-10-burning-questions-answered/ And there are much more like these. If only you could read them. In other words, simple facts that could have oriented your choice of buying the game or not a while before the game was actually released. Some articles/comments actually said the following waaaay before the game was released and that's exactly what happening : "This game is going to be amazing but i think many people who do not understand what the game really is and just purchase it for the hype are going to give it bad reviews." "But inevitably it will disappoint at first. It won't feel quite the way you imagine it to feel in your hands—it'll be a little slower, take a little longer to find beautiful vistas, a little less diverse, or something along those lines. In short, it won't be perfect. And the press will nail the game for it. No Man's Sky isn't going to be judged on its own merits—it will be judged against the marketing campaign for No Man's Sky." I'm not bashing NMS because I didn't buy it. I didn't buy because I kew I would not be excited with it even if I was looking forward to it since its first demo back in 2013. But I learnt to believe in my own taste before buying anything. People bought a game without even knowing what they were actually buying and are now whinning because they got ripped off ? Please grow up.

You realize everything you provided is no different than a review right? A review article is not simply a score to allow someone to decide on a game, it's an article explaining what exists, what doesn't, and potentially what dies and doesn't work. Don't act like people who read reviews are lesser in any way.

Actually there were a lot of features mentioned that just simply didn't make it into the game like planetary physics and proper alien factions. Also a lot of people did request refunds through both GoG and Steam due to the initial game rate woes on PC. The game has copped more flak than it should have (especially here), in my opinion, but I'm not going to discredit PC users of their complaints. Especially since the developers themselves have acknowledged fault and are working hammer and tooth to fix them.

Well, indie studio makes indie game but sells it full price. Lets all buy it! Can't go anything wrong, amirite??! People obviously lost track of what an indie studio is and that this game was waaaaaay to much of a challenge for an indie Dev team. It's like buying overhyped stuff on kickstarter and expecting everything to go right.

Honestly, everything you said is nothing but hindsight logic. A game of this caliber has not been created before, so to say it's too much for an indie dev is completely unknown. As for the overhype, it's easy to call it overhyped when parts are just plain left out. No one knows that the stuff was left out/broken until after it's released and people get screwed over. It had some kind of approval from Sony, so one would have to quess that it must have some quality, but we would be wrong.

So you basically would give someone that has yet to prove himself lots of money. That is your logic. I had never heard of hello games before they made No Mans Sky. I also know none of its developers. Preordering in itself is already bad enough. We have been burned so many times even when there were big developers with several hundreds employees behind it. But preordering something from an unknown developer is even worse.

When did I say any of that? My point is that no one can research the game before it comes out to know it's bad. You can't just look at the developer and know that it's bad.

No. I cant. But I can weigh chances. Chances that such an ambitious project with an indie developer behind it charging full-price will go wrong and let people down are quite high. It would have been surprising if it would have been a good game. Not the other way round. And now so many people got burned again and I don't even feel sorry for them.

Except you really have no metric to base that on. You first say you don't know the developers, well they have some pretty popular games under their belt having worked at Criterion and Kuju. You say it's too big for an indie dev, well Frontier has made one just as big and was successful, they are independent as well. Like I said, all your points are hindsight.

I do have a metric: The massive amount of failed indie games out there.

False logic. There are a massive amount of failed AAA games too. No game is predetermined to succeed or fail because it's AAA or indie.

No, your logic is flawed! The fact that there are so many failed AAAs makes it even worse to trust an indie Dev which has yet to prove itself.

Yet to prove themself? They've been making games for quite a few years now, quite successfully too. NMS is NOT their first.

For example? Joe Danger? A sidescrolling platformer? I can't find anything else on their website

Yes, which was rated very high and did well.

And sure has the same level of complexity as a gigantic procedural generated universe with trillions of stars. Can't see the difference ...

Lol, do you know what procedural generation is? Everything gets created for you within parameters that are hard coded. Hell, one person did it no problem with Minecraft (an incredibly successful indie game) not to mention, they didn't have problems with the procedural generation, so they got that part right.

Yeah, like the part where you get stuck under ground or your ship gets catapulted trough the air or where you can skip some important missions. Also the performance on PC was subpar. Of course the generation part isn't the hardest but making an engine that can deal with a world that large is

None of what you mention has nothing to do with the procedural generation. Doesn't matter, worse bugs have come from multiple games, AAA and indie. So it all goes back to the fact your original premise being wrong. You can't predict what will be broken or horrible based on it being an indie studio or not. Face it, as I've said many times, you CANNOT predict the future.

Scale did not just refer to procedural generation. But also the vast amount of possibilities you have in an open world game over a sidescrolling platformer. And you yourself indicated that they were lacking in this department. The fact that there is a significant number of AAA games that are bad does not make an indie game more likely to be good. The other way round rather. I don't see how this does support your argument. When there are more bad games out there than there are good the likely hood of a game being bad is greater than it being good from the beginning on. The thing is that there are no great names within hello games and their reputation regarding projects that have the scale of AAA games is next to nonexistent. You do not give someone that much money with almost no proven expertise in regards to a completely different genre. Of course I can't tell exactly with pinpoint accuracy whether a game will be good or bad. Nobody can, because nobody can for see the future. But when buying a game you are making an investment. And I am thrilled to see a bank giving you a credit when you do not show them that you are trustworthy. Just like hello games has no reputation other than a platformer which might have scored them high points if they had been aiming for another platformer. But NMS is no platformer from what I can tell.

Furthermore Minecraft ran like **** for what it is. And it did not cost 60€. See the difference?

Don't get me wrong. They sure are not completely untalented. And for 20€ or less NMS would have been a good game. But for 60€ I expect a finished and polished game. They did not deliver. They are like what? 5 people? And this is their first project of this scale? This was bound to happen. And they probably knew it as well. But for Sony it was just an easy cashgrab because for them it is just a matter of flexing their powerful PR muscles to turn this truly ambitious idea into a giant hype-machine

I always thought this game was rather overpriced from what I saw in the months leading up to the release. I kept wondering if I was missing something when everyone lined up (virtually) in droves to preorder the game. I'm happy I waited, but the game still looks appealing... but it'll have to be $5 or less. Hopefully it'll be in the Steam sales, or packaged in an upcoming bundle (Humble Bundle, Bundle stars etc)

Nah, you're right, it definitely isn't worth full retail, luckily i didn't pay full retail for it.

This is not related to this article Sorry about that, Did anyone hear the rumour that surface phone would be launched at the IFA 2016.

Still waiting to hear about the FPS drop that occurs after a while of playing. Have to restart the game to fix it until the next time. It's the only thing that affects my gameplay. Everything else is smooth.

Bought and played Elite Dangerous this week. I'm sorry but Elite Dangerous destroys No Mans Sky. It's fast reaching Destiny level of players. More and more in my Xbox friends list are playing it. To be fair because No Mans Sky was so poor when it released, it gave Elite Dangerous coverage. Make no mistake. Elite Dangerous is better in every way. Better planets, better graphics, better flight controls, better universe, more to discover, more to see, just basically everything I thought No Mans Sky was when I bought that.

Yeah, Elite Dangerous is a hell of a lot better than NMS but it has also has years to get where it is and in the early days on the One it was plagued with constant crashes. That being said it is so good that every time it crashed I just loaded it straight back up again. Love that game.

You should not pay a premium price for a game That runs 15 - 20 frames a second on new $1000 video cards. Should not have to wait weeks for patches. Expecting a refund is not being a brat. Has to be one of the buggiest games ever released. If it's a flop they only have themselves to blame.

True. But these days you are not supposed to complain. If you do you automatically become a brat. Shut up and be happy with the **** you got. That's how we are supposed to be in this modern world. -_-

Game developers are babied and a big percent of gamers make excuses and defend them. We've had some ****** broken games this generation.

Game sucks. Boring as heck.

The extreme survival milestone is still bugged. I've been stuck at milestone 4 since day one.