No, Microsoft is not removing Cortana from Invoke, but there were some issues
Reports of Microsoft removing Cortana from the Invoke speaker are premature.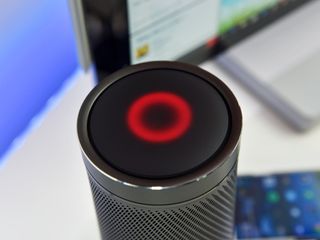 (Image credit: Windows Central)
Update 5:56PM ET: Microsoft has responded to the issue. "There was a small outage that impacted the Invoke in certain regions of the US, but the issue has been resolved."
Over the weekend, the few users left of Harman Kardon Invoke speaker featuring Microsoft's Cortana assistant began to have problems. Many took to Twitter to complain that the speaker simply stopped responding to commands leading many to fear Microsoft was pulling the plug.
Is there any truth to it, or should we chalk this up to some misreporting? Let's find out.
What's going on?
Users began to complain over the last few days that the Invoke would no longer obey commands often with Cortana, stating she "can't do that right now." Such functions as timers, reminders, controlling smart appliances, and even playing music were affected:
Hey @Daniel_Rubino, do you have any info on Cortana's skills no longer working in the US? She can't control lights or play music anymore on my Invoke or Android app.Hey @Daniel_Rubino, do you have any info on Cortana's skills no longer working in the US? She can't control lights or play music anymore on my Invoke or Android app.— Rick Narvaez (@ICEDLATTEGUY) December 15, 2019December 15, 2019
The experience seemed more of an outage rather than a removing of features, but the experience is terrible, nonetheless.
Is it still happening?
For this article, we pulled out one of a few Invoke speakers and hard reset it. We then walked through the setup process using an iPhone and the Cortana app. The Invoke had no problem setting up and registering with our Microsoft Account.
After the setup, we tried the following:
Play Spotify
Call up Amazon Alexa
Get the weather
Set a timer
Turn on and off our Xbox
Turn off our (Hues) office lights
Turn down the temperature (Ecobee)
Get calendar appointments
Check for new email
Read back email
Random trivia
Basic math problems
Tell a joke
All these features are working on our speaker implying that what happened over the weekend was more of an outage and not a policy change.
We are using the Invoke in the United States and can't account for regional issues, nor have we done exhaustive testing of every command, so your mileage may vary.
However, not everything was perfect in our testing. For instance, Cortana could not set the specific temperature to our Ecobee thermostat, e.g., "Hey Cortana, set the temperature to
[[ temperature value ]] ." But we could say, "Hey Cortana, make it warmer in here," and the speaker would raise the Ecobee by two degrees as expected. We also had some issues in setting up Cortana from our PC, which seemed related to our Wi-Fi and network.
Cortana says just a service outage?
While Microsoft does have a history of removing features from older products – especially killing off Ballmer-era projects – the company is usually forthright when they do decide to end support. More often than not, Microsoft is keen on giving a firm date (see Windows Phone, Groove Music, and Windows 7). However, no such pronouncements were made regarding the Invoke speaker.
Indeed, back in November we asked Andrew Shuman, Corporate Vice President of Cortana, about Invoke and were told on the record that support would continue. While no new features may be added, we were led to believe that those who use the Invoke today should be able to continue to do so for the foreseeable future (Shuman noted his daughter was a big user of the Invoke).
What happened this weekend seems more related to the continued backend work Microsoft is doing retooling Cortana as an Office assistant for paying Microsoft 365 customers. Cortana on the current Windows Insider Fast Ring (20H1, 190xx) have seen many basic Cortana features put on hold, e.g., solving simple math problems, telling a joke, or answering basic trivia - all of which are still working on our Invoke. But some of that effort may have bled over to Cortana on the Invoke resulting in this weekend's feature outage.
Of course, the remaining Invoke users may want to consider moving away from Cortana in the future as competing products from Amazon and Google continue to accelerate in usefulness and features.
We have reached out to Microsoft for more clarification regarding Cortana on the Invoke and will update this article if we hear back. Microsoft has responded: "There was a small outage that impacted the Invoke in certain regions of the US, but the issue has been resolved."
For now, it is safe to disregard some of the more speculative and hyperbolic articles reporting that Microsoft has "removed" Cortana. Some simple testing would have demonstrated otherwise.
Windows Central Newsletter
Get the best of Windows Central in in your inbox, every day!
Daniel Rubino is the Editor-in-chief of Windows Central, head reviewer, podcast co-host, and analyst. He has been covering Microsoft since 2007 when this site was called WMExperts (and later Windows Phone Central). His interests include Windows, laptops, next-gen computing, and for some reason, watches. Before all this tech stuff, he worked on a Ph.D. in linguistics, watched people sleep (for medical purposes!), and ran the projectors at movie theaters because it was fun.
"While the aging smart home speaker did have some problems over the weekend" The aging speaker? Its 2 years old.

On the contrary, to me, it is still the best speaker for music. I think the $60 I spent was well worth even as a Bluetooth speaker. I don't use it other than calling Cortana to play music. I also just link up to it if I want to play my personal music collection. I never lost Bluetooth connection from my tablet or my phone. However I understand people's frustrations with removal of functions such as for smart home automations and other tasks that Microsoft should keep around for users inspire of it being repositioned as a business product (like it seems where everything other MSFT product is headed).

Indeed it sounds quite good. Just listened to Xmas music on mine yesterday

It does have great sound. It's only real drawback is that it is limited to mono sound. I never cared about the alleged "smartness" of it. I bought it to use it purely as a bluetooth speaker. After being disappointed that it is impossible to use it out of the box as a bluetooth speaker, I downloaded the Cortana app on an iPad and set it up. I then quickly figured out how to disable Cortana on it. I enabled the Guest account on my wi-fi router and set up the Invoke on that. I then unplugged the Invoke (it REALLY needs an off/on button), re-disabled the Guest account on my router, and plugged in the Invoke. Then I killed the microphones with the button on the back. So now it has no internet access AND it is not listening. I spent $40 on it when they were dumped on eBay a few months ago. It's a great bluetooth speaker for that price.

"On the contrary, to me, it is still the best speaker for music. I think the $60 I spent was well worth even as a Bluetooth speaker. I don't use it other than calling Cortana to play music."

That's fair. The hardware is impeccable. But I think many people want something a bit more from a smart home speaker, hence my comment. It's also clear there has been no evolution in features added for over a year now, just occasionally something breaking, which is a rough story to tell and share.

Oh, I agree it is a tough pill to swallow for some users hence why I said I understood frustrations for some users. I just can't believe that MSFT put zero marketing dollars behind this great product when it launched.

I'm the same, I don't have the Invoke, but I have a Panasonic smart speaker which I use for music and that's it, it's just convenient to control it with voice instead of a remote or my phone.

Nothing does except wine and whiskey.

Well, people a-- oh, I see what you did there.

LOL, yes. Few things in life age as well as booze.

I was definitely impacted by the outage over the weekend on my two Invokes and, while it was annoying, I certainly did not find it to be any cause for alarm that Cortana on the Invoke was being killed off or anything. I am really glad that things are back to normal though, as I find Cortana to be extremely useful for the most part. And, after seeing the note in the post above about Cortana not being able to set the Ecobee thermostat to a specific temperature, I find that a bit odd. I have three Ecobee thermostats in my house and have had no problem before or after this weekend's outage setting any of the thermostat's to a specific temperature. In order to do that though, I think the thermostat has to be set to either heat or cool, instead of auto.

My Invoke works again except now it only cusses at me in German.

I haven't been able to get my invoke to setup for sometime now. It keeps not being able to find the internet. We have two of them in the house and they are great for music and controlling our smart home hardware.

of course thurrot and mspoweruser already rushed to claim it's dead

It is only a matter of time.

Everything is a matter of time. Not too insightful. My two Invokes work great for music, alarms and controlling my lights.

Oh, how long do you think it will be until Google removes assistant from my Google Home Mini?

Bleached, like the above mentioned sites, you are confusing editorial/gossip with reporting news. If you want to argue Invoke is dead/dying, that's fair. You do it in an editorial. There's a legit argument there. But using a service outage with editorialized headlines to support your "theory" or "hunch" is not good practice, period. "Microsoft Is Slowly Pulling the Plug On the Harman Kardon Invoke" and "Harman Kardon Invoke Cortana speaker now useless, cant even set timers" are false, speculative editorializing, not news reporting. I get in 2019 some of you have a difficult time finding distinctions between the two, but I assure you they exist. Neither article even updated to reflect that it was an outage, despite the official statement from Microsoft (it's not even clear either asked Microsoft for a comment). But go ahead and shift the topic to what you think the news should be instead of what it is. I'm not playing that game. The fact remains the same: between last week and today nothing has changed regarding the Invoke and Cortana. No loss of features and no removal of abilities. That's the actual reality.

Eventually, Cortana is going to stop working on this speaker. I would bet it is sooner than later. I would bet the date ends in 2020.

Thurrott's article doesn't need to be updated. Although they could add Microsoft's statement, nothing they said wasn't true or obviously a prediction.

Love our invokes. Have 4 of them for music primary, weather in the am secondarily and it works great. We did experience the outage but it came back in a short while. Let's face it outages happen to every service. Glad it was short. Back to listening to Christmas music.

Still use two Invokes and really like them. They work well for me. I had issues over the weekend and have to admit, I was thinking MS had pulled the plug. I did buy the Echo 8 which came with a free dot when they went on sell recently. Amazon had drastically reduced the price and was "giving away" the dot with the 8.
So far I am liking the dot, (have not received the Echo 8 yet). I have to say though, Cortana/Invoke works better with IFTTT from what little I have played with at this time.
Really hope the Invoke keeps working into the far future, at least as it does now. I doubt any new features will be added. :-(

Thanks for your hard work and commitment to the truth, some "journalists" out there are more like fiction writers that do this work on the side for extra money or thrive on sensationalism and clickbait 😒

I was a bit concerned thinking they had pulled the plug on it but glad it was a short term outage. I have four Invokes and use them to control my Smarthouse, add to the To-Do lists, and then the usual, set timers, listen to music, ask about traffic, etc I am not sure if I would get more use if I bought a one of the others one though.

So, this is a glitch that is now resolved.
Better don't mention that to the wise one Surur at MSpoweruser, He lived for MSFT hatred.
This is his Title of the issue "Harman Kardon Invoke Cortana speaker now useless, cant even set timers"

Mine acted up, but it wasn't a big surprise. So I walked out of the room, and told one of my Google hubs to turn the light off in the room the Invoke is in. Happens quite frequently that Cortana just doesn't want to do what I ask. If I ask her to turn on the lights, there is a delay, she responds, and then (usually) turns on the lights. With my Google hubs, I ask them to turn on the lights, and as the lights are turning on, they respond. All while Cortana would still be thinking about it. MS really dropped the ball on this. I also noticed last night that they removed her from Xbox. I don't know when they did this, as my Kinect went bad a few months ago. I just got another one, and when I went into the setup stuff, it told me that. I don't mind that much, I'd rather they bring back gesture navigation.

Still loving the Cortana integration and hands free Skype calling to my outlook contacts.

Always got love for my two Invokes. Use them everyday, multiple times a day.

(I wanted to leave a comment on your article "How to easily disable adaptive contrast on Surface Pro 7 and Surface Laptop 3", but according to your website "I don't have enough reputation to post comments on older content". So I'll comment here)
I registered just to say THANK YOU. After weeks of dealing with this nonsense, I was sure I had a faulty unit... but thanks to you it's finally resolved. Why this is a feature in a "pro" device is beyond me. THANKS.

My voice activated calling with Skype on my invoke speaker still is not working since this outage. Anyone have a fix for this yet? Opened a help ticket with Microsoft support on this issue no fix yet. :-/
Windows Central Newsletter
Thank you for signing up to Windows Central. You will receive a verification email shortly.
There was a problem. Please refresh the page and try again.