Microsoft is building Cortana into Outlook as an AI that helps you stay productive
Cortana is entering new areas with new features for people who want to stay productive at work.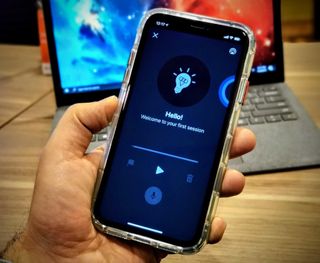 (Image credit: Daniel Rubino/Windows Central)
What you need to know
Cortana AI brings new features to Outlook.
Cortana adds the ability to read emails aloud and send you a daily briefing.
Cortana's natural conversation features to arrive in the coming months.
Update: The Play My Emails feature is now rolling out to those on the iOS TestFlight beta. It will be version 4.10.0.
Microsoft is expanding the role of Cortana to be more than just a typical virtual assistant that can tell you the weather or turn on your lights. Microsoft wants Cortana to be a true virtual assistant, a feature that's always working in the background to help you keep productive. Today, Microsoft announced that Cortana is coming to Outlook, and will be gaining new capabilities to help people stay in their flow while at work.
Starting with something simple, Cortana will now be able to read your emails aloud for you to listen to, just like a podcast. Microsoft says this is handy for those who drive to work in the mornings, or can't pull out their phone or laptop on a busy train. The feature is called Play My Emails, and will also read out any changes to your schedule that you may need to be aware of. Play My Emails will be launching on Outlook for iOS today, with Android following in 2020. It'll also be limited to customers in the United States at first, just like most things related to Cortana.
Another way Microsoft is integrating Cortana in Outlook is by automatically managing your calendar and commitments. At the beginning of every day, Cortana will pop up inside Outlook with a "daily brief" that gives you a quick rundown of everything happening on that day. This includes any meetings or events scheduled in your calendar and any contextual insights in emails it thinks you might want to respond to or follow up with. Customers will also be able to mention or email Cortana directly to set up meetings with colleagues.
Cortana's new natural conversational features announced earlier this year are also still in the works and will be launching in the coming months. Work on integrating Cortana into Microsoft Teams is also still ongoing, and Microsoft expects more features and enhancements to light up there in the coming months. Finally, Microsoft mentions that Cortana is getting a significant overhaul on Windows 10 with the 20H1 update launching early next tear.
2019 has been a year of recommitment to Cortana from Microsoft. It's slowly but surely transitioning the assistant away from your traditional basic voice command initiator, and is turning Cortana into a genuinely digital assistant with smart AI capabilities that help you get more done in your daily life. What are your thoughts on these new Cortana improvements? Let us know in the comments.
Windows Central Newsletter
Get the best of Windows Central in your inbox, every day!
Zac Bowden is a Senior Editor at Windows Central. Bringing you exclusive coverage into the world of Windows on PCs, tablets, phones, and more. Also an avid collector of rare Microsoft prototype devices! Keep in touch on Twitter: @zacbowden.
This makes sense and I'm liking what they are trying to do with Cortana. Instead of trying to fit into a nitch that is already filled by Google assistant and Alexa, get into the productivity and become the best at it. Also, with the Duo being revealed as a productivity device/phone, they need to make Cortana as useful as possible in these areas. I know Office already has voice dictation, but incorporating Cortana's voice dictation would be nice, too.

They just don't get it. Not at all. I want to be productive PERIOD. It is just stupid to ONLY think about "work". Seriously, Microsoft, look at your own people, for pity's sake. My capacity is my capacity, and the ability to manage my time and efforts, my communication, my productivity doesn't 'disappear' when I leave work, and it's not always all ABOUT work. I swear these people have no clue what real life is like.

If you use the same tools to manage your work life and your personal life then your point is moot.

No reason to use Microsoft for anything other than the Office apps you need for work. They are available on any platform and you don't even need a Microsoft account to use them for the most part. Everything else is better handled by one of the other ecosystems out there. Google, Amazon, and Apple all have great services available and you won't have to deal with the non-stop disapointment that comes with Microsoft. Apple is probably your best bet. They control everything from the silicon to the software and have a range of devices available.

Its not that they don't know - they are locked out of your personal life by Google, Apple, Alexa and others. There is no room for them there and they will never be given the chance to compete there. So, they add their technology where the others don't have a lock - at work, in Office, Outlook, etc.

Please just bring it back to my XBOX. It is really frustrating. How are you going to be next gen in gaming and don't have an AI assistant. To me this does not add up. Especially when you have headphones and buds. They could have easily made these functionable with XBOX and bam you could have had folks who transition from work to gaming. Imagine leaving work and taking a work call on the train with Headphones or earbuds by saying hey Cortana answer that. Then telling Cortana to set a reminder for whatever the call was about. Then turn on project xcloud and start up a multiplayer game using the buds or headphones. Then before you walk in the house ask Cortana again to turn on your lights/Xbox or open the garage then continue playing with the headphones on. They could be in the consumer market without even trying. Maybe that's what's next but not being able to control Cortana from my couch is horrible. I have to have my phone next to me at all times. BOOOOOOOO

The problem is Satya doesn't care about the consumer side of MS; he is only concerned with the enterprise portion. Cortana should be active in Xbox like it previously was and they should be working to improve the AI. We really need to have an independent consumer side and be laser focused on making awesome consumer products.