All of Microsoft's iOS and Android beta programs, and how to sign up
By Sean Endicott last updated
Microsoft has a plethora of apps on iOS and Android, and you can test new features on many of them by being a beta tester.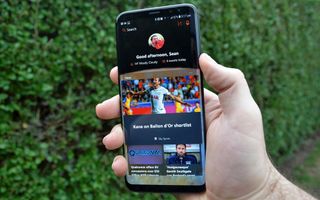 While becoming a Microsoft mobile beta tester is generally straightforward, it can require a different process depending on the platform you're on and can also vary from app to app. iOS has the Testflight application that unifies beta testing into one hub while Android has a few different ways to become a beta tester.
Microsoft, iOS and TestFlight
Apple has its own application called TestFlight, that makes it easy for developers and others to test software both internally and externally. Many of Microsoft's applications on iOS are available for testing through TestFlight. To become a beta tester for any of the apps listed below, you first need to download the TestFlight App (opens in new tab). Note that some betas are full, so even if you follow the links below you might not be able to become a beta tester.
After you've downloaded TestFlight and set it up, you can easily become a beta tester for a number of apps. All you need to do is click one of the following links for the corresponding application. TestFlight has beta programs for Word (opens in new tab), Excel (opens in new tab), PowerPoint (opens in new tab), OneNote (opens in new tab), Outlook (opens in new tab), Skype (opens in new tab), Xbox (opens in new tab), SwiftKey (opens in new tab), Microsoft Edge (opens in new tab), Microsoft Remote Desktop (opens in new tab), and Microsoft To Do (opens in new tab)
There is also one Microsoft application on iOS that still works through Office Forms: Mixer. You can sign up to show your interest in being added to the beta through this office form (opens in new tab).
Microsoft, Google Play and Android apps
There are many Microsoft Android apps that you can beta test. There are multiple ways sign up, though, rather than using a unified beta testing application like on iOS.
Becoming a beta tester for Microsoft's apps on Android generally requires clicking a specific link that is usually available through a Google+ Community dedicated to each app's beta program. But Google+ is going away for consumers in April, so you can use the following links to become a beta tester. Additionally, some Android apps have a second listing in the Google Play Store that is the beta version of the app. Signing up for those is as easy as installing the app like any other application.
There are Android beta programs for Word (opens in new tab), Excel (opens in new tab), PowerPoint (opens in new tab), OneNote (opens in new tab), Skype (opens in new tab), SwiftKey (opens in new tab), Xbox (opens in new tab), Mixer (opens in new tab), Microsoft Edge (opens in new tab), and Microsoft Remote Desktop (opens in new tab).
You can also become a beta tester for Microsoft Launcher (opens in new tab) by going into the app's settings menu, selecting "contact us," and then selecting "join the beta program."
While you cannot download the xCloud app to use yet, you can register your interest at the Xbox website (opens in new tab).
Get to testing!
Being a beta tester is fun because you get to try out new features that Microsoft either plans to implement or is considering putting inside the standard versions of their applications. You also can help these apps' development because you can give feedback to Microsoft for any app that you test.
Sean Endicott is the news writer for Windows Central. If it runs Windows, is made by Microsoft, or has anything to do with either, he's on it. Sean's been with Windows Central since 2017 and is also our resident app expert. If you have a news tip or an app to review, hit him up at sean.endicott@futurenet.com.
Work for free?! No thank you.

Isn't that what all corporations are doing, Technology or otherwise? A lot tasks are being transferred to consumers and yet costs of everything are still going up.

None of this companies is going bankrupt any time soon.
But they arent the sole culprit, the people that do this are to blame.
Companies discard their testers in order to save money but the only thing that this behavior enables is untested and buggy software reaching production.
This companies have a lot of money, its time to put it to use. Instead of filling the shareholders pockets spent some in QC/QA.

Case in point: Windows 10

I suppose you can look at it like that. I prefer to view it as A) getting the newest soonest and B) having at least a little more input in improvements.

👆 Literally how 99 percent of testers view it. Many are also simply passionate about technology, kind of like taking the time out of your day to post on tech blogs your opinions about beta testing apps ;)

The problem is that (A) is useless for the final product and the handling of (B) is very hard to get right...

something bothered me while using my phone and driving yesterday. i realized microsoft doesnt have live tile or large icons available for android/ios. i needed to access the map because i was lost, and i know its wrong to be fiddling on your phone and driving, but part of me didnt want to stop or cannot stop because i was on the freeway. a year or so ago, doing this was such an ease because of windows phone having big boxes. i could easily tap the map live tile without looking for it compared to an android where all of my icons are small and unrecognizable sometimes because my screen is cluttered with random apps. microsoft should try to bring the live tile look on android. an official one instead of those copycats.

I rely on Cortana exclusively. When I'm my car with my Lumia I can initiate navigation, listening to music and text messaging all without ever touching my device. It angers me that Microsoft is doing NOTHING to make that capability in their support of Android. And that's why I remain a Windows phone user.

That is probably more a unction of how much control Cortana can actually have on Android more than MS desire to put it into Android. Yeah I would love to use Cortana on my Android also, but since Google Assistant has better OS access I use it for those types of tasks on the system while driving.

You do realize Cortana is dead right? Only a matter of time before it stops working on your Lumia. How many times did you hear Cortana mentioned during the event last week?

If you like big tiles as I do - Try launcher 10 on Android and you get WinMo effect.

Still it's not the rich information that live tiles provide at one screen glance.

If you pay for the upgrade, they can do live tiles. Really it's just displaying whatever notifications happen but it's good enough for the few apps I use.

In your situation you can verbally ask your phone assistant to open your maps app.

I was a beta tester for 5 years at Microsoft, it was called Windows Phone (Windows Mobile later). Although using almost every Microsoft app on Android, I refuse to beta test for them again. They gave the best operating system for mobile and took it away just like that.

There actually is another way become a beta tester on android. Some apps has a link at the bottom of the page on Google play that says become a beta tester.

Your Phone has an Android Beta program that you can join as well.

Hum. What about Edge beta?

It's in the list. I have been on it since the released it.

WTF all the negativity regarding joining Betas? OMG you get early access to features in hopes that you report bugs, get over it.

Because you are working for free for companies that make millions in revenue but they give you nothing for your work. Sorry, not nothing, they give you access to buggy features that you can report to them at zero cost so they can make more money by firing their testers.
Don't get me wrong i think beta testing is a great idea as a complement but not as a main source of testing which seems to be the trend right now.

I think the term "working" is a little exaggerated. If you are sitting around for 6 or 8 hours bug testing, then yes you are working. If you are like everyone else and just let them collect telemetry data and report the serious bugs that affect you, then you are NOT working, you are in a beta test. This is what beta testing is supposed to be. It's supposed to have bugs that need to be found. Yes, it shouldn't replace full on 1st party alpha testing, but to call it work is ridiculous. If you don't want to do it, then don't. No one is forcing you.

"working" You really set the bar low for what is work, especially when it's OPTIONAL. You could just use the app to get the latest features and be done with it. But, ah, the entitled, whiny generation who need to moan about even the free things. Truly these are first-world problems.

Would love to get in on the IOS Edge Testflight.

Cannot figure out how to join insider program for Outlook for Android. Can anyone help? TIA

Hi yes you have to download an app called Hockeyapp. It is an official Microsoft app link to it in store https://www.windowscentral.com/e?link=https2F2F... You also have to email the outlook beta team and they then add you to the list. Once they add you a link shows up in Hockeyapp to download it and install it. For future updates it does it in app and shows a banner when new update is available. Normally a new build at least once per week. Sometimes get features upto a month early.

How do I email the outlook beta team? I have the hockey app. Jim

Where do you find the email address for the Outlook beta team?
Windows Central Newsletter
Get the best of Windows Central in in your inbox, every day!
Thank you for signing up to Windows Central. You will receive a verification email shortly.
There was a problem. Please refresh the page and try again.