Cortana 'conversational AI' enables smarter voice assistance
New Cortana features are coming, and they are powered by new conversational AI that will also be made available to developers.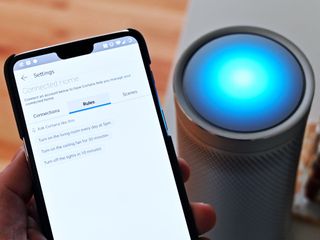 Today at Build 2019, Microsoft announced a new conversational engine that will integrate with Cortana and enable new capabilities and more advanced interactions. Known as "conversational AI," Microsoft has been working with the technology it acquired when it purchased Semantic Machines late last year, crafting it into a "breakthrough new conversational AI technology that will power a new class of multi-turn, multi-domain, and multi-agent experiences," according to the announcement post.
In the past, Cortana, like most virtual assistants on the market, has been limited in how you talk to it. To interact with a virtual assistant, you must say things in the correct way for it to understand you, and you can only do one thing at a time. With conversational AI, this requirement is relaxed. Cortana should now better understand natural human conversation and be able to handle multiple queries and skills at once.
From the Microsoft announcement:
The news also means Cortana can better handle "umms" and "ahhs" during conversation flow and can string together multiple different commands said at different times. This is one of the first significant updates to the Cortana experience since Cortana came to the desktop, iOS, and Android. This is also our first proper look at Cortana as a productivity assistant, as today's new conversational capabilities are all designed to help you stay productive.
The new conversational engine will also be made available to developers, allowing third parties to build their own virtual agents for specific use cases. It's unknown when we can expect to see this new engine show up in Cortana, but Microsoft says it should arrive relatively soon. In the meantime, what are your thoughts on these new Cortana experiences? Let us know in the comments.
Get the Windows Central Newsletter
All the latest news, reviews, and guides for Windows and Xbox diehards.