No more Angry Birds for Windows Phone and PC as Rovio focuses on Android and iOS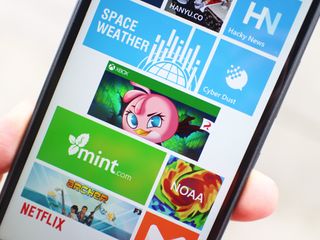 Angry Birds developer Rovio is telling customers in an email that they will no longer support Windows Phones or PCs. The email comes in response to a question about any future products or updates coming for the Microsoft platform.
Also, in a separate email, the same member of Rovio Support notes that they "decided to discontinue development of Angry Birds and Bad Piggies PC Games to focus on providing a better experience for these games on mobile devices." The email goes on to note that digital PC games will no longer be available for purchase or download nor will they receive any more updates.
The last update we saw for Windows Phone came just over one year ago in 2015. The company has numerous titles on Windows 8.1 that are still available including Angry Birds Space and Angry Birds Star Wars, but neither has been updated as a universal game for Windows 10.
Over the last few years, Rovio has hit a roadblock with their Angry Birds catalog. Once viewed as one of the biggest franchises in mobile gaming the company's growth stalled in 2013. Since then, the company has laid off nearly 400 employees in two rounds of reorganization reducing their entire workforce by nearly 50 percent. The company recently reported its 2015 adjusted operating loss was 13 million euros ($14.75 million) compared to its peak of $77 million in profit for 2012.
While the Angry Birds movie did surprisingly well with over $300 million in the box office, the gaming arena is a lot more challenging. Indeed, the torch of mobile gaming fads has apparently passed to Pokémon Go, although it is yet unclear how sustainable that game will be in the long term as well.
With Windows Phone market share at or below 2 percent worldwide, it is not surprising to see struggling Rovio drop support. However, that does not lessen the blow. Nonetheless, the bigger problem now is missing opportunities like Pokémon Go and not games from five years ago.
Thanks, Hesam D., for the tip
Daniel Rubino is the Executive Editor of Windows Central, head reviewer, podcast co-host, and analyst. He has been covering Microsoft here since 2007, back when this site was called WMExperts (and later Windows Phone Central). His interests include Windows, Microsoft Surface, laptops, next-gen computing, and arguing with people on the internet.
Lol, they came to windows phone in an effort to remain relevant. Sadly their time has passed and now is "the age of pokemonGo" and that will make its way to windows phone inevitably when it too will try to remain relevant #FunTimes

Yep, on to the next one..which seems to be pokemon go

pokemon go acutally is a old game from Japan.... Just re-vamped for Mobile with the new finding system using GPS...

ROFL, dream big, sir. Dream big. :P

Now let's wait for all the 'dead' comments which I started hearing 4 years ago. I guess it's really hard to kill it ;)

On life support, in a vegetative state, with medics pumping it full of drugs in a desperate attempt to keep it alive. The latest wonder-drug that was promised to do the trick simply isn't working. And that drug is called... Xamarin. Seriously, I've been wondering about microsoft's attempts to attract developers. Can someone give me a list of iOS / Android apps that have been ported to Windows Mobile using Project Islandwood or Xamarin? And a list of Windows Mobile apps that have been ported to the other mobile platforms using Xamarin? When I was growing up in the early 1980s, every Friday on News At Ten the presenters would announce the number of jobs lost and created across the UK that week. Perhaps Windows Central could produce a weekly round-up of apps that have left, and new apps (not updates) that have arrived on Windows Mobile?

Not even on life support. Life support would require effort AND expense. Microsoft has provided neither in the form of phone marketing or promotion. They took a business selling almost 10 million phones a quarter down to less than 4 million and falling. It really seems doubtful this can be turned around.

Just 2 million Q1. Could be less than 1 Q2.

Nice idea Posted via the Windows Central App for Android

Xamarin is used by 15.000 mostly big companies, it's main feature was never porting apps from Windows to Android and iOS, but rahter building hybrid apps for iOS and Android, so you clearly miss something. There aren't too many Windows exclusive apps that are of some quality, and yes some of them is using Xamarin to port the apps including me, and till two or three months ago Xamarin was so expensive that surely Windows developers couldn't afford it so surely there was no port.

Clearly I've missed the reason for Microsoft providing a tool for free to developers to create hybrid apps for non-Windows platforms.

Xamarin was a separate company and it has seen a commercial success in doing this. Microsoft decided to buy that company and it still provides the service under the same conditions just it has also decided to tease the small developers that had no package from Xamarin before Microsoft came.

The main purpose of Xamarin is to allow C# developers (which are usually found in midsize to large enterprises writing line-of-business internal apps) to write apps for Android and iOS without having to learn Java or Objective-C. From Microsoft's perspective, it gives developers a compelling reason to use C# as the starting point for a new app, because they can target all three platforms with it. And since it's already in C#, it becomes trivial to release it on Windows platforms as well.

Well, how can we expect for the OS to grow (especially in the US) when there are no new device releases regularly?... Seriously, the only way WP was slowly, but surely, growing before was because the market was being "flooded" (well, not flooded, but you know what I mean) by a new Lumia at least every few months.... Now, devices are virtually gone off store shelves.... I think 10M is fine now, polished, for the average user, but there's no devices... AT&T, and all other major carriers, are gonna have to have a dedicated Surface phone display with at least three devices to offer, and a few other WP's by other OEM'S right by that... So, In order for MS to gain back some market share each store is gonna have to have at least 5 top notch devices worldwide.. The low end isn't going to cut it because people looking for low end are looking for apps... These need to be serious devices and MARKETING has to push them as devices for the achiever... That's the only way we will start another incline.

I agree, and Microsoft does not lack the funds to go over the top with this. But the end result is still, those people who sell the phones need to push them.... but still missing a lot of apps. Microsoft needs to either offer something cutting edge that people will look to overcome the app gap, or they need to start "buying" apps..

Microsoft has never been able to sell anything other than the cheapest devices they could make. Windows 10m is basically the same as WP7. It doesn't matter what they do, as long as the devices are running W10m, they will never sell. Microsoft knows this, that is why they aren't pushing the platform. It is only a matter of time before they kill it. Unless the Surface Phone is ground breaking like the iPhone was in 2007, they will never have any success. If the Surface Phone is running W10m, it will never be ground breaking. Microsoft knows this and will kill it before release just like Surface Mini and McLaren. Posted via the Windows Central App for Android

First of all, I know tour opinion is biased by your signature.. It's just typical rhetoric..
...
Second of all, I disagree... It has nothing to do with the OS. The OS is perfectly competent, feature rich, and refined enough for the average user.
Third, it does have to do with apps, and fourth, and most importantly, it has everything to do with marketing... Marketing is something that has never fired on all 8 cylinders, but that cam be fixed, as we have seen MS do with Surface.. I disagree with you that good hardware (including a Surface Phone) can't be successful running 10M..... But, I know it will not succeed if marketing isn't out of this world crazy good.... So, their is a chance.

After 6 years of no one buying the OS, it most certainly is the OS. If people liked it, they would have bought the phones and continued to buy them. Microsoft pushed and marketed WP7 crazy hard and they also pushed WP8 along with Nokia. They stopped marketing because it proved to not be effective. The obvious issue is the UI and branding. It is the only thing that that hasn't changed. The crazy low market share after 6 years is solid proof that people don't like it. Not being able to keep all those 520 buyers on the platform is an obvious sign that people aren't that hot on the UI. It is time for something new. The chance of W10m ever being successful, even in enterprise, is miniscule. Posted via the Windows Central App for Android

No. Lol. It's not the UI. You just keep saying the same thing over and over. Try, and convince someone else because I don't agree with you. Not one bit. Sorry.

"unless the Surface Phone is ground breaking" I can't think about anything groundbreaking that could be introduced into mobile phone market in 2016. It's all small steps now...

You are underestimating the power of xamarian and also these days, it's possible to build hybrid apps but i don't have a list of those apps.

Well, they came to WP through an effort by Nokia, not to remain relevant. Not to mention WP was more relevant at that time e.g. in severeal European markets. Posted via the Windows Central App for Android

"Shot through the heart
And you're to blame
You give love a bad name
I play my part and you play your game
You give love a bad name
You give loouuuuuuuuve,,,, a bad name"

"I'm an OS, and a Windows Phone I ride, and I'm wanted, WANTEEEEIEED! DEAD OR ALIVE❗❗"

It's all the same, only the names are changed (Angry Chicks, Bad Oinkers, Pok-a-minge)
Everyday it seems we're wasting away...playing Pok-a-minge...instead of gettin' laid...out.

Lol. I know, right.. Third party

"We don't need no apps to save us"
....
"All it is is just a, nother app we have lost"

I just hope, that this is a "stairway to heaven :D

"iDroid is not my lover,, it's just a phone and I think I might just get one,, but Windows Phone is my son" HE' HE' HE' Whoo❗❗

"Even if you think you can bring me down
Already had my life turned upside down
I'm riding down the spiral round and round
But I keep flying, I keep fighting
You won't ever bring me down, down, down, down, down!
You won't ever bring me down, down, down, down, down!
You won't ever bring me down" :D
Just a little Korn from W10M users to idroid ones :D Or from the W10M OS itself to iDroid :D

Like the MJ reference... :) --Billie Jean

It's fun.. I can go all day.

"Like a virgin, Snapchat for the very first time"" Like a viiiriririrgen, we might get Pokémon, in due time"

Now let's wait for more "windows 10 mobile is dead" news after that...

Given that they are not on the Desktop either, I guess Windows 10 desktop must be dead too. Or not. Just as more and more 2 in 1's are selling and touchscreen PCs are selling, they decide to drop support. Ok.

Well, Angry Birds on desktop never made a lot of sense anyway. Tablets, sure, but not desktop.

Rovio Entertainment has only 2 apps for PC:
Angry Birds Star Wars - $4.09
Angry Birds Space - $2.99
.
However, they have a catalog of about 20 games for Mobile so it will be interesting to see what happens to these. Either they get removed or just stay in store with no more updates.

All of the same Angry Bird games that are no WP are on PC

I dont need to, I own them. They all came together on a CD-ROM from WalMart. My kids got it for me for Christmas last year

We are only talking about apps in the Windows Store (Windows 10)

Where does it say anything about the Windows Store? Those games were for Windows PCs and were developed and released by Ravio. They also received updates with new levels and powerups for a while before being abandoned. Seems to be to be exaclty what this article is about.

In fact Ravio even said they "decided to discontinue development of Angry Birds and Bad Piggies PC Games". That statement doesn't even make sense if all they have is Angry Birds Space and Star Wars.

Is Microsoft now focused on productivity? So, she doesn't need games on your mobile platform anymore ...

Juan does not help, still erring

To be honest, that's a ****** excuse...

Productivity? On Windows (any platform)? Why are there half a dozen MS-created timewasting games on my start menu in Windows 10?

I stop playing Rovio games a long time ago, and see this doesn't surprise me.

Yep.. even my kids are no more interested in these birds. So RIP Rovio!!!

Exactly, I have literally 30gigs of apps/games in my phone for my kid. And I was checking that I had now zero angry birds games on it. Before some resets I had almost all the Rovio games, but since some months I forgot to put them, and my kid did not ask for any of those.

Not again! They need more love from Micro$$$oft.

You can't put the $$$ in the name when they gave away their OS for free. Posted via the Windows Central App for Android

Yes you can.... OS is free but, app sales and ads are almost 30% last I read (what MS gets)... Not free, you do pay for it in some parts..

All of which are optional, and I personally haven't paid MSFT a penny for anything on the PC since updating almost an year ago. I do subscribe to Groove Music Pass (and the 100GB Onedrive storage that comes with it), but that started on my mobile, long before WX came, and it's more optional than the rest of the things on WX.

Lol.... Windows phone. So glad I got out! Posted via the Windows Central App for Android

Then why are you here posting a comment? Troll much?? Posted via the Windows Central App for Android.. But waiting for the HP Elite so I can get rid of this junkie Galaxy S5...

When you use android app signature feature to troll android users

It's the default pw did the app smart guy Posted via the Windows Central App for Android

Because I'm free to do so. Troll? Come up with something original Posted via the Windows Central App for Android

Ok, so you are the original troll. Happy now?

Don't you have some goats to molest under your bridge?

Wait. Original = "LOL" or "So glad I got out!"??

Don't need to come up with something original. You're a loser. It's as simple as that.

Because he still has hope.. Windows 10 has given even the users who left hope.

Hope for what? Window Mobile is what it is. If that's not what you want, why wait for something that may never happen? It makes no sense. Move on to something that makes you happy so you can quit moaning. I'm quite satisfied with WM as it is. I don't expect it to be something drastically different a year from. now. Just better (and as far as I'm concerned, it's pretty good now)

It is a good question. Don't hear me trolling Android forums even though I left Droid for Windows Phone.

Great signature. I hope the Elite is software stable, I remember the state of the W10M in the beggining of Lumia 950XL and it was depressing, and all the bad press it generated.

Lol same here xD Posted via the Windows Central App for Android

You're not that glad to have left. You're still here keeping up with Windows news.

I'll send them a Thank You email later.

The writer said it himself: These fad games don't last forever. That's the way it is.

Ya, all the apps should go! We don't need no stinking apps, We're Windows Phone!!!!

Depressing!!!!! (Sarcastically speaking...)

You are still playing angry birds? The birds can't stay angry for that long. Otherwise, the birds will die, you know.

Yeah. Even roosters die after roosting daily for so long xD (sorry, I couldn't help noticing your name)

You are correct. I am BBQ'ed by my wife daily, don't expect to be alive. xD

Whew, I was worried an article on WC wasn't going to involve Pokémon Go.

I can understand that. When I think of gaming on Windows, I think of titles with serious graphics and good story lines for hard-core gamers. That is, people likely to have high end gaming hardware. I never really understood why anyone would want mobile games on PCs. And speaking of mobile games, yeah, makes sense to give up on Windows for that, too. No foreseeable future for gaming on that platform. I wish Rovio the best. They had a good run with the angry birds titles, and hopefully can give us something equally entertaining in the future.

And what if I play Mirror's Edge, many Need for Speed games, Life Is Strange, Grand Theft Auto, Sim City, Cities:Skylines AND Hill Climb Racing, HALO Spartan Assault, Asphalt 7 and 8, Minion Rush, Minecraft (Win 10 edition) and Crossy Road among many other games on the same laptop? It's about freedom, and being able to play more type of games on Windows than ever before. And I didn't even mention the Win 10 tablets and 2in1s that are running the same OS as the high end gaming rigs. So saying, that Windows should "give up on mobile games" is just BS.
No, I'm not saying, that this Rovio support stop will kill Windows of course. And they are struggling too (what isn't surprising, because almost all of their games are the same with different skins), but a wider variety of games is never a bad thing.

I think we are speaking two related but different points here. It's not MS/Windows that should give up, it's Rovio. They are struggling right now and since there is no foreseeable future for mobile games on the "productivity" platform that Windows intends to focus on, it makes sense that Rovio give up on it for now. Freedom is good, wider variety is good, and Microsoft should continue to court mobile games. They will need to do a lot more work in the meantime to give mobile games a robust audience on their platform, and until they do, or until Rovio has the capital to spend on a small market, Rovio should focus their attention where the big money is.

I could understand WP. But Windows as well? Seems dumb to me.

What do you expect from a Finish company, land of "Microsoft evil, Microsoft bad." Three hundred million potential customers and they're ignoring them? Moronic.

Angry birds is a mobile game, how many users have windows 10 mobile.....

Angry Birds is not mobile only. You can find Angry Birds games on every game console, from the NDS to the Xbox One. To deny the 2 in 1 and touch PC is stupid, as people who own those devices grow everyday. As a matter of fact, I play Candy Crush on my PC more than my phone.

Bullsh*t... You don't know what you're talking about :D The games were available on PC too. What MS is trying to do, is breaking down the barriers of desktop, mobile and console apps and games, so they will be just apps and games anywhere you are, on any of your devices. And that's the mobility of experience. Why are you speaking about Windows 10 Mobile, when the games were available on the whole ecosystem (except Xbox)? You don't understand anything... Try to not put everything in boxes :D

Great concept but, Microsoft screwed up the phone part. WIth this type of thing happening day to day (that it seems on this site), The Mobile devices from Microsoft wont last much longer.. Nice OS, too bad screwed up by Microsoft's poor choices.

Let's see what RS2 and RS3 will bring to the table ;)

Windows Phone 7 didn't bring it. Windows Phone 8 didn't bring it. Windows Phone 8.1 didn't bring it. W10m didn't bring it. Redstone didn't bring it. People just don't want it. Until Microsoft has an actual reboot with a completely revamped UI and branding, they have no chance. You are waiting for a Unicorn. Posted via the Windows Central App for Android

No. I started with WP 8.1 Denim (switching from droid), and it kinda brought it for me. It improved further with W10M TH2, and even further with RS1. But some people just can't be ever satisfied.
And why should they completely revamp the whole UI? I think they just need to improve it further and further with every version. No need for another reboot... And what would you change in the UI if you were MS btw? I'm curious.

They need to change verything. If people liked it at all, it would have sold from the beginning. The numbers prove that people didn't like the UI. Never breaking 3.5% is a big indicator that it isn't working. Posted via the Windows Central App for Android

So you're blaming the UI for the low marketshare. Okay...

Absolutely. The UI is very polarizing. Either you love it or hate it, and obviously not many people loved it. There are a few vocal supporters, but that hasn't turned into sales. The UI is the only thing they haven't changed. Windows 10m looks and operates almost identicaly to WP7. They need to make it fully customizable and especially allow manufacturers to customize and modify their devices heavily. This is a big reason why Android became so popular. They gave manufacturers the ability to have their own identity and this is a big reason for them to support it. Unless they allow manufacturers control of their destiny, then Microsoft will always have to make their own hardware. Not seeing that the UI is an issue, is the greatest mistake that Microsoft has made. Fanboys have cheerleaded them into oblivion.

I think otherwise. Yeah, android is popular, but not because OEMs can ship their phones with their own launcher. People constantly complain about how sluggish TouchWiz is. They don't love it. They love, that their phone has many features, and runs every app they need. And that's all. At least 90% of droid users don't want to mess around with installing launchers and stuff like that. Just look at how Apple does their stuff. No launchers, and not much customization in iOS. And they still have a large marketshare. People want their phones to be able to do the stuff they need, and that's all.
But yeah, some improvements would be good. For example, I'd love to see "interactive live tiles" on the lockscreen, what you can move around, and personalize the information you see on your lockscreen, kinda like the Lockmix app does it, but integrated in the system, and interactive, with a few default ones, and others from apps you install. BUT if they ever get rid of the live tile concept, I'll be very pissed off :D

Apple doesn't have much marketshare. They have a simple UI that isn't overbearing and mostly gets out of the way. They only sell high end devices and are able to target the higher end consumers. This makes them successfull even though they have 1/8 the market share of Android. They are not dependent on other manufacturers making and marketing devices. Microsoft is and as such they need to get manufacturers behind them. They can't do that by mandating a completely limited UI and feature set. Especially when the UI and feature set has proven to be a complete sales failure.

OEMs can have their own apps. For example, the Voice Recorder app of the HP Elite x3 was already spotted in the Windows Store. Isn't that enough? If the OEMs change the whole UI, it won't be consistent with the desktop Win 10. And it's a selling point of W10M phones, whatever you say :D

A selling point? Really! Have you seen the sales numbers? It isn't a selling point, it has been a liability. It isn't working, there is no argument you can make to change that. Why do you want Microsoft to continue down the same path that has proven to be a complete failure? Do you secretly hate Microsoft and want to see them fail?

No. I just have a very different opinion, than you. That's all :D

Your opinion has been proven to be utterly wrong. We have six years of terrible sales that invalidates your point. I guess you are entitled to that opinion though, no matter how wrong it is.

Opinions can't be wrong, everyones thoughts are different. And the world doesn't need another Android, because, yeah... We already have one :D

Opinions can be wrong and can definitley be proven false. I could say it was my opinion that the Vikings will win the Superbowl, but then they didn't. My opinion is wrong. It is your opinion that Microsoft should continue with the same UI, features and branding. Six years later we know that path is wrong and doesn't work. Your opinion has been proven wrong and if Microsoft continues down that path they will fail again.

You can say the same thing about MS and the treatment of it's own users. Total assclowns over there.

Terrible company became irrelevant a few years ago already. Don't even care.

But, maybe making a movie about those birds still help? Nah...

Microsoft is still kinda relevant. They have been sliding from the consumer market, but they still have enterprise to fall back on. They are not irrelevant yet, they will always at least be IBM. Posted via the Windows Central App for Android

Lol hilarious i think rovio angry birds franchise is dead cause is not the new kid in the block. Pokemon go is not the game that will us WP users drooled wanting that game on WP platform. Let's just wait and see what Microsoft will do to help the community of loyals windows users. In the mean lots of people here will said windows phone is dead. I don't think is dead because it satisfy my needs for my daily life but someone people are so desperate and want the same thing other people have.

Being "loyal" to a phone platform is dumb. Microsoft only cares about your wallet, they're the same as any other company.

I beg to defer. At least in this industry, being 'loyal' means that when you buy something from company A, the same amount as you would company B, only with company A (in this case MSFT), you get a piece of a vibrant ecosystem instead of just a device. A piece of the jugsaw. The benefit of all your main devices being on a single ecosystem should be quite obvious, since the same is true for Google and Apple. When your loyalty got you invested in the ecosystem, for you it would be much less expensive to remain in that ecosystem than to start using others (the Apple-effect, as they call it, since apple was the one who started this model). No, I'm no economist, but this remains true and I can tell from experience that to get the same experience as my 950 on android or iOS, I would have to pay at least 50% more on either platform simply cuz I'll have to pay for the whole ecosystem again. So yes, 'loyalty'.

Loyalty: A strong feeling of support or allegiance. IMO it's dumb to do this for any big corporation that could give a rats azz about you as an individual. Microsoft cares about your wallet only, and you are giving away a piece of yourself to a company that doesn't even care. Congrats.

Silver Wind, except thats not true. I agree with Visa Declined. Based on a personal experience..... In my country when I was looking for a new phone a few months ago, I managed to get the iPhone 6s Plus cheaper than the Lumia 950XL at the time. Point 2 If you wana switch to android there are multiple phones that are cheaper than Lumias with about the same pecs. Point 3, the ecosystem... What ecosystem? what vibrant ecosystem? the ecosystem that offers Office? or unique Windows/Microsoft Mobile software and offerings? Oh wait, all of them are already on Android and iOS! Windows (Desktop) integration? Well iOS + Android caters for this. In fact, there is very little reason to stay loyal and virtually none to stay loyal to WM. Look if you like the WM OS then good. Its your choice, and who am I to state otherwise. I am just saying that you dont need to be loyal and it is cheaper than you think to switch. MS hasnt been loyal to its smartphone industry so you dont have to.

If I wanted a phone to play silly kids games on and get crap battery life I'd get an iphone. If I wanted to look at ads all day and kiss google's asss I'd go adroid. If I wanted an enterprise level flagship worthy phone with Continuum and impressive specs I'd go with the Elite x3. So where is it??

Coming soon... Posted via the Windows Central App for Android.. But waiting for the HP Elite so I can get rid of this junkie Galaxy S5...

>Coming soon... Not if your a Verizon customer

So, you currently can't do any of those things. Congrats!!!!

You'd be seeing ads in Windows phone as well since it doesn't have an ad blocker like iOS does.

maybe you can hack in the hosts file;

And Windows Phone Central finally completes its transformation into Crackberry.

FYI we changed our name to Windows Central 20 months ago and cover Xbox, Windows 10, Surface, HoloLens, and Microsoft Band in case you need a refresher. Windows Phone coverage maybe makes up for 12% of our articles. So, your comparison is not applicable.

I know, I was just making a joke on the increasing frequency of "tools not toys"-style comments.

Agreed. People need to stop thinking this is a mobile only site like the others. The Microsoft community is actually one of the largest. Literally everyone I know has a PC with at least W8.1 on it. Even alot of people who use Macs, Android devices, and iOS products use at least one Microsoft product or service.

If only they'd explore PC hardware a little more. That would be awesome.

I dont see ads here on my android, I see ads on WP.

There are already too many Angry Birds games available on Windows Phones. I kinda like them, but at the hundredth time, it's just not exciting anymore :D

This would be the best time for them to go uwp if they wanted more used makes no sense to me

That sounds like the simple solution but it still takes some time and resources to move over to UWP. You can convert most 8.1 apps pretty easily, but I'm not sure at all when it comes to games. AFAIK things like Unity have support to write a game once in C# and then export it to multiple platforms (inc. UWP) but I don't know if Rovio even use Unity

Sure sure..they have so little money they can not cover three operating systems

I'm not so angry anymore.

Ah, the slow death of Windows Phone apps.

I had totally forgotten about Angry Birds. Is that still a thing?

Developers are busy discontinuing apps and games, Nadella is busy counting money and writing books and wp costumers are busy getting surprised and trolling each other...

Am I missing something but I don't see WIndows Phone mentioned anywhere in that message. It just said they were no longer working on PC games (aka Desktop/Tablet) and focusing on mobile. I also don't see any mention of iOS or Android only. Was there another part of the conversation not included?

I hesitate to keep embedding emails that are oddly screenshoted to simply appease some of you, but will oblige.

That message is far more direct and clear. Thanks! While it is disappointing to see things dissappear from the store, I have a feeling that Rovio has far bigger problems since their games are losing popularity at a rapid pace.

Indeed, they lost $14 million last quarter after three-quarters of declines. That's compared to 2012 when they made $77 million.

Is this the same Rovio who's movie made upwards of $150 million (essentially doubling the cost to make it) and knocked Captain America out of the #1 spot last month? Yeah, they're doomed.

How many years did it take to make 1 movie? I somehow doubt that Rovio made 100% of the profits from that movie. There are so many companies involved that I am sure they all took a slice. Even if they did make 100%, with 800 employees $150 million would probably last them a year. Yes, they are doomed.

I understand that, but it's not like Windows 10 doesn't have any market share.. So yes really.

Well, any developer deciding not to develop for Windows anymore is clearly bad news. Windows phone doesn't even have 2% of the market. Shame on Microsoft. :( Posted via the Windows Central App for Android

Really, it's hard to see how the news could get much worse. HERE Maps, Amazon, CNN, and longstanding developers like Rovio have abandoned the platform. People here get mad about the doom and gloom posts all the time, but c'mon, shitts getting pretty bad yo.

HERE and CNN are not really a big deal, frankly. Even the Android CNN experience is sub par and no one really uses HERE anymore. Amazon is a bigger deal.

The Audible app gives me hope that we might see a better Amazon app someday.

The Audible app is superb! For me it's also much more important than Amazon but I really hope we do get a UWP Amazon app as it's an important one to have. My use of it tapered off more recently but I used to have the barcode scanner Pinned to my start screen and would regularly use it to save time when applying the £10 rule on purchases.

I am still using Here Maps as Windows Maps is not complete yet. In many cases, I see Here Maps results are more relevant.

I liked HERE Maps and CNN, so did a lot of other people.

Not enough to matter, however. HERE is mostly going private/cars/partnering with industry as they are inconsequential in the mobile market (read iOS, Android where Google Maps rules the roost). CNN's own strategy for mobile is reflected by pushing their website over a quality app, even on Android. The Guardian, other the hand, is prioritizing mobile apps over their website. In a world where content is aggregated, AI/assistants fetch news for you, and more people get their news via Facebook dedicated news apps are becoming less important. Of course, I'd love a CNN streaming TV app, and who knows what will come to Xbox One next month.

Here drive is much ahead in terms of user interface compared to windows maps. In windows maps everything is tiny on the screen even the driving mode.

@salaam. This is no longer the case after the last update. Maps has improved considerably and is very usable. I don't miss Here drive any longer.

It is improved alot in last update please update your windows map guys

While the email states no more updated or releases for PC where in the provided email states Windows Phone is also impacted?

http://i.imgur.com/SCcZ0Og.png

I can't believe MS does not have an option to delete the second sim when is not used, is like 5 lines of code, and a checkbox somewhere in the settings. Sometimes I feel they just don't care for small things that impact user experience. And they use the feedback inconsistently. I have double sim 950xl and for me it's embarrasing sharing a screen and showing that icon that I literally want to kill.

Meh, I stop playing those games a long time ago.

Many apps are retiring windows because of win 10 mobile fail

I have them on my Windows PC, but I haven't played any of them for a long time. Like most games, they get boring after a while. It seems to me that this announcement serves no purpose other than to remind people that they exist.

Lack of marketshare, pure and simple. Direct result of all that "retrenching" people love to throw about like it's a party.

In this case, let's not act like Rovio/Angry Birds is something relevant in 2016 or that the company is not facing its own problems after downsizing by nearly 50 percent. Rovio lost $14M last quarter.

You say that now, but they could potentially land another hit game. Regardless, they are still a large developer that chose to abandon the platform, and that sucks.

but they could potentially land another hit game

Sure, and they could easily come back to Windows 10. Anything is possible. I'm just saying currently, Rovio is not the future of mobile gaming.

Rovio has released 30 games so far. How many of those were a huge success? Most of those are just a rehash of the original. It is not looking likely they are going to have another hit with that many misses. Mobile game development is a cut-throat business. You basically can be a huge sucess (which is extremely rare) or you can be a glorious failure. Most games are just lucky if they can make enough money to break even for all of the time they invested. A friend of mine wrote a couple of games for the iPhone. After months of development he made a grand total of $125.

That's irrelevant. They are a known dev whose movie just made hundreds of million dollars.

right, so now we just want apps for the sake of it? not because we actually want to use the apps? are you listening to yourself?

The logic behind this way of thinking is that more apps will mean more users, which will again mean more developer attention, which will ultimately lead to a larger and better eco system for the good of all...

LOL, instead lets act like Windows phone is relevant in 2016.

Sad but Windows PC and Mobile will live on.

Because they weren't making any money on the platform? Should be pretty obvious.

Are they making money on any platform? Who still plays these old, tired games?

This has less to do with Windows and more to do with a struggling company laying off staff and reducing their commitments.

Do Android and iOS pay them to not to develop any games for Windows Phone?

If you want the phone with the latest games, WP is not that phone. Never has been.

Come back to 2016, please. Angry Birds isn't hip anymore. P.S. While you're right, it isn't relevant to this article, and thus is offtopic.

Makes sense. No one uses the WP app store much and the PC app store isn't really all that. MS has good apps but the core apps don't contain all the features and the design language is meh. Posted via the Windows Central App for Android

It makes sense, not because WP, but because Rovio has been struggling as a company. They'll probably come around if they ever make a comeback 'as a company'.

Rovio would be smart to utilize uwp for future nontouch games if only for Xbox, then PC, then mobile...I mean that's uwp selling point.

Rovio is as irrelevant as Windows Phone 8.1. It should be noted that many of these companies are actually ending support for the Phone 8.1 platform. Example is Bank of America, stopped supporting their 8.1 based app and came back with a Win 10 app, though probably not in this case

WP8.1 being 90% of the market ending support for it is just the last nail in the coffin.

I see no sense in making such a move,make UWP and utilize the Windows Store to grab more users

Angry Birds is past its prime. What Rovio needs is not more users on the existing games, but a new, more exciting game that isn't just a re-skinned version of the first title.

It sure is. Oh.. but wait, and since we are talking about games here, didn't Microsoft just announce the Xbox Play Anywhere program which is pretty much a rebranding of UWP for game devs. So with about a dozen or more play anywhere titles set to launch in Q4.. No, the UWP is not a flop but rather far from it.

Except those games are x86, anywhere but phones.

UWP, unfortunatelly, doesnt seem to work... I, personally, dont know a single person using or caring about the Store apps on the Win 10 PCs, and so do the developers probably.

Meh, never even opened their app on my Surface Pro 2 ever since I installed it, didn't even install it on my OnePlus One, think it's time to uninstall it from my Surface Pro 2...

Who need angry bird when I can play Pokemon? Unplugging from Windows 10 will make them die faster Posted via the Windows Central App for Android

So are they dropping Xbox one? If not, shouldn't it run on all Windows 10 devices

I like the games, but I stopped playing after restarting three times because they refused to support Rovio Account on Windows Phone. Every time you switch phones or reinstall you lose so your progress. So I guess this news has no effect on me whatsoever.

This. Had to start over after every reset & restore, which as insider I do occasionally.

It's my biggest issue with most games tbh - A lot that are cross-buy on Windows don't support progress sync which really dampens the impact for me. Some companies have noticed this and fixed it in future games, like Hitman GO didn't sync progress but Lara Croft GO (and I assume all others after it) do sync

Hey guys... Btw, why i have an old app in my library (i am even able to install again here in w10m), but it is not visible at Store. How new users could install that?

lol is angry birds still a thing?

I hate to say it but that's what most people say about W10M.

Moreso than Windows phone.

I don't play Angry Birds or Pokémon Go. But the way Windows Phone, and even Windows 10 Mobile are losing apps, like Amazon, Here maps, is a matter of worry. Yes, there're new apps coming to this platform as well, but they are very few.

There was hope with the introduction of the UWP strategy, but that seems to be failing as I dont know a single person who uses or cares about Store apps on their Win 10 PCs. :/

The only way Win10M will truly be dead is when Apple and Google come out with Universal Apps and Live tile and convince you morons they created it first.

Lol I totally agree, bro Posted via the Windows Central App for Android

I totally agree bro. Lol Posted via the Windows Central App for Android

Lol Posted via the Windows Central App for Android (V10 or Nexus 5X)

The giant is falling down

Like were ditching the very fast growing 2 in 1 pc market and tablets that can be ported from Ios to make like easy money. I'm sure it's not that easy. But what if it was.

Also I have no idea if it's fast growing. I'm not interested. But I'm probably buying the sp5 if it's substantial upgrade over my 3

I'm tempted but I'm really feeling like going for a more "Laptop" like experience. But I don't want to lose the uniqueness and features on my SP3 when I upgrade, so the Surface Book v2 will probably be perfect for me

☹ well I'll keep a wp until they no longer exist.

Same here man Posted via the Windows Central App for Android

Wow, why would they eliminate the millions of Windows 10 PC's? Companies like Rovio and Snapchat are so far up the butts of Android and Apple they can't find their way out.

It's business dude. If Windows 10 had the numbers that Rovio deemed good to continue developing, they would have.

Because noone uses the Store apps on their PCs with Win 10... at least I, personally, dont know anyone who does.

So... just because you don't know anyone, doesn't necessarily mean anything. As a Win10 user and dev, I use many UWP apps on a daily basis. I do use the Mail and Calendar... Groove... Weather... News... Plex... Nextgen Reader... Twitter... Facebook... Netflix would be the top ones I use regularly and each one of those on PC and my phone.

OK, and do YOU know anyone else besides yourself? I, myself, use UWP apps too, but I'm afraid that the majority of people don't... Would like to see some statistics on this this topics, actually.

I don't mind. I stopped playing the game long time ago. It is destined to go.

Sadly games don't have web wrappers or I would have launched it right away. Lol.

Well you can always play Crush the Castle.

AWWW WE LOST ANGRY BIRDS??? How will I live??? That game is so new and recent too!! sdfl;kjsdf;klh4t09u!!! 11!! 1

sigh...another one bites the dust... So, riddle me this, where is GOOD news for Windows Phone/Windows 10 Mobile ? Last few days/weeks, apps going away, new hot apps, oh, not available for WP users. Any world from Microsoft trying to make users feel better about their devices ? Any App support from Microsoft ? How about Microsoft trying to get compaines to stay ? How about EXTRA support for long time LOYAL users ? The answer to all the questions is NO. Another great product by Microsoft FAILED becuase of Microsoft's poor marketing. If a smaller company made decisions like Microsoft does like with Windows Phone, they would be out of business so freaking fast... And Microsoft wonders why their Moble buisness is losing so much money.

I don't get it either. Microsoft just gave tools for developers can bridge their apps, but that's all. Where is the efforts to convince them to make it??? No marketing, Windows 10 Mobile with zero publicity! If W10M turn into a dead end, the only guilty here is Microsoft itself.

It all depends on personal needs. For example Microsoft's authenticator app is way more useful to me personally than any game would be.

Don't care, really. I get a little sad when a new game comes that I can't play. Like the new Pokémon Go. So I sign the petition and wait. But fad games come and go. I have what I need.

You are right Posted via the Windows Central App for Android

Don't care much for Angry Birds or alike, but now I'm beginning to worry that when the Surface Phone comes out mid-2017, there'll be no apps to run on it besides the MS-made ones :(

So, they dont want 300 millions users to play their games? That's a stupid move. Don't get it.

The reality is most Windows 10 users don't use the Store or UWP apps. I know on this site that fact is lost on everyone because they're neck deep in MS propaganda, but its the truth.

"Most" not all Posted via the Windows Central App for Android (V10 or Nexus 5X)

Agree 100% here. Dont know a single person who uses Store apps on their Windows 10 PC.

So, they dont want 300 millions users to play their games? That's a stupid move. Don't get it.

Don't you think Rovio thought of that? I can just picture the meeting in the boardroom when you tell them about it... "Aw crap, why didn't we think about all those other 300 millions before? OK you Windows devs; back to work!"

Sorry to say but all these games are just fads, they come and go. I personally dont play games on my phone so not really a big deal, but a loss for those that do. Its time to recognise that windows phone, especially with 10 is now more of a enterprise focused device. You wont be seeing any of these type of games coming to the platform, if that is a problem then move onto ios or android.

And the same f***ing story continues! e.e Never for the best...

Who stil plays angry birds in this age? Hate on windows developers but soon redstone wil make sense and u wil come running back

Way to drop massive bird bombings on Windows users, Rovio!

i personally don't like playing games much on mobile. i prefer the real deal on ps4 of xbox or even a pc. however, this news is a clear indication that developers are still not interested in windows 10 and we might be seeing lots of apps existing the windows market. windows 10 is really nice and i don't think i can live without my live tiles and beautiful interface. but microsoft needs to do something about this app gap. i know they have their porting projects going, but how fast are they progressing? will they deliver it on time?

Like clockwork with the "Angry Birds is still a thing", "We don't want that app anyway" comments I was expecting. Dont ever change, WC.

Haha even on Android I don't download their crapware. Posted via the Windows Central App for Android (V10 or Nexus 5X)

Wa wa waaaa. Oh well. I can still download it though. I don't get it, why?

Good job microsoft!!! Thats real productivity...

Boom !! windows 10 mobile need a lot of new devices

need to hear a lot of good news im tired of hearing bad news

hmm what a time for them to go or maybe it's just because they laid off so many people they do not have the People who can do it. even though I use and like Windows smart phones. I realize that it will take more time for them to get more app but things are looking upward because businesses and developers seem to realize that since the main PC/Server Windows 10 operating system is on devices that have 7 inch to 64 inch screens they have to submit Microsoft "Universal" apps which can self scale up and down to fit the screen Windows 10 is connectd to. They can even scale to fit on a Windows 10 mobile smart phones screen. this is how Windows 10 mobile smart phones will get new apps because developers can make one good Microsoft Universal app and it will work on all Windows 10 or windows 10 mobile devices. great tech Maybe it will help sell more Windows 10 mobile smart phones but if it does not at least there will be millions of people who will buy them and they will be OK

That's why MSFT should bring Astoria back...

I mean, here's the thing... When you release a title in it's decline, what type of response do you expect? I can't say that a developer has given WP a significant try if they don't release a title around the same time it is released on competing operating systems. Why should we be interested when everyone on other platforms have moved on?

Angry Birds was good at the time, the game actually sucks...I remember it was a fad, NO ONE I know plays it anymore....since almost the last few years. It's a good thing its gonna be off the Store...one less boring overdone game to look at :)

Windows phone/mobile is going down. All these supports shutting down mix radio, here drive, angry birds, FM radio, bank of America is losing WP/WM users and downsizing the community. We should be growing app support, not lacking app support. App gap is getting larger by the minute and I'm losing hope for this platform.

Just realised, I never re-installed Angry Birds game for last 18 months after I had reset my phone. Though I played it lot 18 months back.

Damn it. Islandwood can't come soon enough

Well, if I have viber, whatsapp, facebook and twitter I don't care about the rest. Posted via the Windows Central App for Android

Why desktop?? Desktop user base is a lot more than Windows Phone user base..

BS, they can simply port the game, and get benefits from 350+ million users!!

Just a sign of company downfall. They need to do some cost cuting somehow. Seriously though Pokemon Go & Angry Birds news are meh....

Waiting for Nokia Android phone ...

"If you wanted to reach a lot of phone customers, Windows Phone isn't the way to do it" - Terry Myerson, Executive Vice President of the Windows and Devices Group

One thing to ask yourselves though is.... If the big dogs are running from it what message goes out to the start aps?? I think this is bad even though you act like you don't use the app anymore other devs might consider ditching it as well cause let's be honest only small devs with success are the ones making clones of the unavailable apps

Never liked angry birds even when it was a hit

I got bored with angry bird...I also don't play this game in my android phone... but still the company need to stay in windows phones.. hope iOS bridge come to developers...and they provide us to use iOS app in windows phone..... Posted via the Windows Central App for Android

Same thing over and over again. People now bored with rubber bands and birds. With Android there are hundreds of millions of users, and if just 2% buy add ON's, that's a large number of users. PC users, from my understanding, prefer more mature gaming titles and strategy, role play etc.... Maybe they should employ Samsungs R&D department as they are the world leaders in 're-inventing' the wheel and sucking people in with the promise of a better life.. ;-)

I do hope pokemon go will consider that there is more to money. If they are a good company they would consider to make everyone happy

The petition was signed by 33K wp users only....
That app has 1MLN downloads/day, we simply do not exist.

Just move on..... No perks staying with this dying platform.... We are merely end consumers. Doesn't pay to stick with a platform.

It was expected the comment section was full of "FU, we don't want your app! Good riddance Die!" -posts. ​Maybe you don't like one particular app but for other casual users who actually do want these things those apps are important if you ever want to regain 1% marketshare extra Most of you sound like WinMobile​ hipsters who are so cool because they don't need or want any apps apart the stocks apps Microsoft makes. And whenever a company supports the platform the bitter whining about how bad the app is or the UI isn't great, or that one minor feature that is missing that makes the app suck so hard and one starring it into oblivion. ​No wonder almost no one develops for WM. Either you don't want apps or you don't like them. What is it huh? Inferiority complex? Jeeez

Even the stock apps are going away. PDF Reader, FM Radio, Kids Corner etc. etc.

No one likes to develop apps for windows phone... Stupid idiotic people

Bye bye Rovio, nice hand.

Has Google Inc. and Apple Inc. bought all app developer company to not to make any app for windows phone or pc ???

Makes me wonder how long King has with their games before they see themselves become irrelevant... Candy Crush Deez Nuts sez I =P

I have been using iPhone and recently i bought Huawei P8 but i just end up on my lumia 950 again

Nothing valuable was lost. LOL

Another Big name drops support & you'll never get Pokémon Go! and speaking of struggling, it's WP, not Rovio.

I never played angry bird in my mobile before, i doesn't care about angry bird or Pokémon, MS should concentrate first on how to resolve app crashes, bugs present in It's production build..... If not the left over loyal fan base has no option other than to leave

I am happy with age of empires lol...

Hmm I can see why they wouldn't develop for WP's exclusively anymore (with less then 2% market share) But with the U.W.P. they choose to ignore the currently a round 400million customers on Windows 10 (and that figure is only going to rise higher in the next couple of years). It strikes me as a move out of desperation, but not a very well thought-out kind of move ;) But hey, who still cares for Angry Birds?! It screems 2010, it's not really a thing in 2016 ;-) Posted via the Windows Central App for Android

This has nothing to do win Win 10. . it`s about Rovio loosing so much money that they are forced to close departments and try to survive only from those platforms that give them revenue. People can play Angry birds for so long. ..

Rovio does not leave only WP, they leave whole Windows 10 ecosystem with millions of customers

Holy crap, reading comments just realized that msboys are worst than isheep or droid fanboys.

Who still plays angry birds?

Quite a many I would guess. Likely not those who already done with it but new people are getting smartphones all the time.

The slow death of windows phone 8 apps?

Meh. I've no interest in these pointless app fads

Another one bites the dust. Haha, the universal platform strategy really seems to be working!!!!!

Missing out on a lot of windows 10 users. Angry birds is probably one of the best games to play with a mouse so it would work well on a desktop or laptop. I think there might be a lot of kids that don't have a tablet, but have machines capable of Windows 10.

That's fine. Now, do the same for other platforms and be rid of this useless crap.

i dont get removing it from PC, when PC outweigh mobile devices. please correct me if i am wrong

Mobile devices are still more profitable though.

Why I have this feeling that Pokemon Go will suffer the same fate as Angry Birds after some time and even short lived than Angry Birds. People follow what's on the buzz and the buzz is mainly created by the media. The faster the this game rise up, the same speed it will drop.

The Mobile part is nothing new, and they brought game when Nokia pushed them It's more the PC part that I found disturbing, especially with the number of Windows Tablet/Hybrid/... on the rise.

Wait, so I paid for this game and can now no longer download it?

Makes sense to axe Windows 10 Mobile, but why PC? Windows 10 is doing well on desktops.

I've seen most Windows 10 appstore games haven't been upgraded in a long time, it looks like if developer companies and game studios are on standby waiting to see if iOS bridge will finally let them focus on 1 single developer iOS team to cover both iOS and Windows ecosystems.

it's ironic that they used angry birds in an article just yesterday (I think) about pokemon go and leaving for just an app.. next day angry birds is "gone" (apps still there I understand, just no new support). I think Microsoft understands that they lost the app game and it'll be a constant struggle for them to catch up so they are trying to look for the next big thing to entice people instead of "we have apps too!". I feel W10M is a stable, strong OS that people really aren't missing native "OS" features that are mandatory.. some of the native apps might be missing features but from an OS standpoint I think's good.

Microsoft hasn't lost anything, they're working on iOS bridge, so we might see an important comeback of Windows Mobile in middle of 2017, since all iOS apps in theory would not need to be recompiled to be ported instantly to Windows Mobile, including Rovio games and Pokemon GO.

I'm on Android now and just uninstalled my last Rovio game (Angry Birds Star Wars II) its time to move on. Rovio games are not interesting anymore. I really hope Rovio comes back with something like Dragon Valley World where you can feed your dragons and see them grow just like if you were in Game of Thrones TV show. But instead of dragons, they could do this for their birds.

To be fair does anyone actually give a **** about angry birds at this point, I am sure the media will make a big deal of it, as "another high profile app leaves the FAILING Microsoft platform". But quite honestly I don't care anymore.

I think they don't support windows 10 because they games in the android and iOS not playing so like past and they should develop more games for them or they don't have enough money.i don't like angry birds

When was the last time anyone played Angry Birds on any OS? This would have been more relevant two years ago.
Windows Central Newsletter
Get the best of Windows Central in in your inbox, every day!
Thank you for signing up to Windows Central. You will receive a verification email shortly.
There was a problem. Please refresh the page and try again.