No more Angry Birds for Windows Phone and PC as Rovio focuses on Android and iOS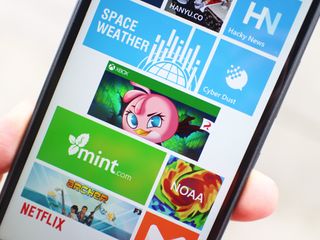 Angry Birds developer Rovio is telling customers in an email that they will no longer support Windows Phones or PCs. The email comes in response to a question about any future products or updates coming for the Microsoft platform.
Also, in a separate email, the same member of Rovio Support notes that they "decided to discontinue development of Angry Birds and Bad Piggies PC Games to focus on providing a better experience for these games on mobile devices." The email goes on to note that digital PC games will no longer be available for purchase or download nor will they receive any more updates.
The last update we saw for Windows Phone came just over one year ago in 2015. The company has numerous titles on Windows 8.1 that are still available including Angry Birds Space and Angry Birds Star Wars, but neither has been updated as a universal game for Windows 10.
Over the last few years, Rovio has hit a roadblock with their Angry Birds catalog. Once viewed as one of the biggest franchises in mobile gaming the company's growth stalled in 2013. Since then, the company has laid off nearly 400 employees in two rounds of reorganization reducing their entire workforce by nearly 50 percent. The company recently reported its 2015 adjusted operating loss was 13 million euros ($14.75 million) compared to its peak of $77 million in profit for 2012.
While the Angry Birds movie did surprisingly well with over $300 million in the box office, the gaming arena is a lot more challenging. Indeed, the torch of mobile gaming fads has apparently passed to Pokémon Go, although it is yet unclear how sustainable that game will be in the long term as well.
With Windows Phone market share at or below 2 percent worldwide, it is not surprising to see struggling Rovio drop support. However, that does not lessen the blow. Nonetheless, the bigger problem now is missing opportunities like Pokémon Go and not games from five years ago.
Thanks, Hesam D., for the tip
Daniel Rubino is the Editor-in-chief of Windows Central, head reviewer, podcast co-host, and analyst. He has been here covering Microsoft since 2007 when this site was called WMExperts (and later Windows Phone Central). His interests include Windows, Microsoft Surface, laptops, next-gen computing, and for some reason, watches. Before all this tech stuff, he worked on a Ph.D. in linguistics and ran the projectors at movie theaters, which has done absolutely nothing for his career.
Lol, they came to windows phone in an effort to remain relevant. Sadly their time has passed and now is "the age of pokemonGo" and that will make its way to windows phone inevitably when it too will try to remain relevant #FunTimes

Yep, on to the next one..which seems to be pokemon go

pokemon go acutally is a old game from Japan.... Just re-vamped for Mobile with the new finding system using GPS...

ROFL, dream big, sir. Dream big. :P

Now let's wait for all the 'dead' comments which I started hearing 4 years ago. I guess it's really hard to kill it ;)

On life support, in a vegetative state, with medics pumping it full of drugs in a desperate attempt to keep it alive. The latest wonder-drug that was promised to do the trick simply isn't working. And that drug is called... Xamarin. Seriously, I've been wondering about microsoft's attempts to attract developers. Can someone give me a list of iOS / Android apps that have been ported to Windows Mobile using Project Islandwood or Xamarin? And a list of Windows Mobile apps that have been ported to the other mobile platforms using Xamarin? When I was growing up in the early 1980s, every Friday on News At Ten the presenters would announce the number of jobs lost and created across the UK that week. Perhaps Windows Central could produce a weekly round-up of apps that have left, and new apps (not updates) that have arrived on Windows Mobile?

Not even on life support. Life support would require effort AND expense. Microsoft has provided neither in the form of phone marketing or promotion. They took a business selling almost 10 million phones a quarter down to less than 4 million and falling. It really seems doubtful this can be turned around.

Just 2 million Q1. Could be less than 1 Q2.

Nice idea Posted via the Windows Central App for Android

Xamarin is used by 15.000 mostly big companies, it's main feature was never porting apps from Windows to Android and iOS, but rahter building hybrid apps for iOS and Android, so you clearly miss something. There aren't too many Windows exclusive apps that are of some quality, and yes some of them is using Xamarin to port the apps including me, and till two or three months ago Xamarin was so expensive that surely Windows developers couldn't afford it so surely there was no port.

Clearly I've missed the reason for Microsoft providing a tool for free to developers to create hybrid apps for non-Windows platforms.

Xamarin was a separate company and it has seen a commercial success in doing this. Microsoft decided to buy that company and it still provides the service under the same conditions just it has also decided to tease the small developers that had no package from Xamarin before Microsoft came.

The main purpose of Xamarin is to allow C# developers (which are usually found in midsize to large enterprises writing line-of-business internal apps) to write apps for Android and iOS without having to learn Java or Objective-C. From Microsoft's perspective, it gives developers a compelling reason to use C# as the starting point for a new app, because they can target all three platforms with it. And since it's already in C#, it becomes trivial to release it on Windows platforms as well.

Well, how can we expect for the OS to grow (especially in the US) when there are no new device releases regularly?... Seriously, the only way WP was slowly, but surely, growing before was because the market was being "flooded" (well, not flooded, but you know what I mean) by a new Lumia at least every few months.... Now, devices are virtually gone off store shelves.... I think 10M is fine now, polished, for the average user, but there's no devices... AT&T, and all other major carriers, are gonna have to have a dedicated Surface phone display with at least three devices to offer, and a few other WP's by other OEM'S right by that... So, In order for MS to gain back some market share each store is gonna have to have at least 5 top notch devices worldwide.. The low end isn't going to cut it because people looking for low end are looking for apps... These need to be serious devices and MARKETING has to push them as devices for the achiever... That's the only way we will start another incline.

I agree, and Microsoft does not lack the funds to go over the top with this. But the end result is still, those people who sell the phones need to push them.... but still missing a lot of apps. Microsoft needs to either offer something cutting edge that people will look to overcome the app gap, or they need to start "buying" apps..

Microsoft has never been able to sell anything other than the cheapest devices they could make. Windows 10m is basically the same as WP7. It doesn't matter what they do, as long as the devices are running W10m, they will never sell. Microsoft knows this, that is why they aren't pushing the platform. It is only a matter of time before they kill it. Unless the Surface Phone is ground breaking like the iPhone was in 2007, they will never have any success. If the Surface Phone is running W10m, it will never be ground breaking. Microsoft knows this and will kill it before release just like Surface Mini and McLaren. Posted via the Windows Central App for Android

First of all, I know tour opinion is biased by your signature.. It's just typical rhetoric..
...
Second of all, I disagree... It has nothing to do with the OS. The OS is perfectly competent, feature rich, and refined enough for the average user.
Third, it does have to do with apps, and fourth, and most importantly, it has everything to do with marketing... Marketing is something that has never fired on all 8 cylinders, but that cam be fixed, as we have seen MS do with Surface.. I disagree with you that good hardware (including a Surface Phone) can't be successful running 10M..... But, I know it will not succeed if marketing isn't out of this world crazy good.... So, their is a chance.

After 6 years of no one buying the OS, it most certainly is the OS. If people liked it, they would have bought the phones and continued to buy them. Microsoft pushed and marketed WP7 crazy hard and they also pushed WP8 along with Nokia. They stopped marketing because it proved to not be effective. The obvious issue is the UI and branding. It is the only thing that that hasn't changed. The crazy low market share after 6 years is solid proof that people don't like it. Not being able to keep all those 520 buyers on the platform is an obvious sign that people aren't that hot on the UI. It is time for something new. The chance of W10m ever being successful, even in enterprise, is miniscule. Posted via the Windows Central App for Android

No. Lol. It's not the UI. You just keep saying the same thing over and over. Try, and convince someone else because I don't agree with you. Not one bit. Sorry.

"unless the Surface Phone is ground breaking" I can't think about anything groundbreaking that could be introduced into mobile phone market in 2016. It's all small steps now...

You are underestimating the power of xamarian and also these days, it's possible to build hybrid apps but i don't have a list of those apps.

Well, they came to WP through an effort by Nokia, not to remain relevant. Not to mention WP was more relevant at that time e.g. in severeal European markets. Posted via the Windows Central App for Android

"Shot through the heart
And you're to blame
You give love a bad name
I play my part and you play your game
You give love a bad name
You give loouuuuuuuuve,,,, a bad name"

"I'm an OS, and a Windows Phone I ride, and I'm wanted, WANTEEEEIEED! DEAD OR ALIVE❗❗"

It's all the same, only the names are changed (Angry Chicks, Bad Oinkers, Pok-a-minge)
Everyday it seems we're wasting away...playing Pok-a-minge...instead of gettin' laid...out.

Lol. I know, right.. Third party

"We don't need no apps to save us"
....
"All it is is just a, nother app we have lost"

I just hope, that this is a "stairway to heaven :D

"iDroid is not my lover,, it's just a phone and I think I might just get one,, but Windows Phone is my son" HE' HE' HE' Whoo❗❗

"Even if you think you can bring me down
Already had my life turned upside down
I'm riding down the spiral round and round
But I keep flying, I keep fighting
You won't ever bring me down, down, down, down, down!
You won't ever bring me down, down, down, down, down!
You won't ever bring me down" :D
Just a little Korn from W10M users to idroid ones :D Or from the W10M OS itself to iDroid :D

Like the MJ reference... :) --Billie Jean

It's fun.. I can go all day.

"Like a virgin, Snapchat for the very first time"" Like a viiiriririrgen, we might get Pokémon, in due time"

Now let's wait for more "windows 10 mobile is dead" news after that...

Given that they are not on the Desktop either, I guess Windows 10 desktop must be dead too. Or not. Just as more and more 2 in 1's are selling and touchscreen PCs are selling, they decide to drop support. Ok.

Well, Angry Birds on desktop never made a lot of sense anyway. Tablets, sure, but not desktop.

Rovio Entertainment has only 2 apps for PC:
Angry Birds Star Wars - $4.09
Angry Birds Space - $2.99
.
However, they have a catalog of about 20 games for Mobile so it will be interesting to see what happens to these. Either they get removed or just stay in store with no more updates.

All of the same Angry Bird games that are no WP are on PC

I dont need to, I own them. They all came together on a CD-ROM from WalMart. My kids got it for me for Christmas last year

We are only talking about apps in the Windows Store (Windows 10)

Where does it say anything about the Windows Store? Those games were for Windows PCs and were developed and released by Ravio. They also received updates with new levels and powerups for a while before being abandoned. Seems to be to be exaclty what this article is about.

In fact Ravio even said they "decided to discontinue development of Angry Birds and Bad Piggies PC Games". That statement doesn't even make sense if all they have is Angry Birds Space and Star Wars.

Is Microsoft now focused on productivity? So, she doesn't need games on your mobile platform anymore ...

Juan does not help, still erring

To be honest, that's a ****** excuse...

Productivity? On Windows (any platform)? Why are there half a dozen MS-created timewasting games on my start menu in Windows 10?

I stop playing Rovio games a long time ago, and see this doesn't surprise me.

Yep.. even my kids are no more interested in these birds. So RIP Rovio!!!

Exactly, I have literally 30gigs of apps/games in my phone for my kid. And I was checking that I had now zero angry birds games on it. Before some resets I had almost all the Rovio games, but since some months I forgot to put them, and my kid did not ask for any of those.

Not again! They need more love from Micro$$$oft.

You can't put the $$$ in the name when they gave away their OS for free. Posted via the Windows Central App for Android

Yes you can.... OS is free but, app sales and ads are almost 30% last I read (what MS gets)... Not free, you do pay for it in some parts..

All of which are optional, and I personally haven't paid MSFT a penny for anything on the PC since updating almost an year ago. I do subscribe to Groove Music Pass (and the 100GB Onedrive storage that comes with it), but that started on my mobile, long before WX came, and it's more optional than the rest of the things on WX.

Lol.... Windows phone. So glad I got out! Posted via the Windows Central App for Android

Then why are you here posting a comment? Troll much?? Posted via the Windows Central App for Android.. But waiting for the HP Elite so I can get rid of this junkie Galaxy S5...

When you use android app signature feature to troll android users

It's the default pw did the app smart guy Posted via the Windows Central App for Android

Because I'm free to do so. Troll? Come up with something original Posted via the Windows Central App for Android

Ok, so you are the original troll. Happy now?

Don't you have some goats to molest under your bridge?

Wait. Original = "LOL" or "So glad I got out!"??

Don't need to come up with something original. You're a loser. It's as simple as that.

Because he still has hope.. Windows 10 has given even the users who left hope.

Hope for what? Window Mobile is what it is. If that's not what you want, why wait for something that may never happen? It makes no sense. Move on to something that makes you happy so you can quit moaning. I'm quite satisfied with WM as it is. I don't expect it to be something drastically different a year from. now. Just better (and as far as I'm concerned, it's pretty good now)

It is a good question. Don't hear me trolling Android forums even though I left Droid for Windows Phone.

Great signature. I hope the Elite is software stable, I remember the state of the W10M in the beggining of Lumia 950XL and it was depressing, and all the bad press it generated.

Lol same here xD Posted via the Windows Central App for Android

You're not that glad to have left. You're still here keeping up with Windows news.

I'll send them a Thank You email later.