Angry Birds celebrates its 5th birthday with Windows Phone update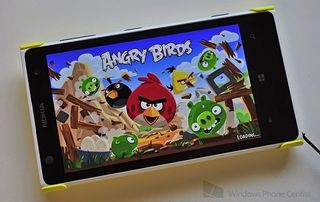 The original Angry Birds game is celebrating its fifth birthday with a new content update for Windows Phone. It adds a new episode to the arcade game based on artwork created by some of the game's many fans.
Here's what you can expect when you access the new content:
Remember, developer Rovio made all of the Angry Birds games on Windows Phone free back in November. The original game now has over 300 levels to play, which makes it an even better value.
Download Angry Birds from the Windows Phone Store (free)
Windows Central Newsletter
Get the best of Windows Central in in your inbox, every day!
Nice 30 new levels!! Updating....

Do anyone still plays it?

They're great games that are still well worth paying. It's just incredibly frustrating that we still don't have saves that move from phone to phone. It's just not worth the time to have to constantly replay levels.

I do. I have to make ALL achievements!

Let me know when they celebrate by adding Rovio account support. Until then I'm done. Too much replaying levels I have already won.

Rovio is going downhill pretty fast. Success made them arrogant, typical story.

I always imagine what the experience is like for people coming from Android or iOS. They install Angry Birds on their new WP just to discover that they have to start completely over again for no damn reason other than Rovio refuses to add the support. This is the stuff that makes it so I can't recommend WP to anyone else. I'm willing to live with it for the superior interface and not giving all my info away to Google or paying Apple a fortune, but many won't appreciate the differences and will only find the vast number of dissappointments when it comes to support..

To bad I can't download it because I got banned from Xbox Live under this Microsoft Account I use on my phone :/.

A mistake I made a couple years ago. I hacked my account to get more gamerscore and edit my avatar... I am changed now and I know it was wrong, now I am an exclusive app developer for the Windows platforms.

Cool. Cause u deserved it

Your absolutely right, I did. I dont deny that aspect.

Why not talk to Microsoft support? They should be able to help.

Well, I deserved the ban though.

If its been a long time they will probably lift the ban

No, it was permanent ban, I dont think they would lift those, ya think?

Considering you're now an exclusive developer? I'd at least try them, they're pretty reasonable.

Man that would be so cool! Then I could get back all my purchased games and DLC :D. Thank you so much for the suggestion my friend, I appreciate your help :). If you also would like to check out my apps, my developer name is ZAD Apps in the store.

Why don't you make a new account?

I did after it happened but I still lost all my purchases.

Can't you create a new windows account and start fresh?

The update is only for windows phone or for other platforms?

How come we never got the Transformers Angry Birds game?

Because we are second class citizens in the mobile world.

Give it a rest already. We are not second class citizens!

The Finnish always done the great work

Free dlc 5 years later. Rovio is crazy and I love it

This is cool! But I got kinda bored with angry birds. We need some king titles now. Tried installing candy crush it only gets stuck installing

All the microtransaction bonus powers turned me off to Angry Birds.

I had this app so long ago. I don't play since I reset my phone I lose my levels.

Damn! Has it been five years? It doesn't seem like it. Time sure does fly when you're flinging birds across the screen at pigs.

I will give it a go once more.

I do not play this for a while. it was once i realized that having more than one device with Angry birds I had to start all over again in each device. wtf. But i am thinking of going for it again. Rovio if we have a rovio account with Angry Birds Epic why in the world we cannot have progress saves for all the bird games?
Windows Central Newsletter
Thank you for signing up to Windows Central. You will receive a verification email shortly.
There was a problem. Please refresh the page and try again.