The new Nokia 105 is Microsoft's latest dirt cheap feature phone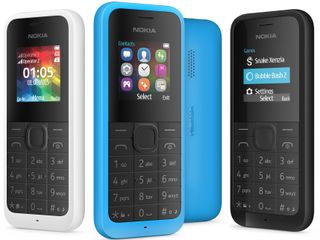 Microsoft continues to release new feature phones under the Nokia branding for first-time mobile phone owners. Today, the company announced its two newest additions to their feature phone lineup. One is a new version of the previously released Nokia 105 while the other is a dual SIM version of that same phone.
Microsoft says the original version of the Nokia 105 has sold 80 million units. The new version, and its dual SIM variant, will have the following features and improvements:
Expanded storage for up to 2,000 contacts
Enhanced audio for greater call clarity
Increased talk time for up to 15 hours, and up to 35 days standby time
Refreshed sleek, durable, versatile design, available in three colors: cyan, white and black
Stay entertained while on the go with two free, pre-loaded games, "Snake Xenzia" and "Bubble Bash 2."
Both phones will go on sale later in June for the price of $20. As we have previously reported, Microsoft still has the rights to use Nokia's brand name for mobile phones until the fourth quarter of 2016.
Source: Microsoft (opens in new tab)
Nice design for a basic phone. It can't connect to the internet, though. I wish it were waterproof. :-/

i wish they could serve as wi-fi hotspots.

This is really going to scare Apple. I didn't realize how low end Microsoft was willing to go.

Why are you trying to compare this phone to an iPhone? I know it's hard to believe people live in different situations other than your own, but you can at least try to expand your limited way of thinking.

He wasn't comparing it to an Iphone he said "scare Apple", probably means that Microsoft will have more sales than Apple the company in the long run.

how low and thick headed can anyone go?

Not everyone in this universe needs a smartphone :)

i dont know about the others, but i thought you were funny!

Not really if you look at where these are being sold

I am now using the previous Nokia 105, while waiting to upgrade to Lumia 940.

That'll be a huge upgrade, I see.

Not so... Some people buy their first phone as Lumia 940

I wish they would sell them in the US. I know a few people with basic phones that want no part of a smart phone or paying a data plan - they just want to be able to call people. This would be perfect. Most of what the carriers around here have are absolute junk.

How can they make money with these phones?
Is it recycled?

Its not Apple to make money.... Nokia is known for basic phones and Microsoft is not ditching that name of Nokia

I know my company would buy 15 of them. They always buy the cheapest/durable phones in the market. I still got a 3310 Nokia. Time to 'upgrade' :)

This would make a good phone to pack in an emergency kit. It'll live long after a smartphone battery dies, and would work well enough for basic voice/sms.

Actually there's a phone specifically designed for that. Look: http://www.spareone.com/spareone/spareone-plus-emergency-phone.php

I remember finding an old nokia flip phone in a drawer a few years back. It must have been in there for close to a year at the time. Turned it on and it powered right up. Amazing! These wont have quite the same battery life but standby time should be a lot better than most/all smartphones.

So glad that the Nokia band is still alive!

Brand you mean? It'll never die. It'll always live in the hearts of its fans. Peace.

Nokia never dies noble 6 They are just missing in action

Why do they still call it Nokia

MS has ten year license for Nokia feature phones and till 2016 for smartphones.

I was just coming down here to comment on that, sine in the article it is written "Microsoft still has the rights to use Nokia's brand name for mobile phones until the fourth quarter of 2016", which is a mistake, as that refers only to smartphones and the article above is about feature phones, which they still have many more years left to call them Nokia. You'd really think Windows Central writers would get that correct, since they covered the details of the acquisition to death when it happened.

They have mis-reported this from the beginning.

They should make this phone run a windows os so our market share will go up. Hahaha

Perhaps Windows 10 IoT version? (Internet of Things)

I'll take the white one. I always keep a basic phone on hand in case something happens and i need to super economize. Like with a 10 cents a min plan. Happened before and can again. Now i have a zte 432. This would be much better i think.

This would be even better: http://www.spareone.com/spareone/spareone-plus-emergency-phone.php

But lasts way longer and is built for emergency situations. Also no pre or post paid contract needed.

I miss Snake Xenzia on my Lumia. . . These look great though -- great for developing countries. I second bringing them to the states, though. Wouldn't mind a cheap phone for backup/kids.

Microsoft got 10 year lisence to use Nokia brand in feature phones. I mean how hard these simple facts are for some...

I wish it would as durable as 3110

High tech shit in Kongo Kinschasa.

"For the price of 20$"... which means 80$ in Canada and it will come out next year if at all.

Just imagine MICROSOFT instead of NOKIA on that phone ... Lol :-))

For a moment, I seriously thought that the low end device running windows which was made as a prank is REALITY !

It's interesting if it might carry wp10, not dreaming full version of wp10 but some basic feature like xbox music,xbox video, calculator, calendar, people, WhatsApp and os too.
Ooohh but dreams are dreams anyone have the right to have them

This are the low range nokia phones are heart of indian villages.also so useful in emergency powerful torchlight really so awesome in low range phones i have lumia 1520 but whenever i travel somewhere i like to use my nokia 1208 because battery life better then smart phone

They can also be used for self defence for example: For throwing at dogs and other animals.

Whew, I was worried the low-end wouldn't have any be devices. Just too many high-end flagships. Microsoft really needs to put out more budget devices.

I'm going to buy a blue Nokia 105. :)

I would like to see a new flip phone from Microsoft

What I would like to know is where we can buy these candy bars here in North America. It would make a great back up phone or emergency phone. $20 is nothing in the grand scheme of things.

I'm going to buy this phone for the games.

And just like Windows Phones, it has no Snapchat client.

They can make one such phone with cortana

amazing phone..... good for construction area and where you need just CALL + SMS

Does it work as a hammer?

Man, I wish my 1520 had 30 odd days standby time.

35 days standby time haha i wish that

I found that feature phone like this one can goes with me any where while smartphone is left behind on a desk.
Windows Central Newsletter
Thank you for signing up to Windows Central. You will receive a verification email shortly.
There was a problem. Please refresh the page and try again.