Nokia announces BBM and Photoshop Express for Windows Phone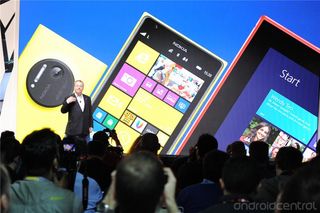 Nokia has just announced some pretty awesome news for the Windows Phone Store. BBM and Photoshop Express will be coming soon. Stephen Elop made the announcement a few minutes into the Nokia press conference at Mobile World Congress 2014.
No further details were shared. But we'll have more as soon as we can information on both BBM and Photoshop Express. As you know, BBM is a highly anticipated app for the Windows Phone ecosystem, as is Photoshop Express. BBM is a messaging platform from BlackBerry, it recently made the jump to iOS and Android.
Stephen Elop mentioned BBM coming in the next few weeks for Windows Phone.
More to come.
You write it quicker then

It will be released in the coming months (this summer) according to blog.blackberry.com

The app will arrive during summer, the post says. Glad to see BBM is making its final cross-platform jump. It is the best mobile-to-mobile messaging system, period.

photo express is gud but i dont think many users will use blackberry . well dats gud atleast something was announced for windows phone at the MWC...!!!!!1

BBM has tens of millions of users and was well-received when it was released for iOS and Android. How do you know what kind of reception BBM for WP will get? Are you able to see into the future?

BBM is never well accepted in platform where it's not available

iOS and Android users used to say BBM is trash, and other messaging services like WhatsApp are better. But when BBM is released in their platform, RIM had trouble handling the flood of new users registering for the service. So it's never well accepted by those who can't get their hands on it. But after they can, expect the negative voices to decrease significantly.

Yeah not at least before 2 months. They said Subway Surfer for low ram devices will be out soon. And it's been 2 months now.

Windows Phone makes me feel like i joing the platform again with every new app. serisouly. i love this feeling.

news like this are making me to stay little longer as someone who is not pleased with current WP

Mmm. Improvements like this are needed to keep current users around. They shouldn't fool themselves into thinking this will win them new users, though.

WP is already winning new users little by little even without those two apps! What makes you think that with the addition of more apps like BBM and Photoshop Express, WP won't win more new users?!! Are you just trolling or what!!!

What makes you think it won't win new users for WP. Every official app or service has done that so far...why not BBM? Why not PhotoShop?

How are you currently not pleased?

That's what I'm waiting for: Photoshop Express and BBM! =D

Beyond excited for BBM! Now I'm extremely glad I switched to Windows Phone without having to miss BBM too much. Posted via the WPC App for Android!

I'm extremely glad I switched to Windows Phone without having to miss BBM too much. Posted via the WPC App for Android!

wut?

Photoshop Express!! I'll withhold my excitement. How long ago was Flipboard "announced"?

Valid pont, just wanted to mention. Flipboard was announced in July 2013, saying "coming later this year". Looks like it's a little harder to develop for both Windows 8.1 and WP8 simultaneously than advertised, otherwise Flipboard would have been ported from Windows 8.1 by (last) Christmas easily.

Do you have a link supporting that?
I thought Flipboard was announced in October with no release date eluded to.

Good things come for those who wait: http://www.wpcentral.com/flipboard-finally-coming-windows-phone-8 "It's finally here, after being announced earlier this summer Nokia is finally showing off Flipboard for Windows Phone." Date: oct 22 2013. The "being announced" date is July 11 2013. http://www.wpcentral.com/nokia-announces-some-exclusive-apps-lumia-hipst...

Awesome, this is great news for those who were eager to have it!

Is this for Lumias or for WP8?

for all Windows Phone 8 devices... cheers! :)

That's awesome! Slightly out in the cold 8X user here :)

Photoshop express sounds handy. Will it be paid I wonder (very likely, I'm assuming?)? Anyone got any experience?

There are two version on Android, a free and paid version. Hopefully there will be the same options on Windows Phone.

Paid version have extra filter and few extra options. Nothing exceptional or different from what's available from other apps. No levelling. Only 3 points exposure control (want 5, Black-Shadow-Midtone-Highlight-White). No curve editing. No manipulating colour channels for B&W photos. No RAW support even with Microsoft's camera codec pack (Windows' built in Photo application can open RAW).
And still more

Try Photoshop Express for Windows 8 first. Then calm down. If its the same as its big brother then its NOT what most peoplw belive it is!...

Yeah. I was not impressed.

Exactly, I mean really who needs Photoshop on a phone anyway?

Hope BBM comes with Media Sharing unlike other messaging apps! Only whatsapp is giving media sharing right now!

No, not true! E.g. LINE, WeChat, Hike and others have media sharing as well!
It is embarrassing though that Microsoft's Skype on Windows Phone still does not support media sharing.

these messaging apps only allow us to share photos and contacts direct from the library.. doesnt allow audio/video sharing from the library.. whatsapp recently gave that feature.. in line, wechat etc. u can only share audio/video which u have recorded from d app.. correct me if m wrong
Migram (telegram) i installed today only and deleted cause it lacked these festures too..

You can now share videos which were taken outside whatsapp...but they still have to be located in the camera directory.

this i know.. and dey need to b in any folder within d 'pictures' folder and not necessarily just camera roll.. my issue was all other messaging apps except whatsapp lack this..

Hope all will change with wp 8.1.

Yep, I can't believe Skype on WP still doesn't support sharing a picture. Hopefully Skype gets a major upgrade when WP8.1 is released.

Finally BBM and PhotoShop thank you Nokia

Shut up and ship. I really dont care even if they say "in the coming hours" I dont count as "its coming" unless its in the store. Been so many broken promises lately. I bet you "in the coming week" means June/July for BBM.

Broken promises?
Care to list them, since there are so many?

Flipboard...instagram (yes it finally came out after MONTHS....in beta form), Path (Finally came out when everyone abandoned the app). And dont forget the promises made during WP8 dev conference in 2012... Ive been on this platform literally since DAY ONE with the HTC HD7, Instead of annoucing that a certain apps is coming in the "coming weeks" just release it after "the coming weeks". Im just so tired of them teasing "its coming guys...dont worry its coming". I rather them just say "its in the app store, download it today".

So... one app... that's all you guys can come up with?
A date or even a "in the coming weeks" was never given for Flipboard.
I'd imagine its still in development. Unfortunately, its against the law to work developers like slaves and you can't force companies to provide their apps on your time schedule... so I guess you'll have to continue waiting.
...
I would consider this a "broken promise" if Flipboard came out and said 'we're not making a WP app'... but they haven't. So really, what are these broken promises from Nokia or MS about apps on WP8?

Don't care for flipboard but didn't they say by the end of Year? 2013

*CRICKETS*
People love to rant about and exaggerate things here.
As usual though, you can call them on it and they'll either shut up real quick or they just continue to rant incoherently.

You sir, are absolutely right.

You must not be aware of BlackBerry and the phrase "coming soon". I am confident BBM will arrive and BlackBerry has set a release period of this summer.

I know that word "Coming soon ".

Wow.most requested apps now coming with the effort of nokia than ms.

Is this all there is for windows phone in this year's MWC? Wish there are bigger news.

windows phone generally doesn't have a big presence at MWC in the past years, they tend to save it for their build conference since it's so close to it and has less chance of being overshadowed by the next crappy galaxy phone. as much as i can't wait to get 8.1 i'm okay with other companies having their place in the limelight. curious to see the new htc one. snapdragon 805 please?? :)

I'd say both of these will not come out until WP8.1

I'd say that's a pretty much safe bet, but I would aim for around summertime.

Yep as 8.1 is due out to existing handsets in summer

Yes! As a jumpshipper from Blackberry, this is the only thing I miss :)

Is it real ??? Bloody hell
Year of the Windows

PS Express is great news. Does anyone outside US actually use BBM?

Its nor widespread in continental Europe. UK, I don't know. But many people in Europe are upset about the FB takeover if Whatsapp which is very common in Europe, so the next good messenger that is available on many platforms has a good chance to grow.

I don't know anyone in the US using it.

Indonesia... More than 90% smartphone using BBM

I didn't use BBM, and I really need this because most of my friends are using it, so it's a must have app for me. I'm from Indonesia, anyway ;)

I'm in Pakistan and everyone I know uses BBM

I don't know one single person who uses it in Portugal, but it's better to have it than not.

My two coworkers who are huge BB Z10 fanboys use thier phone for calling and email. They don't hardly even try the other apps on the phone.

Yeah, because there are none.

Hey guys this person knew it.

I knew he knew it before he did.

I know you knew before me. I found out from you knew that's how I know. Time to let Warren Dance in on the news of what we know. He don't know sqish about squat. :)

What's Nokia got to do with a blackberry product

good news, i never had bbm before

So no one noticed the 3rd row of tiles on the Lumia 1020?

Next to the 1020 is the 1520.

If it is anything like the Android rollout, this should be hilarious.

Good news, many people I know are looking for a Whatsapp alternative

Yeah but my contacts are both on watsapp and and were there on bbm when I had a BB. But I think telegram is faster.

When is watsapp update coming??

Nokia must of pushed a lot for bbm considering the amount of times blackberry have said that they have absolutely no plans for windows Phone.

All cuz of that 16 million deal with Facebook..everybody is hating whatsapp now,, a lot of people are going to switch

What the hell is Food Panda? At first I thought he said Panda Express and now I'm hungry.

I just need Dropbox, Vscocam and hopefully Google apps (translate, maps, hangouts)

Get bings stuff,, they are not bad

I would but there isn't croatian (my language) in translator :/

And finally Nokia saves the day!

Please bring bbm fast coming few weeks maybe somewhere near the dates of Build

In 2014 whose goona use BBM when watsapp is setting the world on fire and it just burned googles ass...

Whatsapp has been sucking ever since face sh** bought it.. And F telegram tooo

You mean Whatsdown? Up until a few months ago, BBM was only available for BlackBerry handsets. In the span of one year, it will have gone from being only available for BB10 and legacy BB handsets to becoming available for BlackBerry, iOS, Android (*including* Android Gingerbread devices!) and Windows Phone. With it being available on all those platforms, it's going to have appeal. It is the best mobile-to-mobile messaging system out there.

I haven't used Photoshop Express in years. Like literally since it launched and I had the first iPhone. Wish they'd release Photoshop Touch instead, because it seriously is miles better, and at the same pricepoint once you factor in add-ons to Express. Literally every camera/photo app on Windows Phone right now will give you better results.

Agreed. I'm really surprised that MS/Nokia haven't tried to partner with Adobe to bring class-leading photo and video editing to Windows and Windows Phone. They've mostly nailed the image capture experience (aside from the terribly long time it takes to focus and snap), but WP still lags behind the competition on the editing side. You could argue that the photo editing apps have largely caught up, but Nokia Video Trimmer is way behind what's available on iOS or Android. I'd say this is the third time they could have had Adobe come on stage and show off something like Photoshop Touch and Elements Touch (for video editing). The first was the release of the Nokia Imaging SDK last year alongside the 1020. That would have been a great time to showcase something like Photoshop Touch. The second missed opportunity was the release of the 1520, which would have been a great time to for an Elements Touch. Most powerful WP with amazing camera and massive screen- how about doing something to elevate the functionality? Combine the 1520 with best-in-class video editing and they could have gone to market as the #1 device for making videos ("First we killed the point-and-shoot (1020); now we're going after the camcorder (1520)"). I won't say that Photoshop Express is "useless", but the app really doesn't provide any functionality or design benefits that are not available in at least four or five apps already on my 920.

how about candy crush and other ? :(

Not getting BBM until summer. That's 4 months away from now... SUCKS!!!

I would put that target at 6 months.

What happened to flipboard??? Wasn't it suppose to be in store by Jan 2014. And telegram was suppose to be in store on Feb 23rd 2014 as confirmed by telegram on their twitter account.

That's the spirit BlackBerry! Now Microsoft should return the favor and build a native skype app for bb10 or maybe release photo shop and such apps for bb10

That would be much appreciated. Native Skype is something BlackBerry users have been pining for.

Meh...dont really care for bbm. The elitest a-holes, the high and mighty now wanna come crawling to other os'es cuz they are dying. Thanks but no thanks! Just fix our skype imo...

What about that 512 MB ram version of Subway Surfers and temple run 2??

YYYYYYYYYYYYYYYYYYYYYYYYYYEEEEEESSSS!!!!!!! No? YYYYYYYYYYYYYYYYYYYYYYYYYYEEEEEESSSS!!!!!!!

Greatttt..,,Go Windows Phone.

Please let BBM release for 7.8 too. Just 7 months till I can upgrade my 900. Hoping for a pleasant surprise before that.

Fantastic news!!! Now on to WP 8.1!! :)

This is what my friend want!

Can't wait for PhotoShop express!

So this will be like how they announced flipboard yet it hasn't been released yet.....Cant believe anything that comes out of Elops mouth nowadays.

I hope Blackberry are developing BBM with the 8.1 SDK.

I would rather have Adobe Touch Apps. Way better apps.

PhotoShop Express,come on ~

Awesome news! :) Posted via the WPC App for Android!

when will be Flipboard finally announced on WP8 ?

Where's dat Amazing Flipboard app that was promised, Like 6 months ago?!

I'm guessing both will probably quit like flickr did given the nokia x is the way to go.

When is bbm coming to windows phone I have been waiting for it for ages

When will this damn PHOTOSHOP come out!!! All the photo editing apps for WP suck a fat one!

Bbm is not my live.but many people use this app in indonesia.
y i need app only for conecting to do.isss suck hope

C nw bbm is coming within this July..n Photoshop has already been launched..check d store..thanks !
Windows Central Newsletter
Thank you for signing up to Windows Central. You will receive a verification email shortly.
There was a problem. Please refresh the page and try again.