Nokia's giving away a Lumia of your choice, a Lumia 2520, Xbox One and more (US only)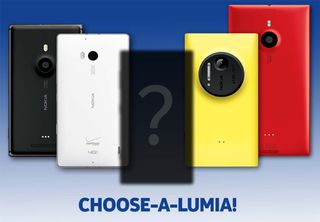 Like winning free stuff? Of course you do. Nokia US is at it again with another contest. Last month they gave away a brand new Nokia Lumia Icon and a trip to an iconic location in the United States. Now they're doing another big giveaway where you'll win $1750 worth of tech! Details below.
Like last month, all you need to do to enter is head to the Nokia US Facebook page. There you'll select which phone you'd want to win and enter your contact information.
The grand prize winner will win a Nokia Lumia smartphone of their choice, a Nokia Lumia 2520, an Xbox One, a 50-inch TV and a JBL PlayUp speaker! Four runner-ups will walk away with a Nokia Lumia of their choice.
It's a sweet contest that you should enter if you want some new gadgets in your life. You have until March 17th to enter. Make sure you're at least 16 years old and live in the United States.
Which phone did you select? The Nokia Lumia Icon, Lumia 1520, Lumia 925 or Lumia 1020?
Head over to Facebook to enter the contest yourself!
Windows Central Newsletter
Get the best of Windows Central in in your inbox, every day!
Show some love to other countries Nokia.

Mother F#*-*@ is always US Only contests!

That's starting to annoy me too. Seems they don't care for customers in other countries

Nah, windows phone continues to grow in other markets but the US its very hard for it, so this is their way of promoting WP. But I can agree that it sucks when I see outside US sweepstakes that I want to enter.....

Don't worry, their customer support in the US is terrible. Friends haven't had the best experiences when trying to resolve issues and chat support told me they would contact me in 48 hours for my issue. That was a week and a half ago. I like their products, but customer service in America is shit. Better to try your luck through Microsoft.

I'm with you on that one!

Show some love for the Facebook averse.

Holy crap..!!! They givin so much dere ..

I guess the Finn's will blame Microsoft for Nokia not returning the love to European countries

FFS NokSoft, what about the rest of us. You know Europe is your biggest market, right???

And that is exactly why their doing it this way... Think about it.

Oh come the f*ck on, European company holding US only contests? Show some respect to the people who built you up and stuck by your side! I don't care what the terms of the contest are, they should hold an identical one for European countries or regions. Same goes for you, Microsoft!!

Yeah ! We are feeling left out

It's because of legal issues.

Imagine if they put just half of these efforts in the countries where WP already surpassed the iPhone and sits in a healthy second place...

US only...?!?! ELIIIITTIIISSSTTT (half joking)

US only bash comments in 3, 2, 1...

Yup... And the non-Facebook users.

yeah like if you really want to enter just make a facebook. lol

I hate this.. "(Only US)"

Why? This is a contest from Nokia US, not Nokia Global.

What sucks is that you can only enter the contest using Facebook which I do not use and I would not join even for a 1520.

Yes, but that's not what everyone is annoyed at, its the fact that there are NEVER any contests for other countries. Its only the US. It can be really annoying cyz we're being left out on giveaways and competitions all the time

In Europe we don't give things for free, they come at higher costs and with taxes! :lol:

Awesomeness! Totally going for the 1520, not really feeling the Icon all that much. That screen is amazing!

Ditto, really want that 1520. Hard to leave the AT&T store everytime I go in to play with one.

FFS, what's with this "US only" all the time...the least you could do is North America! Show Canada some love, eh?

I've been waiting for a long time for you to admit that. Doesn't it feel good to get it off your chest?

You have just been nominated for comment of the year. I can't can't stop laughing. This is amazing. And yes, it does feel good.

Facebook only? When will companies realize they are alienating people without Facebook accounts?

They alienated me from this contest.

I agree, why alienate non Facebook users. Its a serious question!

I f'ing hate contests that require Facebook to enter. Use something that allows people who do not sign up for the internet billboard known as Facebook. Also, show some love to all the world wide fans.

Here here i agree - Liverpool UK

I don't use twitter, but I signed up to enter contests. Just create a Facebook account with the bare essentials, don't look for friends, turn off the ability to be found or have messages sent to you, and sign up for contests

Lolz! IE doesn't support this webpage xP

Learn something Nokia India from Nokia US :P

I was going to do it, until I saw it needed to use Facebook. I don't do Facebook garbage competitions, which I believe are just chances for backdoors into mining personal info.

Are they trying to have makeup sex because of that mistake called the X??? Joking

I entered this contest earlier, but unfortunately, I'm positive it includes carrier locked phones only. I actually said I would like a 1520 (what the hell?). I guess it would be impossible to get that unlocked, though.

Stupid idea, same old silly marketing strategy that leads nowhere. Americans are obsessed with Apple, they don't give a damn!

I hate facebook only contest.

You actually dont need a facebook account to enter the contest. You can click on the link and click the enter now button. I spoke too soon, apparently you have to log in whey you try to submit.

Dear Nokia, Stop with the Facebook contest. Believe it or not there are people who do not use Facebook.

The reason it's done on Facebook is to let advertise to your friends you are interested in their products. It's a promotion.

By "us" do you mean U.S.? Or us. Lol

no thanks, I have committment issues, so I'd like to keep my options open

For all of you outside of the US, if I win, I'll sell you the Nokia I choose for cheap.

Can anyone explain me why MS/Nokia are making contests mostly in the US ? It's not fairl. US is getting everything as the first and the best ...

windows Phones aren't selling in U.S so they give them away hoping to gain traction. We in Europe are stupid enough to buy there phones so why give them away? :P

Dual citizenship has it's privileges! :D

read that ? Time to follow suite Nokia Australia

Uk always misses out on giveaways :-(

I hate Facebook contests. I know I am the oddball but I don't have a Facebook account.

Nope, I'm with you buddy...

US only...
What a surprise...

En EE.UU. Siempre sortean los Nokia de gama alta y nokiaspain como máximo sortea un 520 ó 625...así les va que casi nadie participa//In us.UU. They always lots of high-end and nokiaspain Nokia as maximum lots a 520 or 625... so going that almost nobody participates

I don't do facebook, can't enter... What happened to giveaways available to everyone?

Hopefully I could win a Nokia Lumia 1520 (white) (pours all his coins into a bleeding wishing well)

I definitely picked the 1520. The 20MP camera would be more than enough, and that screen! Here's hoping!

<===== Non Facebook user here.

Sad irony that they designed a page that cannot be used from a Lumia 1020.

The reason they have US contests is for publicity and to grow their phone brand. They dont need to focus on growing the brand in Europe right now. They already have the user base. They want the user base in the US so they have contests to raise awareness. They aren't shunning other countries like so many people seem to think. They're marketing.

I got all of those besides tha JBLs

Can everyone who complains about USA only contests understand how many legal issues there are with having a completely global contest?

Okay so like Sam said this is a contest by Nokia U.S. hence U.S. only. Also I just entered from my Icon and did not do anything Facebook related. Good luck to all who entered. Fingers crossed could use an Icon to lure the wife away from her iPhone and I am in need of some technology upgrades.

Lots of Europeans down here including me. So really NOT cool, regardless if they are doing marketing or not and regardless whether it is international or not. There can be a contest for the US, then there can be contests for European countries aswel. Don't need to be global. I want to see some European contests up in this mf, excluding the US. Ahaa! ;-)

Do people actually win these? I wonder.

Dang it! I have a 1520 and 920 already,so they are essentially the Icon and 925. I really want a 1020 as well. I love the camera on the 1520,and it was between it and the 1020 and I went with the bigger and more feature rich.. So I guess this time it's the 1020.

Link not working? or is it only bcause im doing it from a Surface RT...

Like a 929 with 8.1 for at&t

US only every, single, time. Nokia isn't really interested in making money in other countries. what kind of f'ed up marketing strategy is this by abandoning everybody else?

would anyone like some cheese with all this wine?

US only, not a surprise. Why we don't have special offers etc in Europe? :/
Windows Central Newsletter
Thank you for signing up to Windows Central. You will receive a verification email shortly.
There was a problem. Please refresh the page and try again.