Nokia explains how the company approaches its attractive packaging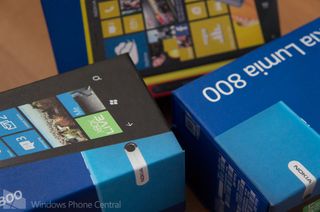 Nokia has published a post over on its Conversations blog, going into some detail about its packaging used for numerous products. Not only does Nokia package and fire out Windows Phones (and Asha handsets), but accessories too. The post notes the company sells over 250 different products around the world.
Chris Merrick from Nokia explains how accessories pose a difficult challenge to the teams and why the design of packaging is important:
Merrick continues to explain how the team had to come up with something simpler, while still being able to communicate particular information. Short, descriptive headlines are used to explain the product and its features, while a category label on the side panel helps identify the segment that particular product is within (a dock, charger, headset, etc.).
Materials and design processes
It's easy to tell when a product is by Nokia. You have the brand name and distinctive colour scheme with familiar shapes. As well as the looks, the Nokia teams have also had to alter the materials used to create more effective packaging, as Ulla Uimonen explains:
There's also the environment to consider and Nokia isn't newcomer when it comes to caring for the planet. All materials used for Nokia packaging are recyclable, which is a rather impressive feat. It's good to see a well-known brand taking measures to reduce its impact on the environment, while producing some iconic protection for products. Be sure to read the article for more information over on Nokia's blog.
Source: Nokia Conversations
Rich Edmonds is Senior Editor of PC hardware at Windows Central, covering everything related to PC components and NAS. He's been involved in technology for more than a decade and knows a thing or two about the magic inside a PC chassis. You can follow him over on Twitter at @RichEdmonds.
Always glad go to see Big companies recycling..

I wish AT&T would take a leaf out of Nokia's book with packaging. AT&T's packaging is horrible, but then again I am sure they would raise the prices for snazzy boxes if they did.

Lol im with you on that atnt boxes throw off the box collection I have from Ms lol Ms packaging on the other hand looks crazy sick.

Yeah I'm with you at&t should just let Nokia do the packaging, just add there stupid logo somewhere on the box.

I wonder why AT&T wouldn't just use Nokias packaging? Is this the norm in the U. S. that the carrier uses own packaging? To be honest, I would find it odd if my carrier (Swisscom) would switch away from the original packaging of the producing company ...

Yeah that's how it is in the states for everything except the iPhone and google products.

The Lumia phone boxes look nice, but are a terrible design...
I have seen 3 people drop/almost drop their shiny new phone because as soon as you slide the box open the phone can fall out. And there isn't an indication of what is the right side up.

Eh? Here in the UK the indication is the writing. If the logo is upside-down, then obviously the phone would be. lol

That isn't obvious, especially when you are excitedly opening your phone.
Also, our SP's seem to break the seals, so if you pick it up (right or wrong way) without holding the inner box then it falls out.

Disagree, but I know what you mean. And it's better to tell them to slide it out when the box is in landscape, not in portrait.

at&t totally ruins the unboxing experience with their generic packaging.

And they don't include headsets anymore.. :(

I'm still mad i didn't get a headset with my 920 at at&t...

Then try to sue them is better ;)

I miss old Nokia boxes for flagship phones. Those were amazing.

So true my n95 and n86 had amazing boxes. I wish the carriers let the phone makers use their boxes,just add a carrier logo that's all.

Meh, Nokia packaging is instantly forgettable.

Not as forgettable as atnt boxes

Son just got the 822 last night and the packaging was Verizonified -- nothing too attractive just a simple red box and there's no Nokia packaging anywhere in sight in the VZW store. In fact it's pretty hard to find the Windows Phone display after being punched in the face by Droidness when entering.

Nokia's packaging USED to be awesome. Then iPhone came along and everyone copied the packaging of the iPhone

So true!! Hasn't Apple patented their iPhone pckaging now??? I read that somewhere.

Well, after Apple patented the packaging, they maybe try to add patents to other 'useless' things, wrong?

Actually I didn't think it was all that attractive. Just a box with a pic of a phone on it.

That's the informative thing about the product. Just compare the L620's packaging with the Z10's. It's so much difference.

The US CARRIERS feel its their personal duty to brand and change the packaging from what the manufacture planned for the rest of the world and make it ugly...yay -.- I do like the Nokia style boxes that I see from time to time when you do an unboxing video of a non us bought Nokia phone.

I wonder what kind of deal is in place that lets Apple have their own packaging regardless of the carrier. NO FAIR!!!
The ATT packaging for my L920 was already open upon arrival and the phone was covered with dust. It was a completely anticlimactic unboxing experience. Not even any cuddling afterwards.

the same deal that lets the iPhone receive updates without carrier intervention

The iPhone deal is called huge sales numbers/massive customer loyalty which gives them the ability to go into a carrier and make demands on how their products are presented. Case in point... T-Mobile just started carrying iPhone and they have these huge Apple displays setup in prime space at each store (despite the fact that Samsung has made millions for TMO). Their reasoning... Look, we are already selling millions of our phones on other carriers by presenting our products in a certain way... You need to get on board.
The impressive accomplishment was Apple getting all this love back when they were first exclusive @ ATT. Someone had the courage to take a chance on doing something different.

Packaging for Rogers in Canada is atrocious and to be honest does nothing to sell the product. There has actually been some issues with almost black dust like particles all over the phones when they are taken out of the box. This is most likely due to the box and fact the phone isn't really sealed away from the outside. The plastic around the phone is loose and not sealed and the box isn't either. I was at a Rogers store in Ontario and we opened three phones and all three were dirty. Packaging could be better but I do love the actual phone!

In Australia the packaging for the Lumia 920 looked amazing.

I liked the Palm Pre packaging. It looked sexy and the box was constructed in such a way that it would lean upwards when sitting on a table. Very cool.

Does it really matter though? The first time you even see the packaging is after you've already bought it. I've never seen a mobile phone box on a shelf...

My old Sony Ericsson W850 box was pretty awesome. It was massive but so cool, gloss black with the the walkman logo in silver and inside it was all orange. Check out GSMArena's review of the phone if you want to check it out.

I heard the Lumia 928 hasn't been announced/released yet because Verizon is still mucking around with the packaging...

I kid, I kid (although it could be true).
Windows Central Newsletter
Get the best of Windows Central in in your inbox, every day!
Thank you for signing up to Windows Central. You will receive a verification email shortly.
There was a problem. Please refresh the page and try again.