Nokia filed for two tablet design patents-destined for Windows 8?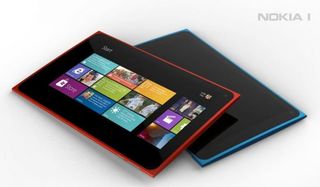 Fan concept of a Nokia Tablet
The notion that Nokia may be working on a tablet is not really controversial—members of the company have said as much in recent months. Rumors go back that they had Meego tablet in the works before that whole Microsoft deal squashed the future of that platform for the company. Indeed, we're not a 100% sure of what to make of the two patents filed by Nokia for tablets, just that they have them.
Nokia is certainly a big fan of the original N9 design, which progressed over to the Lumia 800 and then the 900 series. The idea that they would then make a big version for Windows 8 is not that far fetched and many of you have expressed a desire for such a design. And that's what see in the above patent design filed back in March 2011—back when Windows 8 was just rumors. That design is literally just a big N9 tablet—could Nokia throw Windows 8 on it and call it day? Maybe, maybe not.
The second design is a little more traditional with the a more curved back and rear edges. Nothing pops out at us in this design but then again, it's a tablet and in the end it is the build quality, materials and colors that will determine the appearance. That patent goes back to early 2010--so we're not so sure that would be re-used again.
As to when Nokia may show off a Windows 8 tablet, it should be clear by now that they won't be part of a Wave 1 devices. The fact that Nokia has never made a tablet or PC device could also be a limiting factor at the moment. Fact is, they have other priorities right now and are probably focusing on them. But we do imagine a Nokia tablet or two is on the horizon.
Daniel Rubino is the Editor-in-chief of Windows Central, head reviewer, podcast co-host, and analyst. He has been here covering Microsoft since 2007 when this site was called WMExperts (and later Windows Phone Central). His interests include Windows, Microsoft Surface, laptops, next-gen computing, and for some reason, watches. Before all this tech stuff, he worked on a Ph.D. in linguistics and ran the projectors at movie theaters, which has done absolutely nothing for his career.
Maybe next year, this year is Surface year :)

No. I rather get a Nokia tablet then a surface. One for RT (Nokia) and one pro (surface). :-D

same here, but as long as the surface pro launches in early 2013 and nokias tablet probably in late 2013 - i'm buying the surface RT because I CANT WAIT, DAMMIT!

agree when it going to be surface vs nokia tablet my choice will be surface


Nokia did design the Nokia Booklet 3G, so they have made a PC before.
And well, there are several other prototypes of early tablets from yeeeaaaars back, but none that have been released.

I don't see a "Windows" button in the front. Then again it could be a capacitive touch button.

I doubt we will see this design. This patent drawing was around engadget an all the blogs back in early 2011 already. Way before Windows 8.
It's just one patent design among the over 40 made every year by Nokia.

That's pretty cheap :P :P

Where did u get that assumption?

At first I was like, huh? Cheap because it's so heavy, plausible but then I see the smiley and go ahhhh, pound, that little island nation's currency.

Haha yes... A play on words :) When I see "pound" I see it as £ currency, not lb weight. I'm actually from Australia, so everything is in dollars and kilograms here. That "little island nation" was once the largest empire on earth & also included much of the US :P Fun fact - Egypt also uses the pound (£) currency :)

I like the subtle N9-ish chamfering at the top and bottom

These are really old. They surfaced back in early 2011 already.

Off topic, I really liked the way the front camera on the N9 was on the bottom. It looks cooler than on top like on every other smartphone.

The second design I like much better

"the fact that Nokia has never made a tablet"
Tut tut.
http://en.wikipedia.org/wiki/Nokia_770_Internet_Tablet
And they made others after that. N800 n810 clearly to young to remember these products

Meant specifically PCs here...

Hi Daniel, The Nokia Booklet 3G ran Windows7. though it was not a success like other PCs, but it was a PC nonetheless.

On another note, I believe the Nokia Booklet 3G was one of those useless expenditure that Nokia has made in R&D over the past couple of years, which led to the situation we all know.


I was about to say the same thing.But then again WPC has only been following Nokia for the past year or two. So you shouldn't be too demanding on them.

I personally have been following Nokia for years and the Nokia 770 has certainly been the very first mainstream tablet i remember of. The Nokia N800 was the most talked about though. Also, I almost forgot the Nokia Booklet 3G. A rare 'beast' indeed.

The brother of a friend of mine who is high(ish) in Nokia marketing bought an iPad recently because the Nokia tablet is "not ready yet". He also hates the iPad. :-). Definitely on the way.

Nice design. This concept or Surface tab???

Release the damn thing... You all way too late of the game

Please not only 10.1", please not only 10.1", please not only 10.1". I love the idea of a Nokia tablet but i like tablets smaler. 8.9 inches is the maximum size for me and currently there is only one tablet out there with that size. I found 7 inches is great albeit a liitle small in portrait. So 7.7 to 8.9 inches is my personal preference. Come on Nokia. You can do this. Slap a gorgeous screen on top and give it to me.
I long wished for a device with tablet internals (arm cpu,...) but in a really slim laptop form factor with an 11.6 inch screen. For productivity i prefer having a keyboard and for some reason i am not fond of these clip on solutions like the transformer. Besides. It runns Android. It would be great for university. Under 2 pounds, extremly portable, long battery life and great for productivity. I know this is a strech but can Nokia please build me one of them.

Windows 8/RT can go down to 7", no one has shown one of them off yet (Damn shame) Maybe Nokia can do the 7" and 8.9" as starters!!!

"The fact that Nokia has never made a tablet or PC device could also be a limiting factor at the moment."
Nokia made computers under the MikroMikko brand from 1981 to 1991. In 1991 Nokia Data was sold to ICL and later sold to Fujitsu.
In 2009 Nokia released "Nokia Booklet 3g" which actually got rave reviews, but was unfortunately too pricy.
Not to mention the various tablets Nokia has made :D

The tablets are there and ready. It is just about timing it right for launch. WP8 devices are priority and the tablet could be released early next year.

"The fact that Nokia has never made a tablet or PC device could also be a limiting factor at the moment."

Nokia made a Netbook before guys--Nokia Booklet 3G....
http://conversations.nokia.com/2009/08/24/nokia-booklet-3g-mini-laptop-u...


I'll definitely buy a Nokia tablet if it looks like the one in the rendered image ... The N9 design is just awesome.

If they do decide to make tablets, I hope they purposely omit cell data radios, so we can avoid yet another exclusivity uprising.

Take it for what its worth and consider the source, but I thought it was interesting if it is accurate...
http://wmpoweruser.com/nokia-working-on-a-windows-rt-tablet-currently-used-for-app-testing/


Both designs are actually very similar to each other. The only difference looks to be that one takes the N9 style with the polycarbonate body extending to the front of edges of the device. The other is that same design but without the edges extending to the front. Instead, it's all glass, making it flat on the front. I think they both could definitely be good, interesting, and original tablet designs, with the 'N9 version' obviously being a bit more interesting between the two.

I was dead set on a Surface RT, but if Nokia puts a tablet that looks like that picture on the market I would definitely get the Nokia.

re "The fact that Nokia has never made a tablet or PC device could also be a limiting factor at the moment."

Pedantic quibble: The Nokia 770, N800 and N810 devices were tablets (albeit small). Nokia also produced the Booklet netbook. So they do have some relevant experience.

If there isn't a solid announcement of a Nokia tab by the end of the year then i will probably get the surface.

Thank God these designs look nothing like the iPad. Many of the tablets out there just look like the iPad. Big ups to Nokia for bringing us fresh designs. Now it's time to go on a frenzy...
Windows Central Newsletter
Thank you for signing up to Windows Central. You will receive a verification email shortly.
There was a problem. Please refresh the page and try again.