Nokia launches Lumia 620 – Most affordable Windows Phone 8 device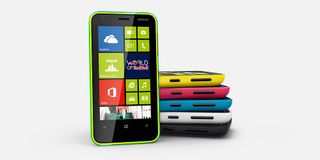 Today Nokia have announced their third and most affordable Windows Phone 8 handset. This one is designed specifically to appeal to the youthful, fun side of the market.
The Nokia Lumia 620 uses a new 'dual-shot' colour technique to deliver a variety of striking colour and texture effects. Dual-shot adds a second layer of coloured, transparent or translucent polycarbonate on top of a base layer to produce secondary colour blends and depth effects. There will be a range of seven exchangeable shells so folks can customise the look even further.
The Lumia 620 will sport a 3.8" WVGA 800x480 screen that uses Nokia's familiar 'Clear Black' polarising screen technology to reduce glare. It will also pack a Snapdragon S4 dual core CPU running at 1 GHz, so it's clocked a bit slower than other Windows Phone 8 handsets. The 620 will also have a base memory of 512MB RAM and 8GB of on-board storage. Thankfully it also has the option to increase storage by way of MicroSD cards of up to 64GB in size.
Nokia had this to say on the launch:
Cameras will be taken care of with a 5MP F 2.4 Aperture, 28.0mm focal length but will not have the Carl Zeiss optics. For the purposes of video calling the device will house a standard VGA front facing camera.
The Lumia 620 supports Bluetooth 3.0, NFC and the usual Wi-Fi Standards a/b/g/n but there is no option for the Qi Wireless charging. The device supports a replaceable battery and weighs in at 127g.
Nokia also had this to say:
Initially the device is set to become available in a range of colours including, lime green, orange, magenta, yellow, cyan, white and black. The price of the handset is going to be around USD $249 without taxes and subsidies. Initial shipping will commence in Jan 2013 in Asia, followed shortly by the EU and Middles East.
Full Specifications
Dimensions:
Height: 115.4 mm
Width: 61.1 mm
Thickness: 11.0 mm
Weight: 127 g
Volume: 76 cm³
Display and User Interface
Display size: 3.8 ''
Touch screen technology: Capacitive Multipoint-Touch
Screen height: 800 pixels
Screen width: 480 pixels
Display features: Polarization filter, Light time-out, Ambient light detector, Brightness control, Orientation sensor, Proximity sensor, RGB Stripe, Sunlight readability enhancements, Aspect ratio 15:9, Color boosting
Display height: 83.0 mm
Display width: 50.0 mm
Display colors: 16.7 million
Display technology: LCD, ClearBlack
Memory
Internal memory: 512 MB
Maximum memory card size: 64GB
Mass memory: 8GB and 7GB in SkyDrive
Expandable memory card type: MicroSD
The Lumia 620 looks like a great entry-level Windows Phone 8 device, packing some impressive specs and the fun colours this could be popular. In order to drive more adoption of the new operating system, it's imperative that to make lower end devices available right away. We look forward to getting one for a hands-on as soon as possible. Stay tuned.
Let us know what you think about the latest addition to the Lumia range in the comments below. Thanks to everyone who tipped us!
Windows Central Newsletter
Get the best of Windows Central in your inbox, every day!
So does the 8S also support 64GB SD Cards?

Think so...but something that definitely goes in favour of the 620 is NFC support which the 8s doesn't have...

Not to talk about the price difference. HTC's suggested price for 8S is 339 euros. Nokia's suggested price for Lumia 620 is 190 euros. Lumia 620 also got 8GB vs 4GB on 8S.

one thing this does makes me wonder, what place does this leave for WP7.x? if Nokia wants to keep WP7.x (like they have said), this means WP7.x must take Nokia's S40 place in the super low end (30-150 euros).

Also, the 8S only has 4GBs for the OS, apps and Games. Moreover the 620 seems to be priced lower. Poor HTC - Nokia and Samsung are going to destroy them on all fronts.

HTC to issue 4 GB storage phone makes no sense, since the actual available space would be somewhere in 2.5-3gb range.

from what i've read , actual storage is 1.27GB

According to HTC website the 8x has NFC. I also could swear that I read that all WP8 phones come with it.

EDIT: you where talking about 8X. Lumia 620 and (X do really have nothing in common other than WP8. Lumia 620 is 400 euros cheaper.

Are you sure? Multiple news site reported it had no NFC, neither can i find it being mentioned by HTC's own site or GSMarena spec list.

HTC 8x definitely has NFC
http://www.htc.com/www/smartphones/htc-wp-8x/#specs
First tip for improving 8x battery life is to switch NFC off....
But I think you mixed 8x and 8s. HTC 8s doesn't have NFC

8X has NFC
but low end 8S does not have NFC

Yes, 8GB + the 64GB MicroSD slot, fill your boots! RB

Poor HTC ,Samsung killed them with android , and they don't even have a shot with wp8 lol ,who's gonna buy the 8s ,or 8x when you can get the 920 or 620 pls.

I'm buying the 8X , speak for yourself

I have a red 8x and my wife has a blue 8x sooo yeah speak for yourself

Where on earth did you find a red HTC 8X?

I bought it from an actual Verizon store. I wanted to save money and buy it from Bestbuy but they have no clue when they were getting it. Favorite color plus being impatient made me shell out the $200

People who aren't on AT&T. Both AT&T and T-Mobile have crap service where I live. Verizon also happens to have LTE here so it's a no brainer. I got an 8X and I have no regrets.

Nope, after Xmas. My wife saw that pink 920 story awhile back and that's all she wants now, another pink phone, I would have gotten her this but its not getting released till after the holidays... Hope they come out with pink model for Xmas or I'm gunna have to just get jewelry lol

The phone seems to be priced well...sales will be awesome if its priced right in India...:)

Agreed, looks like a PERFECT budget device..

budget> come on man! nokia said its 249$ that means 12500Rs and after taxes its almost 15000Rs .. and for that its a dual core device 3.8'CBD display 8Gb internal, all other devices are so expensive with these specs ... HTC One V is 17k n htc 8S has been announced for 19k this is the best phone to get in india for budget of 15-20k i'm just wondering what will be in the 700 series lumia wp8 model

Well thats what I meant..its the best bang for the buck device..

This is the "Zune-lke design" that The Verge noticed some months ago. The dual shot color technique was used in the Zunes firt gens too. I love this!!!!! Congratulations Nokia!!!

I thought the 8s also has a 1ghz dual core, the article seems to suggest this is the slowest windows 8 phone, when it will be as fast as the 8s.

yeah, they share the same exact SoC.

I was actually reffering to phones on the market that are currently available. RB

This is the kind of device that needs Instagram to be successful. I can imagine a bunch of kids and teenagers wanting this device because of the funny and modern look, but refusing to buy because the lack of Instagram.

Sadly, I agree with you. Although Instagram is something I couldn't care less about, for some people it's a must have. Especially the younger audience, at which this device is aimed for. Facebook (because Marky owns Instagram now) must be pressed (or payed) to issue an Instagram app for Windows Phone, a.s.a.p., and, if possible, the one packing the same feature set as Android and iOS, not some dumbed down version...

Lol... Considering the fact that FB hasnt even developed its own app for WPX devices, i highly doubt they will developing/porting Instagram...it has to MS or some other company who has to take its stance..

I don't think the success of the 620 will hinge on Instagram. This appears to be a device they are expecting to launch internationally, not in the US. I believe Instagram, though popular in many countries, is most popular in English speaking countries and in Europe. So while it may have a hurdle to get over with that mentioned EU launch, probably not as much for the Asian and Middle East ones. Not to mention, when it comes down to it, if the price is right that might trump everything else since they pay full retail for phones most places outside of the US.

Believe me, there's a lot of "instagrammers" in Asia and Middle East. Sometimes, almost a half of pictures on Popular page (think about an Instagram version of Twitter's trending topics) are from users from Asia and Middle East, including a lot of local artists. I'm from Brazil and Instagram is huge between teenagers here too.

I didn't say there weren't a lot in those countries, I said I don't think success hinges on Instagram there as much. Look at the comment below about its irrelevancy in India. I'm not saying it wouldn't be nice and I'm not surprised its popular in Brazil, but having a lot of Instagrammers in a certain country and having popular pictures from those countries doesn't make it a deal breaker. I know for sure I've read that Instagram is not a consistent top 10/20 app in many Asian markets, that's what I mean. Brazil and South America weren't mentioned in this article at all, so I wouldn't assume this phone is going there anytime soon.

The Blog Nokia Brasil has said:
"Gostou dele? Nós também. O melhor é que você não vai precisar esperar muito: já no 1 º trimestre de 2013 ele está chegando por aqui. O preço vai valer muuuuuuuuuuuuuito a pena. A gente garante. ;)"
Translate:
"Liked ? We too. the best is that you wont' need to wait much: in the Q1 of 2013 they will arrive here. The price will worthwhile. We Guarantee. ;)"
http://www.blognokia.com.br/aparelho/novo-nokia-lumia-620/?utm_source=fa...

I don't speak Portugeuse but can guess what that says since that translation isn't great. Doesn't change that this article doesn't mention Brazil and what is or is not popular in Brazil isn't necessarily indicative of other parts of the world, same with the US.

Dude... he just gave you the translated quote from Nokia Brazil. The article doesn't mention Brazil, but Nokia Brazil says it's coming Q1.
Sounds like the 620 is going to make a big splash in the BRIC countries (Brazil, Russia, India, China)... happy to see this.

Instagram is totally irrelevant in India. And I am sure India will be one and most important among FEW markets this phone launch in.

true...i.never knew heard abt instagram being so popular until I came over to WP and saw everybdy complaining abt it missing...:P

yea instagram is totally irrelevant in india , my friends with iphones , one X and all kind of high end phones dont even what it is ... let alone the target market of 620 ... this phone is gonna sell like hotcakes if its priced 300$ i.e around 15k Rs in india

This is nice. The non-subsidized price is pretty damn good.

Guess WP Central got a bit late in reporting about Lumia 620 :)

You wouldnt want us to have rushed it would you? :) RB

Nice move to introduce an 'entry-level' handset to the range by Nokia.....good call!!

now htc 8s has a tough competitor :)

If only HTC had been quicker to market with the HTC 8S they could have shifted a ton of these phones. Nokia are starting to own the Windows Phone distribution network, this will further squeeze HTC. Shame really, HTC 8S is a nice unit. RB

I dont even think the 8s even is in competition. With built in skype video calling, removable sd card (this is huge for a budget device), nokia exclusive apps (another huge point), low pricing and off course nokia as a brand name...the 8s will be lacking way way behind...

let me add more CBD screen, nokia build quality, 8GB internal memory, Dolby support on headphones, this is one awesome phone

"Nokia buld quality". Stop drinking Nokia's cool aid, this phone has an awful design, and it will have an awful camera, and it looks as cheap as it gets, just like the Nokia 820.
The 8S is more expensive, but the build quality, design, and I'm sure the camera and the screen, are also better. The battery is also bigger. The 8S looks like a good mid-range, and you can get it for 370 USD with shipping on eBay.

I think you dint follow a thing...its cheap hence the cheaper price....think before you comment. No one is taking sides over here...the article says cheapest WP8 and so it is...for the price its giving u everything.

Stop drinking HTC kool aid buddy..

While replying hit the proper reply button

I believe this is really to goal of MS/Nokia. Once this happens, could it be possible that the deal the two parties signed contained a purchase clause for Nokia or a clause for Nokia to make Microsoft branded and Nokia branded cell phones?

No what the deal requires is for Nokia to sell a certain quantity of WP8 devices...doesnt matter at what price range since MS gets same license fee for each copy of wp8 irrespective of whether the phone is a 700$ 920 or 300$ 620. Elop speciically mentioned during their financial meeting that according to the deal, they need to sell enough phones per quarter that will see them almost matching the250 million $ that MS gives them in he form of wp licenses. That means Nokia and MS envision that Nokia can sell around 10-15 million lumia devices a quarter very soon....hopefully as soon as Q1 2013/

Assuming this is coming to the U.S., I take it Verizon will get this handset and the proceed to
1) Discard the main distinguishing feature (the "Dual Shot" interchangable cover), and replace it with a non-replacable black or white cover.
2) Redesign the phone so it's egg shaped.
3) Find 6 places on the phone to slap the hideous logo somewhere on it.

That logo is being refered to as "The Tramp Stamp" if Im not mistaken? :)

You forgot to add "RB" ;)

I want to see the day where Verizon replaces the three WP buttons with three Verizon logos.

I'm already thinking about getting this to replace the wife's 900.

Is this the replacement for Lumia 710?
710 was a big seller. If the CPU can handle new WP8 games then this could be the next big low-end seller.

Well the CPU is dual core so should be powerful enough but its the GPU that will make the difference, I know the Adreno 225 (i guess it might be the one) is powerful enough to handle current gen mobile gaming...unless you want to play Crysis on it :P (if someone ports it)

The Snapdragon MSM8627 SoC with 1Ghz CPU has a Adreno 305 GPU...

I have the same question. I'd like to upgrade from my current L710 to a similar WP8 model, but I don't want anything "weaker" (for lack of a better word,) then the 710. Nokia choosing to brand it as the 620 makes me skeptical, but I won't assume anything since the 510 and 830 seem to go against their past system.

Smaller version of Lumia 800. Looks amazing!

I might have to get one of these for use overseas since AT&T refuses to unlock my 920.

so this is cheaper than the 8s, has more memory storage, front facing camera, nfc, detachable battery, different color shells, all the nokia exclusive apps and features.
i wonder now what ther 720 will bring to the table? maybe a 4 inch amoled screen, 8 mp shooter and a cool desgn with the same processor and ram as this 620, or 1 gb ram?

Yeah i wonder how could it slot between 820 and 620.
Would it use this lower end SoC found from 620 and 8S or the same S4 dual core 1.5ghz + 1GB RAM found from 920, ATIV S etc.

Nokia read my mind! I always wanted a cheaper option for WP8. Now this is the answer! Lumia 920 for my girl, Lumia 620 for me, happy ever after :P

I will follow this one closely. I am wary of the 512 mgs of RAM, but if it runs well and smooth, this might be an affordable way to get back on WP. I have never bought an international phone and tried to use it here in the US, I wonder what all is involved.

512 MB RAM is a minimum system requirement of WP8 for WVGA (480x800) displays so this won't be a issue.

Damn. I wish this would have come out in the US a month ago. I would have probably gotten this instead of my 820. I prefer the smaller phones.

Wow, its still small, but a great phone for 250$...exchangeable shells and SD support!? Nice, its like my focus flash just better! =)

I want this for my wife. She has been wanting a WP8 that is a bit smaller then the current crop.

I am currently using Lumia 710, wondering what 720 will bring on the table. This is turning to be good. 7 out of 14 people in a taxi are usually using Nokia. Some people are going to be silenced big time.

I never really felt like cost was a problem for Nokia considering the super-low 920 and 820 pricing, but I do like the smaller form factor... I've heard plenty of comments about wanting a smaller device.

Lumia 720 from the leaked pics seem to be the smallest of these devices.

Wait...what...?? There is a 720 leak?

the 830 that got leaked some time ago. that's probably the 7xx

Remember that in most places carriers separate the cost of service from phone loan repayments. The 920 is $450 and the $820 is ~$400. The $100 dollar price of the 920 is just a downpayment and you payback the loan over the course of the contract, except in the US no major carrier separates the loan repayment from the actual plans so if you own your phone you just grossly overpay. So I agree in the US there isn't much of a market for low end smartphones because the plans are so overpriced but in many countries a $250 dollar phone is a great deal.

I believe T-Mobile has an option where you pay the full price of the phone over the course of the contract, but your monthly usage rate is lower than a fully-subsidized phone. I don't think the other US carriers offer this.

That's cause the carriers subsidise it in the US...in India and a few other Asian countries, there is no carrier subsidising, you have to buy the phone at full cost..not something everbdy is ready to do for a 920...hence the alternative, 620..

Lumia 620 is poor man's 920 :D
saving money for my first LUMIA.. excited :))

You wouldn't be in this forum if you were poor, you probably will be busily begging for food and clothes from else where. I think it's rather for the budget minded people than for the poor in the real sense.

As has already been stated this will be in direct competition with the HTC 8S. Even though I really like the design of the 8S the 620 has 8gb of storage and a front facing camera. Also theres all the exclusive nokia apps you get too. Poor HTC, they only have themselves to blame

Only 1300 mAh? :/ the 8s has 1700! Ok but theres a FFC in there, more memory and Nokias exclusive apps :)!

Someone please help! I would love to know the info on the music that's playing through the video and I am really impressed with how they advertised the 620, I hope we will get it here in South Africa before the US.

My phone just told me this is Gardening by Mike Slott (Lucky 9teen)

Wondering what would be the specifications of Nokia Lumia 720?
I hope instead of the 3.7 inch display of 620 it would be 4 inch, 1300 mah vs 1600 mah, 8gb vs. 16 gb internal memory + m.c. , a 1 gb of ram instead of the 512 ram of 620. And that would be a perfect mid range smartphone, also add wireless charging. Go Nokia

Second this. 620 is now my favorite of all Lumias now. 920 to big, 820 to ugly. Wish 720 have spec you wrote and similar design to Lumia 800/900/920/N9. That would be my perfect phone.
regards
Salata

Wait.. The 820 is ugly? The Verizon variant is, thanks to the hideous logos and redesign, but the 820 looks great.

nokia smokes all windows phone devices

Nokia should put a lot of weight behind marketing and pushing the 620, it can drive up WP's market share considerably

Tell me about it. It looks as though companies are mistaken in thinking they have to release phones in the US to be successful. Haven't seen even ONE Windows Phone 8 device in the Middle East, and this region is HUNGRY for Low-end and mid-range devices.
Nokia used to be king here; they have given up. They could easily fill markets like India and all of Middle East, and make piles of money.

A 4 inch, Lumia 920 with removable battery, 16 GB internal, SD card up to 64GB, changeable colors, super thin and super light is a phone that should be made.

If you want it to be thin then it definitely won't have pureview.

I am only wondering is 512Mb RAM are enough for WP8 and app? On Nokia 610 WP7.5 with 256Mb some app dont work.

I've read somewhere that only very few apps will not be able to run due to the RAM. It shouldn't seem like a big deal, but it's big enough for me to look past this phone.

THIS! This is what will replace my HTC Trophy. Gonna have to buy a spare batt though. Hopefully they release it here in the Philippines for around 10k-12k by Jan. I wish that they put a 4-inch screen though, lots of wasted bezel space imo

I understand if its pricing Is affordable for people off contract, but Is Nokia stretching itself too thin by releasing so many different products? Or is this aggressive line up of choice a good thing?

It's a good thing because they're targeting as many markets as possible.

Thank you for answering. As long as they continue to make all their products quality and offer support fine by me.

How a bloody proper sized (4" or thereabouts) non-brick flagship? And you can drop wireless charging!

No wonder nokia is having a hard time producing the 920.. They kept producing all this lumia all over the world.. The world of WINDOWSPHONE has began!!

MrLunga my thoughts exactly, I can't afford contract phones, this or 510, 505 plus current crop will rule the South African market, wait and see.

This kicks ass. The best small WP8 device out there now!

Lumia 620 versus HTC 8S:
1. Price: $249 vs $384
2. Screen: 3.8" TFT Clear Black WVGA 246 ppi vs 4.0" SLCD WVGA 223 ppi
3. Storage 8 GB vs 4 GB
4. NFC=Yes vs NFC=No



Lumia 620 vs HTC 8S: 1. $249 + taxes (and shipping, this won't be sold in the US) vs 370 with shipping.
2. AMOLED (bet you is pentile) vs SLCD.
3. Both support Micro-SD.
4. Cheap plastic peace of crap vs Beautiful design and build quality.
5. Shitty camera (Nokia's cameras have not been good in a while, except the Pureview 808, and the Lumia 920... in low light, because in daylight its kinda shitty) vs Decent Camera.
6. 1300 vs 1700
The build quality alone is enough for the 8S to be a better option. The Lumia 620 is just cheap, that's all.

Clearly you didn't even bother to read the article, and now you are just making things up. I feel bad for HTC owners if they really have such a low self esteem. Apart from battery, none of the agruments for HTC hold.

Well just look at the Ad Duplex numbers, 24% of Windows Phones in use are Lumia 710s and 18% are Lumia 610s. Definitely illustrates that entry/mid-level handsets are integral to driving WP growth, and are in fact forming the core userbase of WP. Makes sense, in this day and age people are very price-conscious, and in many parts of the world carrier contracts are difficult to come by, people simply buy their handsets outright.
That said, I think the Lumia 920 can do fairly well in the Middle East, at least in the UAE and Qatar I know for a fact that Nokia has solid brand recognition. However, the Lumia 620 and 510 (on 7.8) should be pushed aggressively as the ideal mid and low-end options, respectively.

It looks like the Palm Pixi of Windows Phones!

When did NOKIA become the Apple of smartphones?

Became Apple in what way? I thought Apple was the Apple of smartphones.

I'd really be considering one of these if it was coming to the US. For now I'll continue to wait for my yellow L920 that I ordered at a pretty good bargain.

Wow, lots of phones. Feels like Nokia is doing some blitzkreig strategy here, let's flood the market with phones. Not only phones, but they seem to be quality phones. This is what Microsoft needs right now, more handsets to flood the market with their OS on it as the public starts to percieve weaknesses and bordem in what they already have. It'll be good if Nokia can actually get carriers to get this and make this the free phone must get.

Man, that thing is no slouch. Really great price.

I am wondering the condition of wp haters (droid lovers especially) here in india who complains abt every small small thing!
Here is nokia's answer on you face guys! Goodluck.........

It would be a darn shame not to bring this to the States. I'd love to get this for my 12yr old rather then the L710 I was thinking of getting. Would make a nice device for the likes of MetroPCS and Cricket as well.

I wonder why it is so thick. It is the same thickness as the 920 without all the technology packed in. They could have dropped a few mm from it. I guess they want to have a common look for their devices.

What is this obsession with thin ness. I hate a thin phone.. very uncomfortable to hold..
The ophone is find as it is asquare.
Also in pictures Nokia phones always look thick than in person. Lumia 900 looks thick but i find it too thin for my liking.

Might be too late for my 17 year old daughter who is firmly entrenched in the Apple camp...but a whole generation of younger folks may find this appealing. If the CPU can handle music and gaming, this might be a hit.

It would seem that Nokia is doing what they know the best = Flood the market with 10's of new models that varies in shape, size and prize. That was pretty much the concept Nokia used for 20 years and 14 out of those they were the market leader in mobile business.
This kind of devices are the real thing that WP8 needs more than anything else. I hope Nokia will rise once more, afterall they are the most innovative mobile business in the whole industry.

Except that keypad candybars, flipphones, sliderphones, portrait QWERTY's, landscape slider QWERTY's, touch and type's have all been eliminated and replaced with pure, touchscreen. When the iPhone came out I was reluctant to change to touchscreen, instead I bought a C5-00, a traditional keypad candybar.
But now with WP8, I'm ready to embrace change!
Really though, they definitely need to come up with a 4.0" 720, and then maybe a 3.5" 520 or a 4.8" 1020, then the WP8 portfolio will be complete.
Once the lineup is complete, refresh the entire lineup all at once after 1-2 years... And get people talking!

some one please tell abt the availability of lumia 920 and 820 in india :- Nd WTH nokia wants indian's to use there cheap lumia 620 first ( 620 gnna launch first in india )

People with wp7.5 with 1ghz is still fast and fluid. So I think 620 will still be twice fast and fluid with dual core

Its a nice looking phone. I like it.

The only mistake they made is the release date, WP8 in November 2012 and Lumia in January 2013 is LATE ! should have been available for few months already as it's very important to hook new customers and sell as many Windows devices as fast as they can.
HTC blew it with the 'budget boat' for 8S - 4GB ? at 339 euros and no NFC, they need to drop the price immediately to 229 euro. Lumia 620 wins ! Interested in the upcoming 4" Lumia 720 design, why didn't they introduced it now ? They want to release it in February or what ? soooo slow

At that price, I may pick one up, pop in a 64GB MicroSD and make it a dedicated music player to replace my ZuneHD.

Unfortunately it won't be release in the US. Said by Nokia in a tweet :/ oh well next year their could be a Lumia 720.

Ill trade in my old wp phone for one.

The specs are thoroughly inferior to similarly-priced droids, but mabye the pretty colors will sucker in a few buyers.

That's an absolute lie! Androids priced in the range of $250 unlocked are all single-core or old models, without NFC, and without front-facing cameras! On the other hand, the 620 is dual-core and a brand new phone, has NFC and FFC!

It has the HAAS mic as well.

I love the colors! I want that green on a Lumia 920! One can only hope. I like the idea of low-cost smartphones to reach those that don't care about latest & greatest. Heck, even if my WP device took a dive, I know if I really needed to, I could get a decent handset for cheap without contract. Decent specs on the device.

And after all those nice specs ... it only sport 1300 mAh battery? What a bummer. My Lumia 710 have the very same battery, sports only single core (although it's clocked higher), and it only last half a day for regular usage. So how come a dual core one also using the same battery. I want this Lumia 620 ... but ....... *sulking in dilemma* XD~

Newer phones may be more energy efficient (through both hardware and firmware improvements), hence no need for a bigger battery.

I like Windows Phone and all, but come on people... Budget devices? Nexus 4. Period. For 50 more dollars, you get a MUCH better phone.

I saw the HTC 8X it's too thin and also the corners get discolored after 2 weeks. I hope you saw the picture posted. Anyway, go Nokia! I have the cyan L900 and want the white 920 or yellow dirty fellow. ha ha.