AT&T Nokia Lumia 1020 – Unboxing and first impressions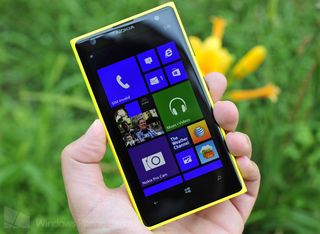 This Friday, the Nokia Lumia 1020 goes on sale nationwide in the US on AT&T (store link (opens in new tab)). The device is priced at $299 on contract and $659 off making it one of the most expensive Windows Phones to date. The device's claim to fame is the massive 41MP PureView camera, with optical image stabilization, a BSI sensor and Nokia's improved camera algorithms for JPEG processing.
We've spent all day with the device and figured we'd share our thoughts with you on it before we delve into our full review, coming Friday morning.
So head past the break for two video walkthroughs (one unboxing, one later in the day, after usage) and some high-quality photos of the AT&T Nokia Lumia 1020.
In the box
The Nokia Lumia 1020 comes with your standard fare these days for smartphones: micro USB, wall charger, paperwork (including some tailored specifically for the 1020's camera) and a new twist, a wrist lanyard. That lanyard is to help secure the 1020 to your physical body, allowing you to lean over cliffs, waterfalls or out of a car window (none of which we advocate, of course) with no fear of dropping your device. Game changer? No, but we're very glad it's there.
No headphones are included, as is the par these days.
Look and feel
So flat, so bright, so yellow
Nokia made a smart move by going with matte colors (yellow, white or black) this time. While black has always been matte for the Lumia line, glossy-white and glossy-yellow have been hallmarks of the Lumia 9xx series. Gloss looks fantastic, but it can also be slippery in the hands, hence why we prefer matte instead for the 1020.
The Nokia Lumia 1020 does not have Qi Wireless charging built in and as a result, it is much thinner than the Lumia 920 (10.4 mm versus 10.7 mm) and weighs less too (158 grams versus 185 grams). On paper, those numbers may not seem to amount to much, but in reality it makes the 1020 a step up for comfort.
Display
Nokia Pro Camera app
The Lumia 1020 uses a 4.5" AMOLED display with Corning Gorilla Glass 3 and Nokia's ClearBlack polarizer for even deeper colors. In addition, it has the Nokia trademark Sunlight Readability, PureMotion HD+ and Super Sensitive Touch features, giving an enhanced user experience when outdoors or while wearing gloves.
The Lumia 920 though had an LCD display and some people do prefer that technology over AMOLED. We're not of that camp as AMOLED has come a long way, in our opinion. Compared to the 920, the 1020 is much brighter, has more contrast and is much easier to read in bright light. It also allows the Lumia 1020 be thinner.
Bottom: Lanyard catch, micro USB, speaker
For those of you who feel AMOLED is too saturated, Nokia has you covered with their 'Lumia color profile' tool under Settings > Display + Touch. There, you can use two sliders (color saturation and color temperature) to fine tune your display to the way you like it e.g. more "natural" or more saturated.
Make no mistakes though, Nokia's latest two devices, the Lumia 925 and 1020, both have the best displays we've seen from the Finnish phone maker yet.
The Camera
41MP PureView camera, Zeiss lens, Xenon (+LED) flash
We'll not only review the camera in detail during the main review, but we will also have a few comparison articles on it as well. For now, we'll just say we're very impressed with the 1020's camera.
Lincoln Center, NYC taken with the Lumia 1020
Bringing 41 megapixels, optical image stabilization (OIS) and a massive back-side illuminated (BSI) sensor into a phone is no easy task. Nokia though did not disappoint and when combined with their Pro Camera suite for manual control, you get what is easily the most powerful camera in the world found in a smartphone today. Yes, there is a two-second delay processing images if you opt for the dual 38MP and 5MP option, but it's worth it. If, however, you need speed, Nokia has their Smart Cam app to handle that situation.
Lumia 1020 with optional Camera Grip (PD-95G)
Pictures that we took today (more coming up in a separate post) look sharp, bright and they have punchy colors. The color and white balance so far look outstanding and we even like the subtle grain (not noise) that some of the photos bring.
New Camera/Video settings
Oh and we can confirm that you can even manipulate the video frames-per-second (FPS) in settings, allowing you to shoot at 30, 25 or 24 FPS, with the latter delivering a cinema-like experience. There is also an audio bass filter for better sound and framing grids to help you position that shot.
For the first time, images taken with a smartphone actually feel like real photos to us. It's a liberating experience to walk around New York City with your phone and snap such high quality pics. You can see more sample images from the Lumia 1020 here.
Wrapping it up
Nokia is an interesting company. With every device, they seemingly get better and better. Part of that is due to their focus on feedback from actual consumers, part of it is more experience (and learning lessons). That's why with every phone they release, we get a little excited, because we can see them evolving their designs and techniques to reach perfection.
The Lumia 1020 is no different. Putting aside the headline grabbing camera and you're left with a Lumia 920 with some minor but nice improvements (not glossy, better buttons, Gorilla Glass 3, lanyard, stereo recording, etc). Throw in the camera though and now you have a very fascinating device.
Look for our full review later this week, but for right now, we're having fun with the 1020. For more discussion, head to our forums!
Get the Windows Central Newsletter
All the latest news, reviews, and guides for Windows and Xbox diehards.
Daniel Rubino is the Editor-in-chief of Windows Central, head reviewer, podcast co-host, and analyst. He has been covering Microsoft since 2007 when this site was called WMExperts (and later Windows Phone Central). His interests include Windows, laptops, next-gen computing, and for some reason, watches. Before all this tech stuff, he worked on a Ph.D. in linguistics, watched people sleep (for medical purposes!), and ran the projectors at movie theaters because it was fun.
The camera grip sells it for me. Can't wait to pair the 1020 with a gorilla pod and mage some photography magic.

I frequent Crackberry a lot since I've used BB phones over the years, but never have I wanted a phone so bad as the Lumia 1020. It really does look amazing.

Do we know if there's any chance that other Lumia phones will get the updated camera software with Amber? I really like how Nokia revamped the controls for the 1020.

From what I understand (from reports here) is that most of the updates and apps will be available for Lumias 920 and up.

That's for Pro Cam app, but Smart Cam app will be available for all Lumia Windows Phone 8 after Amber update.

Will this include the new video options? I used adobe premiere pro to change the fps during editing. It would be nice to have the option to film in 24fps natively on the 920!!!

Sorry for the ignorance but whats the adventage of filming at 24fps? I know that movies are generally filmed with this frame rate but I never really understood why, I always thought it was a limitation of the early cameras and that we kinda got used to it.



It looks almost as good. And it takes up less space.

you can let more light in if you film at a lower frame rate, so videos should be have a tad more pop

I have the same question of 4look4rd (nice nick). Enlighten us please.

how's the FF camera compared to the 920"s?

In my non official comparison of the two side by side right now. The 1020 has a way better FFC. Nothing more balance , light. Everything looks better.

Well as long as the 1020s FFC isn't filled up with dust, I don't see how it couldn't be a massive improvement over my 920.

Matte is much more slippery than glossy, I had a cyan before having the white one. The cyan one keeps slipping out of my hands.....

I disagree, particularly on surfaces like in my car, tables, etc.

They respond differently to different surfaces. On your hand, the glossy is much less slippery while on hard surfaces, it is much more slippery.

Exactly. I have a black matte lumia 920, and it is incredibly slippery, while my friend's glossy white lumia 920 is actually less slippery. This is all in a hand.

I'm agreed with OPr point here. I have 820 before with glossy white and matte yellow, the matte one easily slip down when I rest it on rubber mat inside my car (which I usually put around dashboard) compared to when using glossy shell. The same problem happen when I just hold the phone lightly.

Glossy scratches too easy on the 920, imo. I think that may have been part of the reason for change.

I find that hard to believe. Generally matte finishes are much less durable. A glossy finish scratches and it's noticeable only from certain angles, matte finishes scratch and you end up with this obvious scar. Even worse than the scratching, however, matte rubs down to a dull sheen meaning that it will age much more quickly. People have been complaining about the problem with matte 920's but it's a universal problem. There's a reason why cars painted from the factory with matte finishes require especially demanding care to preserve the paint.
The decision to go with matte is stylistic, not functional. I suspect Nokia felt that a lot of people weren't keen on the glossy finish of the 920s so they've gone back to matte.

http://mynokiablog.com/2013/07/17/mnb-reader-generated-matte-lumia-devic...
I loved matte finishes and hated gloss so much I matted my Lumia 920.
http://mynokiablog.com/2013/07/17/mnb-reader-generated-matte-lumia-devic...

100%!!!! Agree...i was starting to wonder if I was the only one who has a better grip with the gloss than the matte! But thank goodness its plastic...my old HTC Titan was like holding a wet bar of soap for me, super frustrating. Definitely team GLOSS here, like your boy said, "its a missile"!

Daniel,
Can you comment on call quality? I realize the camera is the big feature but some us older fuddy duddy's still consider call quality important in a smartPHONE :)

Hey! Stop using those style punctuation marks! You will make us think you're rodneyej

Wait, this can do phone calls?

ha, I know! I keep forgetting its a phone too!! All the better!

Yay for impressions! Who has a wager on what WPCentral review will come first? The Lumia 1020 or the elusive Lumia 720 review?

1020 review will come first (Friday morning). I do prefer to spend more than 24 hours with a phone though before I give it a verdict ;)

I absolutely agree with your approach Daniel, I look forward to the review. Now the 720 review will have to be stellar after rocking it for months :)

And then, you'll send it to me...? :)

It would be awesome if the 1st poster on a review got the reviewed device...

I know that I'm not eligible for an upgrade. I have a 920 and I'm not a photo junky but for some reason I want this phone.

I'm feeling the exact same way

I want it for the 2gig ram.

I think that's why I want it too.

Man I want this phone. I still love my 925. Maybe in 6 months T-Mobile will have and I can upgrade using my jump plan

Is the display glass just as curved as the 920? Just curious

No, its flatter. Almost a mix between the 900 and the 920s curvature. Somewhere in the middle of the two.

Great first impressions. Except....0.3mm is not "much thinner" and barely visible. Owning a 800 before, I can say glossy has much more grip than matte.

I agree I miss my glossy red 920

I was confused by this too... I think the 0.3mm difference must include the camera hump on the 1020. That would mean the bottom of the phone is quite a bit thinner, while the area with the hump is not much thinner. But it would certainly give the appearance and feel of a much thinner phone.

I definitely wish they had included the wireless charging in the main unit. I suspect it would have added very little... much of the decrreased thickness probably comes from other things (like the AMOLED screen), as the wireless charging adds very little.

That wireless charging back adds very little protection, but it will be the only way to go if you want wireless. It's very limiting of case options, not to mention an additional cost that was unneccessary (esp with such an expensive phone).

i think wireless charging was pointless unless for restaurants or cafe's. what if i wanted to use the phone while it's being charged? USB cable is just fine plus charges quicker. Wireless charging takes time.

(1) Wireless charging is very near as fast as wired.

(2) When charging is as convenient as just alying it down or putting it in the stand, you always have battery for your call and don't need to charge while using it. My usage scenario is working at a desk all day with a bluetooth headset. Whenever I am not actually using the screen for something it is sitting on the charge stand. While I'm on the phone with the headset it is on the charge stand. When I need to go it is always fully charged.

Also don't have to deal with broken / stressed USB ports. Works fantastic. It is in no way "pointless".

Hey Daniel, I would like to know if Nokia resolved the issue with dust getting in the ff cameras ?

Hey my 920 have this.....didn't known it's a issue in others too....

My first production run 920 is in TX right now being repaired for the second time for this very issue. They better get it right this time or I'm going back to Apple.

920 it's enough for me. For 41 megapixels with much more fat body I go to the shop for Canon or Nikon. LCD or LED nevermind.

It looks almost the same size (and shape) as the 920 with the qi charging case on. I kinda like that...

In the Qi clip-on it appears that the camera still has a slight bump. That seems like an odd decision, or maybe it's not as noticible in person as the picture makes it out.

I assume it lays flat enough on the charger but it just seems like they could have made it perfectly flat. From the picture the camera area is raised further instead of just leveling out with the rest of the phone.

Dan, does it feel like that when you hold the phone, put it in your pocket, or lay it on a charger? I'm sure it's fine as it's not like someone at Nokia forgot that the charging clip-on needs to lay on a charger (lol).

With Qi clip on it feels more like a ridge than a full-on bump. Feels similar to a 920.

Daniel,
Where did you manage to find a wireless charging cover? Was it from an ATT store or Microsoft store? I am looking forward to mine, but I must have the Qi Charging :-)


Off contract price is normal, paid $830 for my L920 in Australia.

The 920 was $696 at launch in Australia, why did you pay so much?

That was the price at Harvey Norman. At launch it was a Telstra exclusive, i did not want a branded phone. Cheapest price was $725 at Allphones, but they had no red ones. Harvey Norman price matched me, so did only pay $725. But rrp was over $800. U.S.A needs to wake up and see how much unsubsidized phones cost

In the US a 920 is 450 USD off contract.

Why should we? We don't pay 400-800 for phones. Waste of money for something you'll only use for a year and a half. And for the millionth time paying full price doesn't lower your monthly bill.

In a lot of countries you get discount when you bring your own phone. Plus sometimes you get updates months before the branded handsets. Though now seems to be the other way around. I got my updates months after the branded handsets.

High jealousy level here!

Just want to know about FFC quality and about the zoom quality before taking a picture is it clear or fuzzy. 920 pics look fuzzy when zooming in and taking a picture. I'm very excited they have video settings as I like taking videos. BTW im getting YELLOW!!!!!

Why the hell would anyone be of the LCD camp?

Better whites, less chance of burn in and longer screen life

AMOLED with RGB stripe is great (I loved my Lumia 900's screen), but AMOLED's common plague, PenTile, is horrible if you have good close range vision. With PenTile, the subpixel array uses a non-uniform subpixel arrangement, so the screen is blurrier than the resolution claimed should be and looks speckled or checkered with gaps, which looks terrible if you're one to notice. However, many people aren't bothered by it, so don't let me dissuade you from trying it out. If PenTile doesn't bother you, or you think the more vibrant color is worth the tradeoff, then more power to you. But sadly I will need to wait another generation for my 41 MP phone :(

Hey man, can you please answer three quick questions.
1) Does the phone wobble when typing on it while it is on a flat surface (due to the hump), I'm imagining it will be a tippity tappity wibbly wobbly experience.
2) Does the pentile screen look all dotty and yuck, as it only has 384, 768, 384 RGB respectively across each line, vs. the 920's 768, 768, 768 (never thought Nokia would go back to sub-480 but hey).
3) Does the phone stand upright ok without the weight of the screen making it front-heavy like the 920, or does the junk in the trunk balance the curves in the front.

You forgot "timey wimey". :)

I really like this! I think they should rename the camera to "Junk in the Trunk"
I've already come up with a full add campaign.

No Qi coils really bothers me. I am completely wireless for charging my 920 and the cover is not appealing. :-\

same here actually i have the power up and the plate next to my bed , I love Wireless charging.

Agreed. The extra few mm savings is NOT worth it.

Great phone and that camera absolutely kills everything out there. If I hadn't gotten the 920 recently, I'd be all over this. Not sure it'll catch on though - the price point is too steep. $299 is a handful even off contract. Sure, it is a premium device with exceptional build quality and runs great software but it's name that sells these days and unless this thing matches the iPhone 5/S4 pricing, it'll be a hard sell. Also, just increasing the storage to 64 GB would have been great. One more thing...not a fan of how Nokia has had no launches in Canada. No mention of the 925/1020 here. Disappointing. And doubly disappointing when you consider the fact that Stephen Elop is Canadian.

Don't get too disapointed for the lanch in Canada since in Finland we will see this maybe in September and Nokia (the company not only the CEO) is Finnish :)

It matches the iPhone 5 and Galaxy Note 2 pricing exactly... the Galaxy S4 is only $50 cheaper. And the off-contract pricing, it beats ALL three of those competitors.

I'm thankful that someone finally pointed this out. Though in Nokia's current position, I was expecting them to try and undercut Apple and Samsung.

Maybe in pricing, but not with OS features...until MS brings WP up to par with its competition $299 is too much.

You got it Daniel !! Very envious, is this your personal or a tester?

can you share the link of nokia pro camera which is install on nokia 1020?

It's so amazingly thin, just 1cm, and still holds a camera worth the name! And the lanyard are something I miss on my 920. I'm missing out on shots where I'm afraid of dropping it over a edge. Me wants! O.O

Agreed. Lanyard is the first thing im putting on ,before I even power it on the first time.

I dropped and shattered the screen on my 928. If it had a lanyard I probably would not have used it but call it a lesson learned. I would recommend that anybody getting a 1020 attach it immediately.

Daniel, Comment or post up what accessories will be available with the 1020. I read Charging plate wasn't to be readily available right away. Where did you pick up yours. =)

Yes, let us know, my phone will be here tomorrow and I like to have that wireless charging case as soon as possible. Let us know where we, bottom of the barrel folks, can get one.

Daniel, looks like you would need to remove the lanyard to use the Camera Grip. Is that correct?

It appears that the camera grip has a cut out that allows the lanyard to stay connected to the phone and come out of the camera grip.

That's what I thought at first... but in the quick flash you see of it in the video, doesn't it look like that cutout is actually the charging USB port? It goes so fast it's hard to tell...

The cut out for the Lanyard is the slit that is cut out on the phone screen side of the grip at the bottom left (the side with the back button) corner of the phone where the lanyard connects to the phone. It can be seen in this photo (look at the black one at the corner and you will see the slit):
http://i.nokia.com/r/image/view/-/2692738/highRes/2/-/Nokia-Camera-Grip-extra-battery-jpg.jpg
This photo may show the cut out better (on the corner of the grip in the top right of the photo):
http://cdn.wpcentral.com/sites/wpcentral.com/files/styles/large/public/field/image/2013/07/Camera20for20Lumia205.jpg?itok=DcC-3rfU

Am I right in thinking they got rid of that stupid bezel around the screen that is on the 920 which causes heaps of dirt and dust to get in, not to mention the cause of many creaking issues?

I really wanted to find this phone exciting but I seriously can't. It's ugly and there's nothing in it that really makes me want to switch from the 920. Actually the absence of built-in wireless charging is a deal breaker to me. I hate those snap-on covers.
Also...0.3mm is not really that thinner. Specially with that tumour in the back of the phone. Anyway, may those who find this phone appealing, enjoy it.
I rather see what comes next year with the x3x series.

Looking forward to receiving my Cyclops Stormtrooper - c'mon MS/Simplexity ship already

Techiedude

does the 1020 have a better loud speaker than the 920 because i think the 920's sucks balls lol i love my 920 just not its speaker

At the risk of sounding petty, almost two weeks ago I sent in a tip, an e-mail I recieved from Eero Salmelin (imaging head at Nokia), that confirmed that the phone would shoot in 24, 25, and 30 fps. I was disappointed that I did not see it mentioned at the time on WPC. I work in video production and thought it newsworthy because I was unaware of any other phone that did the same. I submitted the tip via the WPC app and am curious if there is a problem there, if it slipped through the crack, or if it was not considered newsworthy then relative to me being an unknown to you all. Again, I apologize for how petty this sounds but I was very excited by the news when I heard it and was disappointed when the news was not shared at the time with others. In any case, thank you for posting the screenshot. I hope this phone will fill a niche in my life. My wife takes videos our children with her phone. Any "real" filming that I do of the children is 24fps, because I like the look. Having the phone shoot at 24fps will mean I can now bypass transcoding the 30 fps footage to 24 before creating a family project.

And btw it makes phone calls :D

Sucks that it comes in the standard at&t box,was hoping it would be shipped in the same packaging as the international version. Hopefully the Lumia coming out later this year will...

Wow! These are really, really awesome!
I have a question, though. I own a Lumia 925 and I'd like to know how could I get the best out of my camera. What's the difference between 100 ISO and 3200 ISO, for instance and which one is better for the best performance? And is it better to take pictures in 16:9 or 4:3?
Please give some feedback here!! I'd appreciate it a LOT
Cheers =)

Well, I'm no photo guru, so I'll leave proper ISO explanation to somebody else. Regarding the aspect ratio, 4:3 images are 8MB in size and 16:9 are 7MB as you gain more vertical space with 4:3 than you loose horizontal space with it.

Your ISO is basically the sensor's sensitivity to light. A higher ISO will give you brighter, but much grainer pictures, whereas a low ISO will give darker images, but with less grain. I normally shoot at 16:9. Simply because it is wider than the 4:3. To get a better understanding of though, follow this link: http://www.nokiaakademija.com/lumia920/index.php/camera

It really shed a light to my understanding of this. Thanks a lot, you guys!

Is the 8X amoLED? I want the 1020 but don't know if the screen is the same - love my 8X's screen.

No, to my understanding it has Super LCD 2.

No, actually the 1020 has an AMOLED screen. It isn't a super LCD 2 (that was the 920).

Daniel, when you mentioned a to 2 second delay when saving 2 images and that Smart Cam app can help, was it that you could just change a setting to save just 5MP picture or something else?

I read in the Engadget review that the regular and smart cam app allows to save only the lower resolution shot if you want

Well Friday I will be in a AT&T store not to buy one, but just to play with the display model.

Question for you Daniel, the camera surround is aluminum correct? So not that I use them often, but those magnetic lenses you reviewed for the L920, do they stick on without the little ring? Could be useful for future stick on lenses with that sensor.

RE: shutter button not turning on the camera, IIRC, the default is to not let the shutter button start the camera in the settings options. Mayeb check that. I would much prefer to have the shutter button of the grip launch the camera like the on phone button.

Would you recommend trading in lumia 920 for the 1020 or just be patient for the next best thing

Any chance I can buy the Lumia 1020 outright from AT&T, get it unlocked and move it over to T-mobile with full network support? The U.S. Version supports LTE Band 4 like t-mobile uses, but I think the AWS HSPA+ is disabled. Would unlocking the phone enable AWS HSPA+??

Is there a chance Nokia will release a similar device to CDMA carriers that require them to use Qualcomm made CDMA components rather than their own (which means every CDMA carrier except Verizon) after the exclusivity period?

Not up to Nokia. Up to the carriers if they want it. Count Sprint out as they are not a WP8 player. They'll just stock the phones but not push 'em (see the 8XT). Maybe Verizon in the future, I can see a variant for them, but there is zero info on that happening right now.

24fps video!!! Awesome!!! Thank you Nokia!!!

I prefer glossy body with zirconium buttons... That aluminum hunch for the camera sure will get scratches and discolor first as what I experienced from my N8

like it , the color of the phone case