New video shows off the Nokia Lumia 1320 in 360 degrees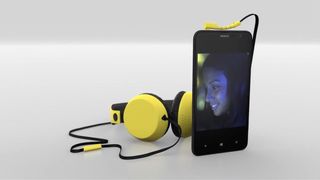 Nokia has released a new promo video for the Nokia Lumia 1320 on their Youtube channel. The video shows off the device with 360-degree views. The big 6-inch display is definitely the highlight. As we go around the device, we see glimpses of Storyteller, camera roll, and Temple Run. We're also liking the background music!
Head past the break to watch the new video.
The Nokia Lumia 1320 is a mid-range affordable Windows Phone device. It features a 6-inch 768x1280 display, 5-megapixel camera, microSD expansion, dual-core Snapdragon processor, 1 GB of RAM, and more. Check out our hands-on video for more details.
The Nokia Lumia 1320 comes in matte yellow, matte black, glossy white, and glossy red. Release dates and pricing are still vague, but we know it will be in Singapore sometime in January.
Does the video make you want the Lumia 1320? Let us know in the comments!
Get the Windows Central Newsletter
All the latest news, reviews, and guides for Windows and Xbox diehards.
I really love this phone. Even if it doesn't come to the states, I'm going to try to get my hands on one. :)

It would be a great option. This would be great released free on contract. I think it is a missed success.

it's the most underrated lumia

Maybe because it hasn't been released anywhere?

That would be the Lumia 820

again, there is windows logo with 2 new messeges... what is this?

Pause at 0:04. To the right of the Skype icon of three missed notifications.

I like the little bell at the top that says 4, after the lock screen goes away and on the home screen....wp 8.1?

Yo Mark, can you buy that thing that's holding your phone with a cap? I want one :D

It has 8 GB inbuilt storage that is very bad. The OS itself takes 1.9 GB space and thereby 7.1 GB is left for application and games. Wish Microsoft give us chance to install application and games on memory card.

8 minus 1.9 = 15.1GB not 7.1 :P :P ;)

My maths is not good. Very terrible !! By the way 8gb-1.9 gb= 6.1gb. And 6.1 gb is useless because of high end application and games. This device must have atleast 16gb.

I agree with 16GB it would be sweet 8GB is too low unless MS updates the OS to be able to use SD for installation.

If only they make a 5" version

625 doesn't have 720p screen

Nice phone and cheap too...

I am desperately waiting for Lumia 1320 in India. Nokia please release this phablet in India soon. Plzzzzzz

And in Thailand, Lumia 1320 will available in first quarter of 2014. Head of Developer from Nokia Thailand said to me.

What is the price going to be

i want the track playing in the backround and the phone

any news or rumors on a 5 inch lumia?execept that verizon 929 version,I mean an international version

I heard it's not coming till next year.

Every day from nokia one phone

Not interested. I'll pass and wait for something better.

What are those headphones?

I actually prefer the look of the 1320 compared to my Lumia 1520. It looks a lot better in my honest opinion.

From some angles, I agree. But not overall. Yet it is sexy in black and yellow. It is not an either or, though, because you buy the 1520 for the 21-megapixes, Snapdragon 800 et al

Cool. I have the 1520, but the 1320 makes for a good girl's phone

This phone seems a natural for T-Mobile, puzzled why that didn't happen.

They probably gonna carry the 1325 variant....in six months! and Nokia wonders why High End phones don't sell!

Which headphone is that? Anyone...