How good is it? Nokia Lumia 1520 camera samples
A first look at the Lumia 1520's 20 MP camera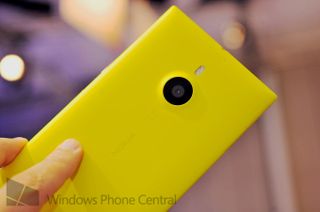 This morning, Nokia finally pulled the wraps off of the Lumia 1520, a device with a massive 6-inch 1080P display. But besides the great display, the Lumia 1520 also features an outstanding PureView camera with a 20 MP sensor. In addition, the algorithms for the camera app have been improved for better noise reduction, tone mapping and oversampling when compared to older Lumias. We'll have more on that shortly in our Juha Alakarhu interview.
So how good is the Lumia 1520's camera? Even though Nokia wasn't keen on publishing samples, possibly due to some last minute tweaks needed, we have a handful to show off the camera's prowess. Our off the cuff analysis? Pictures were very sharp with improved noise reduction over the 1020 and other Lumias. We really like what we saw in terms of image quality and especially the speed in processing, thanks to that quad core processor.
Don't worry though, we hear that a lot of the image quality improvements are coming to all PureView cameras with the Lumia Black firmware.
Remember, the 1520 isn't just another Lumia camera, but rather it improves upon things, even in optical image stabilization (OIS). We'll have a sample of that a bit later, but for now, can check out the following images and we'll let you decide.
Daniel Rubino is the Executive Editor of Windows Central, head reviewer, podcast co-host, and analyst. He has been covering Microsoft here since 2007, back when this site was called WMExperts (and later Windows Phone Central). His interests include Windows, Microsoft Surface, laptops, next-gen computing, and arguing with people on the internet.
Any info on the sensor size?

Yup, thats a pretty damn sweet little Camera! 20mp is plenty good enough!

Nice little pic of the green white and gold Ireland flag :-)

Please do side by side with 920 and 1020.

They will...but not until at least early November, by which time they either get a review unit or get one from AT&T.

I have a red 920 won't do that again its a print magnet and I don't use cases that often.

I think all the glossy cases are print magnets. When I got my red Lumia 920, the AT&T store guy sold me a Life Shield adhesive-plastic coating for front and back, and applied it for me (he had a lot of experience). I don't regret it. It was spendy ($30), about the same as cases cost.
No fingerprints front or back! Whatever kind of plastic they use, it resists fingerprints, even on the screen where I tap and swipe all day long. The back covering has a matte finish. After 7 months of abuse, my phone still looks brand new.
I'd definitely buy a red 1520! The color choices on the 1020 (and the fact I really don't need an uber-camera) put me off.

I wouldn't get the black, but they should've made a black model. Most phones should at LEAST have black and white.

I see Ali in those pics! <3

Same thing I thought...I was like "Wait...isn't that????" Go MNB!

Cortana is developed by Microsoft not Nokia. So no

can we take 16 MP shots only? not dual capture. does oversampling works with it 16 MP also? thank you for answering :D

i believe no. 16mp is 16:9 full reso.
you need 5mp +16mp dualcapture mode to get the 16mp photo


I always find it hard to get an impression of photos taken during a keynote or press event. Somehow the lighting seems optimized and most photos of every brand show a lot of blue and red. Most photos are also fine. The proof of the pudding will actually be in the field, thus at home or outside in the real world. Thats what matters.

I will look like a complete douche using it in public but my God I will do it. Especially given it has qi built in, this is my next device. Wish they made red matte though, that's the only gripe I have.

The only reason I'm buying this device is just so I can offend people!! :)

All this good info makes me want a AT&T 1520, must resist! I need to keep saying "extremely slow updates"! I hope to hold out for a unbranded version.

Who cares now that we can download them from Microsoft. :)

Can hardly wait for these improvements to hit the 1020.

Me too . I cant imagine pics from the 1020 if the picture quality increase from the first firmware update for the 920 is taken into account.

I have the 920 and an lgg2 . The perfect device would be the G2'S GUTS WITH wp8. The 1520 is too large

lg's making a windows phone soon


Tired yet Daniel? Or you still buzzing from this event

Wow! That's awesome! Hopefully it won't take too long to get one in Australia!

While it looks wonderfull, how much of PITA is it to use on a daily basis? My 920 fits in my jacket pockets and can still fit in my front pocket and my whole hand can fit the phone when talking on the phone. How weird? different? awkward is it to use a big phone like this to make calls?


Go to a local wireless shop and try out the Galaxy Note 3. The 1520 is a bit taller and a smidge wider but you'll get the general idea. These things are big, no doubt. Awkwardness will depend very much on how large your hands are and how dextrous you are.

Wow this is looking like the phone to own!

Any good news regarding lag between each picture taken? Quad Core + 1/2 the Megapixels from the 1020 should be better to handle right?

I know now that I will have a real tough time to decide between L1520 and the upgraded L1020 (Snapdragon 800) next June. My wife's contract is due and I get a chance to upgrade to a new phone while swaping my L1020 to her. Hopefully, the next version of L1020 will have 5" display with 1080p. That would make things easier. The L1520 pictures are stunning as well.

Im happy with my 1020, but hopefully this is the target of many.

These are relatively low-light conditions for a camera phone, yet the pics look good.

I'm actually tent do belive they are shrinked pictures for the purpose of looking beter. The pictures do look ok but not good, or not even half as impressive as they look if shot with 1020. Sorry, I'm being only fair but if you look to te originial pictures which I suspect are double size then the posted ones, I guess they won't look so "good" anymore

WTF happened with the 929 for Verizon? Better come soon or I may go back to Android.

im now on android cause my 521 is broken, and my 900 isnt unlocked, on tmobile now, so I got an lg g7, liking android but missing wp8, cant wait to come home again, wish the taskbar/ notifaction comes soon to win 8, that would be the only thing id miss.

I know lighting is never optimal in those large convention halls, but I am not impressed by these images at all. I thought the update was supposed to be less grainy, yet these pictures have a lot of obvious graininess to them. And that's coming from someone who is very happy with his 925 camera.

Very nice. 1520 huh? Hmmmm

So much hype is put into Nokia's cameras, and they consistently underperform. They have yet to combine their hardware/software into a satisfactory user experience.

Even though Nokia wasn't keen on publishing samples, possibly due to some last minute tweaks needed,

Yeph that's not the final product/images I hope.

1600 x 1200 pictures? Have you shrinked their resolution? I'm assuming the phone takes pictures around double resolution size from what you have uploaded. I'm asking this because I suspect by shringing images you actually promote bad pictures to look like decent pictures. These images look alot worse then 1020 pictures. Brag all you want but 1600x1200 is 25% from what nokia lumia 1020 actual picture resolution ~4400 x 7000. And resolution isn't all, but I'll stick to the resolution part since I see unbalenced exposure (random usage of settings) in those pictures, so other discussion about anything else is not relevant. Be my guest, promote 1520 as the best photo shooting phone, but as it looks now, in therms of pictures, 1520 is alot worse than 1020.