China Nokia Lumia 510 reviewed, lacks surprise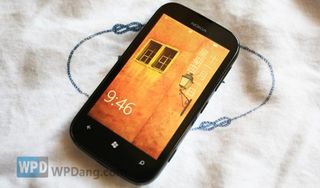 We have heard of a new low end unit in the Lumia family of Nokia's for a while. Lumia 510, the successor to the Lumia 610, with a curiously lower number for a name. Thanks to the timing of its debut, some might have expected it to be a Windows Phone 7.8 device. The Chinese folks just got a real unit and had a quick review. Overall, the Lumia 510 is a nice enough budget device, but totally lacks any real surprises.
The Lumia 510 comes with a 4" TFT LCD screen, in WVGA resolution. For processing power, the phone works on a Snapdragon S1 processor, coupled with 256MB of RAM and a petty 4GB internal storage. This puts it on par with Lumia 610 in terms of performance. The lack of internal storage could be some real pain though, since the phone doesn't support storage cards.
As to OS version, sorry guys, no Windows Phone 7.8. Lumia 510 comes with a stock build of Tango (7.10.8779.8), and a slightly more advanced firmware version (1102.0000.8779.12392). A user probably won't be able to find any visible difference between the Lumia 610 and 510 in terms of OS appearance. So, those who have bought the 510 already, or are planning to do it, will have to wait for weeks along with everyone else for the global roll out of Windows Phone 7.8 update.
Since this is a Chinese unit, there are variations and rip-offs. The date on the lock screen are written vertically, so are contact names in the messaging interface. Twitter and Facebook are yanked out of the People Hub. Xbox Live is hidden but not removed. If you log into the phone with a US Microsoft account, the ugly "Games" tile will suddenly change back to Xbox Live.
Lumia 510 has a removable back cover, which comes in a plethora of vivid colors. Feel free to buy a few of those and switch around. The camera is a let down. Having a 5MP camera, without flash, and the lens does not bear Nokia's iconic Carl Zeiss logo - but seeing as it's a low-end device, it's to be expected.
With everything considered, price seems to be the only proposition of sales for Lumia 510. The phone will probably hit the Chinese market at CNY 1,399 (US$ 224), cheaper than the initial price of Lumia 610 (CNY 1,699). However, these days, with a few extra bucks, you can buy a decent Lumia 800 here with CNY 1,600 to 2,000. Personally I doubt if Lumia 510's pricing could gain it any real attraction.
For pictures of Lumia 510, please hit the source link.
Source: WPDang
Avilable at much attractive price in India (INR 9999 or USD 185) and of course no such restrictions like in China.
http://www.flipkart.com/nokia-lumia-510/p/itmdeuncgew8crgy?pid=MOBDEUNY7...

the htc 8s i around 299€ in Europe, how this model will compare then? :S the price is to high for a wp7 tango low budget model.

what r u talking about? 299 euros is MUCH MUCH more than 224 dollars

ok it is more but 392USD is 299€ and i think the price of 224USD is to high for a 7.5 device in the time where windows phone 8 comes out.

299€? It's selling for 349€ here in Germany.
Lumia 510m is 150€

http://www.pdashop.nl/product/231331/windows-phone-8s-by-htc-grijs-geel.html

look here, Near Germany, Holland to be precise.

Any word on 7.8 release date yet? I can't find anything.

I just read, it will be rolling out in 4-5 weeks. It also depends on your provider and hardware manufacturer.

Probably no hope for my mobile dell venue pro then. The latest supported version is 7720. Since I've dev unlocked it though I have manually updated to 8773.

No from what i've heard 7.8 is released through OTA

I am really disappointed with the tone of this article. Its something that I would expect yo find on WMPoweruser, but not WPcentral. The reviewer states that FB and Twitter were yanked from the OS. Off course this would happen on a phone destined for China. In India and other Emerging markets FB and Twitter will still available.
In addition, why review a sub $200 phone with the same expectation of a $600 phone? Common sense would tel you that costs had to be made to achieve that low cost.
Hopefully this article is a one off and not the start of a worrying trend.

Too expensive. Here in the Philippines, you can buy the 610 brand new and unlocked at sulit.com.ph for $170 or cheaper. In fact, you can find the 710 in the same site for around $200.
Windows Central Newsletter
Thank you for signing up to Windows Central. You will receive a verification email shortly.
There was a problem. Please refresh the page and try again.