Nokia Lumia 520 and 720 Windows Phones evidently exist and are coming soon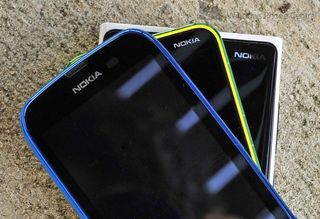 With Mobile World Congress 2013 just around the corner, it makes sense that we start hearing about some new phones from Nokia. Up on the list are the Lumia 520 and Lumia 720, expected sequels to the current Lumia 510 and Lumia 710 series but with OS upgrades and more refined specifications.
The news come via recent filing with Indonesia's equivalent to the FCC, lending heavy credence to their existence (that and we are expecting a 710-follow up with Windows Phone 8). The Lumia 720 (RM-885), listed as manufactured in China, could be destined for many markets including T-Mobile US where the Flame was recently outed. Likewise, the Lumia 510 (RM-914) is also listed on the Indonesia filing.
The document does not give any details, but an unknown and evidently non-confirmed source reportedly gave the specifications of both devices to MyNokia Blog. Because of that, we have to take these with an extreme amount of caution, seeing as this could easily be made up. Having said that, let's not kid ourselves—the 520 and 720 are entry level and mid-range phones, so their features shouldn't be too extravagant.
Lumia 720 (aka "Fame"): 4.3-inch ClearBlack Display, 1Ghz Dual-core processor, 512Mb RAM, 8GB storage, HSPA+, microSD, 6MP camera and 2MP front camera.
Lumia 520 (aka "Zeal"): 4-inch Super Sensitive screen, 1Ghz Dual-core processor, 512Mb RAM, 8GB storage, microSD, 5MP rear camera and no front camera.
The anonymous sources were sure to point out the word "devices," when they said that there would be five of them unveiled at MWC. This denotes that we may see what has been a long-anticipated tablet from the Finnish manufacturer.
Our rumor rating on the Lumia 520 and 720 existing:
Our rumor rating on the above specs being accurate:
Also expected is further word on the rumored 41MP EOS Windows Phone.
We'll be feeding you more info as we get it, including when we are live at Mobile World Congress.
Source: Indonesia Directorate Post & Telecommunication; MyNokiaBlog; Via: PhoneArena
Windows Central Newsletter
Get the best of Windows Central in in your inbox, every day!
I can't wait for the 720, but hope it is released in time for my move overseas. I have a feeling it won't and will have to get 620. But I am keeping my fingers crossed.

I hope the 720 comes with wireless charging covers to make QI more affordable and popular, before Apple kicks in with their proprietary bullpoop solution.

Yeah, and then Apple suggest that they came up with this technology, and all the i sheep think they have the most innovative devices once again.. Lol! Fuc#in clowns.. Lol!!!

The 710 is still my favorite Lumia design. In a perfect world I'd want a 4-4.3 HD 7xx phone with a 9xx camera.

Wow! Really? You even like it better than the polycarbonate 920?

l800 is looking better imo

I'm with falcon304. I get that many people like the bigger screens, but for me the 920 is simply too much. I'd pay a premium for the features of a 920 or even 820, but in a 710 or slightly larger form factor. Unfortunately that size phone seems stuck in the lower-mid to low end range.

The specs look good for mid-lower end phones; hopefully increased affordability will bring more people to WP.
However, I can't see the 520 having a 4.0" screen when the 620 is smaller at 3.8".

The 510 has a 4" screens while the 610 has a 3.7" screen, so a precedent is there.

Fair point.
It just seems to me that 520 has slightly better specs, i'll guess we'll find out at the MWC.

A 720 isn't needed with the 620 there to be honest, though what'd be the logic in fitting it with a better FFC than the Lumia 920?

720 needed there is an empty space between 620 and 820 some people can afford a phone higher than 620 but don't want to spend more on 820 , 720 will have perfect specification between both remember multiple choices always good for consumers. also that gap between 820 and 620 filled with android phones so there need to be a windows phone to compete in that area



I'm skeptical on the 6MP camera thing, and also the 4.3" screen for the 720.
My guess would be a 720 would ideally be the same processor as the 620, but with more storage, a 4" screen and ideally an option for wireless charging. Its possible for a 4.3" screen, but I am starting to wonder here if the >4" screens are not the best size even (a lot of people are making those sized screens, but maybe we'll see a move back down in size?).
As for the 520, I have no idea, the old 610 used to have 1/2 the memory, not really sure how they can shave any more off the phone short of removing the front camera...

Its definitely good news that they are coming, its also good news in a way that Nokia are still not able to keep up with demand for the 920, they definitely need to have a bumper year this year to get firmly established.

Because it would give it a better selling point over other phones in its class.

Yawn. I wish they would come up with more high-end devices for T-Mobile. Maybe that's Magenta's fault.

As in Brazil everything arrives late, the 720 and 520 Lumias should be released here at the end of 2013. The Brazil is an important market for low-cost smartphones, where only the Samsung has won with its galaxy line.

The 710 is sharing the same cpu & ram with the 800, 900. Until i am proven wrong this is what i am expecting with the 720 vs 8-920s.

I hope the 720 fits the mid-range bill well...the rumoured specs seem to suggest so, but it'd be nice to see them make it compatible with wireless charging (through a custom removable back cover)

Glad Nokia has it's footing back! Now they can start slamming high spec, low-end phones down the competitions throats. Po apple.

They actually need to make a "820" which would be a smaller 920 for people who don't want such a large screen.. It should be 3.8-4 inches max!!! Then all bases would be covered..

Agree, need a solid 4"phone!

lumia 800 design with 920specs would be killer phone

I read that its called Flame

Flame is the correct Codename

Wow, this news came in right at the door of 620 launch in Indonesia, which is today. I was thinking of getting a 620 but now am slightly tempted to hold on until 720 specs & price are confirmed.

http://news.yahoo.com/nokia-lumia-620-coming-indonesia-101114804.html

Im really looking forward to the 720/Zeal since the 620 hasnt got enough battery time/mah for me (please get the review ready :D). I guess it'll have 1 gig of ram because there wouldnt be a difference besides screen size and design to the 620.

Here we go again, getting the masses all stirred up :)

If the 720 gets only 512MB RAM, this puts it firmly in the low-end category together with the 620 and 520.. I was hoping for a 1GB RAM. I would rather that it gets only a 4.0" screen size but a 1GB RAM because this puts it closer to mid-range WP8 devices rather than low-end, and would cluster it in category with the 920 and 820.

My theory is the 520 won't have a bigger screen then the 620 - doesn't make sense.

720 I'm hoping for 1gb ram - 4' screen if it's a low rame device it's going to be a bir of a let down.

I've been eyeing the 720 ever since the 920 and 820 were released. A 4.0" inch, 5:3 screen and 1GB RAM and I'm sold.
I'm doubtful of the specs mentioned. My guess is the 720 and the 520 will just be smaller versions of the 820 and 620.
920 = 4.5", 820 = 4.3", 720 = 4.0", 620 = 3.8", 520 = 3.5". Perfect lineup.

I always check out this website for iPhone alternatives - www.microsoftapple.com - My personal favourite is the Nokia Lumia because of the camera and speed of the operating system.

In India Lumia 520 should be priced under Rs.10K, and more choices around that price range would help nokia.
Windows Central Newsletter
Thank you for signing up to Windows Central. You will receive a verification email shortly.
There was a problem. Please refresh the page and try again.