First look at the ultra-budget Nokia Lumia 530 dual-SIM Windows Phone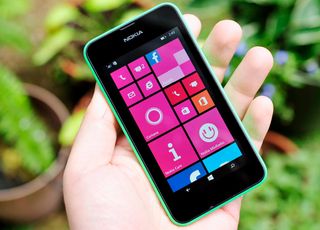 The Lumia 520 is going to go down as the phone that drove Windows Phone in emerging markets and for those who want a budget phone. Therefore, it should be no surprise to see Microsoft pick up Nokia's reins with the Lumia 530, which is just now launching globally.
I managed to get my hands on a brand new bright green Lumia 530 and in the following video, I talk about the features, specs and my first impressions. As it turns out, it very much reminds me of the Lumia 620 in terms of design, and the OS is surprisingly zippy considering the price range for this phone.
Lumia 530
Windows Phone 8.1 (12400) with Lumia Cyan
Quad-core 1.2GHz Snapdragon 200
512 MB of RAM
4 GB of internal memory; expandable up to 128 GB with micro SD
4-inch LCD FWVGA (854 x 480)
5 MP main camera
1430 mAh replaceable battery
10 h talk-time
The Snapdragon 200 is a new addition to the Lumia line (the current Lumia 630 features a Snapdragon 400, instead). Although it only has a 1.2 GHz quad-core, combined with the more recent build of Windows Phone 8.1, the phone is surprisingly lag-free.
The on-screen keys do not sacrifice screen real estate since the display boasts those extra 54-pixels. As a result, the Lumia 530 is still a "true" 800x480 phone, much like its predecessor. The Lumia 530's screen lacks the ClearBlack polarizer found in the 6xx series and up, so there is less contrast by comparison. Still, the Lumia 530's display not look bad at all, and it is an improvement upon the Lumia 520 series (colors are less muddy, and the display being brighter).
The 5 MP camera although not great, is adequate for this price range. See the above image for a sample. Interestingly, the Lumia 530 does not even feature tap-to-focus, let alone a dedicated camera key or flash. You just take a photo and let the limited focus do its thing. Still, the 5 MP camera is better than the previous 520 version.
In terms of design, the Lumia 530 reminds me very much of the Lumia 620 with its rounded corners and back. I like the new look a lot, as the device is flat out adorable and fun to use, especially being only 4-inches for the display.
Being dual SIM, the Lumia 530, which runs between $130 and $170, should fare better in emerging markets where such a feature is a necessity. That price is expected to drop once stores and carriers begin selling it en masse in the coming weeks.
Look for my review of the Lumia 530 likely next week, but so far, I am surprised to admit that I am highly impressed with it.
Daniel Rubino is the Editor-in-chief of Windows Central, head reviewer, podcast co-host, and analyst. He has been here covering Microsoft since 2007 when this site was called WMExperts (and later Windows Phone Central). His interests include Windows, Microsoft Surface, laptops, next-gen computing, and for some reason, watches. Before all this tech stuff, he worked on a Ph.D. in linguistics and ran the projectors at movie theaters, which has done absolutely nothing for his career.
Seems very similar to the 630, very similar. But like you said in this article, there are differences. :)

I've bought one if you need to know something just ask :)

Thnx for your words.! Are u liking the experience..?? :) hows d camera quality

Does the 630 have an equalizer? And Glance? Posted via Windows Phone Central App

Hi, I bought this phone yesterday. the display looks very much grainy.. especially on white backgrounds (e.g. when i scroll through the content on facebook or IE) Is the display really this bad or have I got a faulty device?

Can someone explain how "dual SIM" works. Does that mean both SIMS are "online" and I can receive phone calls on either "number"? Then when I make calls choose which SIM/number to make the call out of? Or... are 2 SIMs in the phone, but only ever 1 online/enabled?

Yes you can use both SIM to call and receive. You can also forward a call to the other SIM, or use it just for data. Essentially any combination of what your plan on each line allows you to do.

intersting, thanks for the info

wow, the clear black really makes a difference

It really does, it's like night and day. But hey, you have to cut some thing somewhere! Even high-end non-Lumia phones do not get ClearBlack. Poor souls :P

+720 I don't get the difference..
Can you do an article explaining it?

just hold the 720 and 520 side by side,huuge difference with clearback

Any search engine can help... http://conversations.nokia.com/2012/02/02/clear-black-and-super-bright/

I guess you have had it in order to miss it after, I was about to get this phone as a back-up but I'll have to expend a little more for the 630

I've got a 630 as backup and it does an amazing job at this. However, there's just some minor problems being that the sim card is really difficult to remove, as the angle to pull it out is really inconvenient, and grip is hard to find. Plus, I need a micro sim adapter as my 930 uses nano but that differs per phone. So think of that before you buy one :)

Is it also missing the oleophobic coating like the 520? Though with a screen protector, I guess this feature wouldn't make a diff.

520 def did not have oleophobic coating

Yes, exactly. So I'm just assuming the 530 doesn't either? Or am I wrong?

You are correct, no oleophobic on that either ;)

Sir Daniel, it'd be really awesome, if you have the time to make a podcast after the IFA event. I love listening to your podcasts and there hasnt been an episode among the wpcentral crew in a long time.

625 hasn't clearblack display!

Ah, but we get Super AMOLED displays. Even high end Lumia phones do not get Super AMOLED. Poor Souls :P

Super AMOLED is a display type like LCD (each has its own advantages and disadvantages) not a display tech for sun legibility like clearblack. Besides, AMOLED Lumia phones get their display panels from Samsung (not the mobile unit obviously), so high end Lumias like 1020, 930, 928, 925 and 820 have super amoleds + clear black...which is poor now?! :p

LMAO you must be feeling like an idiot now, Lumia 820, 822, 925, 928, 1020, 930 all have Super AMOLED display.

So they replaced the beautiful cyan color with this adorable bright green...right? Hope we had both choices.

+620 the 620s screen looks more vivid as compared to the others :)

+620 The Lumia 620 is still the best price-quality Lumia ever!

Whatevs. I was using a 620 for a while and it was shit. The internals collected dust like there was a vacuum inside it. The screen was all buggy and unresponsive... and also tiny, compared to an iphone with almost the exact same actual screen size. ALSO where is the 620 cyan update? The 630 is a far better dog and bone in all respects.

Both are great but 620 is better.

No it's not, get your facts right, to start with, the 630 its almost lagless. Then it has a 4.5 inch IPS clearblack display feauturing corning gorilla glass 3. Not to mention that it is a quad cor @ 1.2ghz.

You are comparing the budget 620 to an iPhone. Let me remind you, the Apple guys stubbornly said that "3.5 inch is the best screen size" for 6 years until iPhone 5. Lumia 620 has a better screen size than iPhone 4s. It also has a file manager, Bluetooth ftp, nfc, SD card slot,etc which the iPhone does not have. Also, has flash, front camera,NFC, proximity sensor, etc which the 630 does not have, but is fair considering the fact that the 630 is way cheaper than the 620 at launch, and the 630 is the actual successor to the 520, not the 530.

I'm using a 620 for 2 years now and I'd say it's great for work, entertainment and fun. My eldest daughter uses a 625 for work and fun while my youngest uses her 630 for university, her phone is "connected" to her university's servers so she gets her homework done thru her 630.

+620 IMO, it's still the best jam-packed phone ever from Nokia. ;)

I think the 512 thing is less of a concern these days. We barely use the 'not available for 512 MB' graphic.