First look at the ultra-budget Nokia Lumia 530 dual-SIM Windows Phone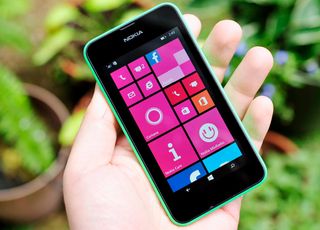 The Lumia 520 is going to go down as the phone that drove Windows Phone in emerging markets and for those who want a budget phone. Therefore, it should be no surprise to see Microsoft pick up Nokia's reins with the Lumia 530, which is just now launching globally.
I managed to get my hands on a brand new bright green Lumia 530 and in the following video, I talk about the features, specs and my first impressions. As it turns out, it very much reminds me of the Lumia 620 in terms of design, and the OS is surprisingly zippy considering the price range for this phone.
Lumia 530
Windows Phone 8.1 (12400) with Lumia Cyan
Quad-core 1.2GHz Snapdragon 200
512 MB of RAM
4 GB of internal memory; expandable up to 128 GB with micro SD
4-inch LCD FWVGA (854 x 480)
5 MP main camera
1430 mAh replaceable battery
10 h talk-time
The Snapdragon 200 is a new addition to the Lumia line (the current Lumia 630 features a Snapdragon 400, instead). Although it only has a 1.2 GHz quad-core, combined with the more recent build of Windows Phone 8.1, the phone is surprisingly lag-free.
The on-screen keys do not sacrifice screen real estate since the display boasts those extra 54-pixels. As a result, the Lumia 530 is still a "true" 800x480 phone, much like its predecessor. The Lumia 530's screen lacks the ClearBlack polarizer found in the 6xx series and up, so there is less contrast by comparison. Still, the Lumia 530's display not look bad at all, and it is an improvement upon the Lumia 520 series (colors are less muddy, and the display being brighter).
The 5 MP camera although not great, is adequate for this price range. See the above image for a sample. Interestingly, the Lumia 530 does not even feature tap-to-focus, let alone a dedicated camera key or flash. You just take a photo and let the limited focus do its thing. Still, the 5 MP camera is better than the previous 520 version.
In terms of design, the Lumia 530 reminds me very much of the Lumia 620 with its rounded corners and back. I like the new look a lot, as the device is flat out adorable and fun to use, especially being only 4-inches for the display.
Being dual SIM, the Lumia 530, which runs between $130 and $170, should fare better in emerging markets where such a feature is a necessity. That price is expected to drop once stores and carriers begin selling it en masse in the coming weeks.
Look for my review of the Lumia 530 likely next week, but so far, I am surprised to admit that I am highly impressed with it.
Daniel Rubino is the Executive Editor of Windows Central, head reviewer, podcast co-host, and analyst. He has been covering Microsoft here since 2007, back when this site was called WMExperts (and later Windows Phone Central). His interests include Windows, Microsoft Surface, laptops, next-gen computing, and arguing with people on the internet.
Seems very similar to the 630, very similar. But like you said in this article, there are differences. :)

I've bought one if you need to know something just ask :)

Thnx for your words.! Are u liking the experience..?? :) hows d camera quality

Does the 630 have an equalizer? And Glance? Posted via Windows Phone Central App

Hi, I bought this phone yesterday. the display looks very much grainy.. especially on white backgrounds (e.g. when i scroll through the content on facebook or IE) Is the display really this bad or have I got a faulty device?

Can someone explain how "dual SIM" works. Does that mean both SIMS are "online" and I can receive phone calls on either "number"? Then when I make calls choose which SIM/number to make the call out of? Or... are 2 SIMs in the phone, but only ever 1 online/enabled?

Yes you can use both SIM to call and receive. You can also forward a call to the other SIM, or use it just for data. Essentially any combination of what your plan on each line allows you to do.

intersting, thanks for the info

wow, the clear black really makes a difference

It really does, it's like night and day. But hey, you have to cut some thing somewhere! Even high-end non-Lumia phones do not get ClearBlack. Poor souls :P

+720 I don't get the difference..
Can you do an article explaining it?

just hold the 720 and 520 side by side,huuge difference with clearback

Any search engine can help... http://conversations.nokia.com/2012/02/02/clear-black-and-super-bright/

I guess you have had it in order to miss it after, I was about to get this phone as a back-up but I'll have to expend a little more for the 630

I've got a 630 as backup and it does an amazing job at this. However, there's just some minor problems being that the sim card is really difficult to remove, as the angle to pull it out is really inconvenient, and grip is hard to find. Plus, I need a micro sim adapter as my 930 uses nano but that differs per phone. So think of that before you buy one :)

Is it also missing the oleophobic coating like the 520? Though with a screen protector, I guess this feature wouldn't make a diff.

520 def did not have oleophobic coating

Yes, exactly. So I'm just assuming the 530 doesn't either? Or am I wrong?

You are correct, no oleophobic on that either ;)

Sir Daniel, it'd be really awesome, if you have the time to make a podcast after the IFA event. I love listening to your podcasts and there hasnt been an episode among the wpcentral crew in a long time.

625 hasn't clearblack display!

Ah, but we get Super AMOLED displays. Even high end Lumia phones do not get Super AMOLED. Poor Souls :P

Super AMOLED is a display type like LCD (each has its own advantages and disadvantages) not a display tech for sun legibility like clearblack. Besides, AMOLED Lumia phones get their display panels from Samsung (not the mobile unit obviously), so high end Lumias like 1020, 930, 928, 925 and 820 have super amoleds + clear black...which is poor now?! :p

LMAO you must be feeling like an idiot now, Lumia 820, 822, 925, 928, 1020, 930 all have Super AMOLED display.

So they replaced the beautiful cyan color with this adorable bright green...right? Hope we had both choices.

+620 the 620s screen looks more vivid as compared to the others :)

+620 The Lumia 620 is still the best price-quality Lumia ever!

Whatevs. I was using a 620 for a while and it was shit. The internals collected dust like there was a vacuum inside it. The screen was all buggy and unresponsive... and also tiny, compared to an iphone with almost the exact same actual screen size. ALSO where is the 620 cyan update? The 630 is a far better dog and bone in all respects.

Both are great but 620 is better.

No it's not, get your facts right, to start with, the 630 its almost lagless. Then it has a 4.5 inch IPS clearblack display feauturing corning gorilla glass 3. Not to mention that it is a quad cor @ 1.2ghz.

You are comparing the budget 620 to an iPhone. Let me remind you, the Apple guys stubbornly said that "3.5 inch is the best screen size" for 6 years until iPhone 5. Lumia 620 has a better screen size than iPhone 4s. It also has a file manager, Bluetooth ftp, nfc, SD card slot,etc which the iPhone does not have. Also, has flash, front camera,NFC, proximity sensor, etc which the 630 does not have, but is fair considering the fact that the 630 is way cheaper than the 620 at launch, and the 630 is the actual successor to the 520, not the 530.

I'm using a 620 for 2 years now and I'd say it's great for work, entertainment and fun. My eldest daughter uses a 625 for work and fun while my youngest uses her 630 for university, her phone is "connected" to her university's servers so she gets her homework done thru her 630.

+620 IMO, it's still the best jam-packed phone ever from Nokia. ;)

I think the 512 thing is less of a concern these days. We barely use the 'not available for 512 MB' graphic.

Yeah but some day we'll have: not available for 32 bit phones. Hopefully I mean think of how awesome the phones will be!

We barely got there on PC. Chill.

Nice one, i like the low budget range.

A little correction. It should be taking/picking the 'reins' and not 'reigns'. Posted via the WPC App for Android!

Cool. Posted via the WPC App for Android!

What sensors are missing in this phone?

Prett much all of 'em, lol. No FF camera, no light sensor, no NFC, etc. It does detect tilt though!

Exactly why I bought my son a 920 about 10 days ago for $110 on eBay. Rather have the older high end than the newer low end phone.

Yeah, the older models since they're getting more affordable (if not that cheap), it's tempting to get these instead unless your really on tight budget, these low-end phones isn't a bad choice at all.
What I just wished though is they should have at least front-facing camera too, VGA of course. Missing some sensors is understandable, except if they omit accelerometer and GPS which is totally not acceptable for smartphone these days. I think front-facing should be the standard even for new low-end since most of the low-end Android phones I saw have this, people I know having low-end Android do use front-facing camera for occassional video calls and some "selfies" (even though the camera is ugh).

Exactly the same as the 630. No ambient light, no screen proximity, and no compass.

It doesn't! I thought it did because maps and nav work fine.

Best phone available for €100.
"Although it only has a 1.2 GHz quad-core, combined with the more recent build of Windows Phone 8.1, the phone is surprisingly lag-free." I can't see what's surprising given that Windows Phone has always been fluid on any device.

Earlier builds of 8.1 that came with the 630 were far less impressive, with stuttering and general slowness. As those updates have come out, the difference in performance from 12359 to 12400 is noticeable.

Ok, thanks. I must have missed that part.
Another question: it has swappable covers, right?

Yup, they pull off with ease, change the colors, etc.

Right. The same thing would be nice on high-end phones.

Except that it would make the phone feel samsung-cheap.

I wouldn't mind if it meant removable battery and micro SD. (on a high end 6in). Nokia/MS know how to make quality phones.

Lol I got 620 for 60$ ,waaaaaay much better! All sensors,nfc
But ppl don't know :(

But with the 630 you get a 920 like 4.5 inch screen, clear black, corning gorilla glass 3, sensor core, quick charge 2.0, quad core processor, fm etc. And the 630 launch price is way lower than the 620s launch price.

Have tryed to think for a second and maybe realize that some people, don't give a fuck to camera, sensors and all those bullshits that make you pay more for device? I am one of those guys...the camera is quite impressive during day light, which is exactly when i get my photos, when i get, which is quite rare.

Prestigio 8400 costs 79€ and it is better than L530.

what's with the 512 ram? how can ram cost that much?

Why wouldn't they? Makes the phone cheaper without losing anything in performance, helps ensure an acceptable margin, allows them to whole sale it cheaper to carriers, requiring less subsidies from them, more and more apps are compatible also with 512MB devices, provides differentation within their own lineup of devices etc.


an extra 512 mb shouldn't be that exensive

Yes I know. I guess you did not get my point. Hint - it's not the only part in a phone. :)

You are correct that an extra 512 MB or RAM costs little, about $3. However, if you sell 8 million of these devices, which isn't too much of a stretch, then that amounts to an extra 24 million in revenue. While I pesonally agree that 512 MB phones should be a thing of the past, there is a cost argument to be made for 512MB, at least from the OEMs perspective.

Likely to be my daughter's first phone when it comes to Verizon. Either that or 635. Will definitely drive more adoption for the platform though.

I have a 630. If you are ok spending the few extra $ for the 635, I say go for it. The polariser on the screen, double the on board flash ram, and the bigger battery will make a big difference. With 4GB of on board flash, there will probably be 512MB left free (the OS will take the rest). Not much space to put any apps on, without getting an SD card.

Forgot one other thing. The 635 screen is made of Gorilla Glass. Kids drop things more often than adults, right?

It is, just like the 630. But if it falls it will break just like another phone lol. So don't really think that Gorila glass will make any miracles...it's more propaganda like i think.

I thought both 630 and 635 have same RAM.

They do. But we are not comparing those two phones.

Ah, sorry I thought you the other ram, did not read carefully.

Cool a budget phone w/ dual sim. Can we argue about how high end phones dont have this and this should be considered a 'lower high end' phone? Lol. Weirdos

I Agree. We need a high end dual sim phone. Dual sim is not only for budget limited people , but it's also very useful to have a personnel/professional number for most of the employees ...

If they can sell them on contract, they'll want it.

Why would they want to pay more to Nokia for a dual SIM model of they can sell a single SIM model all the same?

Fuck the USA carriers, most of the world buys phones off-contract and pays for the service. They can release it internationally and on Amazon for USA customers.

Between 130 and 170 $ ? Are you serious ? The single sim version is at 110$ and the dual sim at 120$ on most online stores ...
You can even get it for 99$ with some coupons...

I'm serious! Check eBay. Check Brazil. Check UK markets.

In France , Italy and more countries in Europ you can easily get the single sim version for 90€ ( 118$) and the dual sim version at 99€ (130$)

In UK , it's even cheaper : 60£ for single sim (99$) , 70£ for dual (115$)

In the UK, as we reported yesterday, it's closer to 83£ for preorders online with VAT.

Will probably be about $50 her in the USA

Definitely won't be that cheap at launch.

It's £69.95 PAYG on Vodafone, O2 and Virgin Mobile (via Carphone Warehouse) currently.

Will you review Prestigio 8400 or 8500? They cost 79€/150€ in EU(Prestigio Plaza).

There is a reason it doesn't have tap to focus. It's because the camera is a fixed focus one, there is no autofocus.

I'm just wondering what the advantages of dual-sim phones are?

In my case i would say : To have a personal and professional line : A number you give to clients/customer/business associates/collegues. Another one for family / friends , etc ...
Some people like to have at least some privacy and not be harassed by work during vacations/family dinner , etc ...

Another advantage would be to benefit from the services of 2 carriers.
For exemple a prepaid on one card , and contract in the other. Let's say I prefer Verizon 4g coverage in one particular area , but I prefer at&t when I move to another place ( for people who travel a lot / work far from home )

In my case, I'm in Europe and I live in a country but study in another, it's useful to have both sim in one device active at the same time rather than carrying two phones or switching them. I'd love to see this become available on a high-end phone though

Thanks! I don't think I need one but it's all down to personal opinion and need, I see. Thanks again!

Not sure what everyone else thinks, but in my opinion the 520 is still a better deal. I'm sure it will do well in the markets they want it to, but if those markets still have the 520 as a choice at the cheaper price....dunno.

Older is always cheaper, so that's not really news. The Lumia 520 is a great deal, no doubt. The question is, for its price range, does the Lumia 530 improve upon the 520 in any way? So far, I'd say yes. Don't forget, when the 520 came out, it wasn't the $49-$90 that it goes for now, so it's all relative.

Good points. :) I'll reserve further judgement for after the full review and details of the improvements. Not being snarky, I just don't see the improvements...but, I don't have one in hand either. :)

Point taken about the launch price of this compared to the 520. I still think the price the 530 is launching at is amazing and really shows there was no need for Nokia X, ever. But when it comes to whether the 530 is an improvement, it's a wash at best. Clearer screen, faster processor vs less flash ram, slower graphics co-pro, worse camera, no camera button and thicker.

I thought the camera is the same, but they certainly are skimping on price (and probably quality)

Nope, the 520 has an autofocus camera, the 530 has a fixed focus camera. The camera is definitely a downgrade.

Then most of the phone is a downgrade, pity. Still, I've still got my superior 520, still a great phone. Still.

It's also a much cheaper phone, do people even know how expensive the Lumia 520 actually was? Even the 630 is cheaper than the 520 originally was.
The 530 is not a 520 successor.

Depends where you were. The 520 launched at $150.00 (straight out, no contract) here in Canada.

Exactly. In fact, 520s announcement price was much higher than 530's was/

I suppose the quad core processor is something, but the release of the 530 really isn't enough of an improvement over the 520 to justify replacing the 520. It is just too similar in design to the 630, in spec to the 520 and the on screen buttons make the bottom part look so empty. And rounded corners are a no-no for me on such a small device. I'm not against the 530, I just don't think it's really much better than the model it's meant to replace (and I only replace a phone very gradually). The price is something, but I'd rather get a midrange phone that justifies a purchase (or upgrade, depending on how you look at it, such as the inevitable 730 or 830.

Maybe but the markets and marketing always needs something new and a new model always allows charging a bit more.

Ugly, very ugly!!!
This is downgrade from 520. Less memory, no camera button, thicker, uglier.
Shame on Nokia for not following on their most successful phone so far: 520.
I will rather buy 525 then this ...

Actually nokia have shifted around their lineup a bit. Daniel is a bit mistaken in thinking that 530 replaces 520. The true follow up to 520 is 630, and 530 sits in a lower level and will eventually be cheaper than what 520 managed to achieve..

530 replaces the 520 as the cheapest phone in the lineup...
and apparently, the current lineup clearly states the differences between the 5xx, 6xx, 7xx, 8xx, and 9xx... remember how vague it was to compare 625 and 720?

It is the cheapest, but it doesn't directly replace the 520. 530 has lower specs and sits in a new, lower-level tier. 520 started at a higher price point compared to 530, and eventually 530 will be even cheaper than what 520 sells for now. 630's starting price is about the same as 520's back then, and on the spec level, they are much closer. Yes, it seems that the differences between x30 phones are more pronounced.

$130 vs $183. See the difference?

We never got a Lumia 630 complete review, which was in works since it arrived at wpcentral... Or did we??

A lot has happened during that time. Mark and I are going to do four reviews, starting next week, including the 630/635.

They're certainly quick to replace them if they break, so there must be a warehouse with hundreds of thousands of units in them

630 review? I'm still waiting on that 1320 review to go up!

Looks cool...btw just a doubt did Ms stopped producing 520 units in the market??

I would expect they stopped making new 520s and 525s a while ago, but there will still be a lot of them in the supply chain and in the hands of vendors - sold, but not yet sold on.

What 530 camera is better than 520??. How??

Daniel, Apparently 530's camera's main difference is the lack of auto-focus; it's fixed focused. 520, 620, 630 and 635 have auto-focus cameras. http://developer.nokia.com/devices/device-specifications/nokia-lumia-530

We need some benchmarks Dan, folks in forums have been fighting over weather to consider the 530 as an upgrade to the 520...need to clear some air LOL

The Lumia 630 gets a BaseMark OS II score of about 440-460. The 530 has a slower graphics co-pro but everything else is the same, so expect it to be a little bit down on that. The 520s score is around 300, so it should come out as significantly quicker overall. But as others have said, the 630 is much more like the upgrade to the 520, the downgraded Flash Ram and camera suggest the 530 is targeted even lower than the 520 was.

If the 635 is going for $130 at T-Mobile, I'm curious how much this phone will cost. Even more curious to find out how much it'll cost when the price drops (like what happened to the 520). I need a backup phone incase I drop my 1520 again XD

Just my two cents, but I would consider the 630 to be the successor to the 520. It appears to me that they decided to focus more on the low end by leaving more room at the lower end. This phone is a downgrade in almost every way to the 520.

What are the bands on the dual SIM? Will it work on tmobile / wind 1700 AWS?

http://www.nokia.com/global/products/phone/lumia530-dual-sim/specifications/ WCDMA network: 900 MHz, 2100 MHz GSM network: 850 MHz, 900 MHz, 1800 MHz, 1900 MHz

Nope. More's the pity! Here's hoping they make a North American version of this, and keep the dual-SIM nature of it intact.

Ms/Nokia gotta increase production volumes and make these 530's available everywhere for cheap price at least during iPhone 6 launch! I don't see that agility from MS's own devices team!

I like the square phones better. So 520 still looks better for me.

So many budget Lumia's it's confusing. Couldn't they just combine the best specs and features from the 520, 530, 620, 630, and 635 into just one new budget Lumia and offer it at an attractive in between price?

Nokia be like: OPPAN SAMSUNG STYLE!!

520 and 620 will be out of market soon and only 530, 630 and 635 will remain.

The bottom end is difficult. They are not much different for us.... is just not a option for some. Entry level (520/530) can exceed the budget already for some people and the 635 may be viewed as premium. You can overthink it but for most buyers the larger model number just means better and in most cases it generally is.

microsoft doing this for ages now. I think they learnt it from Microsoft. Windows 7 after windows vista. Naming convention of Microsoft was like this !! This is "Microsoftization " of Nokia

What's the difference between this and the 630? I mean obviously there are differences but the price difference needs to be a whole lot wider.

Come on. It's not that hard to compare the two. http://www.gsmarena.com/compare.php3?idPhone1=6232&idPhone2=6523 http://www.nokia.com/global/products/compare/?action=productcompareaction&products=3459516-3767942

Hi all, I am planning to buy another Windows phone so can anyone suggest me which set to buy. My range would be 15k max. Planning to buy 630 dual sim but now have seen this set 530. Which one I will buy?suggest me plz

15k of what exactly? Chickens?

Haha Posted via Windows Phone Central App

Go for 630 or wait for 730.

You guys do 520 vs 530 vs 630

another flipping budget windowsphone. Microsoft is giving me no choice but to buy a iPhone 6.

Wait for the 1030, 830, 730...

If you look at countries where Windows Phone is dominating (some countries selling more than iPhones and Androids), it's always the budget phones that sell the most. They obviously understand this and know that's where the market is. There are some big high-end ones coming obviously. High-end models from every company typically come in slower iterations because from a consumer stand point it's an investment and not something they're gonna upgrade often.

There are dozens of countries where Windows Phone outsell iPhones. I don't know of any where WP outsells Android... yet. :-)

What a crap logic u apply. Go buy iPhone 6 and fuck off. Dk,t give stupid reasons. We all know things have been slowed down due to Nokia acquisition.

I'm very confused... Which processor compares to the snapdragon s4 line?

I think Snapdragon 400 is closer to Snapdragon S4

Snapdragon S4 PLUS which was in 920,1020 etc is similar to Snapdragon 400 in CPU performance but the GPU Adreno 305 of Snapdragon 400 is weaker than Adrena 225 of Snapdragon S4 Plus. So, if you are looking for an upgrade from 820, 920, 925, 928 then you have to consider Snapdragon 800 or 801 equipped phone.

It's so cute! Hahaha LOL but it really is, it's so comfortable to hold, I've used the 520 of my cousin and I really feel the difference to my 1520 hehehe still I like more the 1520 obviously :P

Ms is making budget phones all the time it seems. Just recently they came out with the 525 and already the 530 has no launched. Keep I'm mind the 520 is just a lil over a year old lol I'm gonna stick to my 520 although the 530 has more improvements. Some ppl who already have a phone do not budget to keep upgrading at such a fast rate lol I think windows phone software now plays the most important role in the selling of these phones. They definitely need to target users from the other platforms. The 520 still plays a major role in the market now that it has wp 8.1 and I hope Ms continues rapid updating of the OS as fast as they design new phones for the market. I am happy with my 520 still. :)

I love Microsoft's new phone boxes! The old blue Nokia boxes looked a bit dated, but these white boxes and the product photography look sexy and more modern. Looks like their Segoe Light font on the side too. <3

I hope future full feature 9xx/10xx phones start to support multi-SIM. I would love this overseas!!! Call/text on main, data from secondary.

I know it's a great deal for the price
but once again I bought lumia 820 about 2 months ago for a 115$
I know it's a much older phone but it's have better cam , specs , secreen , build quality
so yeah!!

How crazy can Microsoft get with these prices!?

I have a green 530 and I am really impressed with it so far :-)

Decent enough upgrade, I'm getting it mainly as a DualSim go phone. I wonder though... What would be the first of MS just released this same device with 1GB (everything else is the same)?

if it is still exactly a 4" diagonal i guess going from 15:9 to 16:9 aspect ratio might have stretched the screen a bit therefore shrinking horizontal keyboard space, and having on-screen keys now, i guess there is a downgrade on screen real state after all, not on resolution but on physical space

This is coming out for just £60 in the UK. For that price, I really hope it can sell. It's closest competitor is the Moto E which costs £20 - £30 more which people can then put into a larger storage card which all of these lower end phones need regardless and with Googles decision to no longer allow apps on SD cards, I think the 530 is the better phone as you simply won't be able to take much advantage of the 4 gigs on offer before you have to delete stuff with the Moto E. Although I do wonder if they can push the price even lower with a 430 or something. Maybe a dual core instead of quad, same RAM, smaller screen etc

The dim display brightness is really my only gripe with the 520, so if it's brighter on the 530 it should be good. Still, I doubt it would have cost them that much more to give it 8GB of storage, just for a swap-file area. I bet WP temp files will fill up that 4GB fast.

I would NEVER EVER buy a Nokia phone with only 500 MB of RAM. And it seems that the latest Nokia phones have only 500 MB of RAM (530, 630 for instance). The "new" Nokia 530 is in fact basically the same than the 520, same stupid 500 MB of RAM and no front-facing camera!! It is not aggressive enough from Nokia and Microsoft. They should have added these two features even (especially) on the cheapest Nokia!! I do not believe it would have increased a lot the cost of the phone. And the goal of the entry-level 520 (or 530) is to give access to the most at the lowest price. Therefore, even if adding these two features could have lowered the profit per phone, it would have been a strategic decision worth taking. As an entry level user of the Windows Phone will often update later on to something more expensive. But I think the 530 (the 630 too I believe) has a removable battery and a microSD card slot, allowing up to 128 GB of storage space. These two features should be available on every single Nokia-Microsoft Windows Phone smartphone.

Great upgrade for Lumia 520 owners

Nah. Great upgrade for 520 users is the 630. This has less storage, camera with no autofocus, no ambient light sensor like the 520 had.

Still no promotion of this phone. There should be a hype in the society for buying this phone.

I think of this as more of an upgrade for Asha than Lumia 520.

I'm not sure I understand why this is called an "ultra-budget" device when it's twice as expensive as the 520 was.

Does it has eDof Lens with fixed focus as Nokia 701 or does it really focus but where it wants? Thanks :)

Does it have the ability to upgrade to 8.1 gdr 1? It doesn't seem very impressive so far...

Love my Lumia 620....even if it's not perfect... But the best phone for the price ever sold by Nokia.
Got NFC, accelerometer, magnetometer, front camera, rear flash, here drive+ at launch, SD card slot Dolby sound enhancements etc.
Can be sluggish at times as it has only 1 Ghz dual core processor...
The only real gripe I have is that it doesn't support full email inline editing, attaching or removing multiple attachments of different formats at the same time. This functionality is not available in any Windows phone versions, but is available inbuilt for both Android & IOS.
Hope the WP team can bring this feature in WP 8.1 GDR2

I see Microsoft make better low end phones than Samsung. The samsung young lags big time!

Its a great phone at a great price! Nokia & Microsoft should also release more phones at around this price range like Lumia 430, 435 dual sim! It would increase the sales of Windows phones & would be a huge success in upcoming markets!

Program like whatsapp work in a dual sim Phone? Can I have two accounts at same time?

Yes, apps like WhatsApp do work in dual sim phone, & also you can have 2 accounts at the same time! WhatsApp messages would be sent to other people via the number with which you have registered!

For me the dual sim feature give Users more freedom at the time to select which services to use with each provider. It's very advantageble and a choice to consider for all manufacturers. I personally prefer the shape of the Lumia 630.

I hope these dual SIM models to be available in my country (Colombia) soon.

NFC feature is another add I want to see in this low profile devices, as well as some kind of poor flash for the camera.

I wouldn't call 130-170 USD "ultra-budget". The price of an Asha, let's say 100 USD, that's what I see as ultra-budget.

Should I upgrade from my 521? There really isn't that much of a difference. I would've been upgraded if they added 1 GB of RAM to the NL 530

Wait for some time & buy Lumia 730 instead! Awesome phone 730!

I'm currently using a Lumia 520. My parents cant afford expensive phone so they bought me the Lumia 520 which is so affordable. Nokia is doing the good job to produce affordable phones to people who didnot havebtheir first smartphone. Im glad i have lumia phone. Im a fan of wp!!

From 520 - 530?
No front cam, no flash, lower internal memory & same RAM!? Great going...

520 had no front camera or flash...

It's interesting to read all of the comments - especially to do with how to make the phone cheaper and why wasn't a better camera added etc.. Most may not realise that the 530 is a phone that was made for emerging markets, where phone owners are going to upgrade from a "feature phone" to a "smart phone". There is enormous room for growth from new customers in these markets and getting a strong contender into the market will provide huge turnover and profits for companies. To balance this though, price is an enormous influence, so the art for the phone maker is to create a phone that punches above its weight by finding out what people will be using their phone for. Major on those areas to compete with the competition and save in less important areas. Look at the Moto G as an example of what to focus on and where to save. There must come a point - and I wonder whether we are there now - where there isn't much left to downgrade. After this point, it'll be more to do with software and the user experience that helps sell one phone over another...
Windows Central Newsletter
Get the best of Windows Central in in your inbox, every day!
Thank you for signing up to Windows Central. You will receive a verification email shortly.
There was a problem. Please refresh the page and try again.