Nokia Lumia 620 Black update finally gets underway in select markets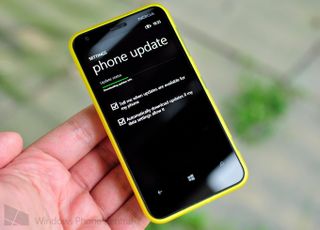 The Nokia Lumia 620 is finally receiving the Lumia Black firmware update. The release has been rolling out to Windows Phones in supported regions for almost two months now, but Lumia 620 owners have had to wait in line. Thankfully, the wait is now over in certain markets, enabling consumers to enjoy features included in the update.
We've received reports from readers that update notifications have been received, but we must urge patience as Lumia Black propagates through servers and whatnot. With Lumia Black installed, consumers are able to enjoy new features like Bluetooth 4.0 LE support and improved Glance screen functionality. Be sure to check Nokia's support website (opens in new tab) for when you can expect to see the update pushed out in your region. We can't imagine it being long before Nokia opens up the floodgates.
If you're wanting to manually check to see if you can upgrade, head into settings and check for updates. Once rocking the latest firmware, be sure to hop on over to the Lumia 620 forums. Let us know in the comments if you receive the update and where you're located.
Thanks to everyone who tipped us!
Rich Edmonds is Senior Editor of PC hardware at Windows Central, covering everything related to PC components and NAS. He's been involved in technology for more than a decade and knows a thing or two about the magic inside a PC chassis. You can follow him over on Twitter at @RichEdmonds.
Congratulations 620 users.

Congo 620 users.....little late because they are giving more attention to those three(x,x+,xl)...lol....

http://m.youtube.com/watch?v=CUpgMVSAM7M#

Thank you Thank you thank you, I'm so happy no i can change my fake touchscreen and have nokia care update it for me

Finally.
Well, turns out Nokia started loving the number 6 again!

in Europe two countrys get early Lumia Black: Netherland and Finland

why does 620 get it last and very late!? even amber was highly delayed for 620 (india) .. fortunately i use 820 but id fear to go to the 62# series in future for me or my family!

Cool user name though ....hahahaha!!!

Still waiting for 3 (uk) to get L920 update out. So, not last.

Ive flashed country varient on my 3UK phone to get the update. Sad that had to do it.

I'm still waiting for black on 920 (3 uk)

Iusacell in México has not yet approved Amber update. I had to use NSU so i now have a weird amber allowing me to close windows with the x glance with notifications in colors, double tap to awake the screen. Im rocking a L920.

"even amber was highly delayed for 620 (india)"
620 was one of the first phones to get amber in india, amber was on whole delayed in india..
glad you're not in latin america with carrier restrictions... in many countries almost no phone has got black update till now

I dated a girl named Arthi :)

use brain when you comment in the tech forums!!!

You mean 'use your brain when commenting in a tech forum'..
Loser

Yeah, 620 was the second, if I remember it right, to recieve Amber. I'm Brazilian. Not a sign of Black coming anytime soon. Every other phone has it, except the lovely 620. And yeah, Latin America update support sucks... Sit down while you read this: some phone models in Columbia didn't recieved Amber yet... So you can figure. But I'm still not hopeless... I still believe this Microsoft+Nokia deal will make the updates faster one day.

The 521 still hasn't got it either...

The 520 gets all the Love but the 521 dosen't get any, WHY!?

Wondering if they will fix what happened with the Amber update. Aio (who is ATT) decided to remove internet sharing from the 620 after that update and my husband had to give them a hard time about it. We'll see what happens.

Sadly I wouldn't count on that. That's part of the contract you sign with Aio. I told my wife to switch from Sprint to Aio and the service has been great but we went in knowing that tethering wasn't supposed to be allowed. It doesn't surprise me that they removed it.


Yeah, it's a shame. My 920 still has internet sharing enabled and I use it on Aio and I'm strongly considering getting my hubby a used one as they go for sub-$200 here on Craigslist all the time.

Off subject, sorry. But get the 920, brilliant phone. Mine was second hand and has been great, no issues and will not update until a 5" 20mp camera comes out, no need to as the 920 is pure quality and lovely design.

I have a 920 already, lol, and I love it to bits. My husband got the 620 because he was in a pinch at the time but I'd love to move him over to the 920. :-)

Glad it will arrive soon.

A Lumia 620 with wireless charging, this guy has a QI compliant hand :p

Lol, great observation! Is that a screenshot??

It seems to be screenshot :)

I don't see the three dots in the bottom

I almost lost hope for Black for my 620. Glad it finally arrives.

Look at the update status page here in Latin America. Now look at this Lumia 620... Imagine how much time it will need to everyone receive the WP8.1 update. Hope everyone already has this by the Christmas time...

I am from india. Still i havent received black update.

I too haven't received the update

Hey dude just get gdr3 devlp. Prvw.. Thats enough.. No need of black firmware ..

Wrong! Some features in dvlp isn't present in black update.

From india, still havent received upate for 620. Sigh

Lumia 520 720 920 and 1020 got black update on Argentina

Meanwhile it's still waiting for approval in India....give it now :(

The double-tap to wake on my 520 is awesome.

Good for lumia 620 users m don't know what made nokia so long to seed the update.

I still haven't received the update n im from the uk :(

I'm downloading the Black update in my 720 (Telefonica Vivo)

Still haven't received update notification :( . I'm from Indonesia btw.

Don't wait for the notification. Go to your settings and check for updates.

thank God :D from ph here

I'm not yet receiving mine bud, is yours a country variant or is it from Globe?

Damn, i bought my lumia620 from sm pampanga, philippines, and living in finland where black update is already available, i will have to wait until it's available in philippines :(

Maybe you need to change your language+region settings. Just a hunch.

I have'em changed long time ago. Well, I can wait. Not long to go until we get 8.1 anyway.

Nothing yet for India :( :'(

still waiting for approval in Europe

Me India, not yet... Got already glance added functionalities even before black update Bluetooth- i hardly use so far, so not interested... What else.. Double tap to wake????? Rather wait wp8.1

Yes... Double tap to wake up z working on 620 now...

even on Indonesia, dude. :(
All countries on Asia Pacific need to wait for 620 Black Update be released somewhen...

Anyone with Black update can confirm that double tap to awake is available on 620?

ah, good! thanks for confirming! ;)

Brazil: (at least under Telefonica Vivo) 920, 925, 820, 720 got the Black update. The 620 and 520 still have amber. http://www.nokia.com/br-pt/suporte/produto/lumia720/softwareupdate/

I hope it reaches mine while I'm asleep :)

Good for all the 620s. Enjoy.

Installed it. 2 weird things: Nokia beamer doesn't work (error on startup) and Store says i cant download the new Nokia camera app.

The one for lumias with 512 ram is Nokia Camera BETA Go to betalabs and get it

Sad, I was actually looking forward for this.

Why? the Nokia Camera Beta is exactly the same as the regular one...

Have u got double tap to awake?? Plz let me know

Yes it's working on my Lumia 620. It's in the touch settings.

Duh! Seriously.... Go check a calender and come back...

U aren't an excited wp user then

For the Microsoft Build conference where WP 8.1 will be announced!

Finallllly!!!
update: i can see that it is still waiting for apprival status. Hmm might took long before it gets us ;( sad.

so am I here, in Indonesia... I'm waiting so long (actually, 3 months) since the first Black update launched... :(

Will htc 8s get 8.1 update

Yup.
It will get the 8.1 update as well as other Windows Phone 8 devices.

Where is the update? Nokia site it is still waiting for approval. Please can someone clear me whats going on

The update has just started rolling, I don't expect it coming to all regions at once. Let's just be patient :)

The Black update is rolling out to countries in the Middle East.

For those who got it, how much free memory's needed for the update to be installed? I have like 200MB left in my phone storage now and I predict it's not enough :(

Same here :P I am gonna use NSU and do a fresh install :)

What is NSU? I'm actually planning to wipe off my phone right after updating.

I had about 1gb free and it still said i needed more free space. I just clicked cancel and the update continued and works fine atm.

Any improvements in Skype usability? Notifications?

In my country only my operator has released the update for the 925, 920 and 820, hopelessly 720 and 620 will be soon :D

Do it offline from nokia care centre if u want. But u have to take backup first as you will lost your app data. Rest is synched to your ms account

Halleluiah brothers and sisters :p

Still waiting here in Singapore.

Any idea about the the upcoming Lumia. Will that have 4k video specs?

Does it suprts glnc scren???

The 620 has Glance screen even from the Amber update. The latest update in Glance gave the 620 notifications and text - still without the Black; so pretty much, we're just waiting for double tap to wake.

I did not get the notificatins after the latest glance update for my 620.

to get the notifications you need to put the TEXT thing...without text arent show on the screen

Just checked Nokia official update status page, no countries in 'Asia Pacific' have it, they are all in 'waiting for approval'. Those who got the update, can you please specify from which country you are, and whether yours is a country variant or globe? Still watiing for it in India :( grrrrrrrrrrr

According to the status page Finland, Netherland, Bahrain, Kuwait, Oman, Qatar, Saudi Arabia, United Arab Emirates and Yemen has the 620 update.

still waiting on 620 Black on O2UK. Waiting for approval. ridiculous.

Just waiting for Orange Dominicana to begin rollout.

Haven't got in India manually checked.

Hmm... My mom's 620 still doesn't have an update available. I told her to check again in a few hours.

521 still hasn't got it... And the wait continues...

Yep same here. At the rate we're going, 8.1 will arrive before Black +update 3 will come for T-Mobile. I'm tired of waiting on them.

Yea forreal. I honestly don't care about Black update 3 anymore. I just can't for 8.1 to come!

Nothing yet for my 620 on TELUS (Canada)

I have a Hong Kong 620 import to the states and I get a messages saying my phone is up to date. I only have Amber though.

Still not available in Malaysia. So, how long we have to wait? I wonder how long wp8.1 will be released to us lumia 620 users..

dantekai14 will be happy to read this

Says waiting for approval in my country. Think I'm gonna have to wait one or more weeks...

Finally got Black for 620 ...(INDIA)

When is black coming for the 625

Hey guys, I need your help, I want to know what is Lumia Black? Because I have a 8X, and I want move to Nokia. What's Lumia Black?

It's just software/firmware update...

Lumia Black is a minor update - mostly about glance screen actually - we hope to get before almighty 8.1

Too late. I already crushed that phone & switched to iPhone 5S.

Still no Lumia Black here in Turkey too :/

Do not wait for,notifications....Go amd check manually in settings....I have updated..Double tap wake is awesome feature........;-);-)

620 in India Recieved,black update,......

Are u sure? From wich city u r from? Coz i didn't get it

Can u specify that which city u r belong to on where u r able to install the black update for ur 620.

I wanted to get a 620 for my mom here in the states for her first smartphone, but I couldn't find one unlocked at a decent price, so I got her a 520 instead. She loves the 520, but I really wanted her to Skype her grandkid (which she can still do, but her grandkid won't fully understand why she has to look at herself while talking to grandma...)

Already have this on my 520

Is Nokia refocus and Nokia Beamer will work after this update ?

Nah, they are not for 620 because it has 512 ram.

not yet in Greece.. http://www.nokia.com/global/support/software-update/wp8-software-update/availability-in-europe/

Any UK love yet? No update for me just yet :-/

Brazilians 620 anything yet (Country Variant and Operator)

Not yet in vietnam and malaysia

620 cutest phone ever. Nokia should go in to partnership with Fiat, and supply these phones with ever Fiat 500 , go so well together. Serious.

I've got 2x 620's needing the black update, nothing so far on o2 UK.

still waiting for approval here in the philippines.

Nope. Not for Malaysia... I'm still waiting for my 620 to catch up to my 1020 :(

Got it...India (kolkata)..check manually.

How? I have been checking manually since last night.And it still says waiting for approval in nokia page How?

my phone is vodafone (spain). Still nothing :(

Weird. Nokia India page is still listing NL 620 as 'waiting for approval'. Checked manually, didn't get it yet. Am from Chennai. Anyone fom Chennai got it yet?

manually checked, not yet :( (Chennai, India)

Didn't get it yet :( - AUS

Lumia black update not available in India. Its release or not in India?
plz reply

Got Black in INDIA (MUMBAI)
check Manually,.....

Does anybody from India (Chennai) got the update?

Does Lumia 620 support windows8.1? Any idea....

Yes, you will be able to update to windows phone 8.1 when it comes out

Every wp8 device will support wp8.1

How to check manually phone sw update

Go to >>settings>>phone updates>>check for updates

Anyone from Bangalore India recieved Lumia black? I havent recieved it yet..

Anyone from Hyderabad?? I didn't get it

Still no UK black update for o2 rolling out pretty slowly.

Got the black via OTA. Mine UAE version you guys will get it soon cheers!!

What is the size of download for,lumia black update ??

Gdr3 dev preview 40mb download via ota, lumia black 620 maybe same... Indonesia "waiting for approval" :(

Romania here - still waiting for the approval :(

Waiting for approval status has been there now for 2 months now. They are just bluffing and doing nothing. Sitting duckkkkkkkkks

Stiiiillll.... Waaaaaaiiitiiiiing...

product code lumia 620 india please

Still no update in India waiting waiting waiting:(

I waited for amber update and got frustrated. Same thing is happening. When is it happening in India? When there is another update available for other device? Sick and tired of this waiting...

Just got the Black update on my 620 on Giffgaff UK. Haven't tried my other 620 on O2 but their both on the same network so i should work.

totally fake my nokia lumia 620 dose not show the black update while u said 620get black update fakee

I have received black update on lumia 620. Be patient you will receive in a few days or weeks, or in one month.

I recently received the lumia 620 Black update. The ROM is Spain Vodafone, Unfortunately when I enable the "Double tap" to unlock the screen, whole the device hangs hardly and I cant do anything...how can I report this bug to Nokia?

Another problem is that when you put lumia 620 in any of your pocket, the screen confuses every hits in the place as a tap although it doesn't alow screen to be unlocked and it cause the device hanging...

I have received the black update lumia 620 I'm in Romania, my phone is from Italy.

at last got black update..my fav.colour

I got it too. In Bangalore India, on Airtel.

A cool feature I think not mentioned is that now you can conrol vibration on all windows keys.

Finallllllly, the update is showing on my phone. downloading it.

Romania here... Still no update... It's a Ro carrier free phone bought from Cosmote.
Windows Central Newsletter
Get the best of Windows Central in in your inbox, every day!
Thank you for signing up to Windows Central. You will receive a verification email shortly.
There was a problem. Please refresh the page and try again.