Nokia Lumia 800 available February 14th through Microsoft?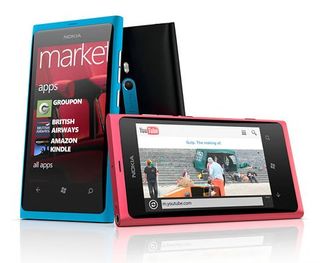 Both Nokia and Microsoft revealed during the 2012 International Consumer Electronics Show that the Lumia 800 Windows Phone would become available through Microsoft retail stores early this year. No specifics were mentioned during CES but rumors have popped up on the radar showing the Lumia 800 will be available on February 14th. The price? $899.
Now before you go into sticker shock, the rumors have Microsoft offering the 800 bundled with the Nokia Play 360 Bluetooth Speaker (opens in new tab), the Nokia Purity HD headphones (opens in new tab), and a Bluetooth headset. The accessories tip the scales at about $400 so the overall price is in the ballpark and would price the Lumia at around $500ish.
No word if this is an "in store" only item or if the Lumia 800 bundle will be offered online through Microsoft. You also have the question whether or not Microsoft will be offering the Lumia 800 outside the bundle. One would hope this bundle is targeted at the Valentine's Day shopper and we'll see the Lumia 800 offered all by its lonesome shortly after the initial release..
source: Verge (opens in new tab); Thanks, darin25b, for the tip!
Windows Central Newsletter
Get the best of Windows Central in your inbox, every day!
George is the Reviews Editor at Windows Central, concentrating on Windows 10 PC and Mobile apps. He's been a supporter of the platform since the days of Windows CE and uses his current Windows 10 Mobile phone daily to keep up with life and enjoy a game during down time.
Who would buy it? The Lumia 900 is better and on contract. Watch, everyone will comment on this post.

Who wants a phone on contract as first choice? Much worse than actually paying for it straight up. If you don't have the money I understand.

$900 is absurd. I wouldnt even pay that for the lumia 900, or any phone on the market in that case.

Lol! It's just how Nokia rolls :)

Nokia's MSRP on their devices, and accessories, are a bit higher than the going market rates for similar devices. They make some affordable phones too, but their high end phones and accessories are much higher. Take a look on Amazon at some of their Symbian devices - the E7, for example, had a MSRP of $679; $679! For THAT phone?). Oh well, I think that if the bundle price is $900, that it is probably a little lower than purchasing each piece individually together.

I personally think that the Lumia 800 is going to go for around $649 unlocked, maybe higher; but I hope it's lower :)

If they added pentaband I would buy one for sure. I will still get the 900 though when it is released.

Isn't it comical that the 800 sells for 900? Not sure who needs to buy a speaker, plus a headset, plus ear plugs in one batch (someone with lots of money to burn? But why in the world would they buy the 800 one month before the 900 comes out?). Why not sell an apartment in Hawai'i with it, too?

Good for me I guess. I will remain one of a select few with this baby in the States. No one has ever seen this beauty so it's quite the conversation starter.

SERIOUSLY!!!!! who spends their mortgage payment on a phone? Geez I wish tech didnt go the expensive direction. I remember when I used to change my phone every 3 months buying new phones on ebay only spending $100 and selling the old one. I can't afford droppingthis kind of money like that for a phone.......does it cook, clean, and go to work for me?

Your mortgage is $900??? I paid $900 a month rent to live in the ass part of San Francisco in 1998. I need to move...

Yeah I'm here in florida. lots of 4bd houses built in 2000 that are going for under 125k. one was selling last wk built in 06 for 85k

Yea, $860 here in PA for a one bedroom. Sucks O_o

That is actually 1.5 times my mortgage pmt. You other guys need to move south. The cost of living here is much more reasonable. I pay $604 per month for a 3 bdr, 4 sided brick with full basement. In a decent neighborhood to boot.
Back to the phone anyway. I am actually speechless. I would really prefer to have the 800 over the 900 model but I'm not throwing that kind of money down.
For the person who has an 800 here in the US. How are your Internet connection speeds? Only having the 1900 frequency for 3G bothers me a little. I do not steam videos but I do stream music from Zune and Tune-In pretty often.

I spent $900 on a suit.. So there goes my mortgage I guess.

That price is ridiculous....they need to offer the phone alone for $400....no more

No way.. They should offer this for free the additional accessories...

I have an unlocked 800, was 400 Eur, about 550 dollars.

I'm all go for the 800 at $400, with the headphones etc package as free additional accessories. Come on MS, count it as marketing costs to get your product noticed by the masses.

These are readily available on eBay for under $500, I'll have to pass.

I think Microsoft stores are in affluent areas where $900 ain't that much. Anyway, here are this week's bestbuy.com sales rankings: AT&T (60 phones offered)
25. Samsung Focus Flash (26. a week ago, 24. a month ago)
30. HTC Titan (29. a week ago, 34. a month ago)
50. Samsung Focus S (48. a week ago, 51. a month ago)
56. HTC HD7S (54. a week ago, 59. a month ago)
60. HTC Surround (58. a week ago, 60. a month ago) T-Mobile (34 phones offered)
3. Nokia Lumia 710 Black (2. a week ago, not available a month ago)
4. Nokia Lumia 710 White (3. a week ago, not available a month ago)
7. HTC Radar (6. a week ago, 6. a month ago) Verizon (56 phones offered)
52. HTC Trophy (52. a week ago, 41. a month ago) Sprint (45 phones offered)
24. HTC Arrive (38. a week ago, 28. a month ago)

If only it supported T-Mobile. . . Actually I still wouldn't have enough money. . . Hmm. . .

Just sell it for $500 withou the accessories most people don't need. Why does it seem like MS just don't get it.

Perhaps they're being mindful not to cannibalize sales from carriers and electronics stores by offering something unique to affluent people.

If I was to buy this not saying I would, I'd probably sell off all the accessories and for something crazy and maybe end up getting it for less, possibly.

Heh, $900 for something I bought for $550 on Amazon 2 months ago is crazy.

The difference is that the Lumias sold in this $900 bundle will support AT&T's 850 3G band, where the devices you can buy on Amazon for $500 do not.

Plus, I'm guessing your $550 didn't buy you everything that's included in this package deal.

$900 is too rich for my blood. Ouch!

If you read the article it says Micro has no plans to offer the 800 other than for the bundle but then says the white will be coming later? Lets wait and see because the micro employees I talked to in Chicago didnt know anything as of yesterday.

The price is only a rumour remember! So please everyone stop bitchin because that will cost even more in AU dollars I mean my Mozart like 700 or 800 1st day it went on sale here that's why you get a contract!

Nah, you wait a week and then buy a new phone outright for $200+ less than RRP. I have a Telstra HD7 that I could buy for $768 outright, but picked it up for just over $500 (delivered) from ebay a week after release.
Contract is more expensive - I currently pay around $20 / month for pre-paid and data ($5 per month for data, $30 per 60 days for pre-paid calls/text), but I would've had to pay a bare-minimum of $70/month (plan + phone repay) on contract. So after 24 months lock-in the contract is $1680, but I will pay only around $980 which is a $700 saving. Even if I'd paid RRP it still only comes in at $1248 overall ($432 saving).
I prefer having the flexibility to change mobile carriers if I want to... but hey, each to their own.

Lol, I paid 60 euro for my Nokia :). Ok, with a 1 year contract @ 32,50 euro a month.

Wow, MS is really missing an opportunity here. What they need to do is give me that bundle for free and then charge everyone else $1200. Why $1200? Well it's 2012 and the model is the Lumia 800 which adds up to 1200 if you throw in the supposed $400 for accesories. See, perfect sense. So when should I expect delivery?

If you have to explain a joke, it's not a good joke. So I will preserve my jokes integrity by not explaining it to you.

Are there still $500.00 "status" apps on the marketplace? =/

Canadian mobile carrier TELUS will be selling a version of the 800 which has both 850 & 1900 bands. I have no word on off contract price availability, though. Available in black, cyan and magenta.

Anyone know how much just the headphone/headset is? I want one in cyan to match my upcoming 900, but wouldn't mind using them with my focus s in the meantime... :)