Nokia Lumia 810 and HTC 8X no longer available online through T-Mobile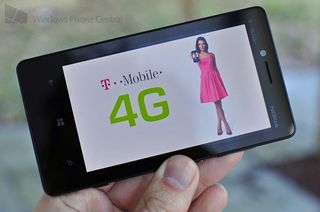 The Nokia Lumia 810 has been the highest Lumia available to T-Mobile customers since launching back in November. Unfortunately, it doesn't appear like you can get a new one at the moment on the magenta carrier. Windows Phone Central Forum members spotted that only refurbished 810s are available on T-Mobile at the moment. What gives?
Head on over to T-Mobile's website and you'll notice the only Windows Phone you can get is a refurbished Lumia 810. It's available for either $240 outright or $10 per month for 24 months, but no option to get a brand new device. One reader took to their customer service account on Twitter to see what the deal was. The response? No idea on when/if new units will be available.
A few things could be happening, but the most probably is that the device just isn't selling that well. Looking back a few weeks at data from AdDuplex and you'll see the 810 occupying just 5% of the pie. Once stock runs out of a device that isn't doing too well a carrier is less likely to place future orders for more. Especially when it might not do as well with future handsets on the horizon.
Dive into your memory banks and you'll remember that Lumia 521 is coming to T-Mobile in May. As of this moment, we're also expecting the Nokia 'Catwalk' to hit T-Mobile in June. It doesn't make much sense for the carrier struggling in fourth place to place an order for more handsets that it thinks won't sell well. The Lumia 810 won't make much sense in two months when customers can chose either a high-end or low-end Windows Phone from T-Mobile.
Topping this all off? The HTC 8X is no longer available on the website. We'll reach out to T-Mobile and see if we can get some clarification. In the meantime let's hear some armchair analysis below.
Source: Windows Phone Central Forums, Twitter
Update: We can now verify that the Lumia 810 has been EOLd and will be replaced by the Lumia 521 on April 24th. Read more here.
Thanks for the detective work jgbstetson!
Windows Central Newsletter
Get the best of Windows Central in your inbox, every day!
Lumia 510 in May...... Wtf?!

How did you know? I was sippin latte after latte today.

I know that you go to your favorite place everyday and kickback sipping espresso.

Just keep posting to photoplay ;)

You telling me TMO sold my ass off for iPhone 5. What scum they are. Hope TMO don't still control updates or else I'll shoot them that termination fee, and they can kiss my...

I really did. My fingers can't keep up with my brain.

Hmmm interesting to say the least. Il have to stop by my local TMO store to see what gives... I actually bought both the 8X (gift for mom, she loves it!) and 810 for my self and gave the old Radar to my little bro (another gift) lol.

They have the iPhone now they're to good for WP

I hope not... I never cared much for the iPhone.

That's a shame... the 810 looked like a solid phone. They should give it more of a chance, especially with their new plans. I was thinking of moving over and getting an 810 when my contract ended with ATT, looks like that might not happen if they don't get at least a mid to high range Windows Phone. The 521 is decent, but there's no flash. They should at least get the 720 as well.

Daniel and I were saying an ideal lineup for them would be 521, 720, and Catwalk.

The beauty of the new T-Mobile plans is that they unbundle the cost of the phone from the service. Since you aren't forced to pay for the phone through the carrier, you can go buy your phone from anywhere. You can go buy a brand new unlocked Lumia 920 or Samsung ATIV for under $600 that will work great on T-Mobile and still come out way, way ahead compared to AT&T. Comparison below:
AT&T
$100 for Lumia 920
$120 per month for unlimited talk, text, and 3GB of data x 24 month contract = $2880
Total cost = $2980

T-Mobile
$560 for unlcoked Rogers Lumia 920 from Negri Electronics
$60 per month for unlmited talk, text, and data (2.5GB of high speed) x 24 months = $1440
Total cost = $2000 Keep in mind that if 2.5 GB of high speed data isn't enough, you could bump up to truly unlimited with T-Mobile for $10 more per month. AT&T doesn't offer unlimited data anymore and it would cost $20 more per month just to go up 2GB per month, from 3GB to 5GB. Also, T-Mobile includes tethering with all of their plans, which I'm not sure is included with AT&T. Finally, T-Mobile doesn't actually have contracts anymore, I just used 24 months for comparison sake.

How would 2.5GB / month not be enough? O_O I get 150 MB / month and barely get through 1/3 of it. I stream music all day, but I'm either at home or work, so it's all on WiFi...

I agree, 2.5GB should be ore than enough for most people. That's why I used that level for the initial comparison. I just mentioned the unlimited option because there are some people that insist they want unlimited. From my experience, it's usually people that haven't looked at their actual usage.

I'm always pushing 4-6GB, sorry...but there is always the rare occasion you need more and if you can manage it, then why not? =P

I used 40gb last month. Yes that's 40,000mb

Oh and 920 would cost me $600 then I pay $20/month (vodafone)... So $1080 over 24 months :)

The problem is that T-Mobile doesn't work. Therefore, you've wasted $2000.

It works fine for me, but it depends on where you are using your phone... just like any wireless carier. In fact, since T-Mobile doesn't have contracts anymore, you could try it out for a month and if it doesn't work, leave.

$240 for the 810 is a steal. Nice phone for music lovers with the 64gb Card

It's obviously because they JUST got their iPhones, typical.

Yes. They disappoint.
My family's two 710s, one 810 (really good phone by the way), and lone HD7 just might have to begin migrating elsewhere...

My thoughts exactly. I hate using an anti-WP carrier but will save a lot vs att with their $70 plan. I'll just pretend I'm not on their network. :)

Let's look at what TMobile just did. Previously, pay $200 upfront and then pay the same amount as a free phone (on contract). Now, you pay $99 and see you pay more monthly. I would be surprised to see tons of iPhone growth and more mid-low end phones. The whole point to TMobile is saving money. I think if Verizon and ATT both go subsidy-free, high end phones are totally screwed. Maybe if the economy was a bit better, but not in the present.

Seriously, I just wish they treated the 810 as the better alternative to the iPhone, that it is...fools, all of them! Still making Windows Phone the third class citizen, when they are CLEARLY First! =/

Sooo, let me get this right...the 8x was released in November 2012, so they decided to keep new inventory for only 5 months? That doesn't seem right...something's weird about this. Has this ever been done by a carrier before..."5 months and you're out of here!"
The good thing is that the Catwalk probably is for sure coming soon, which is great! The bad thing is that it looks like they may have a 2 Windows Phone per season limit...which if they do, is utterly ridiculous!

Well the 8xwe got Monday had a date code if December so it can't be selling that well

Um, AT&T launched the HTC Titan and Focus S in Nov 2011 and EOL'ed them both in April 2012 for the Titan 2 and Lumia 900 respectively, so there has been precedence.

Really? Maybe its just Windows Phones that they are giving a short life to. Like I said the Galaxy S II is still there, and its been out since 2011.

The SGS2 sold well enough, and that's why they continue to sell it. I wasn't surprised honestly, especially since they decided not to make it LTE capable and pricing it too close to the 8X.

"Has this ever been done by a carrier before"
While 5 months is shorter than usual, I am not surprised by Tmobile USA. I was a Tmo customer from 2005 - 2012 and I don't miss them. Save a few bucks a month, sure, they are awesome in that way.
But when it comes to hardware, it was a constant disappointment. I used to 'be ok' with their selection, but once the Lumia 920 hit, that was it for me, I couldn't wait for the re-farm and couldn't wait for 'if maybe perhaps when the exclusivity with At&t is over there could be might be possibly a chance there will be a Tmo Lumia 920'. Where would I be right NOW then if I kept waiting?
The thing is... we only pay attn to the hardware that interests us... so everyone now has noticed the 8X no longer for sale, but the truth is Tmo drops hardware all the time. You just haven't noticed before because its crap that you wouldn't care about to begin with.
With the re-farm done and the ability to get better hardware from elsewhere, I would consider going back to Tmobile once my At&t contract is up. By that time, all the kinks of the re-farm and LTE implementation should be worked out.

I guess I never really noticed because I rarely buy devices from carriers, always unlocked 3rd party sources. ;)

Phew, glad I got mine when it came out, hahah. Can't say a negative thing about it. With Soft Grey back cover from eBay it actually gets people asking me what kind of phone is she :P ;). Definitely get the microSD card though.

Can u post a pic of the phone with the grey battery cover ? I have the cyan and was interested in seeing how the grey looks.

Tmobile will try to sell me the iPoop and I will tell them "If I wanted the iPoop I should have stayed with ATT instead, with your limited selection of windows phone".

I hope this is only temporary. This is not a good sign for WP on T-Mobile if it is. Both devices have only been on the shelves for 5 months.

i love when my phone gets EOL'd less than six months after it's launch. makes me all warm inside. (rolls eyes)

"CatWalk" is getting closer

Catwalk - another midrange phone in a confusing morass of the dozens of slightly different 700 and 800 series phones. .
It is becoming very clear that Tmo is not a viable option and WP is becoming an ATT exclusive for people that care about having high tech phones.

What interest me about this story of them no long having either listed is that Ben Rudolf earlier tonight tweeted a picture after stopping at Tmobile, Verizon, Sprint, and ATT of bag from all four saying "I wonder what's in these, only time will tell" hmm foreshadowing to something?

I was the T-MO Plastow NH store on Sunday past, they had one WP8 device the L810...that was it....

So I'm running a WP device on a carrier who currently doesn't sell or carry any WP devices...lol
I hope this is just temporary, and that the rumors are true that they will be getting "catwalk". If new WP devices don't turn up at Tmo by September when I'm due for my upgrade...I'm going to have to pay full price for a unlocked phone online or go to another carrier. Booo

if at the very first start they enabled the lumia 810's LTE, their sales might be higher...

The 810 does not support LTE.
Here's the response from Nokia that I received when asking about LTE on the 810

Thank you for emailing Nokia USA Careline. We understand your confusion if the Nokia Lumia 810 could possibly support LTE (Long Term Evolution,) / 4G connection through a software update. We are sorry to inform you that LTE is unsupported by the device itself. The capability to have LTE connection is not included on the device specification. You may check the link below: http://www.nokia.com/us-en/products/phone/lumia810/specifications/

Tmo does this when out of stock sometimes,the pulled the nexus4g completely off I think that was February

I went yesterday and found that out, that they both were out of stock. I was looking for my son a phone& wanted the 810 but no more was in stock st that store, but the rep did try to sell me an iPhone & Android and said that he think they're not selling those 810's anymore, plus he said that the Android phone was better than the 810.. But he was unaware that I was a Wp user already & have the 8x. I told them no, I don't want an iPhone or Android I want a Nokia Lumia 810.

I know this is crass and really rude, and I honestly have nothing against Android at all, but when a carrier employee tries to say 'Brand A is better than Brand B', AFTER you've expressed interest in Brand B, someone should reply to the employee, 'Brand A is for pathetic retarded douchebags', solely to see how the employee would react. They can't get mad or argue with you, because 'the customer is always right'. LMFAO.
At least at the corporate At&t store I go to, even though you can tell the employees are all iPhone or Android users, they PRETEND to like WP or at least will do their best to sell it. If a person is on the fence or doesn't know and asks 'what about this or this or this'... sure, then I would expect employees to talk about plus and minuses. But if I go in there and say "I want a Lumia", that's it... they don't try to tell me that something else is 'better'. I also did that at a non-corporate At&t store and the guy, who acted unimpressed, told me to come back later when they did have the phone. He made no attempt to persuade me to a different phone.

@hello_indigo
@montpbm next Tuesday, April 23rd #IndigoIsComing @hello_indigo
RT @AndyPeart: The wait is almost over. #IndigoIsComing for #Android and #WP8 on April 23rd + https://t.co/q7kgWWfm4d @NLINews @ArtiSol https://twitter.com/hello_indigo/status/324805965243359232

Crap. I was planning on buying the 810 from TMo as soon as my Sprint contract expires. Soon! I don't want the lower end Nokia. I want the higher end one.

My first thought was that they must be clearing out old stock for new stock. Hopefully it's preparation for catwalk or revision of the L810 with LTE. I maybe a little optimistic though.

I have a Lumia 810. I love it but let's face it, it's a bit of a wallflower and I'm sure it would get lost in a sea of HTC One"s, Blackberry Z10s, and last but not least, the iPhone. (Having said that, it looks great with the optional cyan wireless charging battery cover) Sad, but probably prudent decision on T Mobiles part. However, I thought the HTC 8X would fare better. That was my original choice for a new WP phone but I picked the Lumia because it had the SD card option.

But TMO doesn't have LTE service, and AT&T data plans 5GB+ include tethering.

Look up speed results 42 hspa is more then fast

Interesting, I was told last week at my local T-Mobile store that they will soon have an LTE enabled version of Lumia 810. Seems most likely, they just cleared old stock for the new version? It will be a shame if its discontinued, no updates for my NL 810

PLEASE let that be the case! =(

Thats since they have to sell iPhone to show numbers... simple, keep the other popular phones out of line. or do you think once Catwalk and S4 are out who will ask for i5?

Looks like you can still buy both from the Microsoft Store. Guess you're not totally out of luck.

Yea 2.5 GB is not going to work since I got my 8x I have used 33gb I have never been anywhere near this much usage before normally around 10gb

The whole situation with the 810 is unfair for people who bought it when it came out. The wireless charging case are barely available, what happen with the boom box and all the cool acc that never came out? I paid full price to get pretty much none of the extras I wanted/was promised with the phone. The SD card slot is useless. The only things you can put on it are pic, music and videos. All of which can be stored on the cloud and SkyDrive and is more than effective. I figured you could use the mem exp For downloading apps and games...wrong. if I wanted to play one of the new gameloft games I had to delete my whole phone BC it only had 8gbs of space not to mention when you delete an app or game the saves aren't stored. I really liked the 810 but it got a lot more promises than it delivered as a whole. I guess this is why tm isnt carrying it but who knows. Personally I'd rather have these things remedied

While I agree with some of your gripes, lets call a spade a spade here. The apps not going to the SD card is an OS issue, so if you've got less than 16GB internal, you're screwed there. Maps cannot be stored to SD card either - OS issue. Plus managing the "Other" folder doesn't help. Having said that, my biggest gripe with the death of the 8X and 810 on T-Mobile were the pricing and how crappy the launch was. I walked into an AT&T store and their WP8 launch was pretty smooth. The T-Mobile store I went to down the block, the launch was sloppy. This was by Macy's HQ in NYC. Its sad but they had to kill both devices because T-Mobile made them into wallflowers.

Shhh, don't disturb them. They've been feeding on the iPhone teet all week and now they're fast asleep.

I picked up the 810 a couple weeks ago and mine was dated 11/15/2012. If the reps aren't pushing the device they are not going to sell. When I went in to purchase mine and I told the guy I wanted the 810 he asked, sooo you are pretty set on this phone huh? It felt like he was saying wouldn't you rather get one of these other Android phones we have instead.

The other bad news now is they don't even list the cyan back anymore (before it was listed but out of stock). I was really hoping to get one but none of the physical stores I have visited have had them and the online store has always had them out of stock.

I also wonder how likely we are to get any future WP8 updates if they really are discontinuing selling the product.

Weird thing is that they pushed the portico update pretty quick and they are testing WiFi calling on WP. Support is there, but every company has finite resources. I'm afraid T-Mobile has diverted most to the iPhone, S4, One for the near future.

This is so disheartening, but I'm very glad I got my Lumia 810 when I did because I love it and have always loved Nokia. I was so thrown off reading in that forum thread that the 8X was suddenly gone as well because I'd seen it on T-Mobile's website just a few hours earlier. I just hope they're doing this to make way for the Catwalk and not because they're suddenly a carrier of the iPhone.

Did T-Mobile not sign up for a Samsung Ativ S variant?

I wonder if the introduction of the iPhone 5 has anything to do this. Even if Apple didn't explicitly demand some kind of favored deal, you still have to face the bias, stupidity and ignorance of store employees and management. The first few months after Windows Phone 8 launched actual devices in stores were few and far between. Making things worse was the fact that employees have actively steered prospective buyers away from Windows Phone devices. It may be that other devices are more profitable for carriers and retailers in the long run, but I don't think it's even that concerted an effort. These people can't see past themselves to openly offer options and make suggestions accordingly. They usually can't be bothered to provide detailed information on competing devices and are just interested in quickly closing a sale or getting back to slacking off. It's a hostile marketplace for anyone who isn't already a leader.

I wouldn't be surprised to see the iPhone display in place of where the WP devices were before. The stores only have a limited amount of space and I'm sure T-Mobile wants to give the iPhone as much floor space as possible. It's just sad that they replaced the WP devices rather than some of the Android phones if this was the reasoning for dropping 810 and 8X.

Got a question, has anyone ever bought a refurbished phone from T-Mobile and what was your experience with it? I have a Lumia 710 with T-Mobile right now. It's the same one I've had for a while now and I've had no problems. And I was thinking $240 for a Lumia 810is a good deal as long as the refurbished phone is of good quality and refurbished well. Your thoughts?

I'll give you my honest experience. I used to have the HTC G2 (or whatever the heck it was called). It died and they sent me a refurb. 3 months later, that one died too, but for a different reason. I have no refurb experience with Nokia devices.

That's too bad, I love the Lumia 810 and think it is a solid phone with a great blend of features and performance, and it's a great looking phone too! I just hope that this doesn't mean that they will stop supporting it and drop firmware updates, because I intend to continue using it for a long time.

You have to wonder. I have a Lumia 710 and T-Mobile won't update it to 7.8.

They are reporting on tmonews that 810 is nearing EOL, to be replaced by the 521.