Nokia Lumia 900 pricing on Rogers revealed, $524.99 contract-free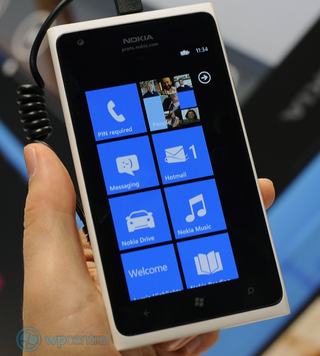 The Lumia 900 will be available on Rogers from $99.99 with an attached plan or $524.99 as an outright purchase, according to pricing revealed by MobileSyrup. The Lumia 900 was previously rumoured to be heading for the Canadian carrier in May.
Run through of the Lumia 900 expected pricing on Rogers:
3-year contract price: $99.99
2-year contract price: $424.99
1-year contract price: $474.99
No-term contract price: $524.99
No date has yet been announced but MobileSyrup is looking at April 10th.
Source: MobileSyrup; thanks Donny for the heads up!
Windows Central Newsletter
Get the best of Windows Central in in your inbox, every day!
Rich Edmonds was formerly a Senior Editor of PC hardware at Windows Central, covering everything related to PC components and NAS. He's been involved in technology for more than a decade and knows a thing or two about the magic inside a PC chassis. You can follow him on Twitter at @RichEdmonds.
Wow that is a really steep subsidy curve. Over 300 extra to go from 3 year to 2 year plan.

By Canadian standards (where the big 3 carriers are allowed to operate in an environment of unfettered collusion), that is an excellent price. Yet I feel Rogers is missing an opportunity to participate and get in the halo of what AT&T is doing right now.
Rogers is doing the most at supporting Windows Phone but can you believe they still list Windows Phones under Windows Mobile and to make matters worse they don't even offer any Windows Mobile phones any more.

Wow I'm glade I'm in America that's crazy prices

The US has better pricing but carriers that are just as bad in different ways, but it may finish just above Canada for 2nd last on a ranked the list of countires with the best wireless industries.

So +US$80 and shipping to have Nokia centered on ones phone…just might be worth it. :-)

wow Canadian carriers gouge you hard with pricings for 1yr/2yr.

yeah the CRTC assisted but reaming we get from the Big 3 sucks but what can you do? We have no competition per say outside of the larger cities like Vancouver and Toronto so we are stuck.

But what I find worst of all is the fact that our plans are not any cheaper if we buy our phones outright. The prices on 1 and 2 year contracts are useless and probably do not get any takers. So bascially we are forced into paying for full data plans for 3 years that cost the same regarless if we get a $750 phone through them or bring our own.
How does it work in other countries if you buy your phone elsewhere--can you get cheaper monthly plans if you do?


I'm pretty sure that in europe/britan phones are sold at full price and there's no contract subsidies so plans are a lot cheaper.
T-Mobile is the only major carrier in the USA that offers those low prices if you bring your phone. Otherwise you're paying a monthly subsidy for a device you already paid for.

Actually in the UK you can get a subsidized device quite easily, but paying more up front lowers the cost of your monthly plan.

Not an ideal price, but at least Rogers does support Windows Phone with timely updates. Besides this is the same price as Telus' Lumia 800.

This is a better price and a way better phone considering I gave them $724.00 after taxes for the Samsung Focus in November of 2010.

Can't wait to get the Lumia 900. W00t!



I'll be buying my at&t branded 900 on eBay, to be used with Rogers. $500 plus shipping will still be a cheaper option!

But you will be paying the same monthly rate as you would if you took the phone from Rogers at $100, plus it would Nokia-branded instead of AT&T.

Rogers can go fck themselves, rocking a Nokia n 9 on mobilicity for $25 a month unlimited data text and talk andnever been happier

man i wish i could do that, my parents live in Langley and apparently there is either no reception or very little for mobilicity

Does anybody know if it's possible to negotiate the early termination fee with Rogers? I've had a Focus since January 2011 (on a 3 year contract), so I haven't stayed even half of my term. Paying around $300 for early termination and prolonging the contract doesn't seem like a great option considering that you can buy Lumia 900 outright for $550-600 (taxes).
Anyways, cheers to Rogers for carrying the best Windows Phones!

Just ask them to subsidize the phone and not cancel o think something like that could be worked out.

To make matters worse. Uts only launching in black. I called Rogers a d Nokia Canada and all they said is that it's launching in black and they don't know anything about a cyan color launch. Im sure it'll eventually launch in cyan but if it's in a month from now then screw it. Ill just get an AT&T branded one. Does anyone have any inside information about the cyan that I don't know about?
Windows Central Newsletter
Thank you for signing up to Windows Central. You will receive a verification email shortly.
There was a problem. Please refresh the page and try again.