Nokia Lumia 920 and 820 receiving the Lumia Black update, India and Italy among first countries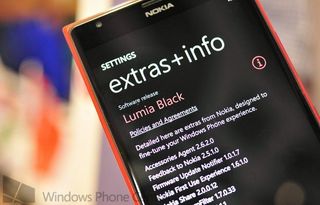 Last we Nokia shared that the Lumia Black update had begun the process of rolling out to various handsets around the globe. The Nokia Lumia 925 and Lumia 1020 were the first devices to receive it, with other devices getting the update in the coming weeks. A support page was set up where you could check the status of the rollout against your country and carrier. We're not receiving tips that various unlocked (and locked) Lumia 820's and 920's are now getting Lumia Black.
Lumia Black, as you should know by now, is a firmware update for Nokia handsets. It brings new features to the mix like Nokia Glance Screen 2.0 and support for Bluetooth LE. It's also required to run some new and updated Nokia apps like Refocus, Beamer, Storyteller and Camera.
The tips we're receiving suggest that Lumia 920's that are unlocked in India are among the places getting the update. In Italy, users are also reportedly receiving the Lumia Black firmware update on their Lumia 820 and Lumia 920 devices. If you go to the Nokia Support page you'll see that some of these regions are still listed as "coming soon", which means that page is probably a little behind the curve. If you see your carrier and region listed as coming soon, you might be getting that update today.
Abby just checked his Lumia 920 and does indeed have the Lumia Black update available to him in India, his Lumia 920 is unlocked.
Have a Lumia 820 or Lumia 920? You might want to go into your phone settings and scroll down to the "phone update" section and check if you have an update waiting. If you find Lumia Black, be sure to list your phone, carrier, and country below in the comments. Don't forget to check out Nokia's software update page (opens in new tab) to check the status on your situation.
Good luck and welcome to Lumia Black.
Thanks for the tips everyone!
Lumia 925 (Greece), with a device from Estonia as it seems (carrier branded) just received it. :)

Congrats. Enjoy and have fun!

In setting Background photos fixed after update Lumia 820

Rolled out to the UK on a friends 820 (o2) and my 920 (sim-free, CV). :)

Not available on Orange UK, 920 Do neeeeed that glance screen, hurry up, please lol

Lithuania, carrier from Germany - got the update a few hours ago: )

Estonia? Are you sure? I'm asking because we normally don't have carrier branding over here, all phones are the unlocked regional models. What sort of branding exactly does your 925 have?

Lumia 820 SIM-Free from Portugal updating :D

I'm currently updating my Lumia 820 SIM Free - PH :D

Is the region I put that would the phone take to check if there is an updated or the real country that you are in ???????? Please if any body knows answer me.

Did you get the gdr3 update here in Greece?(the official release)

And those of us with the 810 are left out in the cold. SO ANGRY at T-Mo right now....

I have t-mobile, they screwed me over on the 710 as well on the upgrade to 7.8. Now I have an unlocked 920.

Is it for sure confirmed the 810 won't get the update? I talked to both Nokia and T-mobile and neither could confirm or deny it...

The Nokia update page for the 810 simply says, "Not Available." I wonder if that simply means that it's not getting it at all.

Considering every other phone listed (including other T-Mobile phones) is "Waiting for Approval" or "Available", then it certainly looks that way.

Certainly makes me mad they won't support a device only a year old...

It just means it will be coming after all the other awaiting approvals are rolled out

I have a 920, but I hope for all you guys that do have 810's that this is wrong and that you do get the update.

I feel your pain. I had the same problem when T-Mobile wouldn't upgrade my HTC HD7 to 7.8. I hope I don't get screwed with my Lumia 521.

I also had an HD7 (the kids get to use it for games, since it doesn't have a SIM), but at least there was a workaround for getting 7.8 installed on it.

I forced the 7.8 upgrade on my HTC HD7.

I couldn't figure out how to do that. Made a mess all over my desktop trying to get it. Did that automatic app (dont remember the name) finally get updated to automatically download the files and force the update? Last I checked (months ago) it said coming soon

Lumia 520, TIM, Amber Update -> Coming soon. WTF? +720 Here ... still waiting!

My 920 and wife's 820 are updating now. Black is the new black.

+920.
Nothing yet in the Netherlands! :(

Ik koop mijn toestellen altijd op amazon.de, Duitse toestellen krijgen meestal eerder de updates dan de BeNeLux. (Sorry for my Dutch folks)

The update is available for UK CV_GB 820 and 920. HOWEVER, 80188309 - Noooo :(

I get this error too :( Anyone know hwat causes it and/or a possible workaround?

I got this error code too when updating my Lumia 920. I've contacted microsoft and was told that they passed on the problem to their 'esculation team' and would contact me within at least 72 hours. I don't know what it is but thier looking into it now so it should be fixed soon. Hopefully.

Looks like the problem has been found. People with the Update 3 Developer Preview already installed are fine. If you haven't already got that, the Black Update fails. This looks as though it's because the update that is coming down is Black on it's own, no Update 3, so the update fails. Seems as if Update 3 is required for Black to even install.

Happend to me too. Just power your phone off and on again. Gone!

Lumia 925
AT&T
3050.0000.1330.2002

Waiting for approval

Sigh... I want the updated Glance Screen... So when I wake up n look at the time, I can automatically know if I have a reason to unlock it (email, text etc) otherwise go back to sleep lol

Got mine on Turkey, Turkcell-920 but getting an error 80188309 which says Update downloaded but couldnt start.

o serverdaki yoğunluktan dolayı (its because of the server, its busy) :)

It's because GDR3 is not yet ready, unlike Black ;)

Oh you are right. Gdr3 still not avaiable in my country tho, we must wait then. Thanks!

Funnily enough, you can get over this by installing GDR3 developer version and updating that one to Black :)

Croatia 920 unlocked also updating.

You should already have gdr3 it updated weeks ago

Not everyone has GDR3. Not on AT&T unless you went the developer preview route. And don't expect Black on AT&T anytime soon either.

No GDR3 here, I have a Lumia 925 with T-Mobile

Same here no Black nor GDR3 :(

Dev Preview?? Do it... I did and it worked perfectly. Not sure why alot of people haven't tried it... Skip the carrier drama

Damn AT&T, still waiting on black &gdr3

Updated to Black here in NZ this morning on unlocked handset.


I am also in NZ, what model Lumia do you have? I have not received the update yet

Update Error 80188309 with Lumia Black, see: http://mynokiablog.com/2014/01/13/a-handful-of-users-reporting-of-update... or @comments here: http://wparea.de/2014/01/lumia-black-update-jetzt-auch-fur-einige-lumia-... (German only) I got the error on my German Lumia 920 (Country Variant). And here: http://answers.microsoft.com/en-us/winphone/forum/wp8-wpupdate/update-wa...

I just got the same problem :(

Do you, or anyone else with this error, have GDR3 yet?

I don't have GDR3, just Amber.

I also have the 920 German Country Variant .... Bought on amazon.de, my device had no problems with the update.

I've received it in the uk

Yoppe, so did I NL 920 Unlocked...

I have an AT&T 920 with the French ROM on it and it's updating now.

Are you sure? :o Mine is stuck on Checking for Updates...

Yeah, it just popped up and said, "An update is ready." It's on the spinning gears now.

Mine french rom is also updating now, att 920. love data sense!

How is your lte on that rom? I want to flash something so I can enable internet sharing.

I'm using AIO, so it's throttled, but it works great. I haven't had any issues with this ROM and I'm glad I did it. Getting updates when Nokia/Microsoft releases them is great. And I can use Data Sense.

I'm going to try to flash that rom and see what happens. As long as I don't get dropped calls and junk and LTE works I'm sold.

Since I installed the black update, my Internet Sharing didn't work anymore. It say's "There's no cellular data connection to share..." on my Nokia 920. I already installed the app to enable tetering, apn are goods etc... WTF with this update???

Confirmed.. have the same phone/ROM and it's installing as we speak :)

I have an ATT 920 with the French ROM as well and just checked for updates. There were 4 updates available and when finished installing it actually looks like it installed the Black Update and GDR3! Did anybody else have this as well?? I can now close applications in the app switcher menu.

I had the GDR3 update from the dev preview. I only had 1 update.

AT&T comments in 3, 2, 1...

BOOM...goes the dynomite!

Confirm, L820 unlocked updating to Black this minute.

Insert at&t comments below.

Nothing on my 920 which is on EE UK... but that doesn't surprise me. They're always slow out of the blocks. It appears most Country Variants are getting this and the ones that were listed as 'Coming soon' on Nokia's update page.

My Lumia 920 on Three UK is updating though, curiously. Must be soon for EE, I hope.

That's interesting, as the update page lists 3 UK as just 'Waiting for approval'. Thanks for letting me know. Hopefully EE will follow soon, but I don't have have a lot of confidence in them anymore. Enjoy the update :)

Nokia Lumia 820 (deeloper unlocked). Got updated. Status : Preparing to install - 28%. India.

Just updated, Lumia 920 Italy CV. I'm not able to download Nokia Beamer though

icant download as well in Turkey

Cannot download the applications as well :( (Spain)

I can't download it... I updated my Lumia 820 Vodafone today

Me too, I got Nokia Black this morning but am not able to download Nokia Beamer

I've a Lumia 1020 and still don't available in Costa Rica -.-u
It's very annoying!!! Why always latam at last!!?? :'(

US has not got it yet, don't worry *yet*

Update in Bosnia and Herzegovina on BH Telecom variant but still not availability of downloading Storyteller and Beamer software, just check UK and USA Store, no help, any advice folks.

Hey, I'm also on BH Telecom. Did you manage to successfully update the phone or did ypu get error: couldn't open the update (80188309)?

Installed half hour ago, maybe you do not have enough free space. Do not know how big is download and how much space is needed for extraction bit I assume some 2.5 Gb.

FYI I have 13GB free and I'm having this problem

Did you have Developer GDR3 update?
It seems that is made it some confusion, know is polemic on forums does this update also contain GDR3 or not or maybe is just an issue with overloaded download server.
Who knows, be patient, it is important that thing moving.
Cheers.

I have 23GB of free space so that shouldn't be an issue.

Then, what to tell you, be patient and keep trying, turn off/on, then try again, who knows what could be wrong. Sorry men.

The issue seems to be that nokia's black firmware is available but the gdr3 part of the update isn't so it fails unless you have already installed gdr3 using the developer preview program reported on here a few months ago.
You can either install the preview (search this site) and update or keep trying until Microsoft fixes the issue which should be fairly soon

I don't think it is because of not having the gdr3 preview because my brother's 820 got updated without gdr3.

By the way, Storyteller become available via Store for Black device, Beamer and Play 3.x not yet.

Nothing on Att unlocked device. And maybe i need to wait for several months. Thank you, ATT.

Some of us (myself 920 vodafone Spain, but also everywhere else), are getting the update but not being able to install it (error 80188309) Please see here: http://forums.wpcentral.com/windows-phone-8/258585-lumia-920-updating-now-looks-like-black.html and here http://answers.microsoft.com/en-us/winphone/forum/wp8-wpupdate/update-was-downloaded-but-could-not-be-opened/1d93ffb1-0419-4fbf-a62a-e4167c8f25d5?page=3 or here http://mynokiablog.com/2014/01/13/a-handful-of-users-reporting-of-update-error-80188309-with-lumia-black/

My 820 updated this evening but can't get Nokia Camera and Refocus. App store says not available for my device!

Nokia camera is still only for pureview devices but you can get the Nokia camera beta already. Refocus and storyteller and beamer seem to not be working at the moment though

"Last we Nokia shared?" Sam, I didn't realize you guys were Nokia! When were you gonna tell us?

I'm downloading the update as we speak. I'm using Lumia 920 Amber (which is carrier-locked) in Bosnia and Herzegovina, the carrier is BH Telecom.

If i had a tail I would be wagging it in anticipation right now

Downloading it right now in Germany

Hoping the Rogers 920 update doesn't sit waiting for approval for too long.

Agreed, I still got nothing on my Rogers 920.

Nothing yet in Hungary. :'( C'mon man!

It's already downloading for me on my unlocked L920

Not for my Unlocked L920 :( BTW, extras+info on my L920 shows Manufacturer name: RM-821_eu_poland_324. Should I follow Hungary or Poland status on Nokia's Software update page?

well its not here for me either! (L920, T-Mobile)

That's because: Lumia 920
T-Mobile
3047.0000.1326.2002
Waiting for approval And afaik GDR3 isn't officially released here yet, so you can only install Black, if you were in the Developer Preview program.

920 ATT USA, nothing here

Yeaaa I wonder how long it will be. 920 atnt also waiting -.-

AT&T is the best carrier in the entire known universe! (trying something different this time)

Actually, AT&T is the second best carrier in the entire known universe. All the other carriers are tied for first...

Check it again, I just got it on mine

Updating my unlocked (L920) country variant from Germany, i live in Belgium trough but i don't think it has anything to do with where i live ... The update is taking veeeeeeery long trough, it already toke more than an hour and at the moment of writing it's still updating. Probably because i have 16GB of files on the device. Good luck everyone!

How about asking T-Mobile why they're not clearing Nokia Black for the 810 - which was EOL's less than a year ago? Thousands of customers left out in the cold for no apparent reason.

I tried asking them, the customer service rep says he will "report it to Management"......Riiight...I remember my Galaxy S2 taking over 1.5 years for a Jellybean update....

Netherlands: Lumia 920 device from Sweden, downloading Lumia Black right now :)

Updated to black - Lumia 920 user from india

Turkey, CV Lumia 920, downloading !!!!!!!!!!!

failed twice with an error code. Third time's the charm i think.

Nice, this means my AT&T 920 should get it in one ir two months

Downloading... Preparing... Can't open (80188309) (fuck) L920 tele2 Sweden

Got it in Denmark as well L920. Worked with no problems.

And here we are on at&t in the US, probably gonna get it when the first Microsoft branded phone comes out.

Lumia 820,France,No update

920 unlocked, currently dling!

Using the France ROM on 820, no update here.

Update available for 920 unlocked UK. Downloaded but then get an error message saying "The update was downloaded but could not be installed. Error code: 80188309" Does anyone know why this isn't working?

Tesco Mobile UK.. Downloaded update but got error couldn't open

Lumia 920 in Nepal .. Downloading the update....

Vodafone UK 920 downloading now

+1 Any idea what the firmware / OS versions should be after this has installed? (What shows that its actually BLACK?)

Mine is the same. Go to Settings>extras+info it should say in big bold letters Lumia Black. In settings>about it should be firmware version 3051.40000.1349.0010 which matches the Nokia update webpage.

Whoop on my 920! (sim free uk)

Updated lumia 920 to nokia black but I can't use Nokia Beamer or Storyteller on my phone.

Nice that its rolling out.. That means we at AT&T have only 19 more weeks to go. W00t!!

Got it on my 920 here in Ireland (country variant) sweet!!

You're "not" receiving tips that locked and unlocked 920/820s are getting Lumia Black?
?? Or is that a typo??

Lumia 920 Rogers nothing is up to date

Look on the Nokia support page, Rogers L920 GDR3/Black update waiting for approval. :(

T-Mobile 925 still waiting for approval. What are we waiting for?

I know. I've attempted to get an answer out of several people at T-Mobile but its a no go. If they don't update my L925 like they didn't update my HTC HD7 to WP7.8...then I'm unlocking my phone and going elsewhere.

Updated 920 in Norway on Telenor, but still not possible to download Storyteller and Beamer apps (not available for my device! )

Updated. But like the last time, NOKIA's update information page still says that it hasn't been releasd here yet. So a lot of good that page does then.

I just downloaded the update on my unlocked L920 HU, now it says that "The update was downloaded, but couldn't be opened. (80188309)"

Hilarious, the att comedy lines! :)

Estonia, 920, Downloaded. Needs moar power.

Updating here in Brazil. L920, rogers unlocked on vivo network. With French rom.

920 in the USA saying unable to check for update message

Restart the phone, try it again afterward.

Nothing on Deutsche Telekom for the L920 (the L1020 received it on the announcement day though, and since Black is way more relevant for the L1020 than for the L920, I'm fine with it)

Unbranded 920 in Portugal. Downloading :)

Available in Spain on vodaphone

Available for at&t in 2015

We'll probably have other phones by then, i have a sneeking feeling that at&t doesnthis to their customers to frustrate the crap out of them and make them make a rash decision and just up upgrade to newer phones and plans

Not released on Verizon either.

Vodaphone Italy - Lumia 820 is available

I've also noticed that the message tones and ringtones are alot clearer now, plus the custom ones i have on it too, anyone else notice??

Latvia. Installed black update on top of microsoft gdr3. Lumia 820

Just installed the update for O2 UK.

Problems updating! Unbranded lumia 920. 80188309 error

It's because GDR3 is not yet ready, unlike Black ;)

Downloaded and installed but it says, couldn't open it, error 80138809. Any help?