Nokia Lumia 920 and 820 receiving the Lumia Black update, India and Italy among first countries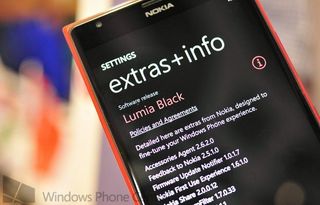 Last we Nokia shared that the Lumia Black update had begun the process of rolling out to various handsets around the globe. The Nokia Lumia 925 and Lumia 1020 were the first devices to receive it, with other devices getting the update in the coming weeks. A support page was set up where you could check the status of the rollout against your country and carrier. We're not receiving tips that various unlocked (and locked) Lumia 820's and 920's are now getting Lumia Black.
Lumia Black, as you should know by now, is a firmware update for Nokia handsets. It brings new features to the mix like Nokia Glance Screen 2.0 and support for Bluetooth LE. It's also required to run some new and updated Nokia apps like Refocus, Beamer, Storyteller and Camera.
The tips we're receiving suggest that Lumia 920's that are unlocked in India are among the places getting the update. In Italy, users are also reportedly receiving the Lumia Black firmware update on their Lumia 820 and Lumia 920 devices. If you go to the Nokia Support page you'll see that some of these regions are still listed as "coming soon", which means that page is probably a little behind the curve. If you see your carrier and region listed as coming soon, you might be getting that update today.
Abby just checked his Lumia 920 and does indeed have the Lumia Black update available to him in India, his Lumia 920 is unlocked.
Have a Lumia 820 or Lumia 920? You might want to go into your phone settings and scroll down to the "phone update" section and check if you have an update waiting. If you find Lumia Black, be sure to list your phone, carrier, and country below in the comments. Don't forget to check out Nokia's software update page (opens in new tab) to check the status on your situation.
Good luck and welcome to Lumia Black.
Thanks for the tips everyone!
Windows Central Newsletter
Get the best of Windows Central in in your inbox, every day!
Lumia 925 (Greece), with a device from Estonia as it seems (carrier branded) just received it. :)

Congrats. Enjoy and have fun!

In setting Background photos fixed after update Lumia 820

Rolled out to the UK on a friends 820 (o2) and my 920 (sim-free, CV). :)

Not available on Orange UK, 920 Do neeeeed that glance screen, hurry up, please lol

Lithuania, carrier from Germany - got the update a few hours ago: )

Estonia? Are you sure? I'm asking because we normally don't have carrier branding over here, all phones are the unlocked regional models. What sort of branding exactly does your 925 have?

Lumia 820 SIM-Free from Portugal updating :D

I'm currently updating my Lumia 820 SIM Free - PH :D

Is the region I put that would the phone take to check if there is an updated or the real country that you are in ???????? Please if any body knows answer me.

Did you get the gdr3 update here in Greece?(the official release)

And those of us with the 810 are left out in the cold. SO ANGRY at T-Mo right now....

I have t-mobile, they screwed me over on the 710 as well on the upgrade to 7.8. Now I have an unlocked 920.

Is it for sure confirmed the 810 won't get the update? I talked to both Nokia and T-mobile and neither could confirm or deny it...

The Nokia update page for the 810 simply says, "Not Available." I wonder if that simply means that it's not getting it at all.

Considering every other phone listed (including other T-Mobile phones) is "Waiting for Approval" or "Available", then it certainly looks that way.

Certainly makes me mad they won't support a device only a year old...

It just means it will be coming after all the other awaiting approvals are rolled out

I have a 920, but I hope for all you guys that do have 810's that this is wrong and that you do get the update.

I feel your pain. I had the same problem when T-Mobile wouldn't upgrade my HTC HD7 to 7.8. I hope I don't get screwed with my Lumia 521.

I also had an HD7 (the kids get to use it for games, since it doesn't have a SIM), but at least there was a workaround for getting 7.8 installed on it.

I forced the 7.8 upgrade on my HTC HD7.

I couldn't figure out how to do that. Made a mess all over my desktop trying to get it. Did that automatic app (dont remember the name) finally get updated to automatically download the files and force the update? Last I checked (months ago) it said coming soon

Lumia 520, TIM, Amber Update -> Coming soon. WTF? +720 Here ... still waiting!

My 920 and wife's 820 are updating now. Black is the new black.

+920.
Nothing yet in the Netherlands! :(

Ik koop mijn toestellen altijd op amazon.de, Duitse toestellen krijgen meestal eerder de updates dan de BeNeLux. (Sorry for my Dutch folks)

The update is available for UK CV_GB 820 and 920. HOWEVER, 80188309 - Noooo :(

I get this error too :( Anyone know hwat causes it and/or a possible workaround?

I got this error code too when updating my Lumia 920. I've contacted microsoft and was told that they passed on the problem to their 'esculation team' and would contact me within at least 72 hours. I don't know what it is but thier looking into it now so it should be fixed soon. Hopefully.

Looks like the problem has been found. People with the Update 3 Developer Preview already installed are fine. If you haven't already got that, the Black Update fails. This looks as though it's because the update that is coming down is Black on it's own, no Update 3, so the update fails. Seems as if Update 3 is required for Black to even install.

Happend to me too. Just power your phone off and on again. Gone!

Lumia 925
AT&T
3050.0000.1330.2002

Waiting for approval

Sigh... I want the updated Glance Screen... So when I wake up n look at the time, I can automatically know if I have a reason to unlock it (email, text etc) otherwise go back to sleep lol

Got mine on Turkey, Turkcell-920 but getting an error 80188309 which says Update downloaded but couldnt start.

o serverdaki yoğunluktan dolayı (its because of the server, its busy) :)

It's because GDR3 is not yet ready, unlike Black ;)

Oh you are right. Gdr3 still not avaiable in my country tho, we must wait then. Thanks!

Funnily enough, you can get over this by installing GDR3 developer version and updating that one to Black :)

Croatia 920 unlocked also updating.

You should already have gdr3 it updated weeks ago

Not everyone has GDR3. Not on AT&T unless you went the developer preview route. And don't expect Black on AT&T anytime soon either.

No GDR3 here, I have a Lumia 925 with T-Mobile

Same here no Black nor GDR3 :(

Dev Preview?? Do it... I did and it worked perfectly. Not sure why alot of people haven't tried it... Skip the carrier drama

Damn AT&T, still waiting on black &gdr3

Updated to Black here in NZ this morning on unlocked handset.


I am also in NZ, what model Lumia do you have? I have not received the update yet

Update Error 80188309 with Lumia Black, see: http://mynokiablog.com/2014/01/13/a-handful-of-users-reporting-of-update... or @comments here: http://wparea.de/2014/01/lumia-black-update-jetzt-auch-fur-einige-lumia-... (German only) I got the error on my German Lumia 920 (Country Variant). And here: http://answers.microsoft.com/en-us/winphone/forum/wp8-wpupdate/update-wa...

I just got the same problem :(

Do you, or anyone else with this error, have GDR3 yet?

I don't have GDR3, just Amber.

I also have the 920 German Country Variant .... Bought on amazon.de, my device had no problems with the update.

I've received it in the uk

Yoppe, so did I NL 920 Unlocked...

I have an AT&T 920 with the French ROM on it and it's updating now.

Are you sure? :o Mine is stuck on Checking for Updates...

Yeah, it just popped up and said, "An update is ready." It's on the spinning gears now.

Mine french rom is also updating now, att 920. love data sense!

How is your lte on that rom? I want to flash something so I can enable internet sharing.

I'm using AIO, so it's throttled, but it works great. I haven't had any issues with this ROM and I'm glad I did it. Getting updates when Nokia/Microsoft releases them is great. And I can use Data Sense.

I'm going to try to flash that rom and see what happens. As long as I don't get dropped calls and junk and LTE works I'm sold.

Since I installed the black update, my Internet Sharing didn't work anymore. It say's "There's no cellular data connection to share..." on my Nokia 920. I already installed the app to enable tetering, apn are goods etc... WTF with this update???

Confirmed.. have the same phone/ROM and it's installing as we speak :)

I have an ATT 920 with the French ROM as well and just checked for updates. There were 4 updates available and when finished installing it actually looks like it installed the Black Update and GDR3! Did anybody else have this as well?? I can now close applications in the app switcher menu.

I had the GDR3 update from the dev preview. I only had 1 update.

AT&T comments in 3, 2, 1...

BOOM...goes the dynomite!

Confirm, L820 unlocked updating to Black this minute.

Insert at&t comments below.

Nothing on my 920 which is on EE UK... but that doesn't surprise me. They're always slow out of the blocks. It appears most Country Variants are getting this and the ones that were listed as 'Coming soon' on Nokia's update page.

My Lumia 920 on Three UK is updating though, curiously. Must be soon for EE, I hope.

That's interesting, as the update page lists 3 UK as just 'Waiting for approval'. Thanks for letting me know. Hopefully EE will follow soon, but I don't have have a lot of confidence in them anymore. Enjoy the update :)

Nokia Lumia 820 (deeloper unlocked). Got updated. Status : Preparing to install - 28%. India.

Just updated, Lumia 920 Italy CV. I'm not able to download Nokia Beamer though

icant download as well in Turkey

Cannot download the applications as well :( (Spain)

I can't download it... I updated my Lumia 820 Vodafone today

Me too, I got Nokia Black this morning but am not able to download Nokia Beamer

I've a Lumia 1020 and still don't available in Costa Rica -.-u
It's very annoying!!! Why always latam at last!!?? :'(

US has not got it yet, don't worry *yet*

Update in Bosnia and Herzegovina on BH Telecom variant but still not availability of downloading Storyteller and Beamer software, just check UK and USA Store, no help, any advice folks.

Hey, I'm also on BH Telecom. Did you manage to successfully update the phone or did ypu get error: couldn't open the update (80188309)?

Installed half hour ago, maybe you do not have enough free space. Do not know how big is download and how much space is needed for extraction bit I assume some 2.5 Gb.

FYI I have 13GB free and I'm having this problem

Did you have Developer GDR3 update?
It seems that is made it some confusion, know is polemic on forums does this update also contain GDR3 or not or maybe is just an issue with overloaded download server.
Who knows, be patient, it is important that thing moving.
Cheers.

I have 23GB of free space so that shouldn't be an issue.

Then, what to tell you, be patient and keep trying, turn off/on, then try again, who knows what could be wrong. Sorry men.

The issue seems to be that nokia's black firmware is available but the gdr3 part of the update isn't so it fails unless you have already installed gdr3 using the developer preview program reported on here a few months ago.
You can either install the preview (search this site) and update or keep trying until Microsoft fixes the issue which should be fairly soon

I don't think it is because of not having the gdr3 preview because my brother's 820 got updated without gdr3.

By the way, Storyteller become available via Store for Black device, Beamer and Play 3.x not yet.

Nothing on Att unlocked device. And maybe i need to wait for several months. Thank you, ATT.

Some of us (myself 920 vodafone Spain, but also everywhere else), are getting the update but not being able to install it (error 80188309) Please see here: http://forums.wpcentral.com/windows-phone-8/258585-lumia-920-updating-now-looks-like-black.html and here http://answers.microsoft.com/en-us/winphone/forum/wp8-wpupdate/update-was-downloaded-but-could-not-be-opened/1d93ffb1-0419-4fbf-a62a-e4167c8f25d5?page=3 or here http://mynokiablog.com/2014/01/13/a-handful-of-users-reporting-of-update-error-80188309-with-lumia-black/

My 820 updated this evening but can't get Nokia Camera and Refocus. App store says not available for my device!

Nokia camera is still only for pureview devices but you can get the Nokia camera beta already. Refocus and storyteller and beamer seem to not be working at the moment though

"Last we Nokia shared?" Sam, I didn't realize you guys were Nokia! When were you gonna tell us?

I'm downloading the update as we speak. I'm using Lumia 920 Amber (which is carrier-locked) in Bosnia and Herzegovina, the carrier is BH Telecom.

If i had a tail I would be wagging it in anticipation right now

Downloading it right now in Germany

Hoping the Rogers 920 update doesn't sit waiting for approval for too long.

Agreed, I still got nothing on my Rogers 920.

Nothing yet in Hungary. :'( C'mon man!

It's already downloading for me on my unlocked L920

Not for my Unlocked L920 :( BTW, extras+info on my L920 shows Manufacturer name: RM-821_eu_poland_324. Should I follow Hungary or Poland status on Nokia's Software update page?

well its not here for me either! (L920, T-Mobile)

That's because: Lumia 920
T-Mobile
3047.0000.1326.2002
Waiting for approval And afaik GDR3 isn't officially released here yet, so you can only install Black, if you were in the Developer Preview program.

920 ATT USA, nothing here

Yeaaa I wonder how long it will be. 920 atnt also waiting -.-

AT&T is the best carrier in the entire known universe! (trying something different this time)

Actually, AT&T is the second best carrier in the entire known universe. All the other carriers are tied for first...

Check it again, I just got it on mine

Updating my unlocked (L920) country variant from Germany, i live in Belgium trough but i don't think it has anything to do with where i live ... The update is taking veeeeeeery long trough, it already toke more than an hour and at the moment of writing it's still updating. Probably because i have 16GB of files on the device. Good luck everyone!

How about asking T-Mobile why they're not clearing Nokia Black for the 810 - which was EOL's less than a year ago? Thousands of customers left out in the cold for no apparent reason.

I tried asking them, the customer service rep says he will "report it to Management"......Riiight...I remember my Galaxy S2 taking over 1.5 years for a Jellybean update....

Netherlands: Lumia 920 device from Sweden, downloading Lumia Black right now :)

Updated to black - Lumia 920 user from india

Turkey, CV Lumia 920, downloading !!!!!!!!!!!

failed twice with an error code. Third time's the charm i think.

Nice, this means my AT&T 920 should get it in one ir two months

Downloading... Preparing... Can't open (80188309) (fuck) L920 tele2 Sweden

Got it in Denmark as well L920. Worked with no problems.

And here we are on at&t in the US, probably gonna get it when the first Microsoft branded phone comes out.

Lumia 820,France,No update

920 unlocked, currently dling!

Using the France ROM on 820, no update here.

Update available for 920 unlocked UK. Downloaded but then get an error message saying "The update was downloaded but could not be installed. Error code: 80188309" Does anyone know why this isn't working?

Tesco Mobile UK.. Downloaded update but got error couldn't open

Lumia 920 in Nepal .. Downloading the update....

Vodafone UK 920 downloading now

+1 Any idea what the firmware / OS versions should be after this has installed? (What shows that its actually BLACK?)

Mine is the same. Go to Settings>extras+info it should say in big bold letters Lumia Black. In settings>about it should be firmware version 3051.40000.1349.0010 which matches the Nokia update webpage.

Whoop on my 920! (sim free uk)

Updated lumia 920 to nokia black but I can't use Nokia Beamer or Storyteller on my phone.

Nice that its rolling out.. That means we at AT&T have only 19 more weeks to go. W00t!!

Got it on my 920 here in Ireland (country variant) sweet!!

You're "not" receiving tips that locked and unlocked 920/820s are getting Lumia Black?
?? Or is that a typo??

Lumia 920 Rogers nothing is up to date

Look on the Nokia support page, Rogers L920 GDR3/Black update waiting for approval. :(

T-Mobile 925 still waiting for approval. What are we waiting for?

I know. I've attempted to get an answer out of several people at T-Mobile but its a no go. If they don't update my L925 like they didn't update my HTC HD7 to WP7.8...then I'm unlocking my phone and going elsewhere.

Updated 920 in Norway on Telenor, but still not possible to download Storyteller and Beamer apps (not available for my device! )

Updated. But like the last time, NOKIA's update information page still says that it hasn't been releasd here yet. So a lot of good that page does then.

I just downloaded the update on my unlocked L920 HU, now it says that "The update was downloaded, but couldn't be opened. (80188309)"

Hilarious, the att comedy lines! :)

Estonia, 920, Downloaded. Needs moar power.

Updating here in Brazil. L920, rogers unlocked on vivo network. With French rom.

920 in the USA saying unable to check for update message

Restart the phone, try it again afterward.

Nothing on Deutsche Telekom for the L920 (the L1020 received it on the announcement day though, and since Black is way more relevant for the L1020 than for the L920, I'm fine with it)

Unbranded 920 in Portugal. Downloading :)

Available in Spain on vodaphone

Available for at&t in 2015

We'll probably have other phones by then, i have a sneeking feeling that at&t doesnthis to their customers to frustrate the crap out of them and make them make a rash decision and just up upgrade to newer phones and plans

Not released on Verizon either.

Vodaphone Italy - Lumia 820 is available

I've also noticed that the message tones and ringtones are alot clearer now, plus the custom ones i have on it too, anyone else notice??

Latvia. Installed black update on top of microsoft gdr3. Lumia 820

Just installed the update for O2 UK.

Problems updating! Unbranded lumia 920. 80188309 error

It's because GDR3 is not yet ready, unlike Black ;)

Downloaded and installed but it says, couldn't open it, error 80138809. Any help?

Looks like Nokia may have jumped the gun in some areas. It's believed the installation problem for black is because Microsoft's Update 3 for WP8 wasn't downloaded as well and Black needs Update 3 to work. http://www.ijsmblog.com/2014/01/error-80188309-glitch-for-nokia-lumia.html

Nothing yet to my Orange Lumia 920 in Romania. C'mon, Black, get over here!

Mmmmm mmmm m, that's the news I've been waiting for.

Getting update on my 920 in Aruba, phone is from Uganda tho xd

Working in Denmark on a 920

Also on 920 in Denmark from Telenor (I had Update 3 installed). Now migrating data. It took like 20 minutes to do the update.

Grumble...AT&T 920...Grumble

Country Varient UK update for 920 right here (have been checking obsessively all day)

why isnt working in Finland

Lumia 920 Unlocked from Croatia updating at the moment

Denmark unlock (carrier Greece) just installed it. But no beamer and storyteller available.

Same here.Danish device L920 (Carrier Greece) the device downloads the update without probles but whe the "preparing to install" Reaches 100% i receive the following message "the update was downloaded but couldn't be opened"
WTF?!?! MS and Nokia can't even provide an OS/Firmware properly!
Disapointed!

Add a few more exclamation marks, I think you'll get your point across.

L920 Finland updated, but apps that require black update can't install :(

I'm also from Finland & having same problem :(

Umm..am I missing something here? Does "Black" mean that your screen will literally stay black like forever? My L920 started to install, turned off and hasn't shown any life signs for like 30 mins now?

Just as I found this from Nokia support: Step 2. The update should take around 15-30 minutes, but it could take up to 60 minutes, the device woke up and is now happily spinning some cogs. Before proceeding, make sure the device owner has enough patience

Lumia 920 and 820 unlocked UK variants downloading now :)

Unlocked 920 got the error too. I'll try again in a couple hours.

I got Black yesterday or Sunday. I have a Lumia 1020 on O2 Ireland.

None of the normal things work – I have 5 gig free, lots of charge and plugged the phone in, downloaded over wifi, prepares to install then gets the error, reboot and clear storage and still does it, even tried soft reset.

L920 in Australia is not updating

Downloading for l820 India.. Donno whether the error occurs r not.. Seems like it wont.. :)

Can you download through cellular data?

I'm on AT&T and its not available yet. Maybe in 2015, I'll check again then. AT&T service rocks where I live, they just suck on releasing updates. I wish Microsoft/Nokia controlled the updates similiar to Apple as opposed to the carrier.

Lumia 920 on At&t no update.

Bet there's some overtime going on at Nokia and MS over this installation bug.

Nokia Lumia 820 Portugal Country variant with GDR3 preview updating, and my brother's Lumia 920 Swisscom bought on expansys(orange portugal) updating too :)

Downloading the update now for my 920 on att, have an unlocked French rom installed on phone though, :P

Just tried and came up with an error. "The update was downloaded, but couldn't be opened. (80188309)"

Same problem here, L920 Finland

Did you find a solution for this? I have tried some 10 times and it says the same :(

I am an unlocked 920 in the UK.

Lumia 920, Estonia (country variant), downloaded and installed!

Nothing yet on EE UK (as expected)

Getting really eager now (not yet here in Holland, KPN)

Not able to download storyteller and beamer even after Black update in India. Why is it?

Does "Black" fix yellow tone on photos lumia920?

Yep, it should do. It has fixed the issue on the 925 and 1020, which have already received the updates (in most areas).

Seems to still be present in the Nokia camera app. Default camera app shows less. Hang on, don't think it has done anything to my Lumia 920, still have the yellow hue

That's disappointing to hear, especially after hearing mainly positive views on the 1020's image processing in Black. Thanks for letting me know anyway. Hopefully I can test it on mine when EE finally release the update for me.

Available in Germany for 820 tmobile

Got it with installation error code : 80188309

http://www.ijsmblog.com/2014/01/error-80188309-glitch-for-nokia-lumia.html

Downloading Update! Lumia 820 Sim Unlocked (Country Variant) UK!

Downloading Update! Lumia 820 Sim Unlocked (Country Variant) IT! :D

Got the update today for my 920 Unbranded (France).

Update available for me! Unlocked Rogers Lumia 920 on T-Mobile USA.

I new I should have bought a Rogers device to use on T-Mobile rather than using a device from T-Mobile!!!

I have a Rogers Lumia 920 and I still have not received the update!

I used to be on Orange in the UK but I unlocked the phone to use a Three sim. Does that mean my phone is classed as an "unlocked country variant"? I don't seem to be seeing an update on my phone yet.

If it was originally an Orange (EE) phone, then you will probably still need to wait for EE to issue the update. What is you current Firmware version? You can find this in Settings, then 'About', then on 'more information'.

You will have to wait for the EE release as you are running EE firmware. You could always flash your phone to country variant and you'll get the updates first.

Using an Italian variant of the Lumia 920 under Globe network here in the Philippines. Downloading the update...

In Tokyo now with French update installed on unlocked AT&T cyan 920 and developer preview. Ever so glad I dumped the AT&T branding to get Amber. Downloading now!

Yesssss ! TURKEY Country Variant (Unlocked); I am using Voda*****Just checked to Update now and receiving. Will let you know the result.

Same as me, only i´m in Portugal. Good luck!

Could not Start to install (80188309). This is the result more or as as translated. :( Have to wait i think. Any advices ??? THX.

Got it. But like other's no new apps like beamer and story teller. Screen locking and drive mode etc. are just fine. From turkey using country variant.

Downloaded but not able open it. Tele2 in Sweden.

Konstigt att du inte kunde starta uppdateringen. Min 920 är också köpt på Tele2 och det funkade perfekt för mig.

Same problem here as well in India!

I got black update for 520,IndIa

Got it. Unlocked 920 in Sweden. Must include GDR 3 since it seems to be required and I didn´t have it before.

Still cant install beamer and storyteller.

Same here. Not able to download storyteller and beamer even after Black update in India. Edit: Able to download storyteller now. No beamer yet

My 920 on AT&T is updating. I had GDR3 on it through the developer program. Its been off for a couple weeks since I have a 1020 now.

Is there any downside to downloading the GDR3 through the developer program and then trying to get the black update?

None that I am aware. Of course, your mileage may vary. I was faced with a likely 2 month wait for AT&T. I had already circumvented them for GDR2 with Amber and I was very glad to have done so.

Is it installing Black or update for GDR3?

Ok, false alarm it was just updating GDR3 from developer preview to the real deal. Still on Lumia Amber with no new updates available.

Not able to download storyteller and beamer even after Black update in India.
Edit: Able to download storyteller now. No beamer yet

Downloads but wont install on 02 uk, lumia 820. Get an error code and wont go any further.

Yep it's a known problem. It seems as though it's because the Black update is arriving on it's own, without Update 3, which is requires to run. Microsoft are aware of this. I would think it will just be a matter of time until they release Update 3 with it.

Lumia 920 on Vodafone UK. Just been notified of update after checking in Settings. Started the download, but should I install yet based on reported issues?

920, unlocked, Norway Got it today as well :D

My Spanish Unlocked Lumia 920 is NOW UPDATED with GDR3!

¿Really? ¿En serio? ¿Con GD3? Eso quiere decir que GD3 está también saliendo de los servidores de Microsoft...

Of course, por supuesto! 100% sure, 100 seguro! :D Vamos, que he ido a la pantalla de información y pone Black. Lo único extraño es que todavía no están disponibles ni Nokia Beamer ni StoryTeller. No sé de qué servidores sale esta actualización, pero estoy seguro de que están un poco saturadillos, porque he tenido que comprobar las actualizaciones unas 3 veces. Las 2 primeras daba un mensaje de error. ¡Suerte!

Oh yes yes yes :D! Bien, por Black no me preocupo, por que en algún momento caerá, por mientras daré refresh a buscar actualizaciones hasta el infinito, pero lo que me preocupa es esa GDR3, que veo que nunca llegará, me parece que Beamer, y StoryTeller no te instalan por que no tienes GDR3...¿podrías revisar eso? ¡Estoy ansioso de tener bloqueo de pantalla!

Wait what? You're telling me in Spanish you also START a senctence with a ¿ or ¡ if it ends with a ! or ?
That's brilliant :P

Yes, Spanish is THAT WAY! :) We start interrogative and exclamative sentences with the appropriate opening symbol. This can be seen as not useful, but helps a lot for long sentences because when reading you know the tone of the sentences BEFORE it ends (eventually, it's too late when you realize that sentence is an exclamation or a question

My Lumia 920 in Finland recieved the update. Downloading now... =)

YES!! Reporting from Madeira island (Portugal), my unlocked 920 is updating now. Those spinning cogs scare the crap out of me. CRISTIANO RONALDO FIFA BALON D`OR!!

Downloading it in France on my unlocked 920 :)

Same problem here for Lumia 820 UK country variant, black update downloaded but cannot be installed... Question is though, do we have to wait so they will fix it from NOKIA'S end or we have to do something with the device... I really dont want to reset the phone.

What is this madness with not being able to download beamer and storyteller. I wish Nokia releases some sort of statement or something.

It is not madness and i am not talking just for the apps, i am talking about not being able to update at all. You know when a new update is available you sort of want it isnt it ? Who doesnt like updating his/her devices :) I also wish the same thing so we know what to do

It's a known problem. It appears the Update 3 files are not being sent down with the Black update. As Black needs Update 3 to install, the update fails. Microsoft are aware of this. You'll just need to wait unfortunately until they sort out sending all the required updates down together.

I can live with it i guess, as long they are doing their best efforts of course ;) Thanks for your reply

According to Nokia's website, Black is still 'coming soon', maybe they released it too early before GDR3 was ready.

Just updated in my unlocked lumia 920 in germany

I'm installing the GDR3 through the developer program, after it finishes installing I'm going to see if I can get the black update that way. AT&T USA

It will work then. It's because Update 3 is missing in places.

yeah... you may still be waiting, but at least you'll have GDR3!

I now have GDR3 but still no Black update. AT&T, Nokia 920, USA

yup, just need AT&T to clear it..... hopefully sooner than later

Same here - and my phone found and installed Black earlier today when I checked for it. The only additional detail is that I had flashed my L920 with the French ROM back in the days of GDR2 :)

Got mine somewhen today: Lumia 920, Cyan, Germany, Unbranded.

Just updated my Lumia 920 in Cyprus but unable to install Storyteller and Beamer and cannot update Play to (had the Update 3 preview before installing Black) :S

me too with Lumia 820 Italy... the official site says "coming soon" but I'm already running Lumia Black

Austria, Lumia 920 CV, downloading ;)

Finland L920 unlocked dl:ed but failed upgrade

Nokia Lumia 820 Italy no-brand, updated but new Nokia Apps still not avaiable... Nokia page says "coming soon" but I'm already running Lumia Black. firmware version: 3051.40000.1347.1007

Here in Spain, Lumia 920 (free - no carrier) also received black update tonight!

Still nothing on 925 on tmobile

I got error 80072efd unable to check for updates.

Guy's i think that at this time what i mean is now, we have to be patient. After trying to update i f you get an error message just wait a few hours or maybe days then try again. Why is the rush ? Are you not allready stressed enough from the daily routine stress, try to stress yourself more ? Why that hurry. Calm down. And do something more stressless. Have a nice day or night where ever you are....:)

Wake up¡ It's now fixed :)

Updated a few hours ago, Lumia 920 Black Germany Unlocked

Unlocked L920 in Canada using AU CV firmware. Nothing yet. Hopeful :)!

Unlocked 920 in costa rica, got the update

Just updated to Lumia Black in Sweden. Unbranded Lumia 920 with Telia as carrier.

According to Official Moderator and Windows Phone Forum from Microsoft: http://answers.microsoft.com/en-us/winphone/forum/wp8-wpupdate/how-to-up... http://prntscr.com/2j4d4c " Hi Dev, while you can still install Update 3 via the Developer program, this update along with Nokia Black is rolling out to all customers. You an find out more about this here ->http://conversations.nokia.com/2014/01/09/lumia-black-update/ Hope this helps, Greg" Okey, we need GDR3. And nobody says nothing about that update.

They are supposed to be bundled together, but going the developer route to get gdr3 1st doesn't hurt

Finally done in my l820 India..
Black is the new sexy.. ;)

Updating an italian 920 (Country variant) in Sweden right now

My UK 920 cv just updated :)

Seems they fixed it. I am able to update now. Eli A. replied on Microsoft Wiki Author Forum Moderator Hello Everyone, We believe we resolved the issue, and you should now be able to take the update on your phone. If you run into the same error message again, please let us know. Thank you, Eli A.

Lumia 920, Italy country variant, unlocked. Just updated.

Hi there, I am from india, Received a Lumia black update, currently in Migrating data process step 3.

Soo..where's the pedometer?

look for Nokia Motion Monitor Beta

Its 630am here in Indonesia. Im on it and downloading (920)

L820, Philippines: Check! Everything went smooth for my device!

Got the Lumia Black Update (Lumia 920) and the Lumia 520 from my Sis already got it too. -Germany

I got the update on my Lumia 920 (croatian variant) and Nokia Beamer works like a charm, but where can I obtain Nokia Storyteller and Glance 2.0? They still don't show up on the phone or the store just yet, are they awaiting approval? It's confusing because the update description just states that you can use them from now on.

Glance 2.0 doesn't need to be downloaded, just go to settings scroll down and find glance. In night mode you'll be able to choose between red, blue, green, and having it off. The notifications on the glance screen will be the same as the ones on the lockscreen. I don't know why storyteller doesn't show up, but I can't even get beamer, which is kind of really frustrating. Is your region set to Croatia, or some other country? I, pozdrav iz BiH ;)

Even in India, can't download storyteller and beamer. Tweeted wpcentral and Nokia. No response yet. I was desperately waiting for these. Disappointed Edit: Able to download storyteller now. No beamer yet

Storyteller beta and Camera (non beta) are also available for Amber now.

Updating done but not able to install story teller, refocus

I am from Greece and my Lumia 920 is from Denmark (country variant). The first two times I tried to update I got the known issue. The third time I updated normaly without doing anything special. http://tinypic.com/r/2a8hxld/5 http://tinypic.com/r/25g55wk/5

Just updated. Finland, L920 country variant, gdr3 developer preview

Indonesia here... Now downloading... (920)

I downloaded the update but unable to install it.any reason why so

Just try a few times. It also took me a few tries until it finally worked. You could try to free up some space on the phone's internal memory if it is pretty cramped already.

Updated L920 Indonesia.
no need fror Gdr3, straight from Amber.

Updated an hour ago (from The Netherlands with a unlocked Italian Country Variant NL920 )

Available in Finland for country variant Lumia 820

OK I'm confused... I thought GDR3/Update 3 was included with this Lumia Black update? Please tell me it is... We don't want to turn to fragmented Android here. I wish we could just get updates like iPhone, even the most noobiest/non-IT friends got iOS7 all at the same time. hurry up Rogers!

yes, GDR3 is supposed to be included with Lumia Black as it's needed for it.

Austria: Lumia 920 bought at a German online shop already updated, Lumia 820 bought in Austria updating right now. :-)

Why do i keep receiving error 80072efd and currently unable to check update but most of you guys gets it.... Getting frustrated lol. Please help.

Downloading the update now. 920 EE UK :)

Slovenia, Lumia 920 here, at first I got the 80188309 error, rebooted the phone and tried again. This time it worked :D

None yet for nl920 hong kong unlocked

Have in Uk Cv version 920. Storyteller, beamer not available on uk. Old camera app not replaced with Nokia camera, no option for call divert and glance seems to be not new

If Im right... CV-820, FW.3002 has not got the update yet...

Add TURKEY to that list. I am downloading my update now!

Had a lot of problems in downloading and installing the Black update until after midnight,then round about 1,00am managed to download and install without problems....seems working fine !

Lumia 820 in the Philippines unlocked with Globe sim. Update still not showing up :(

Nothing on unlocked att 920 with French .2002 ROM. Shouldn't I be getting it by now

Lumia 920. O2. Uk. Update available, about to download.

Got an update notification on an unlocked/unbranded 920 in Portugal. Hope it is the black one :P

lumia 820 UK sim free - update is installing

Nooooo! 810 not available. :(

Lumia 920 on at&t with the French ROM installed. Lumia black is available for my device but I can't download till I get home to my WiFi. CURSES!!!! :P

Updating Black L925 now (Brazil) CV. But nothing at all on my L920 CV. :(

Lumia 820 Philippines - Black update is now live!

black now installed sim free UK lumia 820 features seem present ( new glance screen installed) nokia story teller not currently available yet tho

Its now available for Lumia 820 CV GB

Yes..got the update for my 820 in india

L820 update to black update in India but can't install storyteller. And other apps

Lumia 820 in Australia, my carrier is Vodafone, still waiting for it

I'm glad I flashed my phone to the European rom a couple of months ago. I'm on att and just check and have an update waiting. Will update when I get some WiFi tomorrow

My 820 in India got the update..

Nothing on build developer L920

Downloaded the update for the 4th time! Some error is popping up every time the download completes! Country: India

Come on AT&T get your shit together and push out the update.

Lumia 920, running on preview program, I'm on Telkomsel's Simpati (actually, my 920 is unlocked), Indonesia. The Nokia website stated it as coming soon, so I guess it's actually already available.

I just tried updating my Lumia 920, but couldn't as I am getting 'The update was downloaded but couldn't be opened (80188309)' Any help with this? Tried 3 times. Tried soft reset too.

Lumia 820, India, Update ready for download but can't, as I'm travelling. Waiting for wifi..

Installed the update successfully over WiFi without any single error. The update is also successful. However, few good things and few sad observations:
New features that are available:
1) Rotation Lock
2) Driving mode
3) Clear temp files under Phone Storage
4) Close option in multi tasking view
Stuffs not available:
1) Glance 2.0
2) Ability to download the latest apps like Refocus, Storyteller, Beamer, etc..
3) Lock screen has stopped showing any notifications at all :-(
Lumia 820, India

Yeah same issue is there in India .storyteller refocus app doesn't download

Hey, are u able to see the notifications on the Glance screen an the lock screen both? Coz my lock screen doesn't show any notifications anymore...

Yeah now m able and nokia camra app is downlading

Correction....
Glance 2.0 is fully functional now
Also the lock screen notifications is working like before just restarted my phone and discovered the same to be working fine. Now the only thing left out are the new apps.. May be Nokia haven't made them available yet to all the phones.

Update:Edit: Able to download storyteller now. No beamer yet

Got My Udate.. Yay :) Mumbai, India

If I installed the GDR3 preview, I´ll receive Lumia Black too??

No its nothing like that. GDR3 is a preview software update from Microsoft. Lumia Black is a Firmware update from Nokia which bundles the GDR3 update and the new Nokia features together.. Don't know why people are mixing up OS/software update with firmware update as these are two different things if you talk about Lumia. GDR3 will not give you access to Glance 2.0 and the new apps from Nokia. For that you require only the Lumia Black update

anywhere to download the black firmware? can't wait any longer. wanna flash it.

You can try downloading NSU Retail 4.0
Its the official way of flashing your phone with the latest updates.
However, make sure you have backed up your phone bcoz flashing will put the phone back to its factory state but with the latest software update on it. Lastly, it also depends if the update is available on the software to be downloaded. If yes, then well n good. Go ahead with the update

Lumia 820 rocking Black update, Portugal (Vodafone)!

Lumia 820 INDIA
Carrier- Idea Update is here...
\m/

got lumia black on my 820 in India.. it was only nokia update no updates from miicrosoft.. however I had downloaded preview for developers gdr3 sometime back..

Downloading Black update in my Lumia 820 - India.

Getting an error in my 920 India....Lumia Black Update....80188309 error...is any1 else getting the same!???

Philippines... I'm downloading it right now :)

Thanks for the hint i got it l920 Bengaluru,India guys.

Frnds is Microsoft gd3 update also coming with it.

MS claims to have fixed the error however the update is still not working on my fone... Phone Model : Nokia Lumia 920
Country : India
Carrier : Airtel
OS Version : 8.0.10328.78
Firmware : 3047.0000.1326.2009

Got the black update for my 920 in India.

Indonesia l920 also gets the update today

Lumia 920, Carrier Unlocked, downloaded the French OS onto the version so I was able to install Amber on my phone since AT&T took forever and longer. Got myself an update downloading now :)

Did the phone find it on the first try? I have an unlocked att 920 with the french ROM as well, and it says it's up to date

Nokia Lumia 820 / India Update ready. Installing it now :D

Estonia has it on Lumia 820. It searched for updates for long time tho.

Software downloaded couldn't open or install error.l920 india

I don't think this is because of gdr3 not available on phone because my brother updated his 820 and he did not had gdr3 preview. It's something else that is causing this error. I am from india and I have 920.

Country variant Netherlands l920 not yet?

Downloading my update as I write this, NL920 (India). Can hardly wait now

Hooray! Just got mine...thanx to Nokia...now where is that notification centre!

Notification center is not a feature to be included in Black update. Its a rumoured feature to be made available in WP8.1 towards the end of year...

Finally! Available for 820 in India. I don't have a dev unllocked device. Still...

Is this update only black or GDR 3+black ?

Its is both. But the error code is because of black only (ie OS update not being sent).

Updated my Nokia Lumia 820,Vodafone,India

Tried twice same error i think Microsoft gdr3 needed l920 India.

Is that glance size smaller after black update

Yep, your eyes aren't playing tricks on you.

Updating my Lumia 820 - INDIA with Vodafone carrier...

I'm in South Africa and my Lumia 920 got the update!!!

What network? Still waiting on MTN !!!

Is there anything like a carrier locked device in India? I don't think so.

Absolutely, there is nothing like carrier locked in India.

People in India, no need to worry about which carrier ur phone is connected. Bcoz none of the GSM phones sold in India are carrier locked.
Also, no need to worry about having GDR3 on ur phone bcoz Lumia Black update includes the GDR3 update in it already.
People getting errors is something occurring due to communication issues between ur phones and the Nokia servers. Its nothing else. Half of the people have updated their phones already. So the only thing advisable for now is to wait and try again in sometime. I haven't done anything special to install this much awaited update. Fortunately, everything ran so smoothly for me..

Lav 2205, are u able to download refoucus app to now? Thats a pretty imp app for camera....

Team, I'm getting erroe message while updating Lumia black on my Lumia 820... Is this an identified bug?

The theory is that Black has been released before GDR3 is ready and therefore you can't install it

Lumia 920, Indonesia, updated to Black this morning.

Message is "The update couldn't be downloaded:801881d0"

Just try after sometime srevers will be busy...

Got the black update for my Lumia 820 India, just updating, yeaahhhhahaaaa.... :D Already on GDR3

Downloading in Germany, unbranded 920

India. Unlocked Lumia 920. Black Update downloaded. Error Code 80188309. Anyone knows what this is error code is?

Its it with the OS update not being sent at sametime.

Got it on my 820 but no beamer, camera & storyteller just installed 10 hours after getting update.so these apps need update to be installed may b, india & yes plz make some space about 1.5 gb because i got also error when checking update but after clear some space got it finally

Hehe Lumia 520 running gdr3 black preview smooth as butter and just waiting for this official update.Still with this preview I dont think I need more!

I installed gdr3 using preview but in extra info it shows amber ??whats In your extra info ??

Doesnt exist Black Preview, just the MS OS Update was distributed through Preview Program. Nokia's firmware update is not included on the dev preview. That is why who has updated through Dev Prev still shows Amber in extra plus info.

my lumia 820 is getting updated now! mine is an unlocked nokia lumia 820 country varient INDIA! cheers guys!! lucky indians! :P

Lumia 920 in Copenhagen, Denmark updated this morning :-)

Hey i got softer notification in my nokia Lumia 920 early this morning (Lumia Black).When i update i got message,the update was downloaded but couldn't be opened(80188309). After this i restarted the phone several time and update thrice but getting the same. Its so irritating what to do.

I have the same error. I have a Lumia 920. I am from India.

I'm happy owner of NL920 in Finland and I could update to Black but no wifi here, lol.

The update could'nt be downloaded (80070435) is the message I get :(
What should be done ??

Got the update yesterday, it works fine. L920/Hungary, unbranded

Got the update here to in Norway without contract

yup
lumia 920 on airtel (india) receiving the update

Is the update working in India fr anyone with 920?

I am from India however my phone update is not showing any new update :(
Mine is Lumia 920 (RM-821_im_india_443)


I'm downloading the update for 520
(i know its a bit surprising )

520!! That is a big surprise.. :O :O and yo gt dt updated???

Lumia 820 India - Updated. The Beamer app does not seem to be available though for the 820. Anyone able to download it?

Updated my Lumia 920, Norway, Telenor today.

Lumia 920 (INDIA) Unlocked. Got Black update. But the issue is I'm getting error 80188309 (The update was downloaded, but couldn't be opened). Anyone has some clue? Tried twice with the same problem..

Got the update and installed fine 1st time. Lumia 920 UK on o2.

Downloaded 4times on my Lumia 920 same error couldn't install.

It is showing update downloaded but couldn't install?? Please help me nitheesh1996@live.com

Lumia 920 India, same problem with me too , downloaded but couldn't be opened 80188309. Tried twice. No luck :(

Lumia 920 in Bulgaria too

It's fixed now for me. Installing updates as I'm writing this. I did change the region and time zone to english (us) before downloading the update. Maybe that helped. :)

Lumia 920, unlocked, South Africa - downloaded this morning.

It's fixed now for me. Installing updates as I'm writing this. I did change the region and time zone to english (us) before downloading the update. Maybe that helped.

Lumia 920, Vodafone UK - Updating now ;-)

Updating now an unlocked Lumia 920 in Romania!

Got the Black update notif, no wifi yet *sucks! (Indonesia, unlocked, L 920)

Updating for lumia 520 ,India

Yes
i too was surprised
still spinning wheels :)

if u are telling the truth show me the screenshot

Mr. Jatin
I'm telling the truth
aapko manna hai toh maano
Maine update toh download kardiya hai but it won't install
I'm getting this 80188309 error
which phone do you have

u r jst kidding lol.. That error is showing for 920 and nt 520

Lol yes!!!
you caught moi!! XD

I got the opdate :-) im ind Denmark, BUT I DONT GET THE FORTUNETELLER AND BIMER :-( WHY

I updated my Nokia Lumia 820 Vodafone Italy but I can't download Nokia Beamer! :(

and integrated Facebook chat no longer works with Lumia Black

Can someone confirm this, I successfully updated to Lumia Black from Philippines.. but recently my app auto closes on a random of minutes, I call it crash. lol.. I experienced this while playing a video on Moliplayer and while playing games.

Problems with most apps disappeared after a few hours and I have been playing with Story Teller for a bit now. Nice. Also have the App Folder app. Limited but I will spend a bit of time winnowing down my Start which has taken on a fife of its own. A little concerned about the Nokia Camera app. Not sure I have the latest as I have been running the Beta for a couple weeks. Doesn't show an update as yet. Is the 920 supposed to get RAW support? Just curious.

The 920 is not getting RAW support

Hi! As soon as the Lumia Black update rolled out in India, I tried to download it over wifi in my Lumia 920 (unlocked). But, as soon as the download completed, an error occured after installation process. The same thing happened in my frined's Lumia 820. Please help. Dr. Anshul

Lumia 920, Netherlands, Vodafone. I'm downloading it :D.

Lumia 920 uk unlocked country variant processing update at the moment!

Got GDR3 from my Dev licence and I got Black last night on my Lumia 820. Beamer and Storyteller wont install though. "Not available for my device"

Don't try and cheat the system then!

So this is confirmed.. All Unlocked Lumia 920 in India are plagued with error 80188309 which is the update downloads but doesn't open.. Daniel, Abhishek and WPCentral Team, hope u guys r listening and highlight this problem so Nokia can offer some workable solution.. Especially for Lumia 920 India.. The cleaning temp files ,rebooting twice solution and other work arounds like changing region offered on nokiablog and other websites is only working for Lumia 920 outside India.

Lumia 920 bought in France unlocked. Using it in Belgium. I received the notification this morning and its currently installing :-)

Does my device memory get erased when I update to black???
Do I have to back up everything?

Downloading right now in Finland ...

Not updating...error coming :/
India Lumia 920

Youer can download Fortunesteller now in the store for 920, but biemer no download for my Phone 920 shit .

Received my update for 920 last night in South Africa. MTN Network locked. Can't seem to download beamer or photstory though. Must be locked for my country.

Still Waiting for MTN :( on my 920 and my Sister's 820

http://www.windowsphone.com/s?appid=b0940143-e67e-4f74-8f68-16b7ad872dd2 Fortuneteller :-) download

Well, I already have Nokia Refocus working on my Lumia 920 so don't think that's a new feature for Lumia black. I hope the year 2014 will end the catch up game Windows Phone 8 is playing against Android and iOS. WP 8.1 is the deal breaker I'm waiting for. Thanks to Nokia who seems rather bent to quality add ons and features to better Microsoft general distribution updates

Nothing yet for EE UK. Lumia 920

It makes me laugh that India has the latest updates but the UK doesn't!

No problems updating to lumia black with the 820, storyteller and beamer still do not work after update. Have just tried to installed storyteller once again and is now available, hopefully beamer will follow soon.

Ok. Got storyteller but still struggling with beamer

In Sweden we received Black update yesterday for the Lumia 920!!

After many attempt's I left the 920 with the download on over night.. This morning I got it! It's all Black!

Almost done with the updated now (migrating data) on my AT&T 920. Flashed with the French ROM of course.

Downloading on 920 at the moment in South Africa

In With the Black. Now i'm ready for some 8.1 Preview !!!

Portugal Vodafone with Developer's Preview Updated Lumia 820 now its BLACK!

My Italy Nokia lumia 920 country variant now with Lumia Black!!

I think windows phones live in India

Can't find my Id on that list :( 3047.0000.1326.10144

My Vodafone l920 in the UK seems to have the update, woop!

Yes, Voda and O2 have it and Three & EE are still waiting

Im officially running Lumia Black on my 920 in South Africa, downloaded Storyteller. Everything is good!!!!!

Downloaded Black on my 820 in the UK last night. Still no Beamer available...

Lumia 820 UK Country Variant - black update just downloaded

Black update out.. Lumia 920 uk on 02..

Wp central......any updates u got from MS on installation issue ???

Still nothing in Netherlands!?

India, Lumia 920 but after downloading can't open it. Error 80188309. When is gdr3 coming to India? :@

Lumia 920 in Indonesia received it! Even Australia has not received it yet lol

Even i am facing the same issue in my 920 India. Any solution guys

I am getting 80188309 error Nokia Lumia 920, India

I want to see on every Lumia from 520 to 925 if there is a difference in image quality after the Black update. It was said it should bring new photo algorithms, so I wanna see that.

Any Verizon phone updating

Hi I'm from India. I got my L920 unlocked version from Dubai. I checked for GDR3 update, still I didn't get it. Do u have any idea when it will be there for my phone.

Tried 8to9 times same error downloaded couldn't open or install Lumia 920 India.

India, Lumia 920, unlocked: successfully installed...

We are currently unable to chech for updates (80072ee2)
What does this meen?

Is the region I put that would the phone take to check if there is an updated or the real country that you are in ???????? Please if any body knows answer me.

Just downloaded the update for my Lumia 920 in India. Got an error code "80188309", saying that it could not be opened...

Lumia 820 Sim-free India Got the update today!

Just got it on 920 att X)

the region I put that would the phone take to check if there is an updated or the real country that i am in ??? Please if any body knows answer me??

no it depend on the product code of ur mobile. u can find it on the box of ur mobile

Booooom, updated, 820 on o2 uk.

hey guys...just i have updated my lumia 920 to GDR3 Nokia Black at Mumbai India...so go and check yours and good luck

On my AT&T 920 with french ROM. Got Black... Seems a bit buggie- It froze once on me hard since the install and had the wrong day/time when it came back up. Also, data connections seem very slow. I have currently lost tethering, but I haven't tried a restore (it does change your default APN after the upgrade).

'Update was downloaded but could not be opened (80188309)' is resolved in India for L920... :)

Anyone with l920 uk. not able to install beamer. Ive also had phone lock 3 times, and battery draining rapidly.

error problem resolved now in india for lumia 920 and lumia 820 i have installed successfully microsoft gdr3 update included enjoy frnds..

Received the the update yesterday, and it's great. The download and installation went smoothly.
I did not face any of the mentioned installation problems.
Model : Lumia 820
Location : India

They could have included some more theme colours in Lumia black update.

i successfully updated my nokia lumia 920 (India) ...in black update ...if you change your language+region ...language to english US then the update were install...go try it.

Hellow everybody; Yesterday afternoon i got the GDR 3 and BLACK update, i have branded Nokia lumia 820 vodafone Italy but i live in Morocco (a country located in the north of africa).and here is what happens; i heard some of you that they did the update but there was no gdr3, and the same happened to me after 13 min of waiting.....however, after about 5 min i re-dowlanded the update and after about 20 to 30, the update has been successfull....i got the GDR 3 & BLACK update and all their features. so enjoy and have a good day. Hamza from Morocco.

Still no update for my phone. Purchased outright in Australia not locked to a carrier. Lumia 920.

Same here. I have an IM_MEA model 920 and I'm in Romania, not locked to a carrier either...and no update :|

I received the download this morning :-) Nokia site still said "coming soon" . I might see if the tv can look at web sites to use Beamer later.

Lumia920 United kingdom country variant - no simlocked - Got the update january 15 morning,

One cool thing i've noticed is that, now if you have Nokia Camera as default app and your phone is locked, pressing the camera button will launch the Nokia Camera instead of requesting unlock password or opening the built-in camera app. Nice. :)

Still no Black update for my Lumia 920 on Orange Romania. Would be nice if WPC could do a follow up articles with info regarding the deployment dates for Black around the world

Got the update in United Arab Emirates !!! On Lumia 920 !! Cheers :)

Took them a while but finally! =) Installing now on 920 in Lebanon, phone purchased in UAE.

Netherlands: Lumia 920 CV downloading OTA right now! On KPN network..

got it on my lumia 820! :) was very excited to see a welcome message saying, "Welcome to Lumia Black" :)

updated done ...Iraq Lumia920...welcome to lumia black

Received Lumia Black Update on my Lumia 920 in NZ today.

Am in india(tamil nadu), using nokia lumia 820, vodafone carrier..with gdr3 developer preview.. Still my phone shows no update available.. If somebody knows the solution, please reply.

Will Lumia 620 will get the black update

Just installing Update 3 and Lumia Black on my Lumia 920 (Netherlands, unbranded)

Still no update available to my 920 on Orange Romania.

I have Lumia 920 Unlocked&Unbranded (At "Carrier" I have Developer Device). Still there is no Black update...Does anyone have any suggestions why the update is not coming? I mean there is no operator or branding to hold it back + it should be available for my country according to Nokia site: Bulgaria - > Lumia 920
Country variant
3051.40000.1349.0003
Available
Available Let me know if anyone have an idea :)

BLACK @ unbranded 920 in Poland anyone had battery issue after reboot? suddenly it dropped from 100% to 10%, but after another restart its again 100%.

when it is coming on my nokia lumia 520 in india ?.....

I buy l520 from amazon.es I think it come from Spain lives in India my carrier is CV ES I didn't even receive the black update yet what I do any one help

i have a dout it will be helpfull if its been solved by experianced users i had updated my lumia 52o with developer preview and nokia declared the official to release soon.my dout is do i ll be able to get the official update when they reliease or shud ill stay n developer...being i loaded with gdr3 which i feel having little problms with netwwrk performance so any one pls tell do ii get or not.....:x

I have a nokia lumia 920. I installed the update, but after that, everytime that I enter my password the phone doesnt repond anymore :( anyone knows the solution ?

I haven't recieved black update in my lumia 920 gujarat,india... how to get lumia black update, when i try to update it always say your phone is up to date. how to update my lumia amber to black. need help...

Three UK the only U.K networks still testing the Black Update for the Lumia 920. Having asked them via twitter if they intend to release the update anytime this year they replied "they have every intention of releasing it this year however they cannot give any dates anytime soon" The only U.K network that hasn't released this for the 920! Odd behavior for a company claiming to be at the front in network and phone support!

I'm with you there! Can't believe how long Three are taking with this update.. I've been reading about the updates to WP8.1 coming later this year which sound very nice, but if Three take forever to get it out I won't be happy!

anyone knows how to install Finland Black Firmware on Lumia? i've the Firmware but doesnt know how to install it
Windows Central Newsletter
Thank you for signing up to Windows Central. You will receive a verification email shortly.
There was a problem. Please refresh the page and try again.