Nokia begins global Lumia Black update roll out; kicks things off in China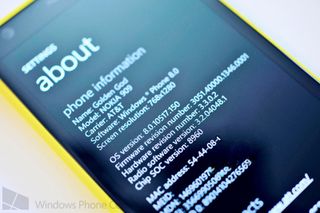 There are many of us still waiting for Nokia to roll out the Lumia Black update for Windows Phones around the world. If you're not yet rocking the latest firmware, you'll be receiving your update notifications soon. Just as we covered last week, Nokia is beginning the major push to supported hardware, starting with China.
We've received confirmation from Nokia that the Lumia Black firmware update has indeed started its journey to consumers. Note that the Lumia 1020 and Lumia 925 Windows Phones are receiving the upgrade (other Lumias to follow). Here's what Nokia China posted on Chinese website Weibo (translated):
Should you require reminding as to what the update brings to Lumia Windows Phones, we've got a quick reminder for you. It's worth noting that not all included features and changes will be applied to all hardware and Chinese consumers will receive two unique features exclusive to that market.
Glance Screen - New colours for night mode, notifications, pedometer, custom text and calendar information
RAW camera support for both the Lumia 1020 and Lumia 1520
New camera algorithms, notably for the Lumia 1020 with tone mapping and noise reduction
Bluetooth 4.0 LE
​We'll hopefully have an idea as to which regions are receiving the update soon. Have you updated to Lumia Black yet?
Source: Weibo; thanks, hengxiang32401, for the heads up!
Windows Central Newsletter
Get the best of Windows Central in in your inbox, every day!
Rich Edmonds was formerly a Senior Editor of PC hardware at Windows Central, covering everything related to PC components and NAS. He's been involved in technology for more than a decade and knows a thing or two about the magic inside a PC chassis. You can follow him on Twitter at @RichEdmonds.
Hopefully the ohter storage problem gets fiksed!!!

Hard reset only way....not as bad as I thought

I have other rare problems though... I hope they get fixed with the update... Anyway, will see.

The best thing is download Nokia lumia update checker its a good app & works well

Your stupid, first its been fixed, second. THIS IS A NOKIA UPDATE so even if it hadn't been fixed it wouldn't be!

You're*..... That's so ironic lol

And no it has not been fixed! Had to do a hard reset last month because of 11gb of other on gdr3 dev preview.next hopeful for other storage fix?...wp8.1

Storage problem fixed on my 822 since GDR2.

I had this problem prior to the Amber update. However, I don't have the problem any longer. My "Other" has been steady around 2GB. I installed the GDR3 Dev Preview too. Hopefully the Black update will fix whatever the issue is with your phone, but it is not a widespread issue like it was before.

Do understand that other storage is a Microsoft issue not a Nokia is so the Nokia Black update couldn't possible affect something they can't control

Maybe I misunderstand, but I thought Nokia's Black update is delivered along with Microsoft's GDR3 update.

No for some its already been released. So distributers (your mobile provider) may decide to release them in conjunction but they are not tied to each other

why my 620 has no notificatio
n when i received messages from,whatsapp viber , and skype, i am using PD 8.1

Actually, it hasn't been fixed on all devices. My 920 from At&t is fully upgraded to all released software and firmware. I still have 7GB other storage... And growing. I wouldn't justify the comment as stupid at all.

Brazilian Unlocked 920, fully upgraded, and still have 12 GB other storage

I guess you didn't install the Amber update?

Its not the amber that affects it its the gdr2 update which is Microsoft not Nokia . Nokia can't do anything about it!

Amber included GDR2. The update fixed the issue for me, but I guess it didn't for everyone. What phone do you have?

Um, this post is a joke people, lol

Does it work if you have the preview?

i think yes, you just will receive only some updates which you don't have yet.

Yep, KKruglov is correct. You will receive the Black update even if you installed the developer preview. The preview is an OS update, this is a firmware update, so they are actually two very different updates. It's just that they usually get installed at the same time OTA.

Just got in on my 1020 with TELUS!

Congratulations! Enjoy it very much! ;)

Ok.. I have a 1520 with Black pre installed.. Can you tell me if you see the pedometer for glace screen❔. What happened to this feature❔

Maybe there will be a separate app to install, like there is for App Folder.

Nokia already stated that the Glance Screen needs to be updated first before te steps will show on it... This is due in "Early 2014"according to nokia...

Me too. And once you go (Nokia) Black, you never go back!

Does this include WP8 Update 3?

Reread the article if u see GDR3 mentioned then yes if not then I think you have your answer

Don't be rude. You're not very good at it.

Lol u can be good at being rude! Now I've heard everything.

Successfully updated my lumia 925 in India.....

have you got gdr3 & nokia black firmware? If yes please explain here about my curiousity or in forum (give link)

Whys it gotta be black, man❔

Can u say please how can u got it nd from which place Of India.
By the way I'm from Bhubaneswar,India

u also got gdr3 with this lumia black update??

Again, GDR3 is ONLY the Microsoft bits. Black is the Nokia bits for Lumia devices. GDR3 can (and did) roll for devices without Black, but Black cannot load without GDR3 accompanying it (it relies on some of the Microsoft bits). I had GDR3 on both my 920 and my 1020 and then AT&T rolled the Black update last December, so I got Black+the final version of GDR3. NOW it looks like the Black that's rolling out for everyone has some ADDITIONAL pieces to it. So, while i've been running Black+GDR3 since December, I'm looking for this new rollout.

Are you saying you have the Black update on your AT&T 920? I thought it was only pushed out to 1020 on AT&T. I never got it on my AT&T 920.

Thank u Mr.Prasad.But how can u notified of the update;
by check for phone update or it will automatically showed.

Check for the updates.I think as of now 925 and 1020 users are getting the black update...All lumia users willget the update eventually..

I have a 925 on T-Mobile and I'm still waiting :'(

Me too. Trying to get a response from t-mobile on twitter to see if there is an ETA for it.

I thought no one had the black update yet except for the lumia 1520.

1020 with AT&T got it not long ago.

Exactly. We got that in December...completely by surprise, though. However, the app folder feature wasn't a part of it, so this must be a new-and-improved Black.

So, are we getting the app folder feature soon❔ And, whatever happened to the glance screen pedometer❔ I have a 1520, and I don't see any of this..

Still waiting here in Finland :/ l920

Still waiting for 920 - Developer Device.

All the 920s say "Coming soon". I don't think they've released it for them quite yet.

Yea, me too.. Pretty strange... :/

When the Finland update goes live can some please post? thx!

same here L920 --- developer device. guess once flagship phone now becomes low-end. :(

Well, the product release cycle for products today is something between 6 - 12 months. So basically anything you buy today will be considered secondary within that timeframe.

Is it too weird that i haven't got my Amber update yet?? Lumia 920, Country Variant PR

Any update on India rollout ?

Not my 925 on T-Mobile
...waiting....

I just checked 1:30 am IST on 10th Jan. I have an update available. Suspect it is Lumia Black + GDR3. Will download tomorrow using WiFi in my office. Excited! (Lumia 925)
By the way, what is the size of the update?

Does this include the GDR3?

Pvsg prasad, has it already rolled out ?

I want it for my unlocked 1020. Please hit uk soon. Update... After doing manual check and waiting. Phone is updating now....:) Nokia beamer, here i come. :)

30mins later, all black baby. :-)

Once you go black, you never go back

Already available in many places in Europe as well, for some devices: http://www.nokia.com/global/support/software-update/wp8-software-update/...

You need to add that we're getting App Folders! http://conversations.nokia.com/2014/01/09/lumia-black-update/?7096226=1

This is the first time I'm hearing about this, which is a pretty major feature IMO. They do need to mention it!!!

First time I'm reading about it..
That's a nice feature!

I thought that was china exclusive

This is the first time I'm hearing about App Folders. This is awesome.

App folder is very lag,I think it should be improved

Once you go black, you never go back You don't need Black to get it

I'm updating my L1020 from DEUTSCHE TELEKOM now (so it's rolling out in Europe). Still waiting on approval for the L920 though. Nice to see an app folder! Thank God!
Also...anyone noticed the small arrow on top of the Wi-Fi signal?

I just got the update as well on my unbranded Nokia Lumia 1020 (UK) =D

Yeah. I have one above the cell signal strength too, no idea what they are though.

Does it include the Lumia 520?

I'm wondering this as well...

Yes, you'll get Black for the 520. The 925 and 1020 are receiving it first, but you'll get it :)

Check out "HINDI TV !" for Windows Phone http://www.windowsphone.com/s?appid=5e3517f3-6852-4266-9f06-7fa93335af7e

http://www.windowsphone.com/en-in/store/app/windows-phone-8-1/01d4233c-0... Windows phone 8.1 app enjo & do fun asap

Make it free dude.. Ur all the apps are paid....

Lumia Black supports folders on the Home screen, finally

I installed the app folders thing on my 928 and I still don't have black yet. I have update three though

Downloading mine now on Rogers Canada

Sweet! My 1020 (Rogers) is downloading it now too.

Once you have it I'm curious if you can download Nokia Storyteller. Does the "folder tile" work?

Update done... When I had previously searched for 'Nokia Storyteller' in the the store,no results came up. I tried searching again in the store and couldn't find it. When I Binged Nokia Storyteller', it linked me to the site where i could install the Beta which is now working. Not sure if having Black allows the install to go thru though.

I got the notification also on Rogers Canada. Can't wait to get home and update!!!

I still haven't got a notification for my 920 on Rogers. :(

App folder too :O
http://conversations.nokia.com/2014/01/09/lumia-black-update/?WT.mc_id=CIC_TWITTER_CIC20Education_Thu2009%2018:26:56202014_25_38942679_windowsphone&7096390=1

Verizon was first out the gate with amber. Let me check my magic eight ball to see if that wasn't a fluke.
...
...
Outlook not so good

I'll end up buying Lumia 929 before the black update comes out on 928

@nokia @nokia best @ @ windows phone 8.1 app http://t.co/GzvydkftGp Somebody recommended me ! Check this cool app

Can we terminate app from task manager and do we have seperate volume controls?

Terminate app is already in GDR3 so if you don't already have that, it should roll out alongside Nokia Black. Vol controls I believe was said to be in 8.1 so you will have to wait a bit longer for that one.

Yes ('x' on top right coner) and nope, seperate volume controls are coming with 8.1 (later this year)

Both of those are Microsoft is things not so its not for NOKIA to update they can't

My 1020 on Rogers is updating as we speak!

App folder tooo http://conversations.nokia.com/2014/01/09/lumia-black-update/?WT.mc_id=CIC_TWITTER_CIC20Education_Thu2009%2018:26:56202014_25_38942679_windowsphone&7096390=1

Best feature after glance screen 2.0!

Downloading now here in Finland... i have Lumia 925 & GDR3 developer preview installed..

And your carrier is? I've got Saunalahti. But no Black available for my 920 w/ GDR3 preview.

All but the 810 which just says not available...

Saw that too...good thing my wife likely won't care, though it'll bug me. We can still get the MS updates.

This is a big question, even though it is carrier-modified, the 810 should receive it -- as we expect the 822 and the 928 to have it soon.

Yes pankajwanikar it is available in India...I installed the update just now..check for updates in your phone

Can u share Mr.Prasad that on which handset u have installed in India.

Available for 925 and 1020

Downloading the update now on my Lumia 1020. I'm from the Philippines :)

Hi, I would like to ask if you bought your phone here in PH? Because until now there was no update on my 1020 (which I bought in Nokia store @ SM). According to this page http://www.nokia.com/global/support/software-update/wp8-software-update/wp8-availability-in-asia-pacific/ we still under "Waiting for approval" status. Just making sure my phone is not broken. Salamat!

Att here, see you all in 3 month

Anyone want to give me a 928? I love my 8X but I can't wait to get into a Nokia again!

Still no update for Lumia 1020.

Btw Rich, this was already announced today via Nokia Conversations :)

Gang, don't get too excited. It's rolling globally for the 1020 and 925. The other Lumias are rolling "in the coming weeks", according to Nokia. AT&T rolled Black to us back in December. However, this must be a new revision of Black because the "app folders" -- a completely useless feature as far as I'm concerned -- is not currently available on the version of Black that's on my 1020 (unless there's a secret way to access it).

Folders are useless? I disagree; this is a feature that many have been asking about for a long time. It allows the start screen to get that much better. Not all apps needs a live tile or are used just often enough to get into a folder. Traveling apps are a great example.

I've found folders so useful that I used the proxy trick to get Samsung's App Folder.
I currently have 7 "app folder" tiles on my start screen, it allows me to have quick, organized access to groups of apps, i.e., photography, tools, settings, social apps, sports,etc.

Nice; that's a great example. I think most people like this feature. Those on iOS swear by folders (mainly because it is the only tool for organizing their home screen) but this will help open up the idea of switching to those that really like this feature.

If you could group the Apps List the way you want it, then the App folder would be less needed. But I agree this is extremely useful. I am using "HeaderTiles" as a way to organize the Start Screen. I don't have every App pinned, but I need to organize it someway logically so it is easier to find things. The folders will be create for the Photo, Travel, and "Tool" apps. It will definitely cut down on the scrolling.

I like the idea of the header titles app but it took up too much space for me but it is a great idea.

Please pay attention: I said "useless as far as I'm concerned." I simply see no value to throwing ANOTHER LAYER to dig into to find something. It's just a waste of time for me. Beside, perhaps you hadn't noticed, but you already have HUBS that perform the same function. Go into the Pictures hub and all your photo apps are THERE. Go into the Music & Video hub and, yep, all your music and video apps are THERE. So, again, app folders are useless to me. And I certainly don't care what ignorant iPhone users like.

I had no intention of changing your opinion; my point is that it is good for the platform. that is all .

Please pay attention: I said, "I'VE found folders so useful that I..." Perhaps you haven't noticed, but not ALL of the photo apps show up in the hub, same way with video and music apps. Plus there is no social hub, tools hub, productivity hub, sports hub, navigation hub, shopping hub, etc., etc.

WOWOWOW. so nokia black isnt available for L810. WHY? http://www.nokia.com/global/support/software-update/wp8-software-update/...

saw that which got me all disappointed :/

Waiting for it..too, you can see when it becomes available here: http://www.nokia.com/global/support/software-update/wp8-software-update/availability-in-north-america/

waiting for it as well, thanks for posting the link, xtrip

ATT here, nothing in the phone updates

Seems weird black is available before gdr3 very confusing for the consumer. Some clarity on global release on gdr3 would be nice

Black includes GDR3. Also, many of us have installed GDR3 back in November with the Dev Release Program. That is available to everyone for free.

MS update is always included in the manufacturers update.

Waiting for approval, so yeah expect to get it by the time 8.1 comes out

Recieved in India on Lumia 925

http://www.nokia.com/global/support/software-update/wp8-software-update/availability-in-north-america/ Legere get your boys to approve this already #CES2014 #Uncarrier4.0 Lumia 925
T-Mobile
3050.0000.1336.0005
Available
Waiting for approval

Hi, is that true? http://wmpoweruser.com/lumia-black-brings-double-tap-to-wake-to-the-nokia-lumia-625/ :)

Lumia 920
AT&T
3046.0001.1326.0003
Available
Waiting for approval This looks familiar

Nooooo I'm on att. .ill never get this update

Available on 925 from India!

My unlocked 925 is now downloading a new update, currently on gdr3 preview

now on black 3051.40000.1345.1007

http://www.nokia.com/global/support/software-update/wp8-software-update/wp8-availability-in-asia-pacific/ http://www.nokia.com/global/support/software-update/wp8-software-update/ guys check your region and country

Downloading as I type this. On Three UK.

Refocus I understand ... but Beamer just for phones with 1Gb RAM upwards? Why? o.O

Hope this update comes fast to México. I hate always being last to get updates.

Cross the border yo...thats what i did

I can't seem to figure out how to make App folders....I have a feeling Nokia spilled the beans about a WP8.1 feature here...

Have you searched the store?

http://www.windowsphone.com/en-us/store/app/app-folder/7d2e7de3-95e7-4143-8a9d-aedf8c3f901e

Is this another lie from wpcentral, just like the one about the 925 getting gdr3?

Yeah, that was pretty messd up.

Waiting Mexico 920 Movistar

Will the new camera alogarithms come to other PureView devices (e.g. 92x) as well?

Is it available in india??

Available for 925 and 1020 now

Your phone model is "NOKIA 909" ?!?

That's the "real" name of the L1020. It was changed at last minute, so every L1020 is identified as 909 ;)

I totally forgot that it was the 909 too. I remember now because the original was the Nokia 808 Pureview.

Unlocked 1020 in Germany, just downloading it :)

Look forward to gdr3 soon ish then

Done! Checked for updates manually. Took about 10 minutes. Vodafone UK.

Wn its coming for 625 pls tell me

Anyone know where to get the App Folder App?

right here: http://www.windowsphone.com/en-us/store/app/app-folder/7d2e7de3-95e7-4143-8a9d-aedf8c3f901e

Not just china, uk as well :)

waiting for lower end phones... mine Lumia 720 INDIA

I'm in China with my 720 waiting....

In India its available only for 1020 and 925 as of now. Other phones will get the update in few weeks.

All updated here .... UK T-Mobile, unlocked 925 which was already running Dev Preview GDR3

Still waiting in turkey for 820

Nothing for AT&T Lumia 920 yet. Just sent a couple scathing tweets to AT&T Customer Care...

Nokia said that this would hit the 1020 and 925 first, and that it would start rolling out for other phones in the coming weeks.

Nokia said that this would hit the 1020 and 925 first, and that it would start rolling out for other phonea in the comig weeks.

It also features folders?

Ok, let me aska simple question, does this Lumia black update has gdr3 features in it ? Answer in plain yes or no ?

Getting it on Vodafone 925 locked in the UK

I was just typing this message complaining that I hadn't got it yet - when the phone told me I have it ready. woohoo, installing now.

Got the notification on my Lumia 925 unlocked (RM-892)

Wen will it be available for 520 in India....???

http://www.nokia.com/global/support/software-update/wp8-software-update/wp8-availability-in-asia-pacific/

Got it on my Nokia Lumia 925 in the UK today. Finally! Yaay!

I'm currently downloading the update. Hope it all goes smoothly as I am looking forward to the camera updates. Specifically, I'm hoping for corrections for the yellow hue issue on high iso photos, white balance on flash photos...and also an autofocus algorithm update in videos as it currently focus hunts a little. Cracking phone though - can't wait to use it out in Asia on a planned cycle tour. From what I've seen so far, the images this phone can take are breath taking - and the videos (when focus is manually locked) are also stunning. I've already sold my Sony NEX 5N on the strength of the images I have seen so far from my phone. Thanks to the Nokia UK PR department for sorting me out with an extended loan on the phone. Great company

White lumia 1020 Belfast updated to lumia black

Just installed it on my 925 in the UK

Unbranded NL925 installing update now (Jamaica) .

Not available in India (Pune) for 620.

http://www.nokia.com/global/support/software-update/wp8-software-update/wp8-availability-in-asia-pacific/

I just got it here in Turkey on my Lumia 1020 :) Can't wait to try the new photo algorithem

Got it on my Nokia Lumia 925 in India..but yet to be install! Anybody knows the update size?

waiting in egypt for lumia 625

can we change message , email , alarm and notification ringtones ?

क्या भारत में लूमिया ५२० का नवीनतम अभ्युत्थान उपलब्ध है?

Your 520 was updated also? मुझे लगता है वे 925 और 1020 के साथ शुरू कर रहे हैं लगता है. 520 इसे प्राप्त होगा यकीन है कि अगर ऐसा नहीं है

Downloading and installing here in Brazil now!

Downloading in Romania,on lumia 1020,free carrier

Downloaded and installed here in Ireland. Received an introductory 'message' from Nokia linking me to their website. . Shame its not updated to detail what Black is. . Good thing I have WPC!

New camera algorithms for Lumia 920... I hope black update fix this flucking yellow tone on my photos

me too... maybe in a couple of months?

If u want now u can get it just change your country to china restart your phone and check for updates Done!

If I didn't have soo much crap I would but I use a lot of app, mainly music and I'll loose it.

I heard there will be folder options available on the home screen with this update. Anybody know how to create folders?? http://conversations.nokia.com/2014/01/09/lumia-black-update/

Finally notifications on my glance screen :). Though I don't have the App Folders, and I also can't find them in the store?

Hopefully it fixes the yellowish coloring that ruins all my indoor pictures on my 1020!

Nope, still yellow tint....

Cant you change the type of lighting setting? Incandescent, indoors, sunlight etc?

Greattttttt ! Can't say much. Haha

update available in Germany for my 1020.

Where is tha U.S. 920 LUMIA BLACK

Arriving in the coming weeks apparently. I'm in the same boat though with a 920, it's just that I'm in the UK. We'll have to wait a bit longer than the people with 925's and 1020's.

Nothing in Saudi Arabia (Lumia 920). I can't wait! :D

Just installed it on My L1020 (Iraq)

Just downloading now - Australia Lumia 1020

Just installed it on my 1020 in Brazil... :)

Nice, u.s. Should be seeing something in a couple of days.

Hi I was update gdr3 on my phone with preview for developer
Now I m checking for black update but I count getting it
Can any one tell me how could I get

It's only availalble for the 1020 and 925.

Can I use Nokia Software Updater to update my Lumia 925?

Lumia 1020 dont appear in latin america :c

The Nokia page says an update is available for the Nokia Lumia 1020 on O2 UK, but Nokia Suite for retail says there isnt and checking on my phone is taking an age!!! (I've got the dev preview btw)

Love my Lumia 1520 and Black

Should be released in Ireland this week according to meteor :)

Is that for phones other than the 925 and 1020 too ??

Successfully updated on o2 Germany. (1020)

Do you have an L925? This current update is for high end Lumia devices, i.e. 92x & above. Also it should be noted that the glance screen is not available for the L521. The rest of us who don't have high end Lumias will have to wait. I just checked on my L521 & no update is currently available at this time.

Well is it coming to T-Mobile today ?

Hard to say. I've checked a few times today (Fri, Jan 10) and still my phone says "There's an update out there, but you can't have it yet."

At last!! I got Black on my unlocked 925 in Argentina

Black is Here, Telenor Norway

I wonder when the Lumia 920 will get it. :(

Seems like it's 925 and 1020, should be right around for the beautiful 920 also

lumia 1020 black update already installed ...Portugal..missing pedometer

Play to is working as well :D
And Nokia Beamer, Storyteller, folders... Love it :D

available in the UK on my 925, thanks.

nokia site says 820 Coming soon, is their a rough timeframe as to what "Coming soon" means as in few days, weeks etc

Yeah ,how much time does *soon* mean ?

AT&T!! You better hurry up this time!!

O2 UK downloaded and installed on my 925. Glance notifications rock, the folder addition is a nice touch too

Black update 1020 UK cant see how to close apps tho.......

Hold back button to go to multitask screen. Look for an X in top right corner of any open apps.

To all those asking, availability is listed on the nokia site. http://www.nokia.com/global/support/software-update/wp8-software-update/ select your region, find the device and it tells you whats happening. P.S. Coming soon for Country Varient of Lumia 820 in UK :DD

Acording with this, no it in not.:)

Will the bluetooth heart rate monitors (like adidas') work on any lumia with Black update (mine is 925)?

The Nokia availabilty page doesnt even list the AT&T 520. #Amber4Life

Still saying the phone is up to date,with my Lumia 925

Most of the devices in North America are still waiting for approval

Got it. Lumia 925, Germany, unlocked, Vodafone-branded, prepaid carrier. It was Lumia Black + GDR3, so now I finally have rotation lock :D

Same spec's l920 &925 why cant they release together for l 920 also.

Lumia 920 Waiting for black update and gdr3 Bangalore india.

Sorry, according to the list provided by engineermoore. The 810 will not get it.

Russia, got update 3 and lumia black today, 1020, megafon, works perfectly.

Just checked Downloading the Lumia Black update for 925. I'm from Singapore and has been using the developer preview for 2 months.

No thanks to T-Mobile which has quashed plans to roll out Nokia Black for Lumia 810 owners on phones not yet a year old. Even though Nokia says the new Black update is compatible with the 810, the carrier isn't sending the upgrade through which means that new apps like StoryTeller can't be used on the 810. No comment from T-Mobile but they are allowing the Black update go through for their cheapest Windows phone, the 521 and their most expensive, the 925. Here's the list from Nokia: http://www.nokia.com/global/support/software-update/wp8-software-update/... My question: Why does Nokia need T-Mobile's permission to upgrade their platform and software?

I'd like to know that too.

Nokia Lumia 925 updated. INDIA.

Did AT&T ever release Amber for the 920? :P In all seriousness, will installing the Black update through AT&T wipe stuff like call blocking and data sense that I had installed via the french dev rom for Amber?

Got a question, guys. Got my GDR3 via Preview and I'm happy with it. Only one thing, though. Whenever I click a certain post (or even my post) with a picture in it, the picture seems to be wider and half of it goes off the screen. Is this a bug or what? And if so, how can it be fixed?

I am referring to Facebook via IE.

When does it come out for t-mobile for Lumia 925

Waiting in Philippines for Lumia 625. *Sigh* So love my phone, though! :)

Hello How can i find the origin country of my phone ( Lumia 820 ) ? Pease help me Thank You

Bluetooth 4.0 om 1020? updated to Black, but where glance 2.0 ?

Romania - Black update received.

Amber came to the 620 together with 820 and 920 here in the Philippines, I hope Black will not be that far too.

Got a update message, waiting to get home to download it. Lumia 1020 on O2 UK

Nothing for Lumia 925(Brazil)

Nothing yet here in Denmark, 920 running dev preview.

Got it on Lumia 1020 locked to EE in the UK. Scanned manually. Took an age to find and download but installed pretty quickly.

Microsoft sucks. nokia was releasing firmware updates all over the world same time for all devices.this crap Microsoft releasing step by step.

L920, South Africa (Cell C) "coming soon" he he he he

Unlocked 920 on T-mobile? When should I see it?

Question. I'm in Australia and the current status for Country Variant Black for the 1020 is 'Waiting for Approval'. Who or what gives the approval for Country Variants? The Carriers give approval for their handsets, but who's the body that gives the nod for Country Variants? Just wondering - is it Nokia (for Black at least)?

hey i updated my 925 but dont get whatsapp notification on glance!!!!plz help

I started to download black update for my Lumia 920 (I have Denmark rom) (at 20:03 Athens, Greece local time)

Downloading update for my Lumia 820 Germany SIM-Free Manufacturer Name RM-825_eu_euro2_277 Mobile Operator 000-DE

A handful of users reporting of Update Error 80188309 with Lumia ... This is what i get after downloading the update to Lumia Black,and it will certanly be the last windows phone i ever get,these guys manage ti fuck up anything......Nokia and Windows,you are out of my vocabulary.

This site shows the status of the update for north America and different carriers. http://www.nokia.com/global/support/software-update/wp8-software-update/...

Does this fix the annoying wireless charging bug introduced in Amber that makes the phone act like you just put it on the charger at random times?

rm-875_eu_netherlands_988 still no update to BLACK

I just received the GDR3 Black on my Dutch Lumia 920 (unlocked)

Can anyone tell me when Unlocked Unbranded 1020 will get the update. I have been checking and nothing comes up. And I cannot tell which region mine belongs to. Here is my Phone's Manufacturer info: RM-877_lta_lta_219. Thanks.

Downloading update for unlocked Lumia 920 in New Zealand
:D

I just got the download message for the GDR3 Black update on my Dutch unlocked Lumia 920. So excited!!

HELP have a 920 and have Black but i only see night color in glance no notifications HELP
Windows Central Newsletter
Thank you for signing up to Windows Central. You will receive a verification email shortly.
There was a problem. Please refresh the page and try again.