Nokia Lumia 920 struts its stuff and takes 'Innovative Handset' award for 2013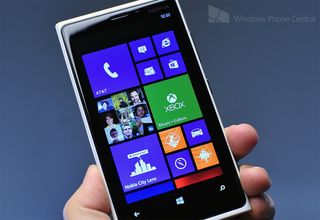 Nokia has managed to bag the 'Innovative Handset' award at the 2013 Mobile News Awards in London yesterday, for its Lumia 920 Windows Phone. The ceremony was hosted by Irish comedian Dara O'Briain (or "oh-bree-un" to those who are familiar with Mock the Week) and awards were handed out focusing on the industry and telecom operators, with a few categories for products too.
The Lumia 920 has never been shy when it comes to awards and recognition, but it's good to see Nokia taking something away from its innovation and design advancements. Nokia UK shared the following photo of the award:
Congratulations, Nokia on winning the award.
via: NokNok.tv
Rich Edmonds is Senior Editor of PC hardware at Windows Central, covering everything related to PC components and NAS. He's been involved in technology for more than a decade and knows a thing or two about the magic inside a PC chassis. You can follow him over on Twitter at @RichEdmonds.
The Tagline just got certified. :D

O'Briain. Be hilarious if it was O'Brain. Kudos to Nokia though. They deserve more like this.

http://en.wikipedia.org/wiki/Dara_93_Briain

+1 Best smartphone I've ever owned.

It must be the dust in the lens that made it win, awesome

one user has an issue and dwells on it rather than getting it replaced.

All users could have this issue becaus the cam is not sealed of from the speaker . dust not in the FFC is just a matter of time,wind or dust.
And why should i run to my shop all the time to get replacements. i want to have and use my phone not own it and have it repaired every 3 weeks

Use a flip case like the CP600 and you'll be good. Nillkin cases are fine too but they don't lock, they're way cheaper tho.

Why should i use any case for my phone? Do i have to use custom bumpers for my car if the paint is shit? typical apple statement " you are holding it wrong"

You mad brah? That was just a suggestion, I know we shouldn't be supposed to do such a thing, I'm not that retarded, but since the problem won't fix itself you can always use this workaround.

replacement or new phone? replacement takes ages and new phone does not cost nothing. wonder why people are not allowed to complain about quality issues in case there actually are some!

Congrats Nokia Lumia 920!!! Very Proud Owner!!!

Not surprised.. The Lumia 920 is Amazing.

for 2013??? Why? A bunch of new phones will come out this year that will be better, even from Nokia. Plus this is last years model.

Because even last years model is beast :)

Unless Nokia comes out with beast's daddy this year, we have some tough competition with the Galaxy S4.

Thats at least where Microsost and Nokia have a advantage, the GS4 and the Iphone 5S is about to be released, so Nokia and MSFT know what they need to do to make a beast as good or better. I'm just hoping not bigger. Freaking Note and GS4 look like a mini ipad. :(

By your logic I guess you figure that the 2013 Oscars held recently should have given awards to movies coming out this year rather than last year?

Lumia 920, the other thing you hold in your hand that gives you pleasure when you touch it

Great Phone. I have one. Still I remeber Mr. Elops words AFTER the announcements of all these devices "You haven´t seen nothing yet" I can´t wait to see what that "nothing yet" is!?
:-D

Just for your information, the other winners:
Airtime Distributor: Carphone Warehouse Business
Hardware Distributor: Micro-P
Accessories Distributor: 20:20 Mobile
Online retailer: Buymobilephones.net
B2B Dealer: Evolve Telecom
Business Solutions: Excell Group
Customer Service: Uplands
Service and Repair: ANOVO
Community and Enterprise: Lebara
Advertising Campaign: O2 Priority Moments
Large Retailer: Carphone Warehouse
MVNO: Lebara
Manufacturer: Samsung
Innovative Handset: Nokia Lumia 920
Innovative Product: Samsung Galaxy Camera
Best Network Operator: O2
Innovative Service: O2 Priority Moments
Industry Advance: EE (4G)

I knew I picked the right phone

Nothing yet in Switzerland..

Nokia won or I should say thanks to Microsoft having a awesome OS and user interface look makes it a top notch.over boring Android and iphone boring dead icons

Lucky Nokia they got award before launching S4 :D
I am personally using Lumia 920 and hate android. But no doubt Samsung has done good job.

Samsung is mostly playing with useless gimmicks. For example, their "hands free" gestures and eye controlling works like a nightmare. The good things they have copied from others.

I remember when Nokia introduced the L920 Nokia's stock price went down because the analyst claimed Nokia didn't do enough. Which were bogus claims. Had Apple released a phone with these specs it would've been hailed the best thing ever.

I must, I must...
Nokia...You got the touch! You got the powerrrr!

Love it! Glad to see more unique devices get recognition. Everyone at Nokia should be proud! They deserve this award....congrats!

Makes me proud to own one in your face crapple and Samsung!!

Its an awesome phone I expect nothing less. I love my red 920 :)

I got my Black 920 the day it was released and loved it ever since. I did the same with the samsung Focus WP7 but after getting the Nokia I realize how cheap samsung products are, there not built well and the battery sucks. I'm glad I didn't wait for the Ativ-S Congrats to Nokia for winning the award one of many. :)

My first phone was a Nokia phone, it is still usable now, nearly 8-year old :D

The nl 920 us a great phone. I felt the sane about my 900 as well as my Samsung Focus my son in law still uses my focus and if he wants the 900 he can have it

Outstanding job Nokia! I love my L920 (black), and my wife loves her L920 (white). My wife has put hers through the wringer, and it keeps on shining, even though it has it's share of nicks and dings. Best phones we have ever purchased and no matter what comes out this year, as long as the OS is upgradable, we are sticking with this phone! Thank you for a top notch product Nokia, and an innovative OS Microsoft.

Good job Nokia! Still loving my L920 like no other! Wouldn't consider any other phone over it that is currently on the market or currently announced. I don't usually switch phones more often than every two years, but I sure do hope there's an equally sexy Lumia out or soon incoming in about 1½ years from here :D
Havn't had any issues with mine, be it dust, poor battery life or anything else. Works like a charm!
Windows Central Newsletter
Thank you for signing up to Windows Central. You will receive a verification email shortly.
There was a problem. Please refresh the page and try again.