Nokia Lumia 920 takes away 12 media awards in 2012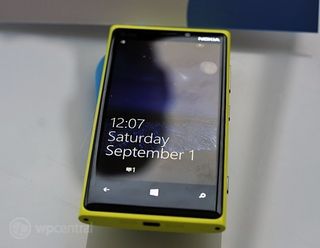 2012 has been an important year for Nokia and Microsoft. Windows Phone 8 was released with new hardware from Samsung, HTC and of course Nokia. The Lumia 920, 8X and ATIV S are three flagship Windows Phones that represent the best from each company regarding design, specifications and the overall experience. But just how well has the Lumia 920 been received by the media?
We understand the handset has been popular with consumers, particularly with all the 'sold out' and lack of stock coverage we published on-site late last year. Not only were carriers experiencing issues with maintaining stock levels to meet demand, but retailers themselves were too hit with unexpected levels of interest from consumers. It's still uncertain whether this was due to sheer levels of demand, or simply Nokia not being able to produce enough.
So that's consumers retailers an carriers out the way, what about the media? According to a blog post over at Nokia, the Lumia 920 has taken away 12 awards in the year of 2012. So who thought the device was worthy of an award and / or recognition?
V3.co.uk - Top Smartphone
Gizmodo Australia - Best Mobile Phone of 2012, Readers Choice Award
International Forum Design, Germany - iF Award for Outstanding Design
Mobile Magazine, Denmark - Mobil Award for Best Smartphone Design
The Next Web - Best Smartphones of 2012
Mobil, Sweden - Top Score Award
CNET - The Best High End Smartphones
Arstechnic - Best Productivity Phone, Best Camera Phone, Best Mapping Phone
Mashable - Top 25 Tech of 2012
Mybroadband, South Africa - Top Smartphone of the Year
BGR - Best AT&T Smartphone
The previous generation of Lumia Windows Phones were also awarded titles, including a number from CES 2012 and IDEA Design awards. The polycarbonate design is attractive and has turned many heads indeed. The advanced features and functionality present on the Lumia 920 will further increase the appeal of such hardware to consumers, which can only be good for Windows Phone.
Bring on 2013.
Source: Nokia, via: WMPU
Windows Central Newsletter
Get the best of Windows Central in in your inbox, every day!
Rich Edmonds was formerly a Senior Editor of PC hardware at Windows Central, covering everything related to PC components and NAS. He's been involved in technology for more than a decade and knows a thing or two about the magic inside a PC chassis. You can follow him on Twitter at @RichEdmonds.
The ability to destroy a planet is insignificant next to the power of the Force.

May the force be with you

So be it.. My little green friend ...

Too bad that it is exclusive to AT&T in the US.

"Nokia Lumia 920 takes away 12 media awards in 2012, Tom Warren & The Verge Hardest Hit"

There, FIFY ;-)


Nice. That gives them one a month :)

Means nothing. The 800 and 900 won awards and they were complete duds.

i don't see them as duds, at least from what i see is increased consumer interest which translated into sales later on (eg. 920) and I still love me Lumia 800

Do we evaluate the "dudness" of a device based on how many have been sold?

A "dud" because of lack of sale? My Lumia 900 was nothing short of amazing. Passed it on to my wife when I got my 920 and she now loves it.

Love my 900 and still use it!

I agree with everybody else the Lumia 8&900 were a big reason I got into WP and I now own a 920 red

I count 14 Awards on the list, from 12 Award Givers Funny Forbes isn't on there

After reading their very apparent written by a shill article I don't put any faith in their words anymore

haha. Forbes has become terrible. I am done with Forbes for the trash posted.

Yeah I read there article about the 920. I'm the kind of person who can take criticism and a negative review, but there article was just an abomination to journalism. I have read plenty of reviews that give the Lumia 920 faults, but not just saying the phone is garbage like Forbes did

Im still waiting for my 7.8 god Damn.. Good job #nokia @nokiaus @att

I'm surfing for trolls. . . There's one, kill it!!!!!. . . . . . Another and another, Die! Die! Die you troll you

would you fancy a Nokia 3310 launcher?

That would do it... Damn thing would kill an elephant, let alone a troll... lol

Trolls regenerate and can't die short of using fire or acid.

Daddy is Proud of you Lumia :)

Make that 13, I just gave it one..the BK-one phone of the year trophy winner is.......

if Nokia had released it running android, so many pundits would have fallen over themselves praising it.

Then again releasing an android phone might make them get lost in a sea of devices. Nokia makes great hardware but everyone wants a gs3 or note 2 or nexus in the android community

Same here - I just gave it phone I choose to spend my own money on - Dec 2012.

Woman I met at the bar last night: what phone is that? Is this a case? No? Omg what colors does it come in? Text me the name again, I'm so getting that phone. Lumia 920 got me a cute girls number and I won over a convert. Sweet

Never thought of that. Dammit! Ok, I'll try it next time when so.e hot chick asks me.

Nokia Lumia 920: It'll get you laid!

That's it I'm hitting the bar tonight and laying my phone on the counter.

Yet another tech news that won't make it on the verge. Maybe if it had won the heaviest phone award they might have considered it. Well, to be fair they have 'till mid night. We'll see.

You already know where they stand. Don't need to mention them. Wpc and partners are already great tech sites. Forget about the verge.

Last quarter Nokia's stock was at 2.60. As of today it is sitting at 4.11. I call that a win. If they ever make it back to $40 i will personally equip my then-acquired ferrari with the nokia tune as a horn.

In just over 6 months, I've garnered a 42% return on my investment in Nokia stock. Win indeed.

nokia tune horn is actually a pretty awesome idea

I currently have a HTC Titan, Im waiting for the 7.8 update. But Im tempted, between the Nokia Lumia 920 & the Samsung Ativ S. Dont like the HTX 8X because screen too small for me, Lumia seems too bulky but great Nokia apps and Nokia support, but Samsung is lighter and great screen. Any opinions?

I think you should wait for MWC in february.. That's what I'm doing, There was an article a month ago here saying that nokia will most probably announce new Nokia lumia phones and may release it in april or may. I think Nokia now understands that it lost a lot of potential buyers just because of the bulk and weight, and will most probably try harder in making their new phone lighter and slimmer. Should suit your needs perfectly. :)

Yeah, I have big hopes for MWC announcements. Please, a phone with: Keyboard Wireless charging Rad camera with zoom Bring back wireless sync 32GB onboard storage + microSD slot Waterproof Pretty please!

Yuck :P Easily done Optical zoom? Not possible unless you want a huge lens assembly on your mobile This isn't available in WP8? Yes, a thousand times yes. This is what all flagship mobiles should have! Pretty pointless and would drastically add to the expense of the phone. You're better off getting a waterproof case for it - I have one that I use when I'm out riding if it's likely to rain, if I'm going to the beach, on a boat etc. You can still manipulate the screen even though it's completely sealed around the phone.

I don't think Nokia has lot lot of customers due to weight.
If in ideal world, 920 was running an OS with complete ecosystem like iOS/Android, there was no stopping 920.
I can guarantee, it would have busted all-time record of smart phone sales, more so than iphone. It's the WP OS's perception in general public's mind that is holding back 920. Day when WP get mainstream recognition for its ecosystem, phone like 920 will kick-ass.

The 920 is as heavy as it should be for a 4.5 inch screen. I've dropped mine to many times to mention and its still in perfect shape. Nokia isn't going to announce anything new at mwc just a Verizon 922 or something it'd be foolish to announce anything new so early

The thickness and weight make the device more durable and not cheap. It is also a non issue. Compared to my 3gs it felt exactly the same. Just slightly taller.

I am just thinking about the forbes guy right now. I hope he can sleep happily tonight :)

Is that a lime green Lumia 920 in the photo, or do I need to calibrate the colors on my monitor?

Not, calibrate the color your monitor....

Nope, but due to the somewhat dark lighting, it appears to be lime green; It's actually yellow :P

Nokia Lumia 920 deserves as many awards as possible! I'm soo loving my yellow L920. And oh.. This is my First post :)

Windows Phones ROCK! However, I don't know how anyone can include the Samsung since it's 2 months late to market and no release date in sight?

It's already released in several markets...

When the Lumia 920 first came out shortly before I got mine from a carrier, there was 1 on a local used site for $700, now a month later, there's 5 starting at $350 and $450 as the cheapest on the same site. Love my 920 and am happy that it's more widely available but retention seems to be low if that's any indication.

That's great news 12 awards even the 900 got a couple impressive that great news for WP. I've had nokias in the past and love them love my 920 red. I past my HTC trophy to a friend and she is now using it. And my wife got a yellow 920 and we gave her trophy to our son he loves it. Still like the day she got it.

So...... I AM HOLDING 12 AWARDS IN MY HAND???? YEEEEEEAHHHHH!!!!!!

Thats an interesting list of awards. One thing that is obvious is, Nokia and Windows Phone is much more popular outside that U.S. than it is in the U.S. Many people seem to use the U.S. as a barometer of how well Nokia and Windows Phone in general are doing, but we Americans are a fickle bunch with smartphones, and only seem to want iOS and Android.

Should I wait for the Samsung ATIV S to come out on ATT? Or should I just get a 920?
Windows Central Newsletter
Thank you for signing up to Windows Central. You will receive a verification email shortly.
There was a problem. Please refresh the page and try again.