The Nokia Lumia 925 Pureview Camera, it won't turn you into a Zombie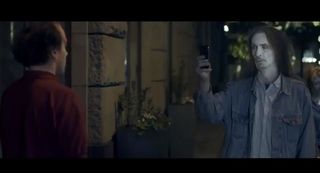 Nokia has unleashed the zombie apocalypse in support of the new Lumia 925 Windows Phone. Well... sort of.
The latest ad focuses on how the Lumia 925's low-light camera performance can reduce the need for a flash. All the while suggesting that the flash dependency other smartphones have will turn you into the walking dead (red-eye and all). Shame the Lumia 925 couldn't have turned the afflicted back to normal by snapping a picture of them.
Then again, part of me had hoped the commercial ended with the zombies breaking out to a rendition of Michael Jackson's "Thriller (opens in new tab)".
The 4.5" PureMotion HD+ screened Lumia 925 sports a 8.7MP Pureview camera and is available in select markets worldwide. The Lumia 925 is slated to land in the U.S. Market via T-Mobile in the very near future.
So what do you think? Hit or miss with the latest Nokia advertisement?
Source: NokiaHomebase (opens in new tab) (YouTube); Thanks, Kram Devil, for the tip!
George is the Reviews Editor at Windows Central, concentrating on Windows 10 PC and Mobile apps. He's been a supporter of the platform since the days of Windows CE and uses his current Windows 10 Mobile phone daily to keep up with life and enjoy a game during down time.
You underestimate 3d graders, they are smarter lol

Lol SO many articles about this phone. I get it. Ill get the 925 or 928 just please dont hurt my family.

It's not your family we're after... have you not seen Teddy lately? :-P

Miss...the iPhone got more air time unfortunately but a rendition of Thriller would of been hectic n probably would have helped;)

Btw, they should've showed a pic with the Nokia. But its still funny

Lol they should have attached it the world war z previews

I felt something was missing with the ad, there is no hint that the guy with the 925 did survive the flash, or that it would be any different than the other guys... But a confusing ad is still better than no ad :P

The should have had the Nokia User turning his flash off and then taking pictures of the "zombies". The did a side-by-side comparison example at the end.

Still good to see some original ads by WP and Nokia

Come ON already Tmo...you suck, put it out there already, some of us can't WAIT! @_@

+1 I gotta wait longer because I'm gonna hold out for the 32GB version.

Tell me abou it! I already purchased my red wireless charging shell for it.

"The very near future" You know something, Mr. Ponder?

I follow Nokia on Facebook. I seen this on their page and shared it on mine over the weekend. It's a awesome commercial.

Thast was good though! my next phone

Killing izombie... I'm in!

Got my 32gb 925 last week and i have to say the camera is phenomenal!! :-D

I'm so jealous :) 32GB you lucky dog.

They should've showed the phone, the lumia that is

It's a horrible commercial. It's confusing and doesn't get the point accross.

Also, when will companies learn that you can't win people over if you basically insult them (depicting them as Zombies)

I am not a Lumia owner and was not insulted in the least. It made me want to get a Lumia 92x. I won't, but for other reasons.

Miss. No shot of 925 at end, shot comparison, and the last line "photo" was lame in my opinion.

There is a group of people just chilling at 12:00 in the morning, when a tourist carrying an iPhone appears. He takes a picture the turns into the zombies from Micheal Jackson's THRILLER including the dancing, the song ends the zombies start going towards the tourist with iPhone, he start panicking. When a female tourist with a 925 appears and makes a comment saying "again this is the tenth one this week" she takes a pic and everyone turns back to normal confused. THE END

Maybe not if an iPhone turns people into thriller zombies I'd get an iPhone to take random pics of people causing the zombie apocalypse

Did any one notice flashing windows logo at 11 sec...is that a new notification light??

No, that red light is the new PROXIMITY SENSOR. It judges distance from the face when calling ppl. And helps the new Glance feature. ;)
but the win logo flash thing is a developer copy of the phone, ( I think) so that is just a bug.

Lousy ad...doesn't show the 925 at all. Focusing on such a small product characteristic is a poor choice imo.

well every ad targets a group of pple. For me camera is as important as the phone and apps come after that... not that important. So this appeals to me.

Miss, saw the iPhone but no 925.

everybody knows Iphone.. may be they will become curious abotu the other phone.. and will find it.. I think that was the point of the ad?

And when do you thnk the Lumia 925 will be available on at&t?

Never:).. it is a tmobile phone

But you can buy it unlocked and use it in ATT.

Various sites are reporting that at&t is testing the 925. They are reporting a new 925 variant that incliudes band 17 - 700 Mhz that at&t uses for LTE.
Reference: nokiapowerusers - among others...
Here is another: http://www.phonearena.com/news/Nokia-Lumia-925-being-tested-on-AT-T_id43616

me too.. esp the one word... PHOTOOOO .... so funny:)... Not sure if apple is enjoying it. :)

I was disappointed that the benefits of the Lumia weren't demonstrated. I like the idea you stated: where a Lumia could bring the zombies back to normal. Who knows? Maybe there will be a part 2 to this commercial.

Miss. Smart and funny concept, but execution was off. They should have showed a pic from the Lumia. iPhone got more screen time than the 925... if Samsung has taught us anything it's that half of the battle is getting people to see the phone everywhere.

my lumia 920 does have the red eye problem, is it defected or all lumia 920 like that?

you have to buy 925. and not use flash.
You can do the same in 920. Don't use flash.

This is a total miss.

Should have had a bunch of friends getting out after a party or something and one of them stops to get a group shot with their new Nokia Lumia 925. Their friend says "Hey, I want one too!" and pulls out their whatever phone and snaps one of the group.
Person #2 stands next to the Lumia owner and looking back and forth between the screens remarks, "Wait. Mine doesn't look like that. Like . . . at all." On screen #1 you can see the friends all posing and looking "commercial-fabulous" and on screen #2 everyone looks like a washed out zombie. Randomly, there's an extra person on the side in pic #2 in a red jacket doing the Thriller pose.

fin

Love the World War Z trailer music.

Yes. That movie was awesome. Pitt should have use a Nokia to crack some zombie skulls at some point, for product awareness/placement. :D

Does Pitt's character die and on-screen? I will see this movie if so.

So basically Nokia advertise the iPhone and dont even show the lumia? I can see the point of the advert but they ended showing the iPhone and just text about the lumia? Really??? People who don't know that's an iPhone could think that, that is the lumia
Windows Central Newsletter
Get the best of Windows Central in in your inbox, every day!
Thank you for signing up to Windows Central. You will receive a verification email shortly.
There was a problem. Please refresh the page and try again.