Nokia Lumia Live Blog - 5AM ET, May 14, 2013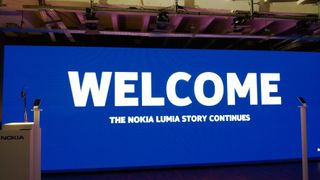 We're here live, in London.
Event begins at 5AM ET, which is in about 40 minutes from now. Join the chat below and watch the Live Stream in your browser!
If you'd rather tune into the event and watch it live while we blog you the latest headlines, be sure to check out the stream below:
Windows Central Newsletter
Get the best of Windows Central in your inbox, every day!
Daniel Rubino is the Editor-in-chief of Windows Central, head reviewer, podcast co-host, and analyst. He has been covering Microsoft since 2007 when this site was called WMExperts (and later Windows Phone Central). His interests include Windows, laptops, next-gen computing, and for some reason, watches. Before all this tech stuff, he worked on a Ph.D. in linguistics, watched people sleep (for medical purposes!), and ran the projectors at movie theaters because it was fun.
OMG. THAT NEWS IS SO BIG!! Daniel, you need to pull that info.

I don't know if I can handle the knowledge.

I think I need some stronger glass couldn't see a thing LOL! Daniel.

Maybe its a macro shot by the 41 megapixel lumia

Ya. But it shows up as a proper email reminder only on the website

Please be for tmobile. The 810 is ok but I miss my larger screen.

Hello, sorry for OOT, but it's important, why i cant comment in wpcentral via PC? It always says triggered as spam, but i'm not spamming! Where i can get help with this problem? I cant find support center here. #sorry for my bad english

Aaaaannnnd.... Your blocked!

Damn, i'm new user and suddenly blocked? This is strange. Gimme me email support for resolving this annoying "triggered as spam" . I'm only can post comment via wpcentral app in l920....

Does anyone think that Nokia can be unveiling a Lumia line tablet? The video shown appeared to be a pure view size camera lens. But just taking a shot in the dark

I'm calling it! NOKIA CAR!

PST or EST... or some other funky time zone, like local GMT or what?!?!??!?!!!

I mean your local time not mine... I just don't know what time i need to wake up to see the event where I live... All you said is 10 AM... Gotta say the time zone...

He made it quite clear it was 10AM London time - which is presently observing BST (British Summer Time).

Seriously? Read the post directly below this one (if you can figure that out).

In two hours. Wherever you are. Two hours from now!

GMT is not "local" my friend! Anyway, it starts at 10 am BST (or London time, if that makes it easier).

5am EST according to what article said.

C'mon Nokia, we want a tablet
!!!!!

Please let it be the Nokia Fleshlight

Oh god :D
I'll at least come in Cyan.

Could it be the Nokia hand soap?

London is in DST right now...so it's BST not GMT.

Worrizit!!!??? http://m.youtube.com/watch?v=rjjMTeIQHlg

Event starts at 10am BST ( 11am CET, 5am EST, 2am PST )

Better show some OS updates as well. We've had enough Lumia phones already.

It's not Nokia's job to show OS updates. They will show us new phones and that's pretty much it. Maybe an app, but I doubt it.

Apparently you can watch it on your Windows Phone too: http://wms1.dc1.thomson-webcast.net/nokia_stream2.wmv

Shows us the new toys already! Lol

Can't watch from my phone :'(

God didnt Nokia learn from the last event these 2 zombies presenting sound so damn boring!

I heard that they have to keep Jo Harlow dosed up on retalin because if they didn't, she'd be like vooooom!

Worst speaker ever. Its like nails on chawkboard.

16GB of storage has been confirmed!!

Why super AMOLED?!
IPS is much better than AMOLED


OLED needs no power to display black. IPS and LCD, to display ANYTHING, needs to power the entire panel. This enables a small clock to be on screen during sleep, but use very little power doing so. You cant do this on an LCD. Also OLED use less power overall.

This is a let-down, if you are already in the Nokia Lumia bubble, there is something here you will like - but if you have already pass on WP8 and the lumia line there is nothing here to change your mind.
I think the real problem does not lie with Nokia but the fact that they cannot really do anything with the OS.

am i the only one who thinks their presentation skills are just embarassing?
talking nervous like a little kid in front of a class...

I don't know what you mean? They were just as good at presenting as my nephew's kindergarten. Yikes! :-/

Jo Harlow needs to learn to delegate presentation duties to someone with a personality. And when in London its Knockya, not Know-Key_ah

The design is not bad but its not enough to make me want this guy. I am dissapointed, i just hope thats not the new flagship.

looks a lot worse than apple, android, MS presentations. they work in dynamic, highly energetic areas but look too passive to me. Stephen Elop is a lot better than these zoombies.

gosh, how difficult can it be to hire some people who know how to put together a grand presentation? :D

There are tradeoffs for secrecy and one of those tradeoffs is doing everything in house.
That said, I do wish they rehearsed a little more. Oh, and I love how reserved and tepid the Vodafone guy was - terrible endorsement!

Nokia lumias featuring the best windows phone. Nokia are the best companies for windows phone. This is easy to use and call. And the other apps are so easyto use then other companies. Gold and Silver.

Did I just take a toot on a crackpipe or did they really just get the female exec to dunk her dignity into that hoop?

I think that's it, lumia 925 and 928 only. Nothing new

Pretty much expected that. EOS should be in Sept / Oct, just in time for Christmas (also possibly waiting for Blue to enable quad core)

O2 UK are trending #lumiamazing on Twitter. :)

Not sure why O2 is happy. They wont be selling this phone. (not for some time, anyway)

13th of June according to their own pages - so four weeks.

Correct; that's the release date. Four weeks is hardly a long time.

It's available for pre-order from 30th May and they have it exclusively in white.

I see wells fargo in the background!


Yay carrier exclusivity again. Nokia you suck.

Yay Tmobile is getting the 925 and i'm getting first day. weeeeeee

It's not very exclusive at all! They have essentially the same phone across 3 US carriers, 920, 928 and 925 on at&t, Verizon and now T-Mobile - seems ideal.

I'm glad it's going to T-Mobile, finally!

When Joi came out in the Duke jersey with a basketball, I fell in love! Now back to sleep. zzz

We basically just got the Lumia 920S, or is it the Lumia 4S...

ONLY T-mobile? That sounds like a terrible move :/ I hope Tmobile is going to do some serious marketing. But going exclusive with the 4th largest carrier in the US sounds terrible.

In case you haven't noticed, AT&T and Verizon have their own versions already!

Nope! 16GB of storage is as good as it gets.

Seriously? I missed the first few minutes...compromise for me I guess.

at least vodaphone getting 32gb. Lucky.......them.

Guess you missed the bit where they said it was 32GB then

No its 16 GB, at least for the generic variant:
http://www.nokia.com/global/products/phone/lumia925/specifications/
Maybe provider models will have more.


I hope it is not the new flagship Lumia.....


All it is, is an update to fill the gap till the flagship release kind of like iPhone 4g and 4gs... It's also been just 6 months since the release of the 920....soI believe anything that remains in the 92x's is just an update or variant...the new flagship will take on a new number eg. 930 with updates/variants following after; 935, 938 etc

Nokia has done their best in providing hardware. A lot of things are held back by the OS. Shoot Microsoft for this. No 1080p support, no quad core support. Damn you Microsoft

End of this year will be a different story .


I second that. Its Microsoft's limitation too. Too bad. :(

As far as I know, Windows Phone 8 supports 64 cores... That's what Joe told everyone during the Windows Phone 8 unveiling.

It's not just the OS, its the size of Nokia too. There is a reason each of the 92x phones are so similar down to the camera, SoC, screen size etc, its because Nokia has to also support these phones for years to come - repairs, patches, updates, bug fixes, tech support and customer service to name a few.
There is no way Nokia could bring 8+ WP8 devices to market if they were all used different parts.
If Nokia and Microsoft can add all these great new features 6 months, 12 months or longer into the future, its because they have a great design.

so the strategy for USA market is each top 3 carier has each own 92x variant, that leaves customers with choice to make for the distinct mobile device and services. Not sure if they will stay with that strategy for long.
I think customers in ATT, Tmobile, and verizon should be pleased with their choice anyway.
I'm still waiting for the phablet, damn MS is too slow. From 2014 and on, they must be a lot more aggressive after getting API, SDK unified for multiple platforms.

To be honest its a stupid strategy, better strategy would be to make all the Lumia phones available on all the US carriers and let the customer decide which operator has the best plan, and not which has bribed Nokia into giving it what it perceives to be the best phone.


Who gave Charles Arthur from the Guardian an invite to this? The guy hates anything that isn't Apple.

Snapdragon 600, 800, Intel Atom, Tegra 4, Bluetooth 4.0, Infrared (for TV controller) - Where ???????

Interesting, but still not perfect, waiting for the Summer news about the new ATT flagship.


Id say we are looking at a fall event, not summer.

they said late summer, did you not listen?


Well that was disappointing...

You guys are always complaining. Take your ideas and your engineering degrees to Nokia and Microsoft and shut up. Go Nokia and go T-Mobile, the phone looks great. If Nokia went with android you'd complain about that. Microsoft is 3rd for a reason and with the latest android galaxy update with split screen and the left side bar stolen from blackberry Microsoft might just be last at some point. So what!! Go Nokia!

This is a discussion forum where people are allowed to express their feelings of like and/or dislike of whatever topic they're in. Not everyone can like the same thing. So.

Why oh why didn't any of the press ask when or IF the HERE apps would come out of beta!?!?!?

The only HERE app in beta is Drive and that's coming out of beta soon. http://www.wpcentral.com/nokia-s-drive-reportedly-getting-close-not-bein...
All my other apps appear to be out of beta unless I'm missing something.

Glad I got the 920 half a year ago. Worth every penny.

I agree with this. Its an excellent device.

Soo I haven't felt this excited for a new phone since the iPhone 4 announcements. Sadly, I wasn't impressed by any means on this one. Mind you 920 really only just released so I didn't expect a major overhaul. I think at this point the next big move should be Microsoft in releasing a major update to include those features we've been waiting for. As it stands, I'm perfectly content with my Lumia 920 and really only want to see new features in the OS. Of course I am watching the EOS...

The L925 seems really nice.
But.. if only they could make a L625. I love my L620, but it would be perfect if it had a 4 inch screen with a (much) better battery and a camera just as good as the L925.
That would be my ideal smartphone. Small + Good camera + Good battery life.

Will this phone be available world wide?
Or is it only for those carriers.

Not super excited about todays unveiling.. it's good for the ecosystem and for T-Mo customers though. Cheers to them! i'll be sticking with my L920 until that true next level device comes out.

The design and camera features on the Lumia 925 is great but the software update for window phone 8 is what am really excited about.

16gb is a fail. Will only buy a 32gb version, the Vodafone said that was their exclusive

Only excited about one thing ie. Lumia Amber update.

I am an avid lumia fan as well as a Nokia Ambassador in the UK. I have to say, Nokia, bitterly unimpressed... I've waited two years to upgrade my device and this shoddy rehash of a 920 will not be on my list, it just seems way to identical internally with a slight twist of a new design on the outside... I couldn't care less about the processor or the RAM, what's sitting in my 820 at the moment runs the device and all the windows store apps perfectly.
I think that I am not alone here when I say that Nokia for the past 4 years has wanted to corner the market with its camera wizardry and could have done so by implementing its 41 M.P sensor in to both the 928 and 925, and by not doing so has left a lot of Lumia fans wondering "Why?" This should and could have been so much more :(

Though they have what is essentially the best camera on the market in mobile phones, the truth is that's not the number one reason why people buy a mobile phone. Most people don't want a huge camera on their phones. They want style, they want app selection and they want a good enough camera. The cameras now are good enough for most people's purposes. High end cameras like those on the 808 are a niche market and not for the masses.

What Windows is lacking is still apps. Not just any apps but the popular ones and the niche ones. A good panorama app similar to Apple's would be nice. I virtually hate the one from Nokia, it shouldn't be the difficult.

Super impressed with the smart camera app live demo. I wouldn't use it all the time but it is pretty amazing. We're living in the future!

Nokia will choose Android soon! I love the Nokia Microsoft combination but lets see how long it takes since stock holders are complaining.

You guys saw that picture they are altering? It showed you can share with instagram the last icon she select.

Bit disappointing... No INSTAGRAM... No JETPACK JOYRIDE... No TEMPLE RUN 2.. No HERE DRIVE +( still in beta)

lot of people didnt switch to lumia 920 because of its weight and size..so they focussed on that aspect and offered the option of different aesthetics and slimmer design... 920 was just too big in contrast to S3/S4.
920 itself is good and still capturing market share and sales havent reached maturity stage yet that they unnecessarily launch a very new and different flagship and damage the sales of 920. 925 is just to give a push to lumia platform in the market and say that they are alive and making great phones and now they are lighter and slimmer. BMW implements this marketing strategy too and gives same series a 'Facelift' with new software for the iDrive and more sleek design....also called "Life Cycle Impulse (LCI)"
the idea is to revive the product life cycle which hasnt reached the decline stage yet.

In the U.S. T-Mobile has the 925 with only 16GB on for storage and no micro SD availabe. I think it will limit sales to people who use their smartphones occassionally. No power user will buy a smartphone with 16GB. The 920 has 32GB!

Ha ha ha.. I'm a windows fan period. PC tablets phones and whatever else but Samsung is killing Nokia and android is smashing Microsoft. I love my Nokia Lumia 920 BUT we are losing. By the time Nokia comes with another flagship Samsung and android will have already done the same. Microsoft loves to play catch up and they never do catch up go Nokia and get better Microsoft

That Sir is your opinion which of course you are entitled too. But i do not see myself buy a flimsy Samsung or a bitty operating systel like Android. You can if you want to, not for me.

where can i rewatch the event anyone??

I'm utterly disappointed at event.

Two of the worst presenters I've ever seen!