Nokia releases Modern Mayor, a 'Green' SIM City game exclusively for Lumias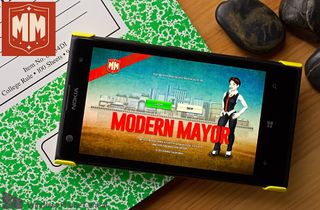 Nokia has released the Windows Phone 8 game Modern Mayor to the Nokia Collection of the Windows Phone Store. Think of Sim City (opens in new tab) but with more of an ecological approach.
The story line has you leading a dying town riddled with pollution, trash piles everywhere and beaches that are covered in sludge and other debris. Your mission is to turn things around and build a thriving ecologically friendly town.
In just tinkering with Nokia's Modern Mayor, the game comes across with a bit of appeal and should be an entertaining gaming title for our Lumia Windows Phone 8 devices.
Your first mission is to re-build your city's town hall and from there you begin to collect taxes and start the re-building process city wide.
Nokia Modern Mayor lets you plan and re-build your town with tools to tear down the old and build up the new. You construct roads, apartments, office buildings, malls, restaurants and green spaces to help the local environment. The cleaner you build the town the greener the fields and bluer the ocean.
And with Nokia Modern Mayor, it isn't just your town you are working to make better but in-app purchases go towards charities you select to help the real world a little better. Charities choices currently include the World Wildlife Fund (opens in new tab) and Oxfam (opens in new tab).
Nokia Modern Mayor is a free game that is available for Lumia Windows Phone 8 devices. There are several in-app purchase opportunities with the proceeds going towards charities. You can find Nokia Modern Mayor here (opens in new tab) in the Nokia Collection of the Windows Phone Store.
Windows Central Newsletter
Get the best of Windows Central in in your inbox, every day!
George is the Reviews Editor at Windows Central, concentrating on Windows 10 PC and Mobile apps. He's been a supporter of the platform since the days of Windows CE and uses his current Windows 10 Mobile phone daily to keep up with life and enjoy a game during down time.
Wow! Looks good. Downloading now.

actually WP8 is Nokia Lumia

Sadly No XBOX live certification :( :(

You would think with the close relationship Nokia has with Microsoft that it would've had Xbox Live certification. Another missed opportunity for Windows Phone. #SaveXboxWP

Yes, and that removes my interest for this game.

I have just become very averse to games with in-app purchases.

But, but "with the proceeds going towards charities."

I would rather pay up front and that go to charity or have a donate button in the app. In-app purchases are a death sentance for an app in my book.

Yeah, I have to agree. In-app purchases for charity are still in-app purchases, and the fact that I'm only five minutes into the game and already having to make a choice between waiting half an hour or spending an alternative currency doesn't bode well for the games potential.

Finally ! I'm sick of all those free pay-to-win games.. Well I understand it's the most profitable gaming development strategy currently, so why would they stop releasing such games when it makes a loooot money... I just feel like it's killing the gaming pleasure. I'm ready to pay 10 or even 20$ for a real complete game..

And do you how much go to the charities and used for whatever the charity stands for?? Not that much and a little under over 50 percent while the other is used for marketing, advertising and paying bills for the charity workers. Pff, IAP are bad no matter what ever they are for. Why not a full game without IAP and those going to the charity instead of IAP Posted via the WPC App for Android!

As perusal Nokia get everything lol

Glad the IAP supports charities.

Looks interesting, I liked the previous Nokia environmental games. As I said before I despise in-app purchases, but at least Nokia redeems themselves with giving the proceeeds to charities; still I would rather pay at front for a full game and then maybe Nokia could have put in a donate to charity button in the game for those who want to give more.

No more "green" things Nokia, please...
LOL :)

Maybe apart from a green phone... A green European version of the icon might be quite nice...

We need more green things, way more than now. Though I suspect this may be "greenwashing" at its finest unless they put the same effort into actually cleaning up the production and resource supplying.

Are in-app purchases tax deductible?

The listed charities are valid 501c3 organizations, so yes

I could be mistaken but you can't give to a company that will then give to a charity as the donation will be in Nokia's name, not yours.

So, even Nokia have given up on XBL now then?

Well, if you want to get a game out the door sooner than later... I get it that XBL certification should take a little bit longer, but near as I can tell the process quite often is not worth the bang for the buck, even more so for a free game intended to raise money for charity.

To be fair, from the users perspective what is the point? As far as I can tell Xbox certification means nothing... Its not like Xbox 360/One games are available as mobile versions or have mobile companions... God help if that was the case, its damn near impossible to contact some people already thanks to computer games

There are several Xbox games on Windows Phone that are mobile versions of or mobile companion versions of Xbox 360/One games. Skulls of the Shogun is one example of the former. Rayman Fiesta Run is an example of the latter. As for your question about 'what's the point'? The point is that Xbox gaming is a distinguishing feature of Windows Phone that set it apart from iOS and Android, but Microsoft is dropping the ball when it comes to promoting it. #SaveXboxWP

Xbox live is pretty much dead on WP, just like Microsoft abandoned GFWL and then killed it on the PC. I have pretty much given up on Microsoft when it comes to PC and WP gaming, after what they did, and I don't even want to hear about Xbox gaming after the way Microsoft repeatadly screwed the PC gaming community.

In app charity...is this game first of it's kind?

Need clash of clans tooo...

This! Hope its on the way..

Isn't there are 4-5 clones for it already?

But i want the real thing

Please let there has got to be an RT version of this on the horizon. George??

This game isn't awful. And as far as the Xbox live thing goes..its not that serious people lol

It's pretty serious. Some people literally bought Windows Phones, signing two-year contracts, based on the promise there would be a steady stream of Xbox games. They are right to be peeved.

It really, really isn't lol. This is more of an advert for charities and green culture than an actual game.

It really is. People signed 2-year contracts for a device that was supposed to have a certain feature that Microsoft has not delivered on. That's hundreds of dollars of committment and two-years of one's life. That's not trivial. And people aren't upset about this game specifically, just in general the number of Xbox games released for Windows Phone has all but dried up. We're 7 weeks into 2014 and only one Xbox game on WP has been released so far (Rayman Fiesta Run, and technically it's not even released yet in most markets). That's not good.

"Two years of ones life"...mellow dramatic much?

Insensitivity from an anonymous stranger on the Internet. How shocking. Just because some people don't mind throwing away two years of their life doesn't mean everyone does. And there's nothing melodramatic about that.

If you've been sitting behind your phone for the past two years crying about the lack of Winodws Phone games that you bought the phone for to play 24/7 on then fine, I can accept the "I threw away two years of my life for Microsoft". But otherwise, hello hyperbole.

If you're feeling cheated by the general lack of XBL games then fair enough, though if you were expecting this to have achievements even at the best of times, you must have been kidding yourself.

For to its to bad for those people. Slaving away for two years Posted via the WPC App for Android!

In app purchases. No thanks

Unless I can destroy my city with a UFO invasion I'll pass.

Dangit, I figured if this was from Nokia then IAP's wouldn't be so bad. I just want one single good game I can buy once and not have to worry about spending more just to have good gameplay.

Ugh, I read it has in app purchases.I'll uninstall it even before run it for the first time

This is pure propaganda and a political agenda you sheeple amaze me with zombie like qualities

Two weeks running now and no updates on the red stripe deals,whats the point anymore coming on here,don't think I will.

Ah, yes. The post Kelo v. New London Sim City where your job is to remove the minorities, guns, churches and small businesses and move in Eco Friendly white lefties and their expensive corporate shops!

First screenshot reminded me of Fallout, hehe. I'll have to give it a try


I wonder if they even thought of people with slightly lesser eyesight, I'm having trouble reading the text half the time.

This game crashes entirely too much. It goes to sleep - it crashes. Lock the screen - it crashes. Open it again - it crashes.

Server is very heavy, my 1520 crashed, ditching.....playing throne wars way much better
Windows Central Newsletter
Thank you for signing up to Windows Central. You will receive a verification email shortly.
There was a problem. Please refresh the page and try again.