Nokia's first dual-SIM Windows Phone, 'Moneypenny' will reportedly become the Lumia 630 and 635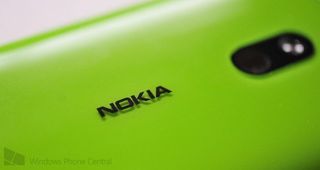 Nokia Moneypenny, as it's known by codename, could well become the Lumia 630 and Lumia 635, according to reliable leakster @evleaks. All Nokia Windows Phones follow the familiar Lumia branding and the first dual-SIM smartphone from the manufacturer for Microsoft's mobile platform would not be an exception.
The Lumia 630/635 ties in with the rather low specifications of the unannounced smartphone, which are believed to be in the same area of the Lumia 625, but with a smaller screen - believed to be just 4.5-inches. Evleaks notes in a tweet that the two Lumia phones will vary in configuration. We'd imagine that one supports a signle SIM setup, while the other has full dual-SIM support.
The Lumia 630/635 (or just Moneypenny for now) will be Nokia's first dual-SIM Windows Phone. The device has been spotted in India for testing and evaluation and while we're still uncertain as to when we'll be able to expect the release of the device itself, we can't imagine it being too far into 2014. We'll keep our eyes open at next year's Mobile World Congress (MWC).
Source: Twitter (@evleaks); cheers, FlagzTV, for the tip!
Windows Central Newsletter
Get the best of Windows Central in your inbox, every day!
Rich Edmonds was formerly a Senior Editor of PC hardware at Windows Central, covering everything related to PC components and NAS. He's been involved in technology for more than a decade and knows a thing or two about the magic inside a PC chassis. You can follow him on Twitter at @RichEdmonds.
Good work indeed.. this will catch the market.

Nokia trying to,capture every segment ..!!! First phablet ,tablet,best camera (1020) and nw in dualsim gr8 goin .:)

Why is it that most of the new nokia devices are tested here in India ??

For this device it definitely makes sense, as I imagine Eurpoe and America won't get the dual sim variant

Every segment of the market apart from 5" ish screen. And that is by the way the most popular screen configuration. Not sure what needs to happen in order Nokia to wake up ...
Still lacking killer top-end device to take on the SG4 and LG.
925 style with no bezel and full hd 5" screen will be a good start. Maybe, just ... maybe

Cant wait for it
Cheers to Nokia ops MICROSOFT

I think you mean: Will it have Instagram?

You spelt "single" wrong right before the last picture.

Lol, I noticed the same thing! Funny how that's considered "small" now.

Think Daniel's spent far too long with the 1520. "Just" 4.5" is bigger than my 820... my wife wants a small smartphone, but one that can do what mine can do, power wise. An upgraded 620, with a 3.8" screen. The manufacturers seem to only be pushing upwards though in terms of size.

Yup, agree 100% Android seems to be getting the same complaints lol too many powerful smartphones yet none ever go below 4.5 inches in screen. I think Motorola recently has been getting it right they have a powerful 4.3 inch device, correct me if I am wrong I cant think of any device with this years specs with a 4 inch screen?

" An upgraded 620, with a 3.8" screen." This is all I want too. WVGA 3.8" LCD, 1 GHz dual-core (but a newer CPU), 1 GB RAM, 8GB storage (if WP 8.1 allows app installs to SD card), card slot and 8MP camera equivalent to Lumia 800. I love the shells, love the feel, love the shape and size. I would buy the exact same thing again if it was a little quicker, had better battery life and had a better camera.

haha spotted that too. FFS I love my 620 because of it's <4" screen. You could probably fit in a 4" panel with a smaller bezel, and it's not really about screen size as it is handset size. Some of us actually like a phone to be a bit smaller than our hands, and you can't do that with a screen size above ~4.2"!

Waiting for another All-rounder(mid range) like 720.

If you look at the past upgrades this Lumia 630 could be even better than 720 (i.e. 710 vs 620).

Will be the first WP8.1 phone?

Oh, wonderful, another 4.5" device. Judging from the 8.1 news, I will be very eager to have a WP8 in 2014. Too bad that it seems like they stopped producing sub-4" phones. I was actually betting on getting a direct successor to the 620 by then. No, a 5XX device is not for me. I want a basic phone, not a budget phone.

I think that the size of 630 will be about the same as 820 - less bezel and no buttons will mean they'll be placed on that 4.5" inch display (125mm long 66mm wide 9.3mm thick 140g weight looks reasonable). It could be a nice normal phone if it has slightly better screen (resolution and clearblack) compared to 625, no more tweaking or adjustments mean it should cost $200 without contract and it would compete with Moto G when they release it in January (in this case that 5MP camera + 512MB RAM would be a sacrifice to keep LTE inside at this price).

I'm not sure about "820 sized". I've got a 900 and it's way too big for me. The 820 is about 5mm shorter, which is probably not enough to be more comfortable for me. I loved the initial 620 because it fit my hands perfectly. It was too early after buying my 900, though, so I intended to wait for a successor.

Yeah, I'm with you on this. 520 was very comfortable in my hand while 720/820 are really pushing it (even my pocket doesn't like to hold more). But looking at 720 it can be improved, especially if they're really skipping those buttons.

I agree. I'd love to see a proper successor to the 620 or at least something with a 3.8 or 4" screen. The 520 is just too low spec, but bang for buck the 620 is excellent, if a little chubby. Doesn't seem Nokia is all that interested in smaller devices at the moment.

Dualsim with dual camera?
Wow!

No James Bond comments yet? You guys are slipping!

I hope this catches on and ends up in higher end Lumias. I've never used a dual-sim phone before. Does it simultaneously operate on two networks? Like both for voice/sms, and only one for data?

It divides the phone signal into two. Everything that is SIM concerned (calls, sms, data plans) is separated in two. Apps and device software are just one. And yes, it operates simultaneously on both networks.
This, of course, is the way dual-sim operates on Nokia phones and Android devices. Microsoft could decide to divide the system in two. But it's highly unlikely they'll do that. On Android the way to separate the networks is through two different colours on the home screen (swipe left). On WP, since there's no such thing, I'm betting Microsoft probably opted to put the access through Live Tiles.

Thanks for the information !

I'm expecting Moneypenny and Goldfinger to be announced at MWC.
And it does make sense...they've already announced the successor of the best selling WP device - the Nokia L525 - so they'll probably announce at MWC the successors of the other main devices and best sellers (the 620 and 920). I don't expect them to announce more than the Nokia L630 (and 635) and Nokia L930. That makes 3 Lumia devices, along with other Asha devices and possibily the Nokia Android.
Nokia has two booths reserved, so...

630 could be a small screen version with dual-SIM (upgrade to 620) and the 635 could be a larger screen version (upgrade to 625). Maybe?

No. 630 and 635 are the same,except 635 will be a dual SIM and 630 a single SIM.

This will sell well in emerging markets.


I just wish Microsoft could keep using the Nokia brand on the future phones for credibility and image sake.

This model would do good in markets like China where some carriers offer good plans for making calls and other ones good plans for internet.

lumia 630 on sale in india
http://m.pricedealsindia.com/mobiles/nokia/nokia-lumia-630-pdi2131.html