Nokia Music+ goes live in the U.S. Market, let the unlimited downloads begin!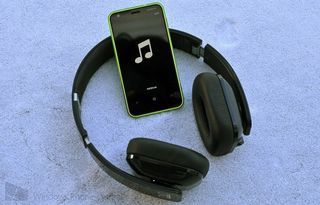 Nokia flipped the switch in the U.S.. Market for the Nokia Music+ service today for all Nokia Lumia Windows Phones.
The subscription will run you $3.99 a month and offer premium features above and beyond what the Nokia Music app currently offers. Features that includes unlimited music downloads for offline use, unlimited skips, lyric streaming, and a boost in sound quality.
To subscribe to Nokia Music+ just enter your Nokia Music app, enter the settings menu and you should see an upgrade option where you can start your monthly subscription. Not sure if Nokia Music+ is your cup of tea? Nokia did things right by offering a seven day trial period for the service to let you try things out before signing on the dotted line. When you sign up for the trial, the expiration date will appear in your Nokia Music app's settings. After which you can convert your trial subscription to a paid subscription.
George is the Reviews Editor at Windows Central, concentrating on Windows 10 PC and Mobile apps. He's been a supporter of the platform since the days of Windows CE and uses his current Windows 10 Mobile phone daily to keep up with life and enjoy a game during down time.
Now my dad will switch from Pandora. :)

Anybody comment on edited or clean song versions on the explicit hip-hop/rap stations? Will do trial but would like not to waste my time if songs are edited!

I've played some of the stations in the free version and there are a few with the explicit label on them which don't play the edited songs, at least from the ones I've heard.
Keep in mind though that there were only a few explicit channels when I looked last, it looked like most of them were clean.

I really hope we will get Nokia music her in denmark

Hmm, $3.99 for this or $3.99 for Slacker Plus?

Just for the pure performance Nokia music + is better , I never had problem streaming in Nokia vs always with slacker

I would say nokia+ for the simple fact slacker updated ios and andoid first with all new ui and features and left out wp8 for future update. mind you th new ui looks more like wp8 then anything else

Nokia Music should have a Xbox Music-like live tile :)

I just set up my Nokia music and the Xbox live tile showed what was playing in Nokia music so don't really need the live tile!!

Xbox Music should work properly.

Ireland too! Check your country!

now if only nokia would bring a mp3 device. that would be super fantastic! maybe ill just wait for someone to sell a 620 on craigslist for cheap if not. mmmmm

I would totally buy a Lumia MP3 player. If they had a 64GB with a micro-sd slot I could finally ditch my iPod.

Haha ... where were you when we were selling Zune players? Sincerely,
Steve Ballmer


I don't see it yet, I am in Australia but my phone is set to as a US Device... Hmmmm....

You don't set your phone, you set your Nokia account to the US.

Nothing new in Mexico City. Still waiting for the service...

Ojala ya no nos tarde mucho :D

Yeah, i like the service and is cheaper than xbox music.
Si, a mi me gusta el servicio y es más barato que el servicio de xbox music.

Switzerland please! (Love Nokia Music as it combines choise with the Nice surprise effect of a radio)

Change your Nokia account country to the UK or US and then try!

Please post back if you get any success, I've tried changing both the account and the phone and got nowhere.

Saw this wen I got on Nokia music this morning

I don't know if Nokia Music+ is available in Latin America, but I can use it in Ecuador too. It rocks!!!

Has been in the UK for the past week..sound Quality is awesome... Connected 100% ....

If they had an app for Xbox, I would totally use this. It streams sooooo much faster than Xbox Music.

Works really well, unfortunately the library is lacking in the bands/genres I listen to. Unfortunate.

I'm using Rhapsody and very satisfied

I'm using Pandora now, and not seeing any reason to switch yet...

From what I can tell this isn't Rhapsody, Spotify, or XBox Music. Correct me if I'm wrong but you can't just pick songs, you to create mixes based on the artists and then hope what you're looking for plays. Sure you can skip and download as much as you want but if I want an album to play, I want to do just that. Not a random playlist no matter how closely related the artist is.

this. i want MY music, not suggestions.

I don't see what all the hype is about. I guess if you like stuff like Pandora where it just mixes up the music then great. But I like choosing the music I want to listen to like on Spotify or downloading my own music to my phone. I don't like the radio/mix features. I like choice. If I could create a playlist with what I want to listen to like Spotify allows then I would be onboard.

That's probably why it's $3.99/mo. and not $9.99/mo.

I like both it all depends on what I'm in the mood for. If I want to listen to certain songs I buy my music on Amazon MP3 and transfer it to my phone. However most of the time when I'm listening to music it's in my car. The radio stations where I live fall short of anything good. So this services is great for my needs 90% of the time, when I just want to listen to something and drive.
Also on a side note I can't wait for the Windows 8 app.

Rhapsody is what u want. The best music app on Windows 8 phone. You can play exactly what u want. Plus a huge music library. Special price for new subscribers

Ok.. But I already have Zune..

How do you get the unlimited downloads? I'm listening to a song I searched for and when I click the download it wants me to pay for the song? I already setup the trial.

Unlimited download of mixes. Not songs. You don't get to own anything.

Wait a sec. Is this Nokia Music?? I've listened to Nokia music before and frankly I wasn't that impressed with the quality of the sound. How in the WORLD did Nokia Music get sound like this. This sounds AMAZING. I'll live out the trial period but this is whats up. Good job Nokia. Real good.

I'm using trial right now and I must say the sound is very, VERY GOOD. It would be very hard going back to the free Nokia Music after this taste....

First Question: I'll probably give the trial a go in a day or two (I'm going out of town on Saturday, I think, so I'll have PLENTY of time to try this out). Is there a way to choose the quality of your downloads? I'd like to make the same playlist twice, once with the default quality and one with the premium quality, to see if I can tell the difference, and how great it is.

Second Question: Any idea how much more space the higher-quality playlists take up?

Third Question: What quality of earphones/headphones would you say is necessary for the quality difference to be noticeable?

Final Question: Do the lyrics work offline, or do you HAVE to be connected to the Internet to get access to them?

Hi. Let me answer the third question first as I'm still learning the new features :) But first a bit of background.
I was using the supplied Lumia 900 earbuds when I first tried out the trial Nokia Music+ First thing I noticed was the definite lower noise floor which could translate to a more detailed sound. Instruments were more palpable, drums a bit authoritive, cymbals with added shimmer. These were my initial impressions. I was quite surprised by this so I looked for the same song in Zune (subscriber!), played it and there's a definite sound improvement with Music+....at least to my ears.
In terms of earphone or headphone quality, I have not tried another earphone apart from the said 900 earbuds. I think you won't go wrong with a Sennheiser PX100. I have one at home and will give it a whirl. I'll also compare Zune playback with the Music+ on my stereo system if I've got time.
But for mobile listening, I think the sound improvement is apparent even with stock earphones.

"First thing I noticed was the definite lower noise floor which could translate to a more detailed sound."
This means there is more dynamic range, which is the first step one wants to take in improving sound quality. Dynamic compression makes the sound extremely boring, unnatural and uninteresting. The better the audio equipment, the more one benefits from the added dynamic range, whereas poorer quality equipment may even suffer from it as the drivers are incapable of rendering the lows and highs, or the short, demanding transiest, such as drums, as well as with artificially compressed sound. Consequently, the poor equipment people use is the primary reason for such compression.

If you live in a different country aside from the UK or US and you changed your Nokia account to the US for example, how do you setup payment if your credit card is not a UK or US card? I really want to subscribe NOKIA!

Need apps for other platforms including PC, tablet, and web plus music match.

So.... it's $3.99 in the US and £3.99 in the UK? Now I like Nokia Music (free version), use it all the time, but that pricing structure does seem a little unfair.

I think one thing that KIND-OF makes it sensible to have the price lower in the US is geographic loyalty. It seems that Europe is buying into Nokia's hardware better, and I think that's partially because they are a European country. That said, it would make sense Europe is probably a bigger pool of users, and loyal Nokia fans, for the service. Because of that, the US might need a bit more convincing, so theirs is a little cheaper.

Then again, maybe it's all just about numerical uniformity? Do the other services (Xbox Music, Spotify, etc.) have the pricing uniform or close to same in cost between the United States and Europe?

It's fairly common for services to be sold for the same amount in different currencies for the Dollar, Pound and Euro. Generally the higher (20-30%) VAT on the EU countries kinda matches most of the difference so companies just do it like that to simplify pricing plans.

Any idea what the bitrate and audio format is?

$4 for unlimited skips? Uhh, nothx. Need a cheaper Spotify solution aka... search for music instantly instead of by genré

I have the trial running on my phone and after five skips I cannot skip anymore. I have restarted my phone and same problem. It's not very reassuring when the sole reason for paying isn't working.
Windows Central Newsletter
Thank you for signing up to Windows Central. You will receive a verification email shortly.
There was a problem. Please refresh the page and try again.