Nokia releases new Pocket Magnifier app, updates Glance for 8.1, refreshes others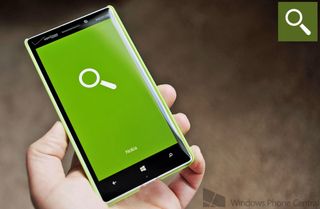 TGIF as Nokia is having a busy morning. Today, the popular Windows Phone manufacturer has released a brand new app to their Nokia Collection, in addition to pushing out no less than three app updates (four if you count Nokia Share from the 19th).
Let's take a look at what's new.
Nokia Pocket Magnifier – Having trouble reading that receipt? Visually impaired and would like to make your smartphone more useful? Then Nokia Pocket Magnifier is for you. Co-developed with the Royal National Institute of Blind people (RNIB), this app uses Nokia's awesome camera to enhance text, pause, and use the LED as for light and more. It's an impressive little app that could help many out there who squint too often when trying to read documents.
Pick it up here in the Nokia Collection
Nokia Chat Beta – Based off of Yahoo! Messenger, Nokia's Chat Beta app is not quite as popular or useful as WhatsApp, but for those who use it, it's fairly solid and clean in design. Today, version 1.5.8 went live in the Store. Unfortunately, there's no changelog, so we're guessing some bug fixes and optimizations, possibly for 8.1 in a few weeks. Hopefully Nokia will update their Beta page with info later today.
Download Chat Beta here in the Nokia Collection.
Glance – Everyone's favorite feature on their Lumia (except Lumia Icon owners or those with a Lumia 520) gets updated today. Glance version 2.3.0.4 is now live in the Store and it flat out states in the changelog "Support for Windows Phone 8.1". Guess the secret is out of the bag, eh? Of course that means there's probably nothing new for non-8.1 users out there, but it's still nice to see this will be ready if and when developers get free 'Moneypenny' devices at Build. Wait, what?
Oh and we did check on our Lumia Icon, and this app is still not yet available. Sorry, folks!
Update Glance here in the Nokia Collection.
Nokia Storyteller Beta – Nokia's popular photo organizer app, Storyteller, is still in beta, but today's version 1.12.0.4 looks to improve upon things. The app sorts your photos based off of information within them, including geolocation, time, date and more. You can then add 'stories' to your photos and get a bird's eye view of your memories. No word on what's new with today's app, so we'll leave it to those who use it every day to chime in if they find anything.
Grab Storyteller Beta here in the Collection (requires Amber software).
Thanks, scsgoal, Arpit M. and others, for the tips!
Windows Central Newsletter
Get the best of Windows Central in in your inbox, every day!
Daniel Rubino is the Editor-in-chief of Windows Central, head reviewer, podcast co-host, and analyst. He has been covering Microsoft since 2007 when this site was called WMExperts (and later Windows Phone Central). His interests include Windows, laptops, next-gen computing, and for some reason, watches. Before all this tech stuff, he worked on a Ph.D. in linguistics, watched people sleep (for medical purposes!), and ran the projectors at movie theaters because it was fun.
Damn Icon, with no Glance and double tap. Even the 520 has double tap...

That's what you get for buying a new phone. It's innecesary buy every new phone to be cool.

I didn't buy the Icon, actually.

Is innecesary like unnecessary?

Yes Mom... Can I go play now. :)

So your theory is it's a new Phone, so we shouldn't expect Glance or Double Tap. Riiiiiight. Well we're all in trouble when the Nokia 8.1 Devices come out then aren't we.

I would not be surprised if Verizon had something to do with no glance or double tap; its unlike Nokia to release half finished phones with missing features. Just like ATT ruined the 1520 by requesting Qi removed, Verizon might have done the same, for whatever reason, with the Icon.

Why did they make the Icon not support glance? I'm pretty sure every single person here would want that, or at least the option to do so. I think Nokia is already showing symptoms of the Microsoft disease, where they like to shoot themselves in the foot like they did with the Xbox One.

This is amazing...
It can't be Nokia's fault...
Let's blame Verizon and/or Microsoft.

Well, can't really blame Microsoft on this, so lets keep with blaming Verizon!

Yet my 822 has both Glance and double tap to wake, and I believe the 928 does as well.

So Verizon decided that they didn't want to include Glance? No matter who's fault it is, they're only hurting themselves. I bet some people won't buy it just for that reason.

Im not so sure about that.. Its a great phone nonetheless and a minor thing as glance won't detract folks from buying it.

I want to know this as well. Why doesn't Icon have Glance, and can it be implemented later with an update?

And these are the kind of dumb decisions that make no sense and go unanswered.

It'll always amuse me how the two Lumias that don't support Glance are the Windows 8 Phones at the very top and the very bottom of the spectrum. =P

If 520 does not have glance, how then is it gonna have double tap, or am I missing something here?

Come on, Nokia. I can't even begin to tell you how much I miss Glance on my Icon.

Need GLANCE NOW, PLEASE! Keep looking at my better halfs 928 screen with jealous and envy. Now if we could just figure out how to swap the 928 screen with the ICON.

I held back from icon for the sole reason of lack in the glance feature. I spent a half hour in the Verizon store comparing my 928 to the Icon. The screen is more responsive to touch, and 1080p is beautiful. However, it wasn't enough to facilitate a change in phones. Once you go Glance, you'll never......... Ya'll get my point.

Icon will get glance everyone just be patient and chill.

How did you come back, Hit the Lights?

man you do like hit the lights or something :P

Apparently, you don't know what this guy does to our community...

LIIIIIIAAAAAAAAAAAAAAARRRRR!!!!!

Moneypenny up for BUILD?! Really?

wait... did anyone notice the new Nokia Logo, albeit like Microsoft? Or maybe it's just a placeholder by RNIB and Nokia didn't bother to edit.

Noticed! Could it be the 'Nokia' that will be used by MS (e.g. apps) in the future?

Except that MS will not inherit the name Nokia...

Microsoft has the license to use Nokia name for upto 10 years (could be less, but yeah it has the license).

Where is the new Nokia icon??

On the splash screen of magnifier app...:)

I'll install the app just to see that Nokia is the new Nokia! :)

They must be nuts allowing such a change. Don't they know that the original NOKIA logo is already a household brand name and logo? What d'you think is gonna happen to coca cola if it changes it's brand image? Your guess is as good as mine.

but then again, both Coke and Nokia have changed their logos from time to time. see for example: http://themapr.wordpress.com/2010/01/05/the-evolution-of-the-nokia-brand-and-logo-time-for-change/ personnally I think someone's just been lazy and just typed Nokia instead putting a logo in...

Yea, maybe its the new Nokia logo for Microsoft?

What I don't like about Storyteller is that I can't customize pictures (eg. The ones that I took with " the location off" or the pictures I took when I was out of service .. These ones are randomly placed and can't be added to a location :/ let's hope for new features in the future

I had never read Daniel say TGIF

Hey wpusers i want to know is there the feature "ring+vibrate" in windows phone 8.1 update? The "vibrate then ring" sucks.

I agree it only vibrates one time and then its all rings sometimes you can't even feel the vibration.

I'm curious about this too. Anyone with credible information???

Some screenshots were released, and they showed the separate ringer+media volume, though while playing music the volume controls were the same so i suspect those... And vibrate+ring, well i dont suppose its coming, but they seemed to have added a 'sound settings' shortcut there to make your job easy.

Really feelin excited for 8.1 :)

storyteller boot up so slow well I have more than 5000 pics and its still beta so no much complain I prefer GeoPhoto for now coz it boot up faster

Nokia Pocket Magnifier heats up my phone A LOT WOW. Only had in on for a few seconds or so. Pretty awesome app though! Not just for text. ;) Nokia 925

Well a real magnifying lens burns a paper when placed under the sun. LOL

I was less than impressed with the Magnifier, as it doesn't do any additional image processsing and is limited to 4x. I have used Magnifiscope for a long time, which works for more than just enlarging text. It is impressive what a Nokia 8mp camera can see with a bit of resampling and image processing.

Pocket magnifiers. Nice Nokia addition app

Any chance of a HSBC mobile banking app? Like the glance.

I really wish they would make the glance clock bigger... since they added notifications its been tiny :(

You know, it was actually made smaller with the Black update.

yes, I know, and I have been annoyed about it since then...

I'd like to see more customization for Glance. For example, like to mention, size, but not only that, font type as well as style. I could imagine an old-school LED style or some sort of dot-matrix style/font.

Must find hack to get glance screen on my L521. Even if it kills my battery life and causes my phone to implode and trigger a black hole that swollows everything and everyone and thier Lumias, it doesn't matter, its worth it.

you'll have to modify the firmware for L520/521 and flash it to your phone. it's a start. :)

Your phone is probably hiding the Malaysian airplane. LOL

Interesting that everyone here loves the glance screen so much. I am just not a big fan. Not that I have any issues with it. I have tried using it for a little while but overall I saw no point to it. I wonder if it's because I wear a watch and don't use mu phone to tell time.

So Monepenny will be presented on the Build Conference. Also the 930? :)

I never used Glance on my 521, not sure if it's even available but not having it for the Icon isn't a big deal to me. Double-tab; however, would be an amazing feature. Good to see updates coming out for 8.1.

Again no luck with storyteller app..

Excited what glance screen wil get with wp8.1

R they releasing windows phone update for public on April 2 for windows phone or only for developers.

Developer preview for sure. Date is still anybody's guess at this point unless someone is willing to say anything

I think they will release for public too bcoz they r updating the apps inbuilt softwares.

Im not sure but i think only developers because they don't normally tell key features and release on the same day.

Too excited. I had given many bugs and suggestions for storyteller and chat beta. Though no changelog is a bad turn off.

Daniel, keep leaking infos inside the articles! Liked. :P Ahh, I tough that developers will receive some device from Sony. I refuse to believe that Sony isn't still a WP partner...

Glance now shows lockscreen info's detailed status, not just quick status. Is this new?

It was added in the previous update

Storyteller is now "really" available for 620!

What do you mean by really?

Storyteller based on my pics in onedrive would be great! I rarely save pics on my phone.

Magnifier will kill Reading Lens sales ;(

Reading lens is better focusing on close objects so it really shouldn't.

I uninstalled my Reading Lens. I know this Magnifier will still improve in the coming updates tho I hate thinking that Nokia just stole the idea.

Nokia Magnifier is an app Nokia has had for years now. I've it on my S60v3 Nokia N73 from 2006. It was released somewhere between 2007 and 2009 I think. Now it has made the jump to WP with a new name and more features. Edit: Nokia Magnifier was released in February 2009.
https://betalabs.nokia.com/trials/nokia-magnifier

The Magnifier is genuinely useful. Especially if your eyes are a bit older.

The Glance feature is amazing on my Nokia 1520; one of the best features of Nokia's design enhancements for the great Windows Phone platform.

Glance isnt available for the lumia 625 either... at least not in Telcel (México) =|

does that mean present wp8 phones can update to 8.1?

yup I tipped & got my name, This is 4th or 5th time

Did any one else get an OTA Nokia update last night?

Pocket magnifier is a great app. I love the ability to use the flash as a light. Great find thanks.

Why "Glance" is not available for 525 when it's Ram in 1 GB?

Needs a backlit display the 520/521/525 lacks ram being 1GB Isn't the problem, the 620 has glance when its ram is only 512MB

And whats the reason the for the 625? =|

Does anybody use Nokia Chat?

If they use yahoo messenger than yes.

Even Lumia 625 lacks glance.

WP 8.1 available to every WP8 device on April 2th.. Imagine that! Posted via the WPC App for Android!

Can anyone please tell me why nokia lumia 520 lacks Glance Feature!!?????

Maybe it has an LCD screen. That would mean the battery drain would be significant because the entire screen would have to be on since with LCD the parts of the screen showing black are still on. On an AMOLED screen that is not the case so the battery drain is significantly lower.

The Magnifier is cool, kinda like a macro lens, I uninstalled my Reading Lens app for this. :)

Glance did get a new feature! It now automatically delete photos that aren't checked when making a new background.

Lumia 625 doesn't have Glance either.

Is anyone facing a bug at Glance screen from Black Update? Every time I pick my phone from my pocket it doesn't light with glance, though if i hover my hand over it, it appears normaly. Is this meant to be like that? Cuz I see a pattern in this bug but no logical reason for it to work like this... Thought this update would fix it =/

If you go to settings -> glance and change the glance screen setting to 'always on' then it should work fine (it turns off when in your pocket)

Nope it doesn't. It doesn't matter if on "peek", "interval" or "always". Everytime the sensor gets blocked for a while, when I pull it off, it's like the sensor can't understand it has nothing in front of it anymore

Pocket magnifier is a really cool app, especially for my parent's when they need to read small writing.

Installed Pocket magnifier - good app! And yes, the Lumia 625 does not have glance. Shame that, it is a great phone! Anyway, bring on 8.1!!!!

RNIB is the Royal National Institute for the Blind, not of Blind people :¬) It's a UK charity.

Really, free moneypenny devices, i wish i was going...

Why the Glance Background still in beta ? And not much news on the upcoming 930 and Gold finger

625 doesn't have glance too

Please support my idea here:- http://windowsphone.uservoice.com/forums/101801-feature-suggestions/suggestions/5668907-please-let-us-share-videos-from-video-hub-via-blu
Windows Central Newsletter
Thank you for signing up to Windows Central. You will receive a verification email shortly.
There was a problem. Please refresh the page and try again.