Nokia Pulse Beta updated: Windows Phone gets a look in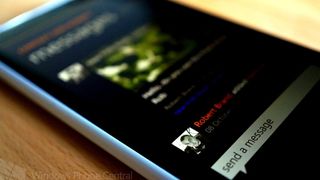 Nokia have had this one baking in the labs for some time but there still seems no sign that it's about to leave beta and be made publicly available to all. The app and accompanying service bills itself as "Messaging, now with location".
Nokia Pulse and its documentation do not seem to have been updated with any changes but essentially it looks as though the bump was to bring it to Windows Phone, as was previously reported.
Here is what the folks at Nokia have to say about the app and its capabilities
It's hard to know what to say about Pulse, we have so many ways of meeting and using instant messaging we don't quite know how to fit this one in. For apps and services like this to be more useful we feel the need to integrate them into the messaging hub is needed. We could say the same thing for other messaging services too. Still, that doesn't mean its not interesting or worthy of your experimental attentions.
Still if you want to have a go and give Nokia your valuable feedback you can grab the app from the Windows Phone Store here or scan the QR code below.
Source: SymbianTweet
I am, put since so few of my friends are using it, I mostly interact with a group of Nokia fans from around the world. Of limited use to me.

Pulse has a big potential. I like it.

I don't know anyone else who has a Nokia. So pretty useless?

I have a Nokia. :) and they said communication no matter what device. Possible cross platform?

Yes, it works on iphone through Safari.

"Messaging, no with location"
Huh?

Should read, now with location

Laughed the same. "Now with location" sounds more like it.

So many articles written, bound to mess up sometimes. I found it funny also.

Good catch, hectic here today, corrected! Thanks guys

I appreciate the effort put in by Nokia, and understand why it was originally developed. But this is pointless for WP8 users, only takes two taps from the messaging screen(attach;location). I guess enjoy for the still majority of the user base which is on WP7.

Nokia Pulse was initially developed for WP7.5 devices to use, so it's been it the works for a while. No need for them to ditch it at this point, even given the efficiencies of WP8.

With Nokia Pulse you can easy make group planning: Pulse makes it easy to make plans with your friends, whether it's 1, 2, or 22 people, within a single conversation. All suggestions and responses are kept within the same thread so that anyone can see the latest plans and know exactly where to go. By contrast, SMS enables a conversation with 1 person, but if you send a message to 2 or more other people, your original conversation splits into separate threads with each response.
Liron Markus
Product Manager
Pulse

The update wasn't to make it Windows Phone compatible, because I've had this installed on my Lumia 920 for several months now, and it has run without issue.

Yeah, I had it on my 900 a while ago. Never put it on my 920. I tried to use it with my girlfriend, but there was almost no point for me.

Unless you are ok with your spouse or significant other knowing where you are "at all times" this is not a good idea and I will not be using it. I like a little privacy.

Meet me in the kitchen, John

why would I be concerned about my spouse knowing where I am all the time?

Because I don't want a GPS unit attached to me for all people to see. This app is a stupid idea.

Exactly! It's your spouse - shouldn't be any secrets, and it's good to know where each of you are, especially in case of an emergency.

Looks like, whoever is complaining here hasn't used the app.
It doesn't share your location by default atleast not when used on iphone via their mobile website.


The article states that the message is "automatically tagged with your current location". To me that is like everybody having a GPS tagged to me. I'm not happy about that and therefore will not use it. I used to own a car dealership and we installed GPS units on financed vehicles to customers with bad credit and the customers were not happy with it. So why would anybody want to be tracked by choice? No thank you.

It's not a constant share, it only shares your location at the time you send a message. If you are really so paranoid about having your location tracked, here's a solution for you: Don't Use It!!!1

You can choose to not share your location

Though have not used it personally, but it appears to me like this is something worth a try. - Aldo Todini
Windows Central Newsletter
Get the best of Windows Central in in your inbox, every day!
Thank you for signing up to Windows Central. You will receive a verification email shortly.
There was a problem. Please refresh the page and try again.