Nokia re-launches Weather Channel App for Lumia Windows Phones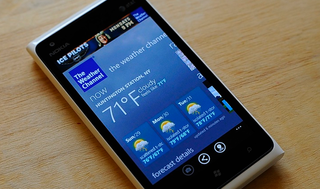 The Weather Channel app re-imagined by Nokia
In what has to be a surprise continuation of Nokia's commitment to their Lumia line of Windows Phones, they have gone ahead and re-imagined the Weather Channel App (which is simply called 'Weather') by bringing new features and a re-design that greatly enhances the experience.
The app is at version 2.0 and only found in the Nokia Collection meaning regular Windows Phone users won't be able to use the supplied link below. This may also be a US-limited feature...we're trying to confirm now. [Edit: UK is confirmed]
So what's new in Weather 2.0 from Nokia?...
New Augmented Reality weather feature (cat not included)
First off, the biggest new feature is an Augmented Reality section whereby it launches your camera and shows you local weather photos around your area. These are photos that people have submitted via the iWitness program form the Weather Channel. That iWitness works now because you can enroll, sign in and then submit photos directly from your Lumia to share with others. In our case, we saw a downed tree from a recent storm and some other interesting tid-bits.
Other features include 'my friends' weather' which allows you to track current conditions around the world but tied to your companions. Your friends' info is pulled via the new Facebook and Live connection that can access your friend list for easy access. You can even see their weather alerts.
The 'my amazing day' is a method by which you can set up custom alerts for pollen, sunscreen, sailing, pollen and running and then you can pin those to your start screen.
Finally, the whole UI design has been changed with smoother transitions, a new look for the icons and of course a slightly new layout. Of course there are still ads present but the app itself has had new life breathed into by Nokia and we really like it.
We'll have a full review of the app coming up shortly but for now, if you're on a Nokia phone you can go here to grab version 2.0 of Weather and try it yourself. Region restrictions may apply e.g. this may be US-UK only for now.
Daniel Rubino is the Editor-in-chief of Windows Central, head reviewer, podcast co-host, and analyst. He has been here covering Microsoft since 2007 when this site was called WMExperts (and later Windows Phone Central). His interests include Windows, Microsoft Surface, laptops, next-gen computing, and for some reason, watches. Before all this tech stuff, he worked on a Ph.D. in linguistics and ran the projectors at movie theaters, which has done absolutely nothing for his career.
I installed the standard Weather Network app and don't find it to be too bad. I still would prefer the Nokia one though. For those who can get the Nokia one, is it ad-supported as well?

Yes its ad supported. You won't notice it anyways.

That makes me a sad Panda

Just installed fine from the UK

Not availble in Germany :(

meh, still doesn't look that nice. I'll take Weather Flow over this anyday.

Nokia probably selected the worst of all available weathere apps for exclusivity. The app failed to support major chunks of the United States and other parts of the world for many versions. I believe the constant whinning by frustrated users made them expand the coverage. Then, by comparing their reports with the competition, they were way of, as if they just added the unsupported locations but not the actual weather data it seemed. Bieng international in focus, Nokia could do much better with other alternatives that did an excellent job from version 1.0 on.

I dont use weather apps, so im not disagreeing. However, these things take time and im very impressed with Nokia for pushing out updates so quickly. What other OEM is coming this close on support/updates post purchase to Nokia on any platform?

When I compared weather data between iphone's default weather app(powered by Yahoo)
and the Weather channel app on my iphone, the data is same.
So, not sure about the inaccuracy report, unless weather channel is owned by yahoo?



I had the same experience no forecast is really accurate MSN weather is usually off also. I find myself using the weather Channel app more often for their video forecast. The biggest new feature to come the way of nokia is the iWitness I don't think they had this in the original app where you can take photos of the weather and have them featured for specific locations. I actually love this feature and I can't wait to use it! :D

Available in India but not Canada? 'cause it's not like the US and Canada are far apart, nor is the weather data missing. I find the weather channel to have the most accurate weather in my region.

Looks good but there's still no offline data availability. iOS version supports this. Right now I'm close to my data cap, so that's helpful for quick checks for forecasts. This one looks and works much smoother than before though, but I really need that offline access. I'd rather pay for Amazing Weather still than use this.

You're not going to go over a data cap for using a weather app.

Just pin it to your home screen.. I never open the weather app (well barely)

I'm just glad that Nokia is still giving us goodies.

this app is extremely buggy. It kicks me out often and initially told me it couldn't find my location. FIX!

To those who are not able to download this or many other apps for that matter - searching the store is normally where you may be missing out. Simply follow the links (often the blue highlighted text) which will take you straight to the app. Well I hope so for you guys who are having issues.

Theres a QR code that lets us download the program quite easily I used it earlier

I like weather channel, and its my default live tile for a few personal reasons, but I have to admit there are many better weather apps out there, especially the MS one called weather. I don't know if there are any accuracy issues (I haven't really noticed any in San Antonio, TX), but the MS app is way better at updating location, even within a city it gives an area report rather than just rain in San Antonio. The second reason is the ads; offer a paid version without them and the app will improve quite a bit.

Why not available for other devices? This is what I don't like about Windows Phone. Other Windows Phone users are left out.

Because Nokia wrote it for (some of) their customers. You can still get the standard weather network app.

Get a Nokia, or go tell your OEM to make one.

Oh what a surprise ! Not available in Canada -.-

It says that in the article

I don't see the difference o_O Whatever it say it in the article or not, the app is still not available in Canada

You're still complaining to the wrong people or complaining just to complain

Please point out where in the article it says it's not available in Canada.

Men your obviously not the only person on this planet who read this article, so if you don't care, fine for you. Otherwise, why don't you go tell the same thing to every one on this site who say the same thing I say? Or Get a life

Why is it not available in Germany when one of the supported languages is German???

I like the original better because I don't care about my friends weather.

In general, I like the app, except when I add a location in 2.0 it insists on making it ALL CAPS. In addition to clashing with the Metro theme, it looks TRULY ANNOYING! (see what I did there?)

Well, just about anything is better than the official Weather Channel app, but I think I'd still take Amazing Weather over this version. I was using Weather Flow, but I found it inaccurate for my area, and I wanted a radar view/link. I think the augmented reality is neat, but more of a gimmick than useful.

Installed fine in the UK but temperature isn't accurate. Amazing Weather is always spot on though, according to the thermometer in my garden, and the live tile is the best. More work required on this one.

Not available in Italy too

Not showing up for me :( Lumia 900 in the U.S. I removed the current weather app I used before going to look too.

Found it by searching the general marketplace for weather Nokia, but it still isn't listed in the Nokia collection for me.

A step back in UI for me. Not that the last version was perfect or anything. And I still cannot stand ads.

Will this eventually replace the regular weather channel app?

Not available in Australia! :-(

Available and installed in Singapore. It works pretty well for me.

After upgrading the app kept crashing when trying to launch from my start screen, but fine from the app list. Unpinning the app and re-pinning fixed the issue

available in the Philippines :)

I think it kind of stinks. Slow and unstable on my lumia 900. Going to try to roll back.

Ads = not going to use. Man I hate ads, just uninstalled USA today as they recently added a super annoying ad for geico. Worst of all I even use geico so it's even more useless! Loved that app, but moving on because of the ads.

They gotta make their money some how. At least it's free so no reason to complain

Seriously, why do people complain about ads so much? Do you work for free? I'd love everything to be free and amazing, but realistically I realize that they employ people to make this stuff and they need paychecks too.

I prefer the regular Weather Channel app. It has much quicker access to things like forecasts, it just a swipe instead of multiple clicks.

Nice update... But how do I use the AR thingy...

Not available for my finnish Lumia :/

Not available in the Netherlands :(


Available in Philippines. Came installed on my Lumia 800.

"In what has to be a surprise continuation of Nokia's commitment to their Lumia line of Windows Phones"
Am I the only one that's a little put off by this opening sentence? I would imagine that Nokia keeps the Lumia line, in particular 610, alive for some time for emerging markets. I would also think developers in those countries would be more inclined to create new apps that work on Tango and WP8.

i just saw this reviewed during the forecast on the weather channel... nice!

Not available in Croatia:(

Not available in Australia

Has the same unreadable blue text on blue background for the % rain on the ten day view. There are a dozen weather apps and nearly all of them fail to show the % chance of rain or they hide it ten menus deep or they make it unreadable. Just put it right there with the temperature on every screen.