Nokia releases HERE Maps for all Windows 8.1 hardware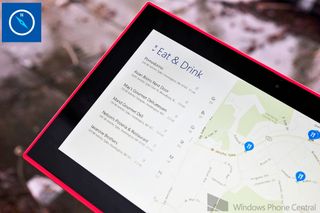 HERE Maps is the solid mapping experience from Nokia, which was only available on the Lumia 2520 when it came to Windows Phone 8.1 tablets and PCs. We recently covered plans for the app to be pushed out to all hardware, ending the Lumia 2520 exclusivity. Nokia has today made the popular solution available for all consumers to download, no matter which Windows device you're using.
As well as opening HERE Maps up to more consumers, Nokia has also included the following improvements in the universal update:
Speed – "The offline maps load as quickly as your computer can manage, of course, so it's a lot faster than using a website for navigation. But there are also speed improvements to the online portions."
Mouse + keyboard support for traditional PC users, in addition to the continued support of touch displays
Latest high-resolution satellite imagery
Consumers will now be able to enjoy a synchronised experience across multiple platforms and devices, including Lumia phones, tablets and PCs. Head on over to the Windows Store to download HERE Maps (opens in new tab). If you're unable to download the app, give it some time for the store to roll out the update to your region.
Windows Central Newsletter
Get the best of Windows Central in your inbox, every day!
Rich Edmonds was formerly a Senior Editor of PC hardware at Windows Central, covering everything related to PC components and NAS. He's been involved in technology for more than a decade and knows a thing or two about the magic inside a PC chassis. You can follow him on Twitter at @RichEdmonds.
Speed is now a feature? As opposed to it running like crap and thus no one uses it?

Edited. But it "seems faster." :-(

Yeah it's a terrible GPS/Maps service, very slow and gives wrong directions most of the time, and the worst part is the voice navigation. I find waze easier to use and much faster, not to mention the accuracy.

I find it very useful where I live...no problems here. I've tried other apps as well and I keep going back to this one!

it might be useful to point out where you live. i live in Michigan and Here couldn't locate the North American headquarters of one of the largest metrology companies in the world. Gmaps found it. also, it can't find Shibuya, Japan. that's just sad.

Haven't had problems with it either... Waze is easier and faster rerouting... But zooming out on waze is terrible... I do like the traffic, collision, and police chk points on waxe though...

Dont know if u know this already... But one thing u might find useful about here maps is the ability to see the layout for malls and large plazas... Do a search for a mall... Click on the blueprint button on the map... And it'll show u the layout with all store/shop locations... You can even select which floors u want... Shows you where the restrooms, escalators and elevators too...

Tell that to my VivoTab RT, which tells me the app isn't available for my PC.

Yet. Try again later. It always takes a while before an app is available in all markets.

How does this compare with Bing Maps Preview?

Bing Maps Preview is awesome!! The reason why I'm gonna get Here Maps though is that you can download maps onto your computer. So you can use it even when you don't have a wifi connection available. It's be awesome if Bing Maps would let us do that also.

That would be an awesome feature especially for tablet features!! WoW!

So awesome, love the synced places!!

Says "Sorry, this app isn't available for your PC" Probably be available later today!

For me, too. So we just have to wait a little ;)

Is the service free for non Lumia?

Still waiting in UK. Would you be able to use the maps offline on a Surface RT for navigation?

I don't think so... The Surface RT doesn't have a GPS.

Should be able to, if you have a model with GPS. The Lumia 2520 is an RT device.

Not available in many European countries right now - waiting for it!

It doesn't show in Canada either. I shouldn't have to switch my country for something like this.

Erm, yes for tablets, but not normal pcs. ARM based Windows 8.1 machines only.

Really? Where do they say that... Damn, I want it for my Surface Pro!

Installed it on my desktop 5 min ago so definitely working on x64 systems.

Wrong. Downloading and installing on my windows 8.1 intel based PC

Installed on a surface pro 2

Can you save offline maps to the SD card like you can with Lumia phones? If not, big problems for tablets.

Excellent, just installed on Encore, needed to switch region to USA, even sync my POI from Windows Phone. Just hope that all Nokia app from Windows Phone ecosystem will landed on Windows 8.1.

So if your device has no GPS (like most windows tablets) this will probably be useless. BTW, why do you think that is (small amount of GPS enabled windows tablets)?
If they are trying to compete with iPad then at least offer same basic features. Surface, hello I'm calling you out. Wish my surface2 had GPS. Also many other tablets don't have it either (As previously mentioned)

I guess it will work like Google maps, find the directions then print it out

It work like Nokia Maps on Windows phone, ability to download maps for offline usage (no need Internet connection), look for route in offline mode, showing POI, just hope that augmented reality will also implement in future at least for tablets with back camera. By the way, no need to print direction. Also, I am not agree with Mikroland that this is useless without GPS module, Bing maps on Windows 8.1 show current location based on Internet connectivity, did not try with Nokia Maps, but assume that is same.

ipad wifi also has no GPS.

Why would the fact that you don't have GPS make the app useless? I still have a good old map printed on paper in my car, and it works really good, enough though it doesn't have GPS. Yeah sure it doesn't have a voice telling me where to go, but if I'm lost I just need to find me on the map using the street names. HERE maps without GPS is the same thing, but you can do a search for street names, so no need to manually look for the street, and you have a list of restaurants and stores around you (you just have to manually tell it where you are). It's pretty cool I think.

I, for one, am more interested in Storyteller.

Downloaded and downloading maps for offline usage, this should be really cool for my usage

I don't even see this in the store just like I never see the Bing maps beta. No error or anything, it's just like they don't exist.

Switch region setting in control panel to USA, look in the store via link, download and that is. Same apply for Bing preview maps. After you install, you can switch back to your region.

Downloaded to my Surface Pro 2 in the US. I am using maps a lot and the fact that I can now use maps offline is just sweet.

Too bad the surface pro doesn't have gps. I believe it uses the wifi to triangulate your approximate position. So, the offline maps won't be quite as useful when you're not connected to wifi.

The odd thing is that here maps seems to find my house compeltely accurately while bing maps is off a few houses.... both on wifi. GPS would be sweet, but I use maps mostly to look up customer locations and surroundings (hotels, restaurants...) without using navigation, so for me it is not that big of a deal

The updated Here maps wont start on my Lumia 2520; ironically. Hotmail has been down all weekend and today with intermittent access on Office 2013 on Win 8.1, Win RT app and Office RT and also Windows Phone. Well done Nokia and Microsoft - good work.

Great ! This is what I waited for :D

Street view!! When is that coming to HERE Maps for Windows Phone??

once they have Nokia cars driving down your street...

Here maps does have stree view, if available in your area. They have it in my neighborood, but not on my block...and they do have Noikia mapping cars.From what I read, they are extremely sophisticated. If you click on the little levels icon on the top right corner, if stree view is available, that will be one of the options.

What I mean is, can you access this feature on the HERE Maps app on windows phone? I can't seem to find it.

Odd, Here Maps is available on my Win 8.1 x86 tablet, but not on my Win 8.1 pro x64 Desktop? What???

Not even searchable in the store in Australia. :(

it is available in australia

Here maps still has a long way to go in terms of catching up with Google maps. Too many times I searches for local stores and got no results. Let alone no reviews. Google maps is still the standard which other maps strive to be. Posted via the WPC App for Android!

not true, using it on surface pro 2

Available to ALL Windows 8.1 hardware? Funny, it says not available for my PC, that is running 8.1

Too bad Microsoft only bought the devices division, and not also the services so they can merge Bing Maps (preview) and HERE maps. They both have Pros and Cons but I prefer Bing Maps Preview. I hope they release it for WP in Build.

Can wait to download this when I get off!

looking forward to use HERE on my Surface RT with LTE coming soon.

Offline Maps: Charms Bar>Settings>Download Maps. It will give you very granular control over which maps you want.

But its only aviable for ARM technology

Not true. I have successfully installed and used on my ThinkPad Tablet 2 with GPS running win 8.1.

I can't download Here maps for my windows pc 8.1 any idea why?? My location is India.

same here , not yet avaliable in india :(

Change your country to United States in control panel and open above store link , you will find it in store

not available for my venue 8 in uk yet?... :(

It is, however, on my UK Toshiba Encore x86 8 inch tablet. But not on my x64 desktop. This is VERY weird, since your Dell runs the exact same OS as my Toshiba. I thought it might be that it isn't out on x64 yet, but it's far weirder than that. Said Alice.

I wish the Surface 2 had a GPS/GLONASS receiver built in .... Would be epic to have this as my carr GPS navigator :D PS: not available yet, 0am Brussels local time

How many Windows 8 tablets(not RT) have GPS? I was excited until I remembered my Asus T100 does not have GPS hardware.

The (my) Asus Vivo Note 8 has GPS. it cant cost too much for them to include, I'm not sure why so few do...

My Toshiba Encore has it. V cool. Perhaps that's why it isn't showing in the store on my desktop pc. That doesn't have GPS, just like the Dell Venue. Perhaps Here Maps is only available on GPS equipped devices?

My ThinkPad Tablet 2 has GPS running win 8.1 pro.

Here drive will be the next to release

Google is a giant company , why they don't have google maps offline.

If you're not online they can't serve you ads or track you ;)

We need GPS Area Calculation on HERE Maps as a feature, we can use it to calculate areas of our fields, plots, farms, stands countries etc.

It's a bit disappointing that it's not out for the whole world, I'm tired of this region crap.

When will we have HERE Drive!! Need to get a mount for my thinkpad helix in the vehicle now.... Or a sweet vehicle based PC running 8.1

Nokia releases HERE Maps for all Windows 8.1 hardware* *Excep for the rest of the world.

Still no HERE maps for New Zealand. Not that I cannot live without HERE maps on PC, but I agree with previous posts - this regional crap is a bit annoying.