Nokia re-releases Instagram-like app SophieLens, makes it free for Lumia users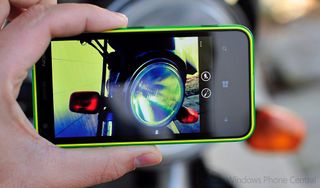 As if this Instagram-filled day needs to get even weirder, it looks like Nokia is re-releasing a Lens app for Windows Phone 8 under their name. In addition, they've knocked off the $1.29 price and made it for free.
The app is called SophieLens Pro and we looked at it previously at the beginning of February, noting that it was a solid Instagram clone with only a few minor criticisms.
The app features 5 lenses, including Cinematic, Flare, Mayfair, Roid and XPro. In addition, Lumia users can now download for free the Lomo pack, which includes another 9 filters to help get that right look for your photo. If however you want to get the Vintage and Life in Mono packs, you will have to "upgrade" to the PRO version of the app to unlock.
SophieLens Pro Samples (clockwise from upper left): Cinematic, Lime, School, LifeForce
Clearly Nokia is doing everything they can to appease the "Where is Instagram?" crowd, including grabbing one of the top photo filter apps on the Store and re-releasing it for free to their customers. While it's not a home run we personally enjoy using SophieLens on our Windows Phone—the filters are top notch, the effect of it being applied is interesting and since it's a proper Lens, Windows Phone 8 customers can load it up directly.
You can pick up SophieLens for Nokia here in the Collection. Likewise, you can purchase the PRO version for $1.29 here. Thanks, Bahamin A., for the heads up
Windows Central Newsletter
Get the best of Windows Central in in your inbox, every day!
Daniel Rubino is the Editor-in-chief of Windows Central, head reviewer, podcast co-host, and analyst. He has been covering Microsoft since 2007 when this site was called WMExperts (and later Windows Phone Central). His interests include Windows, laptops, next-gen computing, and for some reason, watches. Before all this tech stuff, he worked on a Ph.D. in linguistics, watched people sleep (for medical purposes!), and ran the projectors at movie theaters because it was fun.
man nokia has me very very amped today

What is going on!? I wish Nokia would give us a straight yes or no, rather than this bizarre behaviour.

I mean...it looks like there is no Instagram app coming. Why else would they release a social-pressure app and then another app that simulated the same effect? Seems like this is 'Plan B' for Nokia, Windows Phone not getting Instagram...

Though this cannot be a perfect plan b as it is only that filter part of instagram, no social aspect. Nokia should gobble up fotoroom.

Or we could just use Fhotoroom as it is. Who cares who owns it?

Because if Nokia owned it, it would be more likely to be used.

This I want instagram to share pictures with friends interested in seeing them, I don't want to post them on facebook or twitter, I could care less about the filters.

I see this the other way around, they are teasing and getting all the possible blog-attention until the real IG app will be released in the near future :) Then again, I may be totally wrong also .

Don't hold your breath! :p

Then why the rumors it is coming? I even talk to a microsoft guy said it was being tested :'(. This app is just filters not a instagram substitute. I think they are getting us hype....

It's probably coming because the whole instagram pleading app is just a marketing device. They want to build up awareness of the lack on instagram on their platform so everyone knows its missing (including non wp people) so that everyone is paying attention when they get it.

Would you say the fact that Instagram is not on Windows Phone is due to developer prejudice?

Instagram doesn't want to pay the $99 fee to push an app to the Windows Store. It's that simple. :-)

Who cares, they are doing shit. Doing shit is good. Let them crack on. Well done Nokia. :)

Should Nokia change there slogan to "We're Doing Shit" ... Also I agree

Nokia "where we do shit" I like it.

More like Nokia " where we give a shit"

Or "Nokia: your guide to giving a shit".

Nokia is "the amazing everyday" ;)

I run with an Ativ S, and I love Nokia. Nice work, you magnificent Finnish bastards.

My word! What's going on this week? They just keep coming!

Even Disqus is available!

The 1st thought I had after reading the other article is we might not be getting instagram and there won't be any love to # @ them Now Nokia is giving W8 users an app yet aren't supporting 7.8 I usually don't complain but did Nokia forget my 900 isn't even a year old so don't start making WP8 only apps just yet

Well, I don't know about you, but my AT&T Lumia 900 doesn't have 7.8 yet. Perhaps Nokia will release a version for 7.8 when the bugs in 7.8 are remedied.

Nokia's given me access to a few exclusive Xbox Live games, as well as to their terrific services, so not having this app (and the other filter type app released today) doesn't miff me at all.

Pro version by Nerd attack but free version by Nokia?

Free version is for Lumia devices only, paid version is for all devices with all the lenses :)

I have the Lumia 822 and I can't find it in my app store.

Only the standard and the lomo lens pack is available, vintage and mono filter pack requires the Sophie lens pro version. It looks as if the trial version of Sophie lens pro is Sophie lens for Nokia!

Why is Tom Warren of the Verge saying that Microsoft has been building an app for months?

Because they really have. This is not the first time i have heard about that. Even the microsoft reps at the stores know instagram is coming. I ask everytime i go to a ms store. I get the same thing. Yea they have been working on it for months there are a couple of people working on it. Gonna be nokia exclusive.

I can think of two scenarios here.... 1. Instagram/FB said "no" to an app for WP and Nokia is pushing out a partial alternative, and, is trying to demonstrate demand for Instagram with the "to love" campaign. 2. Or...they're scheming a fancy, public driven campaign to precede an official Instagram launch.

They might just be throwing this out to add to the #2Insta stuff. Make Instagram-like photos and tag Instagram with them in it as well? I mean, I'm sure most are HOPING this is all a build-up to Instagram, and it might be, but it would be a rather curious thing to release what they are if Instagram is the end result.

All I want is another "Like" Instagram app........... This is getting old.

You guys want to share pictures? No Instagram? Use the good ol' faithful Facebook. No filters needed! At least until the official app lands on Windows Phone.

Only reason I want Instagram is for the many people interested in jumping onto WP can finally come a aboard. They tell me never mind if it doesn't have Instagram. Smh... If Instagram comes through then maybe I'll create an account. Just to make them happy :)

To me this sounds like it'd be pointless for them to charge for a clone app when the real thing's on the way. Hence the price change.

I think there has to be an instagram for WP either in the works or in the process of getting done with a release that's tied to something else. If insragram was on its own I would say ok maybe its never coming. But its owned by FB, we all know FB and MS have a pretty good relationship. Money isn't a concern for either. I honestly think they are holding it back so they can release it with something else down the line. The problem with that is that everyday that goes by they lose customers. After a while that adds up and then your stuck below 3% market share.

Wow Nokia is doing everything in there powers for us wp8 and its for that reason I will stay. that's all Nokia wants is wp8 users to be happy they know there money is with windows.

this is so sad. microsoft sucks.

The only thing sad is people like you who desperately need a pointless app and thinking a company sucks because that pointless company is too lazy to make an app. Also as part rumors and even some MS staff say, they are working on it to make people like you happy.

How do you know instagram isn't the holdup? I doubt Microsoft wanted instagram to be so late. Come on man.

My problem with this app is my photo shooting habit. I like to shoot a pix & then apply filters. This app (as far as I can tell) applies the filter when shooting

Is anyone else getting their photos flipped upside down after shooting?

This happened to me a few times using the Nokia Cinemagraph app.

man this sophie lens app is awesome! got the free one for nokia but ended up buying the pro. just wondering if anyone knows does iOS or Android have apps that allow you take photos with the effects showing as you take the photo?? if not then Lens on WP8 really needs to be highlighted as a feature. haven't used it much but now with the Sophie Lens i'm gonna be using it heaps.

Instagram is not about the filters....it's about the community. Line is a superior app to Whatsapp, but everyone uses Whatsapp because of the community surrounding it. A new "filter app" won't cut it.

Wow this was another exciting day for us Lumia users

Sucks....not for the HTC 8x. I'm about to go back to my iPhone. Sick of this Lumia only crap.

Why don't you just buy a Lumia???

Am I missing something? How is this Instagram like? I dont see sharing or feeds just filters.

Hey have any of y'all seen the post from Nokia on Facebook? These apps are basically from what I can tell, petition type apps to show the people behind instagram how much the WP community wants their app! So these arnt just apps to fill the gap! Check the Nokia Facebook page!
http://conversations.nokia.com/2013/03/06/2instawithlove/?cid=ncomprod-f...

"In addition, Lumia users can now download for free the Lomo pack, which includes another 9 filters to help get that right look for your photo."
Where? I can't find them on my 920. Maybe it just isn't on all the servers yet. A link would be nice. :)

Go to filters > filter packs
Windows Central Newsletter
Thank you for signing up to Windows Central. You will receive a verification email shortly.
There was a problem. Please refresh the page and try again.