Nokia releases new ad showing off the Lumia Amber software update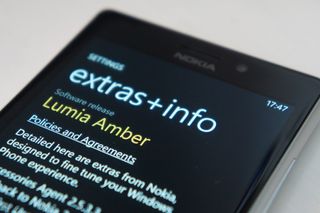 Nokia has released a short film to show off some of the new features included in the Amber update which is currently rolling out to customers. Bundled with Windows Phone 8 GDR2 from Microsoft, Nokia has been able to add numerous enhancements and improvements to features and functionality boasted by Lumia hardware.
We've gone into some detail as to what's available in both updates, so be sure to check out our previous coverage. Should you require reminding, Windows Phone 10327 (GDR2) is a minor OS update that brings FM radio, some enhancements to Xbox Music, WAV file playback for voicemail, fixed Other storage, and other minor bug fixes in addition to enabling the new hardware found in the Lumia 1020.
Nokia's bundled Amber update (highlighted in the above video), which is what is causing the delays for release, allows the new Glance screen, flip to silence, Lumia Color Profile and an improved camera experience, making the combo of an update quite interesting for consumers. So who's getting the Amber update? See below:
It's worth noting the Lumia 625, Lumia 925 and Lumia 1020 are not listed because GDR2 and Amber are both pre-loaded. If you're yet to receive the update, head on over to Settings > Phone Update and hit "Check for updates" to see if you're next in line. Nokia has stated they expect to have the update rolled out successfully by the end of September so don't freak out if you've not yet got the notification.
Source: YouTube; thanks, Toxid_Fox, for the tip!
Windows Central Newsletter
Get the best of Windows Central in in your inbox, every day!
Rich Edmonds was formerly a Senior Editor of PC hardware at Windows Central, covering everything related to PC components and NAS. He's been involved in technology for more than a decade and knows a thing or two about the magic inside a PC chassis. You can follow him on Twitter at @RichEdmonds.
AT&T says no Amber for you!

Even Rogers is saying that these days...it'd be nice if they'd finish with it and release it already...

Lol, I'm so eager to get my hands on the update. L920

Oddly more eager for the server pushed Bing update since its a feature I use daily

It sucks because they gave us the pro camera app, but won't give us the damn update already.. What are they trying to do to us❔

To build excitement, of course! I can't wait to use action shot. Now we can stuff all those crummy s4 commercials* down Samsung's throat!
*the one at the college

I'm done begging AT&T right now they can just f@ck off days after the fact we still can't get this update im just chilling when it gets here ok if it doesn't ooh well.

Remember, we are talking about arguably the most popular windows phone in the US... They are going to take their time to make sure the update doesn't cause problems. When you are dealing with a widely used, more expensive device, its only natural they want to make sure not to screw anything up royally, especially when the update will be unnoticeable to most users. Patience my friends, or just take the update into your own hands...

Jag, that's BS. The update already works on the 1020 on their network. I'd bet my life savings AT&T isn't rigorously testing this update. I couldn't guess what. Probably either an overworked and underpaid staff or a business political move. Perhaps they just don't give a shit? I find it wrong that any Telco should have control over my OS. Does Comcast dictate when you can patch your laptop? Why the hell are we letting a wireless ISP tell us when or when we can't update our phone computers? AT&T should be able to check one thing - that the phone can make and receive data from their network, including calls of course.

I just got off the phone wit ATT tech support,after bringing to her attn that 1020 comes with updates and 8x got it why no 920?
She said by Friday 8/23/14 the Nokia Lumia 920 gdr2/amber update on ATT will be available and she would put me on a list for tech support to call and walk thru how to update,I assured her I won't need help as long as she promises it will be available by then,she again assured me it will

> 8/23/14
> 14
2014? Goddammit, AT&T!

13 ,sorry dont proofread much,maybe I should

I'm also writing to let you be aware of what a excellent discovery my friend's princess gained checking the blog. hiphop capShe realized some details, You truly did more than my expected results. Many thanks for imparting such beneficial, trusted.hiphop cap

Lumia 620 still didn't receive an update in india while 520,720 n 920 already got it -_-

I still have no Amber update on my 720.

A friend of mine already got the ota update for his 720. That's surprising

520 in India did not get it yet.

You are wrong dude.. Only 920 got it..

620 is next in the line.... Only 920 got it so far....

The US 920 hasn't got a damn thang boi❕... Lol❕

All india lumia 820 users.. Update ur phone nw.. The roll out has startd...

Still not available for Country variant in NL!!!

Kind of ridiculous, right? Making an advertisement saying it's available.. No change even, with new Zealand devices. Still "coming soon".

Is there no way to run the update from your PC?

Yes. And lose all your data.

A big one, in fact, and also an MLTR fan, who I have met personally, BTW. ;)

Nice to meet you ny fellow rhcp fan :'D they are very rare..,,

The stupid marketplace wants to charge for the best RHCP songs... It pisses me of when that happens..

Lol...but the lyrics app is for free, rodney. :P

You only mentioned a few of Amber's features in this article =/

Amber is amazing! I used on my Lumia 920 and Lumia 925. It's very pretty cool!

#WindowsPhoneSmokedByATT :) AGAINNNNNNNNNN

Still no update for 920 here in Philippines.

The stupid thing is I have a 920 in Sweden and I haven't received the update either... What is this?

There is no Amber for the 720 yet, Nokia, don't lie.

Will you guys make a photo comparative between Lumia 920 with Amber and Lumia 925 and Lumia 1020??

I find this INCREDIBLY INSULTING. They can put out a press release regarding availability, even though it's still AWAITING CARRIER APPROVAL??? What a crock of crap

And awaiting unbranded phones approval.

Exactly! I have an unbranded 920 and no Amber, Nokia behavior is ridiculous.

Blame the carriers, not Nokia.

Yeah, I'll blame my carrier for not approving an unbranded update that Nokia should push to my phone. Good idea.

Actually on CV ones that's nokias fault.

This is an excuse that does not hold water. My 920 is unbranded and it is Nokia that has not released it.

Whine a little more, maybe that will make it happen sooner.
Should they not have a press release until after the fact? That doesn't make any sense.
Your reasoning is insulting.

Still "awaiting approval". We probably won't get it until September! I hope sooner, just not counting on it.

The mythical Amber.

Well, nice of Nokia to advertise something that who knows when we are going to get.

And when (if?) we finally get it it will stripped down by AT&T.

Who knows when? Well, we all know that we all have it by the end of September.

Well that's just fresh salt on a wound!

Guhhhh, frustration.... No update on att 920, I might just flush it as data sense will not be available on att.

That's what I ended up doing and couldn't be happier!

Question regarding that, would that mean that any future carrier updates will not be installed, saw some one made a comment about it a while back. Ty

Carrier updates, probably not. The ROM I flashed was unbranded. It will be the OTA's from Microsoft and Nokia though. I have data sense, which I've heard AT&T is not getting, and the new ProCam is so good! I am also loving the glance screen. No more pressing the power button to see the time. Just pull it out of my pocket and there it is!

Ok, thanks a lot. I'll flush it, reinstalling all the apps will be a pain in the butt though. Ty again

dont worry if you flashed it with Nokia Software Updater, coz after update all you apps will be automatically reinstalled (of course app data will be lost so back up). your contacts, sms, photos (within camera roll and saved pictures) will have been saved in the skydrive if you put back up settings on, other wise back up. remove your SD card as well, so nothing will change except that. Gud luck

At this point the only thing stopping me is that I want to get all the achievements in the old version of Angry Birds, haha. :(

Ok, this makes my life easier, I don't mind losing my preferences as I can always set it back. As soon as I get home I shall do this right away I'm tired of waiting for att.

Just got an update on my #Lumia620

wow wow man, pics or it didnt happen :P

My 810 received the update

Might as well start waiting for GDR3....

Bluetooth 4.0 LE available with this update??

a purchased my unlocked 920 to get the GDR2 / AMBER with the thought that my 810 (TMO) will never get both updates and when it came - i was pissed. so ATT better get that update goddamnit.

Oh, they've already got it. It's YOU that won't get it.

What would make you think that. They stayed every windows phone is supported with updates for 36 mo the. Wp8 specifically

Not for ativ s?....oh ok..

Amber update?? Never heard of it said the att 920 owner.

Correction: "Never heard of it said any att 920 owner."

EE, please hurry. You say MS aren't doing enough but this update resides in your hands right now. Your service right now is beyond rubbish. How can you no signal in central London????

No update for my Nokia Lumia 920 At&t Unlocked

I'm really sick of carrier-embargoed updates. All OEMs should be able to directly push to their devices, and the carrier just provides an APN preconfiguration along with any apps to pre-install.
If something goes wrong, 90% of the time the carrier just arranges to send the phone back to the OEM anyway.

That would make too much sense! Therefore it can't be done...oh crap Apple does.

They go through carrier approval. They just do it before they announce anything so it seems like it didn't happen.

Yea but the carrier is the Tier 1 support and has to absorb the increased support cost for all the calls and walk-ins at the local store. I'm not surprised they want to test the crap out of it themselves before letting us have it. I'd do the same thing.
Having said that, I wish they could move faster and have it beta tested on the network along with Nokia so its ready to go on day one

Need it... Indonesia please... NL 920. Still don't get it

"Your phone is up to date. Last checked 2 seconds ago"... I'm getting sick and tired. If there were a physical update button on my phone it would have been broke for sure.

The worst thing is I'm running out of space really quick. If it doesn't come in a few days I might have to flash it to my phone anyway. Damn you other storage bug..!

Still nothing on O2 UK with Lumia 820. :'(

What's with the 928 snub? Amber/GDR2 happened last week for us Xenon folk. Any news on availability of Amber on the 822? Isn't that the best-selling Windows Phone in the U.S.?

Verizon variants never get any love, partly due to Verizon never saying anything about anything.

Who's that on the bike in the video? The Flying Tomato?

I thought it was Shaun White at first glance

Lumia 820 amber update no data sense :(

Is it just me or did anybody else notice battrey life improvement after GDR2? My Nokia Lumia 810 battrey life improved significantly after the amber/gdr update. Not sure if Tmobile added something carrier specific to that firmware update as well?

Our 810 battery life decreased somewhat with the update. Nothing serious, but noticeable.

Now, if we could just get them to actually release the update (for more than about 3-5% of us.)

How does Amber fix the Other storage exactly??

People are saying it's self-adjusting with GDR2. You're not going to get all the free space all the time but you will get it when you need it.

What country was that shot on? Weird looking people.
That said, you people are bunch of whiny little b***hes, "where's my update", "f you Nokia", "f off Microsoft" etc, etc.
Give it a rest.

I wonder what it would take to get the Carriers out of the way? These sort of announcements always make people whose Carriers are slow to update pretty crazy. It degrades the WinPhone experience.
Can you hear me now AT&T?

I believe can you hear me now is a Verizon line.

You see what I did there?

I love you Nokia for my Unlocked Lumia 920, but Dam, I hate you AT&T for being so slow! Good thing I use T-Mobile SIM.

Still no update for my 8X, oh wait....

Lol that's cold dude ;) Sent from a GDR2ed up 8X.

Haha, my Verizon 8X is still waiting for that. I'll be able to upgrade by the time we receive it.

That's real handy when only 3% of wp8 users have it

Eagerly waiting waiting... :-) :-) :-)

I wish my life was like that video.

No update for my 822 yet, I can't wait!

It does NOT bring FM radio to the 928.

I think you have to plug in headphones first.

No, the 928 had its FM radio disabled for some reason by Nokia or Verizon.

Just like how they disabled group chat

I love how my phone lies to me and tells me "Your phone is up to date." That's so cute. Nokia should alter it sometime to say "You're on AT&T, what do you expect!"

Or alter it to say, "You're in North America, enjoy the wait."

Please tell me you just missed to mention Lumia 822 :'-(

I also have an 822 and I think its under the same category as the 820 I think.

Nope.
822 is waiting on Verizon.

Would be nice if At&t l920 could get the update being that we were the first carrier of the device..

Here's a question that maybe Rich or Dan can help answer.
We know GDR2 has passed AT&T certification as my HTC 8x already has the update.
We know all the featrures of Amber play nice on the AT&T network as the Lumia 1020 comes with it.
What is left for AT&T to approve to release the update for the Lumia 920?

Anyone? Anyone? Bueller?

Model, carrier improvements/add ons.

Your carrier has to approve the update. :/

Unless you have a CV model... Oh wait. :-/

. L920 nothing special in this update. Sorry, now we have yellow pictures , not blue. Horrible bug! U will see.!

Still not on EE in United Kingdom.

Love it when the music suddenly goes into soft focus at the end of the ad. Have a 920 rocking GDR2/ Amber here in India.

What about the 822 for Verizon. All sites say that we are getting the update too

Even in the philippines they havent rolled out the update yet anyone know when it will be rolled out in our country

"Even in the Philippines"... why should the Philippines have it already?

Really bad ad.. Highlighting only the Smart Cam app, instead of the new features (like Glance).

pretty ********* bold to make a commercial for something you can't even guarantee delivery of.

All india lumia 820 users.. Update ur phone nw.. The roll out has startd...

I think that they should change the 920 on Rogers from, Coming soon too Coming soon?

If Rogers is coming soon than I guess my Verizon 822 will be updated in roughly November/December.

Nokia isn't worng guys. They have indeed released the update. You can update the phone by downloading Nokia Software Updater to your PC. Or just taking it to a Nokia Centre.
But yeah the 'phone update' feature on Lumia isn't showing anything. I'm from India and I have got it.

That's only true for some models though.

I don't think so. I have a Lumia 620.

You must have flashed your phone

they always have great ads espcially music

Its really just a tease and kick in the balls to everyone still waiting for it to roll out. Especially in the uk :(

I need it for other storage fix

My other storage still shows 1.1gb after the update on my 521.

They forget mention ability to block calls and messages. Great when blocking annoying Tele marketers

Nokia being cool again. But their partner is surely dreadful.

People need to chillax. I used to be like where's my update this and where's my update that. I've been with WP since it began and I can tell you it will come. It may take longer for you than others but it will come. And you will find once you've had the update for 15 minutes and checked all the new features your phone is pretty much the same and you were a bit of a dimwit for worrying.

They've cut the ending.....when he got robbed in the tunnel

There is a lot of nerd rage in these comments.

On a lighter note, I totally thought the dude on the bike was gonna smash into that picnic.

yea, yea, yea...Where the F is my FM radio on my Lumia 928 ?????

When I think, Amber, I think, fossilized remains. Lets hope the wait doesn't feel like another age has come...

Screw relaxing and waiting. Complaining and demanding is much more fun.

So now am confused, is the 822 getting it or not?

Yes. But when? That is the question.

And by "Now available" they mean "now sent to the carriers. You'll have to wait until the end of the month to get it, if you're lucky".

That looked more like a Nokia Smart Cam ad to me haha

Yeah. Me too. No sign of Flip to silence, FM etc. A glimpse could've done the trick. Great ad though :)

Yeah. Not even the glance screen for Christ's sake, arguably one of the best Amber features...

Could I be the only one who's noticed Verizon's heavy pushing of the 928 on the tube? Is it possible they have an exclusive for Amber for a certain amount of time in the states? If so 30 days is going to suck.....
At&t 920 here...

I posted a similar comment two days ago and it got deleted as this one may be! Shortly?

Considering that T-Mobile has already rolled it out, I'd say, absolutely not.

Only speculating here waiting for my damn update.....peace out!

I hear ya! I'm actually on Verizon, but 822 = No Love!

WPC should make the logo in the top corner a button to check for updates on our phones.. would save me some time switching to phone update everytime there's an article about GDR2/Amber :)

Wtf At&t! So damn long. I'm still waiting for my upgrade with your shitty service

Updates haven't been approved yet. Most likely end of this month when they will begin rolling it out.

An Ad for an update? come on... updates should come seamlessly and frequently. They(MS and/or Nokia) are acting too slow...

Who cares. Find a way to increase the battery life of the 920, so it doesn't die after 8 hours and I;ll be impressed.

I was 800 user until i complained, 920 gives me a day usage.

What happens to Motion Focus on phones with no OIS? :/

They picked some really scary looking people for the ad o.o

All india lumia 820 users.. Update ur phone nw.. The roll out has startd...

Holy-- wait, I dont have an 820... :(

US 820 and still no update ATT.

I have some for my 928 through Verizon but nothing t the glance feature yet.

U.K. = awaiting approval, thought the uk was a big market for windows phone, surely these should be pushed through.

Now says "Coming Soon" things are a changing - I live in hope for a notification soooon.

Lumia 720 UK O2 BOOM!!!!!......*nothing* :(

That Camera app is cool & might come in real handy, well done Nokia ... Still I don't regret buying an HTC.

Why does the video above is blank (black box) and can't be seen the video above by touching it? I use Internet Explorer from Lumia 520.

Its cool that they got Shawn White's weird looking brothre to do the commercial.

I was going through the Software Update Availbility page for the 1000th time to check about my update and I couldn't help not noticing "Availalable" in India section. Seriously? Does Nokia type these stuff by hand?? and doesn't even care about the typo?

ATT f***ed up royally with this.

And here we go again. News of a firmware/software update finds its way onto the internet and all the sad Billy-no-mates take to their keyboards to type up the usual boring whining bull shit. Good grief, just get a life already.

Sir, your opinion is as egotistical as a jock in the woman's locker room

Thanks for that very insightful comment

All india lumia 820 users.. Update ur phone nw.. The roll out has startd...

Lumia 920 in Finland, downloading now...

Got it for my lumia 820..download in progress..india..

Can someone help me? I got the Amber update on my 521 but it won't let me download nokias smart cam... Is it not available? Nokia Lumia 521 on T-mobile

Nokia smart cam isn't available for the 521.

AT&T customers are trashing the ratings of the new Nokia apps because they think they have the latest version so they don't understand the "update required" message.

Omg, just downloading in Finland, L920!

No 822? It better come out for my 822! My phone is crippled from the other storage bug. Other storage fills 10gbs and apps like Shrink Storage and Storage Cleaner don't work for me. Earlier posts said it was coming out for the 822 but this one doesn't mention it.

Try things like reset and stuff to make sure cache is clear, and that is extreme 10gbs is a lot.

I'm staggered. I'm a long service award Nokia buyer. To waste time and money on an advert like this is a disgrace. I'd understand if this advert was by Microsoft. I could then get my frustration of windows 8 phone ownership and its many shortcomings fully vented. My Lumia 720 via Virgin mobile in the UK may get Amber update by the end September (2013. Though it might be the following September? Lol). An update? It's shocking that the bulk of the update is more about FEATURES THAT SHOULD HAVE BEEN INTEGERAL FROM THE F.....G START! I am flabbergasted and exasperated! I have had Nokia phones for their innovation and post aeroplane crash toughness and sturdy OS performance for the last 13 years. 3 months ownership of my Lumia 720 and I still have sadness of not selling my soul and getting an Iphone or more importantly an android (poorly based OS on the unsurpassed Symbian). I can't wait to see my therapist this week! ARRRRRGGHHHH!

Heard the faint sirens at the end of the video and figured it was an ambulance for to pick up the unhelmeted bike dude who was hit because he didn't have proper lights on his bike.

I wouldn't get too excited about the Amber update. I've had it since end of May and it completely trashed my bluetooth connection in my car. When I raised it with Nokia they asked me if my car was compatible !! Well it had been for the previous year !! Nokia tell me there is no way to fix this and no way to uninstall the Amber update !! That's simply not acceptable. I do not expect to lose functionality when processing an update. Its a huge shame because I was a massive fan of the Lumia 920 and Windows 8, but frankly I'd rather NOT have the Amber update and have my phone work in the car !! I can live without Amber until Nokia fix the problem and bring out another update.....


Got my update this evening!!! Nokia Lumia 920, Vodacom, South Africa. Boy oh boy!!! Waited a long time for this, its brilliant, its well done. Double tap!!

heyy this video is taken in my neighborhood in Helsinki :)

I have a query!!!!!!! I was under the impression that SMart Bluetooth (Bluetooth4.0) is coming for Nokia Lumia 720 (India) Series. Is that not the case???? Can we expect Bluetooth 4.0/ SMart on Lumia 720 (India) series anytime soon?

It's so weird. SmartCam is already available in the store, even for Lumias with non-GDR2 installed, while the update says it will be available on GDR2... EDIT: As soon as I tried the app, Smart Cam notifies me to update the phone first, before using the app. Shame.

The Nokia Lumia 900 deserves an update

I cant get the update on my 920
Windows Central Newsletter
Thank you for signing up to Windows Central. You will receive a verification email shortly.
There was a problem. Please refresh the page and try again.