Nokia reveals the Lumia 920 Pureview Camera (updated)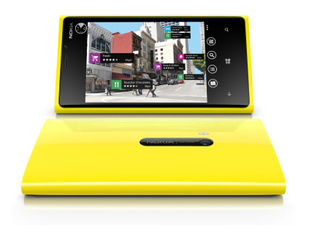 Nokia Lumia 920 will have a Pureview Camera
When Nokia released the 41 megapixel Pureview Camera everyone was impressed with the image quality and just about everyone asked when we would see a Pureview Camera on a Windows Phone. It may not be the 41 megapixel version but Nokia has announced that the new Lumia 920 Windows Phone will be fitted with a 8.7MP Pureview Camera with image stabilization. Nokia refers to this as floating lens technology.
While the 8.7MP camera may be a disappointment to some but realize the 41 megapixel sensor isn't what defines a Pureview Camera. It's the software driving the sensor combined with the sensor itself, along with the overall design of the camera that makes a Windows Phone camera a Pureview Camera.
The Lumia 920's Pureview Camera lacks the hump the Nokia 808 has but doesn't skimp on image quality. While we'll reserve judgment for after we get our hands on the Lumia 920, the image quality demonstrated by Nokia is seriously impressive.
The sensor stabilization, which we witnessed in the Nokia teaser video, is similar to the in-body stabilization we see in stand alone digital cameras. The imaging sensor is mounted on motors or servos that keep the sensor stable when you move your Windows Phone. This allows you to take photos at a slower shutter speed and reduce any motion blur that slight camera movements may produce. For video, it stabilizes the sensor so slight movements of the camera won't be as apparent in footage.
While it may not be a 41 megapixel camera, the 16mp Pureview Camera definitely makes an impression and we can't wait to get our hands on it to see how well it can do.
More on this as the story develops.
Update: As several have pointed out in comments, the Lumia 920's camera will have a BSI sensor similar to what we've seen used in the HTC Radar. The backlit sensor allows for better light capture and combined with the floating lens technology should make the 920's Pureview camera a heavyweight contender.
Windows Central Newsletter
Get the best of Windows Central in in your inbox, every day!
George is the Reviews Editor at Windows Central, concentrating on Windows 10 PC and Mobile apps. He's been a supporter of the platform since the days of Windows CE and uses his current Windows 10 Mobile phone daily to keep up with life and enjoy a game during down time.
I think lumia 900 line is all about branding Nokia so a big hump on the back would make the design ugly. Good decision by Nokia

Not necessarily. If the MP count is lower it won't be that big.

You said 8mp then 16mp, which one is it

Hey! Don't get confuse to that according to camera tecnocrates ,you cant put a camera more than 12 mp in a phone but this pureview technology enables you to put a 41 or 16(lumia 920) in a phone by overlapping pixels and making it a 8 mp camera. so you have a 16mp camera but in phone its 8 mp.

"you can't put a camera more than 12 mp in a phone" Errrr...my Titan 2 says "Hi" lol

Yeah...could someone clear that up plz...is it 8 or 16 megapixels

I hope its a 16mp if only to help persuade those less informed on cameras.

Doesn't matter at that sensor size (assuming its 1/3.2" like most smartphone sensors) the pixels above 8 megapixels are smaller then the diffraction resolution limit of light. Physics!

What???? You lost me on diffraction resolution limit of light. I would Bing it, but I have a long day @ work so can you explain.

I would like to know this as well. Personally I'd be good wth whichever, but 16 sounds better to he average consumer.

So Lumia 920 has PureView and the curve screen! Yehey!!!

The lipstick red Lumia 920 is drop-dead gorgeous!!!

I second that +10000000000

+1 that color just looks sexy. Who needs a color cover when your phone is perfect

Ok, image stabilization fixes shaky hand syndrome, but not fast moving object syndrome?

That would be shutter rolling I believe. Image stabilization doesn't have anything to do with that.

The used stabilisation "moves" the entire camera module (sensor + lens) - via springs and such - in the exact opposite direction that your hands (and camera ) are shaking. That is to keep the sensor in the same position all the time it takes for the sensor to be exposed to "the image" it captures. Fast moving objects require a whole different approach (object detection, tiny motors, etc). That is for lumia 940 (and high end dslr) :p :p :p

I put money on the desk , Nokia , please take all together my lumia 800 , And just pay me back the 920 . So awesome phone !!!

Those 920 camera examples they had at the briefing were pretty awesome. I want one so bad, which means with my luck I'm gonna get screwed when VZW doesn't carry the 920... :(

verizon is rumored to get the 820 along with Tmobile. Considering Verizons love for windows phone, I beleive it

No hump... no xenon flash means lame phone and dissapointing event. Hope HTC bring something because this was a non-event

Pureview allows more light into the lens meaning you will use the flash less. So why do you need a xenon flash? Thought this was explained on the webcast

A non-event because the phone doesn't come with a Xenon-flash? The image-stabilization, lenses and other game-changers weren't good enough for you? Have fun with HTC. Here's a heads up (and you can thank me later): HTC won't come close to bringing what the 920 brought.

You must be working for a competitor... Or else you're just plain stupid. You troll all articles...

+1 for troll detection :)

No mention of rich recording audio.... :(

Beginning of the article they say 8mp at the end they say 16mp so what is it?? A 16 that pureviews down to 8"

Seems like with image stabilization turned on, it is 8.7MP. Otherwise 16MP.

I was wrong. It is a 8.7 MP camera.

Can't wait to see the hands on photos from this camera. It was good to see the use of physical IS in combination with software IS from the pureview. I don't think software only IS would have been very impressive.

It's 8.7MP http://www.nokia.com/global/products/phone/lumia920/specifications/

Is not about how much MP it has, is all about the software and sensor it has that is more important and what counts more. MP is just the size of the image. 8.7MP is enough to me if you ask me. Any professional photographer can tell you this also

I dislike Apple very much, but I've got to admit that the iPhone's camera is superb. I hope the one in the 920 is just as good or even better.

ok - where is the pre-order !!!

We need to see real life demos. But I'm afraid that we are not going to see the incredible zoomed in details like on the 808, otherwise they would have demonstrated it. Bummer.

No lossless zoom with only a 8mp sensor.

I want this phone !!!!!!! Wish they would say it's launch date !!!! Hey NOKIA tomorrow sounds fantastic!!!

http://i.nokia.com/blob/view/-/1824212/data/2/-/Download-pureview-820.pdf


See the image stabilisation at work:

http://www.youtube.com/watch?v=cimDfEIEiu0&feature=player_embedded

... if it works as well in real life, I'm impressed.

I am convinced... tell me when and take my money... I just hope these make it here where I live for Christmas time :)

Finally I can sport an Iowa Hawkeye cell phone. Black and Gold baby. This phone will sell out in Iowa, Pittsburg PA (Steelers), and in Georgia (Yellow Jackets.) If Nokia could do a cross branding agreement with NFL teams. they would make a killing.The fans would have their own teams's tiled apps shown prominately on the home screen.

I'd rather have a 8.7 MP with the beautiful Lumia 920. Then the large camera on the 808.

I'd rather have the full-Monty 808, but I will still say "shut up and take my money".
Windows Central Newsletter
Thank you for signing up to Windows Central. You will receive a verification email shortly.
There was a problem. Please refresh the page and try again.