Nokia teases phone-powered Rube Goldberg machine on Vine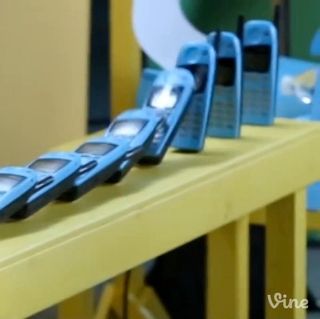 What's made of old Nokia cell phones arranged as dominoes, a water bottle, and a baby blue typewriter? It's the beginnings of a Nokia-themed Rube Goldberg machine. Something "epic" and "#Morecolorful" this way cometh, as Nokia has teased on Vine. What might be at the end of this needlessly complicated contraption? Your guess is as good as ours.
To be clear, this is Microsoft Nokia (i.e. Microsoft Mobile), not the left over focusing-on-maps-and networking Nokia. As part of Microsoft's purchase of Nokia, Redmond took over Espoo's social media accounts.
Source: Nokia (Vine); Thanks to SB5 for the tip!
Windows Central Newsletter
Get the best of Windows Central in your inbox, every day!
Derek Kessler is Special Projects Manager for Mobile Nations. He's been writing about tech since 2009, has far more phones than is considered humane, still carries a torch for Palm, and got a Tesla because it was the biggest gadget he could find. You can follow him on Twitter at @derekakessler.
I guess this is/will not be from Microsoft Nokia....but from standalone Nokia.

Nope this is the new Microsoft version of Nokia. Microsoft took over all of Nokias social media accounts in the purchase of the devices division.

I think the typewriter may be typing the new brand name for Nokia.

This is my thought as well. Cyan typewriter or something at the end.

could more colorful mean more and more updates? Amber<Black...............Cyan<Daffodil<Emerald<Fawn....... coming sooner xD

Nokia entering into handset business in 2016 O_O

That's a door that was left open by Suri, Nokia's new CEO.

I read "Siri" and giggled

So... Nokia Nokia or Nokia Microsoft, Nokia?

Microsoft Nokia. As part of Microsoft's acquisition, they've taken over Nokia's social media accounts, though they haven't all been renamed to Microsoft Mobile.

This is it a "Microsoft Nokia" / "Nokia Nokia" thing is going to contiune to confuse us. Might be a good idea to be more specific somewhere within the articles...

This much i know, the nokia conversations blog has been renamed to conversations. I like that blog a lot and had noticed that magnify wasn't showing any new articles from it when i saw that the feed url has been changed to only conversations.

Why don't you just call it what it is instead of making up "Microsoft Nokia"? the Devices and Services division that was sold to Microsoft is officially Microsoft Mobile. No where is it "Microsoft Nokia" so as others have said, please spare us and future readers the confusion. A simple update of the article to just say "Microsoft Mobile" (if you want to say anything) would eliminate the whole made up "Microsoft Nokia" thing. Lastly, Microsoft did NOT purchase Nokia. This has to be the easiest thing to understand as at no point in time has Microsoft announced, nor Nokia, that MS purchased Nokia or that Nokia was sold to Microsoft. Please Derek, you have a responsibility to write factually concerning factual things, not opinions about things that are factual IF you are reporting something as factually...like it actually happened. Thanks for the article though. If Comcast bought AT&T's U-verse cable business, that does not mean Comcast bought AT&T, they just simply bought their cable TV business. AT&T would still be a separate company, just no longer making/providing U-verse cable boxes and services. It really is that simple and factual. Until Microsoft buys Nokia, they have not bought Nokia. They have however factually bought Nokia's Devices and Services business and the D&S business does not = Nokia (regardless of what our opinion is)......it simply = the Devices and Services business. Sigh.......another day....same inaccuracies on such a simple topic. If this wasn't the premier WP site (IMHO) I wouldn't care about posting about the accuracies of the articles and what it means to readers but....I do as this site is important to the Windows Phone ecosystem and consumers and is a well known site. We have to keep the integrity and level of accuracy high, otherwise the site will still be nice looking yet not trustworthy or worth reading anything beyond reviews and other opinionated pieces.

LMBO!!!! Thanks In Limbo! That just made my day! :) I thought of it like this: http://www.youtube.com/watch?v=tUaxLDRJS9A

"Isn't Betty a woman's name?!"

Nice article edit, make it look like I don't read the articles. Pssshhhaa to that! ;)

Intriguing... Question, though. Is that Nokia as in the Nokia that remains, or Nokia's phone division that it's now part of Microsoft?

It's Microsoft Mobile. Not Nokia. From Nokia you won't be hearing about phones at least until 2016. You may hear about some wearables before that though since their R&D division is working on that ;)


Not to mention it follows the same slogan "more colors" as the vide they released just ater the takeover.

Hmmm will have to Bing this

More colorful; is that possible? I hope its not another Asha device

If the phones in the video are any indication, it will likely be a new Asha.

They're using an iconic Nokia phone and the phones are moving "forward" I see it.. And isn't a codenamed device Goldberg supposed to be announced? Or was that already announced? Maybe it's a successor?

Goldberg...GOLDFINGER? WPC App for Android- Lenovo IdeaTab A3000

"To be clear, this is Microsoft Nokia (i.e. Microsoft Mobile), not the left over focusing-on-maps-and networking Nokia." What you mean is: this is Microsoft Mobile and NOT THE REAL NOKIA. As Microsoft has no rights over the Nokia brand apart from a restricted license for S30 and S40 phones, no one should call this Nokia. As for the "left over"...well, that "left over" is what controls all the tech and patents Microsoft needs to buy their phones. So...mind the disdain tone ;)

Actually, the asha and Lumia brands would carry nokia for a little while. They do have the nokia name for 1-3 years probably.

The Asha devices are based on the S40 series and so they get the Nokia brand in the 10 year license. But the Lumia will not. The last Lumia phone to carry the NOKIA brand will be the 930. Only current Lumias and the Lumias that were announced prior to the closing of the deal (the 630 and 930) will still carry the Nokia brand. Anything else presented and released after 25th of April will come under the new branding, whatever it is that Microsoft choses (Surface Lumia, Microsoft Lumia, MicroLumia, whatever).

Not according to Nokia. The terms have changed. @Cheena1o Not necessarily. Microsoft has licensed the Nokia brand for Lumia, Asha and feature phones for some time. https://twitter.com/nokia/status/459651942025682944

The social teams said that BUT they haven't any base for it and since then have stopped. The deal was not changed in that regard and Eflop's AMA left that clear. So the social teams either misunderstood the terms of the deal and got the wrong info or was lying on purpose to avoid a massive exodus from the users.

I believe "for some time" means that Microsoft can continue to use the "Nokia Lumia" brand on existing phones that are in the market... but new smartphones will not carry the Nokia brand going forward.

That's exactly it. They can and will continue to use it on phones like the 1020 and 1520 which are already available. And will be able to use it on the 630 and 930 because they were presented before the closing of the deal. But that's it.

Microsoft themselves said that new Lumia devices would keep the Nokia brand name for up to 18 more months of new phone releases

It's Microsoft Nokia because they're Nokia's social networking accounts, and they're controlled by Microsoft. While we may know that Microsoft runs them, most people wouldn't.

The social teams are a case of Dr. Jekyll & Mr. Hyde, clearly. It's deeply confusing for everyone that Microsoft speaks on behalf of Nokia when they have no right to do it, and then also speak on behalf of the real Nokia. I wonder how long will it take for Google or Samsung to legally move against that because it's something that is against fair competition rules (they're misleading consumers by leading them to think they're buying a product from a company when they're buying it from a different one).

Google & Samsung filing fair competition complaints. LOL thanks for the good laugh. you made my day with that.

I guess you didn't really pay attention to the process that lead to the deal. Otherwise you would laugh but know it's a likely possibility from both companies...;)

Dude, I read your full comment the first time and understood the process. you could have cited any other combo of phone makers like apple, lenovo (now), htc, etc I just find it hilarious you picked the those two to enforce fair competition complaints in your example ;)

No, what you mean is Microsoft bought thousands of Nokia's patents, including phone patents, and these now belong to Microsoft and Microsoft also bought a 10 year license to use thousands more of Nokia's patents, including more phone patents. This 10 year license includes an option for Microsoft to license them in perpetuity if it chooses. As for the use of the name Nokia on phone devices, you are correct.

..and no sense was made this day.

Cyan phones coming back ?

Cyan 1020 replacement would make me very happy!

Everything is in cyan color i guess they are talking about Lumia Cyan update(WP8.1+nokia firnware update= epic) Still not sure though

That's the best decryption... I second your opinion

Yeah. And the first two are black... so lumia Black -> Cyan.

whatever it will be we will come to know it by tomorrow :)

Good call, I totally forgot the next firmware update is called cyan but how does that relate to the more color hashtag?

#morecolorful is wildly use after microsoft acquistion of nokia so might be related to it. we will come to know it by tomorrow as on their this vine one user asked "what are you teasing us?" they replied"tomorrow we promise".

Nokia's Devices and Services division does not equal Nokia. For the record, regardless of what this writer said, Microsoft did not acquire Nokia. If you know that MS didn't acquire Nokia, then that just means that you don't mind saying they did when they actually didn't and I don't have anything to say about that. If you honestly thought they did acquire Nokia, well, now you know they didn't and knowing is half the battle. I'm not here to write a book, just to help in the event that you didn't know that MS did not acquire Nokia. No harm here, just honestly trying to help, if help isn't needed, I'll move along. Thanks for the info about their response via Vine.

I personally have posted a lot of wild conjectures based on the Vine posting, but @Skyrocker007's comment is the first i've encountered that seems to be closest to touch base!

cyan high end phones coming back? what is it? i dont get it

I'd love for cyan to return! I'm tempted to buy a 1520 but the high price tag of the RM-938 is stopping me. If it were available in cyan I'd probably get one.

Are u guys retarded. So many people posting the same dumb ass questions. Read through the freaking.post before asking. It's not Nokia, its the division acquired by Microsoft

Are you retarded? Derek changed the article after people were asking questions.

Are you retarded? how was we supposed to know? dont be a dick.

Go Microsoft mobile make those epic vines

has anyone noticed that the first and second phone that falls to hit the dominoes is different?

i noticed it too. there are 4 sequences in this vine. and their actual order seems to be 1,3,2,4 (in the order of their appearance in the clip) because the black phone hits the cyan one in the 3rd sequence, which should actually have been the second sequence.

Well, the final result is a printer starting. Are we getting some cloud printing feature in Nokia Cyan or something?

I'm guessing there are more features in the cyan update to announce.

There are eight cyan phones here, and a 3310 hitting them (8.1) so means this is about Lumia Cyan update. Or could be something else with 8.1.

They need to consolidate launches. So is this going to be the really flagship for 2014?

Could it be a water proof phone with full old style keyboard for one of their phones? Perhaps Nokia-X or low end devices?

How about its a pointer to the release of the 8.1 firmware cyan (blue)

I see a water bottle. Anyone?

I was guessing a water resistant Lumia.

i would imagine that it is a high end waterproof lumia device that will be microsofts first branded lumia device.

Yes, on top of the blue typewriter.

They hit a waterbottle at the end....waterproof phone?

But why is the water bottle sitting of top of the typewriter?!!

it will be the new rebranded lumia device, waterproof with the water bottle and typewriter for the new branding of the lumia line.

I hope it's they big bang that I've been waiting for. You know... The one that needs to be available on all major carriers

I still have the Model they use at the start :D

The "rolling out" of Cyan?

Uh, that vine is composed of four disjointed video clips. The dark blue phone magically changes to a light blue phone when the first set of phones topples. Then, the light blue phone magically changes to a dark blue phone when the second set topples, and then the same thing happens for the third set. Why, Microkia??

"Nokia - we slipped and fell, tumbled over, and now we are just water under the printer bridge"

yeah, that makes a lot of sense LOL!

Full video now posted: http://www.wpcentral.com/comment/900352#comment-900352 Sadly, I was pretty much on the money. :) Some folks at Nokia still have too much time on their hands.

Am I the only one who spotted continuity error???

I'm thinking there will be multiple announcements. One being the Cyan update. The other 2 could be a two for one, or two separate announcements, but it will include a water proof phone, and/or a qwerty keyboard phone. The question is will this be an Nokia, Asha, or Lumia phone. I doubt it will be a X phone.

i dont think you could put asha or x into the epic catagory, and that only leaves lumia.

God I miss those phones. They were so cool and different.

when they finally release the full sequence you will see that the water bottle will hit a brand new high end waterproof lumia device and the typerwiter will type out the new rebranded name of microsfts mobile devices.