Nokia tweaks Audio settings in latest Lumia update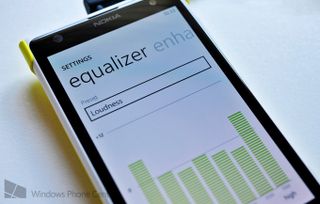 Nokia has pushed out (what we think is a small) update for their Audio settings app. The app is found in the Nokia Collection, though searching for it often reveals nothing. Today, version 2.1.4.1 has gone live to the Store and users can either force check the update if on Windows Phone 8.1 (Store > Settings > Check for updates) or you can just follow our link below.
Nokia Audio controls the Dolby headphone settings, audio leveling, flip to silence and graphic equalizer presets. Needless to say, there's a lot of tweaking that can go behind the scenes, and with two new devices (Lumia 630 and Lumia 930) floating around, we expect some frequent system updates.
No changelog is onboard, but also there are no new features, so expect bug fixes and tweaks.
Grab Audio from Nokia version 2.1.4.1 here in the Store.
Daniel Rubino is the Editor-in-chief of Windows Central, head reviewer, podcast co-host, and analyst. He has been here covering Microsoft since 2007 when this site was called WMExperts (and later Windows Phone Central). His interests include Windows, Microsoft Surface, laptops, next-gen computing, and for some reason, watches. Before all this tech stuff, he worked on a Ph.D. in linguistics and ran the projectors at movie theaters, which has done absolutely nothing for his career.
If we knew, we'd say ;) Just assume bug fixes. There are no new features.

I still think MS needs to open this part of the OS up to developers.. Just imagine the possibilities!
...........
We have complete control over over or cameras, and over video.. We need more control over audio.
It would be nice to have apps that could be used similar to the lenses concept, but in XBM to add compression, leveling, equalization, and other audio effects to our music.. I just imagine a screen with stacks full of lots of little virtual controls... That would be awesome for those of us who are into music, and audio production..
.......................
For example... Apps with controls similar to these racks would be able to show up as options in XBM.
http://tinypic.com/a/36ctf/1

You want to do audio production on your phone? Who are you, Dr Dre?

Lol!!... Well, I'm just talking about audio enhancements right now..
...........
But, yes!.. My goal is to eventually do audio production on my phone.. IDroid has some seriously capable apps for audio production, and WP has nothing meant for real audio production... "Beats Yo" doesn't count.. Lol!.... Actually, Apple has been whippin MS's ass in the audiovisual production market for years... It's time MS changed this, and mobile is where it's at now.. It's all about producing OTG.

Producing ON THE GO!.. Nerf neck..

why not, i like this idea xD

It's pretty sad because iDroid already has this.
...........
I should be able to plug my guitar into my phone, and use it for effects, or recording... And, WP should understand MIDI language.

iOS doesn't allow custom EQ.

I need FL Studio for WP :(

Let's email the developer.. That program just needs to be converted to a universal app, and formatted for our devices. It's extremely possible!!!... On WP8.1

Hmmmmm, we still need updates though...

Does it fix the popping sound in WP8.1?

I tried it with a Video, so far I can say yes

Another issue is sometimes you only get sound from one audio channel with headphones. Hope that is fixed too.

Restarting the phone will fix it

Restarting the phone will fix it but we shouldn't have to restart our phones when it does happen. I'm not going to say it worked before so it should work now damn update broke it... But these are pretty shitty bugs to not have been noticed yet, for someone that uses their phone 10 hours a day for listening to music.

Restarting didn't fix it for me.

GOD I HATE THAT POPPING SOUND IN 8.1!!!!!!! I HATE IT FROM THE BOTTOM OF MY HEART

I think Microsoft will fix the bug not Nokia since it's WP8.1's fault.

It hasn't fixed the popping sound on my 1520

same here.... still getting the annyoying speaker pop sound on my 1520.

Are you referring to a popping sound (as though headphones were removed/inserted) between tracks? If so, the noise was present before and after 8.1 on my Lumia 620.

While seeking through video there is a popping sound which comes even when ur phone is on silent...its really annoying

That sound is horrible, it is present even when the sound is muted.

Done it. Background job I guess.

Does it work with Bluetooth headsets yet?

Did it fixed the issue of disappearance sound from right side of headset when an an incoming notification comes while music on...

No equalizer in L 520 after update.

This. Need this badly! :(

You want a better phone? You better work OP.

That's no excuse. Cheaper and older phones have equalizers. I shouldn't need a better phone for an equalizer. I probably won't cease to live without this audio enhancement feature, but it WOULD make the music listening experience a lot better. And this "doesn't-have-the-right-hardware" excuse is pretty frustrating.

Exactly!! That's a rubbish excuse.. My old Sony Ericsson w880i had an equalizer..

"In latest Lumia Update"? Was kinda expecting the new Lumia update. Not an update for an app.

I thought the same.. Was just about to grab my Lumia and check for updates :s

Cyan is firmware. This is an update though just for Lumias, so Lumia update.

I wish other windows phones had audio equalizer, not just Nokia. I only have beats audio on my 8s.

Samsung does, it's called SoundAlive. Not as many presets but it does have a custom user one.

Never herd of it guess its a regional exclusive feature as i had yet to see something like that on my ativ s(sgh-t899m)

It's not working with Lumia 520 any others faced this pls response to me

Lumia 520 doesn't have it because it's a Lumia 520 ;) No dobly, etc.

But I don't get it why they did not include an equalizer option, even low end androids have audio equalizer settings. Is it because of the hardware(or the lack of it)?

Whatever the reason is, there is no excuse for this! It's a smartphone released in 2013. I don't believe they can't include an equalizer in this phone.

The sound is good but I feel that the music from the L520 lacks bass, and how hard is it to allow us to control the equalizer settings through software?

Equalizer setting appears for a microsecond and disappears!

Not anymore with the latest update. At least they fixed it... lel

Doesn't matter about Dolby, there's no excuse for the 521 not having an equalizer

Daniel Rubino, being an administrator don't you feel ashamed of yourself saying that Nokia L520 dosent support a simple equalizer? and Nokia L 520, 521, 525, 530, 630 and 635 dosent support a simple equalizer. why don't you and your Microsoft guys just put an big lock on your company then?! don't you feel ashamed of yourself?! even Nokia 3110 classic has an simple equalizer in it and its not even a smartphone! shame on you and Microsoft

Would be nice if they allowed equalizer controls to work through Bluetooth

Agreed. And if they would stop burying the setting so far down the list in settings. In fact it would be great if I could reprioritize the list to put what settings I change or use the most at the top.

Joe Belfiore actually said that could happen. They know the list is getting larger and they try to put the most used items up top, but are aware that everyone is different.

Let me use Nokia's app folder to sort them and help myself so i don't spend a minute scrolling up and down because i dont see it at first

Not sure what your point is since settings apps can't be added to a folder.

I use Lumia 520. When I go to audio settings, for a mili second equaliser appears and then flip to silence option will be visible. I wonder why! And even this update won't bring equaliser to 520!!

Please elaborate the 'hardware' ur talking about

There is no such hardware limitation.

Dan, I owe a lumia 630. Which i have bought just a week ago. Previously whenever I was trying to open audio instead of opening equilizer and enhancements it just show flip to silenece. Byt after this update now i'm able to open equilizer and now it also shows headphone settings. (P.S. M from India)

Yash, Does the Audio Equilizer working with your headphone now? Note: please plug the headphone first, otherwise EQ doesn't work normally in case of windows phone. Please tell me. Thanks in advance.

i'm facing the same problem . Which update are u talking about.please help. My phone is telling me no update required

What the hell... I am going for android for sure! I bought my L520 for 10k and does not even have equalizer... Micromax canvas android is worth 7k and has everything I need! Live tiles and Cortana are the only thing I love about WP, where as I can get all official apps in android... Microsoft should think a lot that WP is not in top to remove feature according to their prices... Microsoft should give max features as per the hardware of the phone, not remove features due to the low price even when the feature is supported.. I am waiting till the official update of windows phone 8.1 where I'll get firmware update... If there is nothing then I totally think wp is waste!!

Lol... Comparing Nokia to Micromax

No EQ has nothing to do with Microsoft.

I thought Nokia is owned by Microsoft now!!!

It's funny how this app gets only 1.9 rating mostly because Lumia 520 owners are not aware that their phones lack audio equalizer because of hardware limitation not software.

I don't think its an hardware limitation! As Nokia had told, they removed equalizer just because they have difference in prices.. Its supported but they don't want to give to a low end phone like L520 as they need difference between their devices

I'm reapeating again, THERE IS NO SUCH HARDWARE LIMITATION IN 520!!! Better do your research before calling "...are not aware"....

How u admins get to know what's going to update?????

well u said it .. they are admins. administrators are ubermenschen

I would love to see the EQ capabilities extended beyond the headphones to Bluetooth.

This REALLY needs to happen.

Maybe it will remove the annoying audio level warning that shows up from time to time :). I know, probably an OS thing, but man do I hate that. I use the headphone jack to plug into aux inputs 95% of the time.

I don't know where you live but in the EU it is unfortunately required by law.

I'm in US, but wouldn't surprise me if it were law here too. The wasted money spent on protecting people from themselves is absurd.

Still doesnt seem to fix the low sound issue on my L928. Anyone else having this issue on the L928?

Now equalizer doesn't flash for even a millisecond. -520

My L520, didn't flash for the first time!! Same old "Flip to Silence" only!! Frustrated

To me, music audio playback is one of the weak spots for not only the Lumia line but for WP overall. This needs improvement.

Noooo I never had the popping sound but after this update I now have it!!!!! NL 1520

Equalizer on Bluetooth maybe?

I wonder if this will fix the annoyings sound skips and scratches between tracks when playing music saved on a SD card on WP 8.1.

App Social updated as well...

An EQ for Lumia 520 would sure be nice... Even though the hardware doesn't support it.

POPPING NOISE IS STILL THERE ON LUMIA 820!

The screen lock sound is no longer out of sync when i lock the screen, there used to be a slight delay not its flawless.

GPS audio for Bluetooth auto receivers?

They also released an update to app social & apparently glance background beta was added to Lumia icon but since it doesn't have the fw it wont start

No equalizer even in Lumia 630. Dammm nokia what Are you doing??

Hey but get equalizer for ur 520 and 630 by using flac player sd. Search for it.. Working great,

Still no equalizer on 512 mb devices, including the most popular WP in the world. Good job Microsoft.

But I have the equalizer on my 720

Equalizer says: You need to have a compatible audio accessory connected for these setting to work. I think it use to say something about having your headphones connected so it would work? I could be wrong. Maybe getting ready for other devices to be used. Bluetooth?

They fixed a bug where at the end of a song it would just just play a snippet of the song that was playing before it switched to a new song. I had this big on Lumia 822

I dont know, EQ is a most advanced feature that it requires a 1GB of RAM!! MS should be open to everything, no diff in treating devices. Andro is entirely open, and they allow dev to do almost everything, MS must learn form them.

It's not about RAM. L525 has 1GB RAM, yet lacks equalizer.

Saying HW limit is bullshit. They are wantdly hiding this for L5 series :(


What's the point of pushing an audio-update for the Lumia 52X series, which doesn't have an equaliser settings?

Hey but get equalizer for ur 520 and 630 by using flac player sd. Search for it.. Working great// Hey Aniket, thanks lot. Just now checked the app. Equalizer working superb on my L520.Can Check the candidates who are saying no support for equalizar in L5 series :D

still no support for equalizer with Nokia MD-310 Wireless Music Receiver connected via bluetooth

Doesn't working on my Nokia Lumia 520 with wp8.1 d.p.version at all. There is no change of status of equilizer before or after installing the app. Please make the app such to useful on my phone.

Dammit nokia !!!! What have you done ???? My 720 was so loud before the update ! I can hardly hear anything at 10 now... Even at 30 it's like at 15 before the update !!!! Nokia and Microsoft ur making no good case for ur self ! Fix this now !!!

Why the 3rd party apps like LISTEN, EXTREME MUSIC PLAYER also lacks equaliser on 52X devices?

Its very bad that Lumia 630 has no audio equalizer. Please do add this audio graphic equalizer in Lumia 630. It's a basic feature of every smart phone. It should be present in Lumia 630 also.

Can any one plz help how to get equilizer on,my lumia 525 running on windows8.

I managed to get it working partly in my 520 under sound option after hard reset. when i select sound option, equalizer lines flashes and above that preset list. I succeed to get grip in preset list and make selection. one time even equalizer controllers was available.

I want a good music equalizer update or download but I am luser...
Windows Central Newsletter
Thank you for signing up to Windows Central. You will receive a verification email shortly.
There was a problem. Please refresh the page and try again.