Nokia pushes out Cinemagraph 4.0, now with vaunted GIF export feature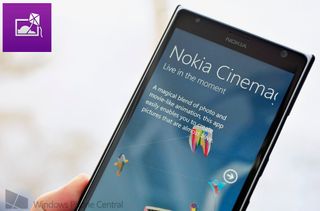 Cinemagraph is one of many innovative and unique apps that Nokia has brought to their Lumia line of Windows Phones. The app captures a rapid series of photos and then strings them together in a loop, for a photo with a live, movement feature. Users then can upload their creations to Nokia's servers, which generates a URL link for sharing with friends and family.
Version 4.0 has now gone live in the Store, and we're talking more than just bug fixes and optimizations (the last update was in October). Nokia has brought probably one of the top requested features for what is essentially a GIF generating app: GIF export.
Besides that new feature, 4.0 also brings the following:
location data for better integration with Nokia Storyteller
general performance improvements
Location data is pretty great for Storyteller, which is Nokia's app for itemizing and categorizing your photo experiences based on date and location. Now, Nokia Cinemagraph creations will now be better suited for that app experience, which makes sense. We won't touch 'general performance improvements' as that should be self-explanatory.
Regarding 'export as GIF', the feature takes a few moments to process and it can be found under the menu of an active Cinemagraph (tap the three dots '…' and select Export GIF). Once completed, the GIF is put into your Saved Pictures roll in addition to the original Cinemagraph under Camera Roll.
File sizes will be rather large, with one created on our Lumia 1520 weighing in at 18.5 MB. We also noticed that if we attached it to an email, it would only take it as a JPG. That means the only way to get these GIFs off of your phone would be to plug into a PC and pull them off of the directory directly, much like a DNG/RAW file (if you find another way, let us know in comments). In other words, at this time you won't be creating GIFs for immediate social sharing directly (for that, you can still use Nokia's upload and URL service).
Much like DNG/RAW support, this gives users a little more direct control over the Cinemagraph creation, allowing you to export and save them to your PC for safe, permanent keeping (minus any proprietary formatting).
Pick up Nokia Cinemagraph 4.0 here in the Store from the Nokia Collection. Nokia Lumia phones only.
Thanks, Giordano P. and others, for the tips!
Windows Central Newsletter
Get the best of Windows Central in your inbox, every day!
Daniel Rubino is the Editor-in-chief of Windows Central, head reviewer, podcast co-host, and analyst. He has been covering Microsoft since 2007 when this site was called WMExperts (and later Windows Phone Central). His interests include Windows, laptops, next-gen computing, and for some reason, watches. Before all this tech stuff, he worked on a Ph.D. in linguistics, watched people sleep (for medical purposes!), and ran the projectors at movie theaters because it was fun.
Neither do I. This app is weird.

Really?!
At least everyone that I've shown it to thought it was amazing and usually asked "what's the name of that app?"

I was only joking :) Your original comment reminded me of "How the Grinch Stole Christmas". i.e. "Everyone loves Christmas!" Grinch: "I don't" or something like that :P I actually think the app is pretty good!

not anymore it's not. before, when you had to go to a special wesite to view your file, yes, I'll grant you I didn't use it more than a couple of times. THIS is a game changer for this app.

I love nokia..it is doing amazing job but microsoft is as usual lazy n slow

Uh.. Blink??? Did this already. :P

Cinemagraph was released before blink and the functionality in blink was actually preceded by Nokia Smart cam.

The love Nokia, hate Microsoft rant is getting old. Let it go.

Indeed, and hopefully everyone who has been part of it will feel ashamed come April.

I hope your right. Give us something exciting MS! Were waiting...waiting....waiting... "hey, did you hear that echo?" "or was that a million other people saying exactly what I was saying?" lol...

Man, if there is one word I want every WinPhone scribe to introduce to the lexicons of fan boys (and girls) this year it is "ellipsis." What is an ellipsis, you ask. Simple! An ellipsis is - literally - "..." Give it a try because you are smarter than saying "the three dots" ever again and so are your readers.

That's pretty elliptical!

You are incorrigibly weird.

Is it really when it's not n the context of a sentence? I think not. It's just three dots that look like ellipsis.

? I don not believe that the definition is changed by its use. That is to say an ellipsis is an ellipsis is an ellipsis.

That is to say pedantic is pedantic is pedantic

Yeah. But this is education not puffery.

But an ellipsis is used to indicate that something has been removed. The three dots show that there is more. Sort of related?

"An ellipsis may also imply an unstated alternative indicated by context. For example, when Count Dracula says "I never drink . . . wine"; the implication is that he does drink something else."

It's an ellipsis. Think about it. What would three closely spaced dots represent otherwise? Some kind of thumb grip? No, it's meant indicate a way of accessing the buttons that have been omitted from the app bar. If you don't believe me, take it from the horse's mouth. Microsoft refers to it as an ellipsis themselves: "The default Application Bar is a row of icon buttons and an ellipsis along the bottom of the phone's screen. The user can click the ellipsis to display the labels for the icon buttons and menu items if they are enabled." http://msdn.microsoft.com/en-us/library/windowsphone/develop/ff431813(v=vs.105).aspx Pedantic maybe, but I get tired of seeing "the three dot menu" as well.


Imagine the same gif image can be put as wallpaper and share over whats app with frnz. But we can only imagine...

Yes! Cinemagraph is the best GIF-creation app on phones!

Too bad you can't send the gif or upload it to anything... Kinda pointless

Exactly... whats the point? Why in the hell are we now in 2014 and still waiting for GIF support?????/

At 18.5 MB per shot, not sure how I'd be able to share it...

You wanna send 18.5 MB over Bluetooth? Yeeeshh....

Using HD Photo Viewer app you can view and email GIF files directly from the phone.

I really don't understand why GIFs aren't supported everywhere in every platform and every site. I mean, it has been a standard format since the 90s.

Introduced and used for excellent purposes on our lovely BBS Systems back in 1987 :)

Sometimes when I ask my friend to take my picture, they will ask, where is the moving picture icon? I want to take your picture with the river flows. I love this app. Usually I will take photos of river stream and uploaded on Facebook.

Three '...' = ... ... ...

it's being uploaded to skydrive, we can see the gif file in the saved pictures of skydrive

Would be cool if one could share the gifs straight up.

Using HD Photo Viewer app you can view and email GIF files directly from the phone.

Cinemagraph just seems like a rip-off of BLINK...

Blink didin't even have Gif support 2 months ago

Oh yeah. And the original iPad us a rip off of the iPad2.

Cinemagraph was there before Blink, and works better. Nokia just couldn't sell this amazing technology either

Does Lumia 520 support gif images

I didn't think you could even save a gif on wp! Every gif I have tried to save from the internet just save as single frame picture! Am I the only one??

Using HD Photo Viewer app you can view and email GIF files directly from the phone.

Doesn't work for me. The emailed files aren't animated. This looks like the same thing as mailing the exported gif directly instead of going through HD Photo Viewer? So you can see them, yes. But for them to be passed on as animated gifs in emails they may need to be embedded in html or something.

Were you trying to view them directly from email attachments on Windows Phone? That way it won't work. Save the attachment to phone then launch HD Photo Viewer app to view the animation

No I mean as in the native photo viewer! That actual phone! Saved pictures folder! Why do we not have support for saving and viewing gifs directly?!

Oh, only Microsoft can answer that question. .gif is reserved for the OS and 3rd party apps can't register to handle GIF files

Yes, I sent it so that is was visible on the page of the email along with the text (and not as a file attachement where you only see a filename and paperclip). If it cannot be seen as an animation there then how can it be sent to people by email? They aren't likely to have HD Photo Viewer or to know that it is supposed to move for that matter. They just get an email with a still image among the text. But when I get emails from Echograph, their animations play right in the inbox. And that is probably because these are html mails with the animations embedded in code.

That's the one thing I don't like about the email... U can't mass txt photos to your friends... So you try doing it through email... Only to find out all the images you sent is worthless low quality jpg's...

Can't you view the image in photos and click menu > save to SkyDrive? I do that with photos sometimes, quicker and easier to finding a cable and plugging it in

After this update there is also a new file created in camera role folder with name like WP_20140123_22_44_25_Cinemagraph.mp4.thm. So, just connect your phone to a pc remove the extension .thm and voila we can have a mp4 file of the cinemagraphs we capture. So, i total now 3 file are there - 1. The RAW cinemagraph file in camera role folder 2. The gif file from 'export as gif' option in saved file folder 3. The .mp4.thm file which after a little editting on pc can be saved as a video file, can be located in camera role. and, that's not it this mp4 file can then easily be shared. I think the 3rd option is something nokia also wanted to introduce with the update but some bug does'nt properly create the extension for mp4 file. it would be great if nokia brings a fix for it and we can save a mp4 file of cimegraph gif in camera role for sharing purpose.

Actually it may be beacuse whenever we edit our cinamagraph by help of app by adding or removing animating areas. we can save a new gif in saved pictures folder but it is not able to save a new .thm file. Hence with every editing our .mp4.thm file is getting updated instead of saving a new one. i think may be cimagraph 5.0 brings both the feature to save gifs on phone and video format for sharing.

I wish mp4 video was extended to have EXIF data including geo and time/date. These gifs and everything can't replace a good old video clip.

Wtf..??? Where is black update of India ???????

You need the whole India to be updated or partially? :)

At first, I was actually kind of excited. Then I realized there was still no way to SHARE it as a gif with someone without plugging it into a computer, which is utterly ridiculous. What does Microsoft have against native gif support? If it doesn't come with 8.1, I quit.

Using HD Photo Viewer app you can view and email GIF files directly from the phone.

Sucks you have to upload them to a PC. My Lumia 1020 will not doc with a computer anymore...something wrong with the mini USB port

Using HD Photo Viewer app you can view and email GIF files directly from the phone.

Man I wish they had thought of adding the 'export GIF' option when they were making the original release of Cinemagraph for both Windows Phone 7.x and Windows Phone 8.

Ok, so is there currently a way to create a shareable gif using a windows phone? (not involving any other devices)

Try the app HD Photo Viewer. You can email those GIF files directly from the phone.

You can send the gif with Phriz.be.

That's using their server, not your own email address, isn't it? With HD Photo Viewer you can use your own email to send GIF files.

You're awesome man! I love your polite persistence. Do people just not read the comments at all before they say things like "there's no way to share it"?

I just want to capture video, select a segment to make into an animated .gif, go to camera roll, click the elipses on the .gif, tap "share" and then choose whichever medium I prefer. How is my email going to handle an 18mb file? Does HD Photo Viewer condense it?

The most requested feature from me for this app is for it to compress the .gif so that I can upload it to Tumblr!!! Huge opportunity, and it's impossible to compress them easily otherwise without special software.
Plus since Tumblr released its official app it's had no updates so Nokia needs to help out its Tumblr users somehow!

It's very annoying to hear about Nokia and their apps which are not available for my HTC8X grrr... Thought Microsoft had defined phone specifications for win8 phones, so why is Nokia apps blocked for HTC8X, that's my very simple question?

Guys use GIF Viewer to see gif animation it work great. Just export gif from cinemagraph and see in gif viewer it work

Cinemagraph. Blink. Smartcam. So much redundancy in ms and Nokia apps.

It would be a lot better if the .gif is moving when viewing in photo viewer on 920.

Woohoo!!!!!!!!!! AT LAST!!!!

The GIF file size is huge!! A whopping 22MB! Does GIF need to be so huge with the file size??

Export GIF is really nice

Any tools out there to make the Gif smaller in size without losing the video part of the image?